Jump To top
There's a point in every woman's life when she wishes she could go back in time and take better care of her skin. We're all aiming for supple, smooth skin…but how do we achieve it? There are SO many products on the market and every one seems better than the last one. What's a girl to do with all these options? If you're on the hunt for the best anti-aging supplements, this guide is for you. This blog is purely to educate you on which anti-aging products are available to you. Like we always say: Knowledge is power. The more you know about a product, the better decision you'll be able to make. 
In this blog, you'll find our top 5 secret anti-aging supplements to help you turn back time. One thing you'll notice about all of these supplements is that they are backed by science to repair cell damage and improve the look and feel of aging skin. We go above and beyond to make sure that all of our products have what you want and none of what you don't need.
Best Anti-Aging Supplements 

The number one secret for healthy skin? Invest in the best anti-aging supplements. Supplements are designed specifically to help you reinforce healthy, younger-looking skin from the inside out. When you take a supplement regularly, you'll notice that your skin is softer, more hydrated, and more resilient. On top of that, taking a supplement rich in antioxidants can help defend your cells against free-radical damage that could break down cells in your skin. Once you start using these supplements regularly, you'll start noticing your skin start to brighten and your tone even out. 
If you've been scouring the internet for the best anti-aging supplements to improve the texture and appearance of your skin, you're in for a treat. We've simplified and demystified the world of anti-aging supplements so you can find the perfect supplement to add to your diet, workout, and de-stress activities.  
In this blog, we'll highlight the benefits of skin tightening supplements like: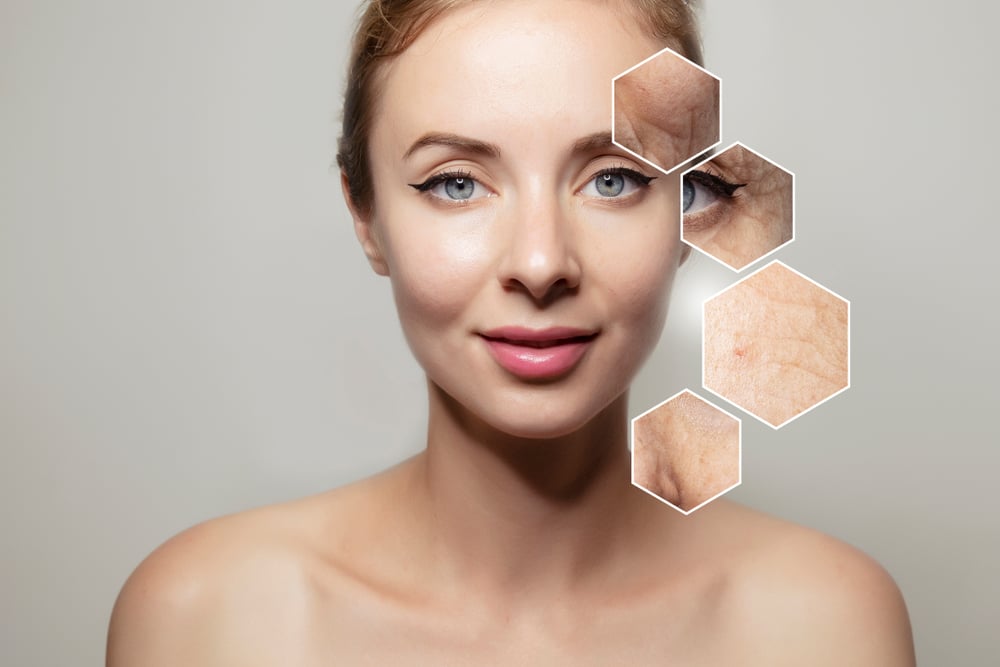 1. Collagen Peptides

If you've read any anti-aging beauty blog, you know that collagen ALWAYS makes the list. It may sound redundant to list collagen as an anti-aging supplement, but the truth is that it's the most effective way to prevent aging. Our bodies are made up of collagen and it's the most abundant protein in the body. It helps keep our skin tight, firm, and elastic. The only problem is that collagen production slows down as we age, causing wrinkles, crow's feet, and sagging skin. You can renew your body's supply of collagen by taking a collagen supplement daily. This will help replenish your skin, joints, bones, teeth, and gut with the collagen it needs to thrive. 
Why else is collagen a fan favorite? It falls first on the list of cost-effective, non-invasive, skin tightening supplements because it's a simple way to naturally support firmer skin.
Why it works

Imagine there's a factory inside your body that goes to work each day to replenish your collagen supply. As you get older, the machines in the factory get a little slower and sluggish. The machines still work, but every organ and cell in the body is waiting in line for more collagen. And then one day, a new manager walks in and pours a magic potion into the machine and POW! the machines are back up and operating at top, peak levels! There is collagen flowing into every cell of your body and fortifying structures in the body that truly are in need, i.e. joints, bones, cartilage, and skin cells.
Here's the quick and dirty science behind how that process actually works to improve the health and appearance of your skin. (1) 
Cellulite occurs when fat deposits push through the connective tissue beneath the skin creating a dimpling effect on the skin. Collagen smooths unwanted cellulite by strengthening this connective tissue to prevent fat deposits from protruding.
Collagen stimulates the production of elastin in your body. This helps keep your skin flexible and stretchy, reducing the appearance of stretch marks and tightening sagging skin.
The amino acids found in hydrolyzed collagen (also known as collagen peptides) contain the precursors needed for collagen synthesis. These amino acids are crucial for maintaining firmness and smoothness. Thus, reducing the appearance of fine lines and wrinkles.
Collagen can increase the microvascular blood circulation in hemoglobin, which is responsible for protecting your body from harmful UV rays and sun damage.
Best anti-aging collagen powder

When it comes to choosing daily collagen to add to your skin tightening supplements, you have options. SkinnyFit Super Youth Collagen is offered in a variety of flavors to help make taking a collagen supplement as easy as possible. 
Super Youth flavors include Super Youth Tropical Punch, Super Youth Peach Mango, Super Youth Chocolate Cake, and Super Youth Unflavored. 
For the best results, pour a heaping scoop into your favorite beverage or recipe 2-3x daily and share your incredible results with your new SkinnyFit community. 
When using Super Youth Unflavored, don't mix water alone, instead swirl it into your favorite smoothies, coffee, and healthy desserts. 
There are over 16 different types of collagen but only a few types are available for human consumption. Types I, II, III, V, and X are the 5 types that humans can consume. Not all collagen supplements on the market offer supplements with all 5 types included. But, Super Youth Collagen Peptides contain ALL 5 types of collagen so that you can enjoy all the benefits of collagen in every scoop. 
In addition, most collagen supplements on the market contain only 1 or 2 collagen sources, but Super Youth collagen contains all 4 primary collagen sources: marine, bovine, eggshell, and fowl. Taking a combination of all 4 gives you ALL of the benefits of collagen, ensuring that you're getting the maximum result.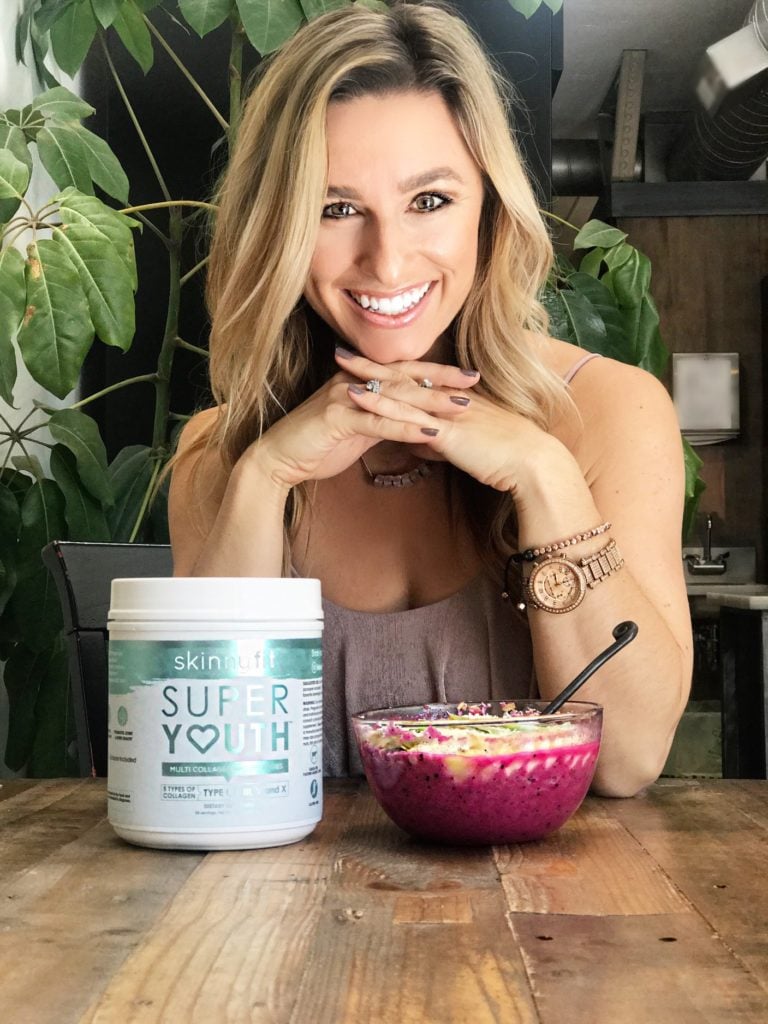 2. Red Superfood Powder 

The anti-aging benefits of drinking a daily red superfood powder are endless. Not only is it good for your skin, mood, focus, and gut health, but all of the ingredients in red juice will give you more energy than ever. A red superfood powder can help you revive your glow, fight dullness, and slow down aging caused by free radicals in the body.  
Why it works

Not all antioxidants are created equally and some contain higher amounts of antioxidants than others. That's why it's important to consume a supplement that gives you ALL of the antioxidant superfoods needed in a skin tightening supplement.
The antioxidants in a red superfood powder help balance out free radicals and prevent oxidative stress. Antioxidants are powerful ingredients that go to work at preventing aging. Find a supplement that includes some or all of the antioxidants listed below to help fight aging and keep your skin glowing!
Natural antioxidants keep our bodies healthy as we age, slow down the aging process, and keep our bodies strong. 
Best red superfood powder

There are a ton of red superfood powders on the market, and there's a good reason why. Red superfood powder helps shield your body against cell damage and keeps your skin protected. SkinnyFit Beauty Juice is the best red juice powder because it contains an impressive amount of antioxidants that work synergistically to visibly improve the appearance of uneven skin tone, vibrancy, dryness, and unwanted wrinkles. 
SkinnyFit Beauty Juice is a blend of 36 beauty-boosting superfoods like açaí berry, beetroot, reishi mushroom, lion's mane, cordyceps mushrooms, turmeric, and vitamin C that limit the skin's aging process and reduce stubborn wrinkles. Each ingredient is a research-proven to defend skin and protect against oxidative damage. 
For the best results, mix a heaping scoop of Beauty Juice with 8 to 16 oz. of water or a smoothie just once a day. You'll start feeling the radiance from the inside out as these powerful antioxidants go to work at keeping you looking young and bright.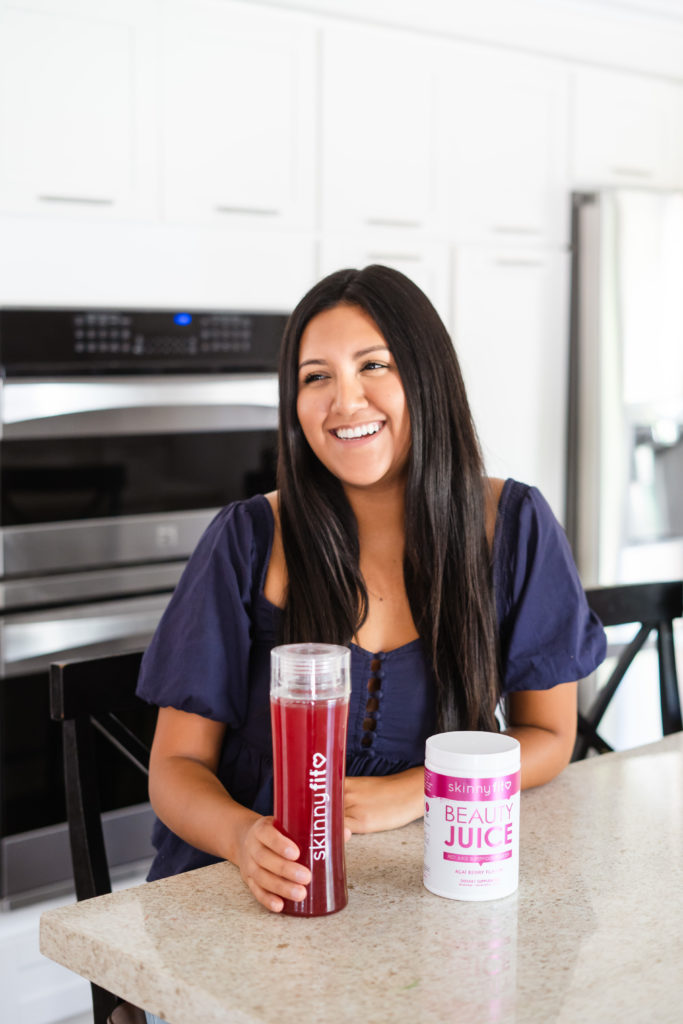 3. B-Vitamin Complex

The term "vitamin B" refers to the family of B vitamins, including: (4)
B12
B6
B7 (biotin)
B3 (niacin)
B5 (pantothenic acid)
B1 (thiamine)
B2 (riboflavin)
Folic acid
Most B vitamins are found in vegetables, grains, and fruits, but some like B12 are naturally only in animal sources like eggs, meat, yogurt, and milk. If you're vegetarian or vegan, making sure that you obtain enough B12 from a supplement is important to your overall health. A B-vitamin complex combines all of the beneficial b-vitamins into one easy to take capsule.
Why it works

When you take a daily supplement of B vitamins, you infuse your body with all of the healthy nutrients it needs! Each member of the B vitamin family is unique and has a specific function in the body. 
B vitamins are essential for cell growth and overall development which is why they play such a crucial role in the health and vitality of your skin!
Taking a B-vitamin supplement is not only great for your skin, but studies show it can help with the following health conditions: (2) 
Indigestion
Osteoporosis
Hives
Attention Deficit-Hyperactivity Disorder (ADHD)
Alcohol withdrawal
Wound healing
Anxiety
Premenstrual Syndrome
B12 deficiency 
Best B-vitamin supplement 

You can improve your overall vitamin intake and prevent vitamin deficiencies with a B-vitamin supplement like Daily Glow. SkinnyFit Daily Glow is an all-natural blend of premium ingredients that supports radiant hair, skin, nails, and brightens the skin's complexion. The specific vitamins within Daily Glow promote youthful-looking skin.
SkinnyFit Daily Glow includes a healthy dose of B vitamin complex along with the following ingredients to help your skin fight aging and prevent wrinkles.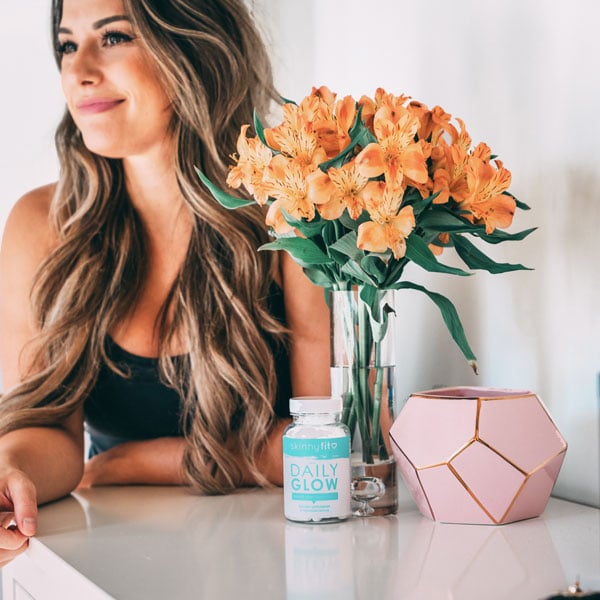 4. Green Superfood Powder

Think about your daily routine—are you consuming enough vegetables every day? Adding more veggies to your diet can have massive effects on your health and skin. Most Americans don't get enough essential nutrients daily, so having a superfood powder in the cabinet can help boost your nutritional intake and give you beautiful, glowing skin! A green superfood powder is an easy-to-use, all-in-one green juice blend that contains a variety of these essential vitamins, minerals, and green superfoods in every scoop. Simply mix it with water and you're good to go!
Why it works

Back in the day when we were hunter-gatherer humans, we ate a much wider variety of greens than we do today. But with our fast-paced lifestyle and ability to order our groceries with the simple click of our phone, we're less likely than ever to introduce variety into our diets. On top of that, we tend to choose foods higher in sugar with fewer micronutrients and phytonutrients than in wild ingredients found in nature. 
It's this simple: Eating a diet full of nutrient-dense vegetables is great for you. When your body increases its intake of greens, it can have a significant impact on health markers like reducing oxidative stress, blood pressure, and inflammation. (3)
Certain superfoods commonly found in green juice powder contain a number of skin-loving ingredients that tighten and brighten complexion, smooth rough skin, and boost vitality, including: 
Turmeric
Spirulina
Spinach
Alfalfa
Moringa leaf
Best green juice supplement

Not all green juices are created equally. That's why it's important to find the best green juice skin tightening supplements on the market. SkinnyFit Skinny Greens has all of the vitamins and nutrients you need to pump your system full of micronutrients and antioxidants to help fight the signs of aging and keep you looking and feeling youthful.
Weight gain is oftentimes a side effect of aging. This is not only due to a slowing metabolism, but gut issues that occur over time. Skinny Greens contains healthy pre- and probiotics that can soothe IBS and bloating, regulate digestion, suppress appetite, and help promote healthy gut microbiota. Ingredients in this blend that help support your overall health include:
Spirulina 
Chlorella
Matcha
Spinach
Turmeric
Ashwagandha
Rhodiola Root
Green Tea Leaf 
Apple Cider Vinegar
Wheat Grass
Moringa Leaf
Alfalfa 
Ginseng
Making small but mighty changes to your daily routine can make improvements to your overall energy levels, mood, and the rate of aging.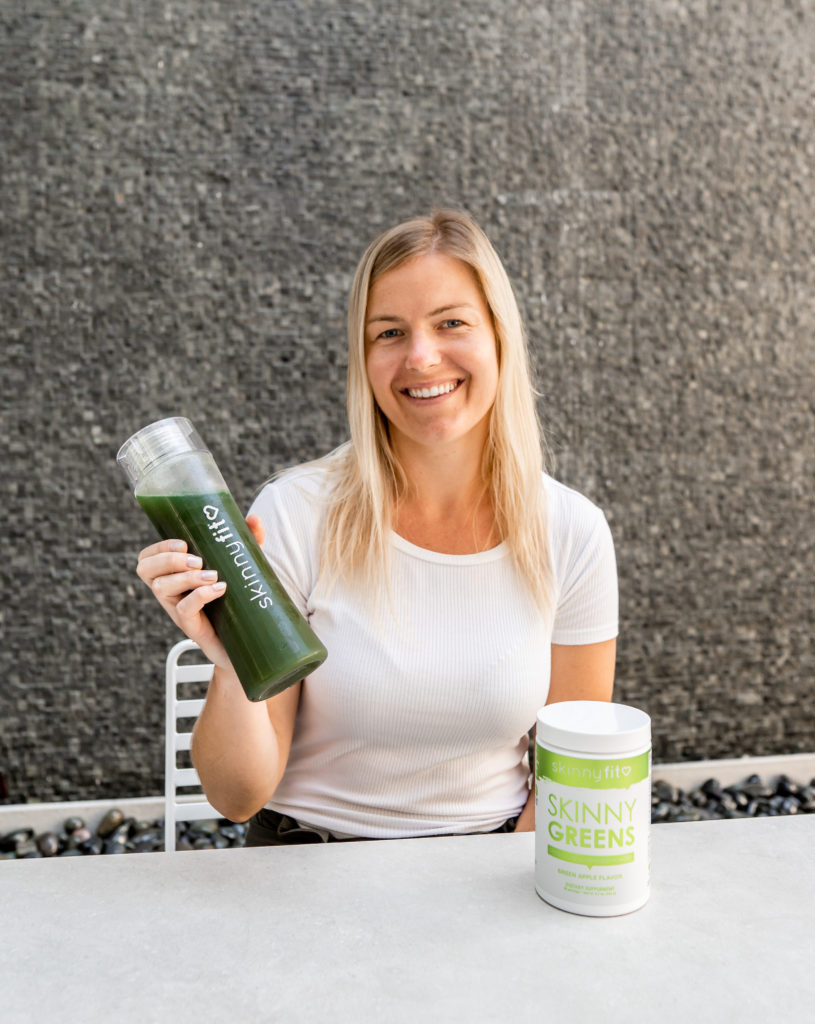 5. Pre- and probiotics

As we age, our stomachs start to produce less acid and the muscles in our digestive tract slow down. Anyone can benefit from taking a pre and probiotic to help alleviate problems with bloating, constipation, and irritable bowel. A good quality gut health supplement should contain a unique combination of probiotic and prebiotics to promote a healthy digestive tract and a healthy immune system. When your digestive system is balanced, you feel leaner, cleaner, and healthier. 
Why it works

Aging breaks down cells and can cause imbalances in gut bacteria. Improving the health of the intestine is essential in preventing deterioration. In addition to a healthy diet and regular, physical exercise consuming probiotics can help reduce inflammation and fight infections. (5)
Taking prebiotics encourages the growth of good bacteria and gives them food they like. The two play complementary roles in the gut and work as a team to keep the gut healthy. Taking a pre- and probiotic ensure that there is the right amount of healthy bacteria in the gut.
Best prebiotic & probiotic supplement

The best pre- and probiotic supplement to improve gut health is SkinnyFit Belly Balance. Ingredients within Belly Balance like inulin, fungal amylase, Protease, lactase and lipase, ginger root, and kombucha work together and each has an important role in breaking down foods you eat. Introducing these antibodies into the body can help restore balance to all cells in the body. 
Belly Balance is an all-natural blend of pre- and probiotics that promote healthy digestion and regulate bowel movements. Ginger root, pineapple, and papaya extracts support immunity and calm bloating.
The Bottom Line On Anti-Aging Supplements

While skin tightening supplements can enhance the health of our skin, there are other important factors that play a role in the appearance of our skin, especially stress levels, diet, and sleep. 
There is no miracle pill to halt the aging process altogether. But, there are preventative measures you can take to slow the aging process and minimize the appearance of fine lines, wrinkles, brittle hair, achy joints, fatigue, and weight gain.