Jump To top
Having a good skin care routine is essential to maintaining soft, radiant skin free of blemishes, dark spots, and those pesky white- and blackheads—not to mention wrinkles! The only problem is that good skin care products and regular spa treatments can rack up a hefty bill because, with many beauty products on the market, quality doesn't typically come cheap. 💸
Although, high-end skin care products and services can do wonders for your skin, it's just not practical for everyone to maintain as time goes on—which is why I set out to create five DIY at-home face mask recipes that are all-natural, nourishing, and just as effective as high-end products so you can enjoy a spa-quality facial without breaking the bank!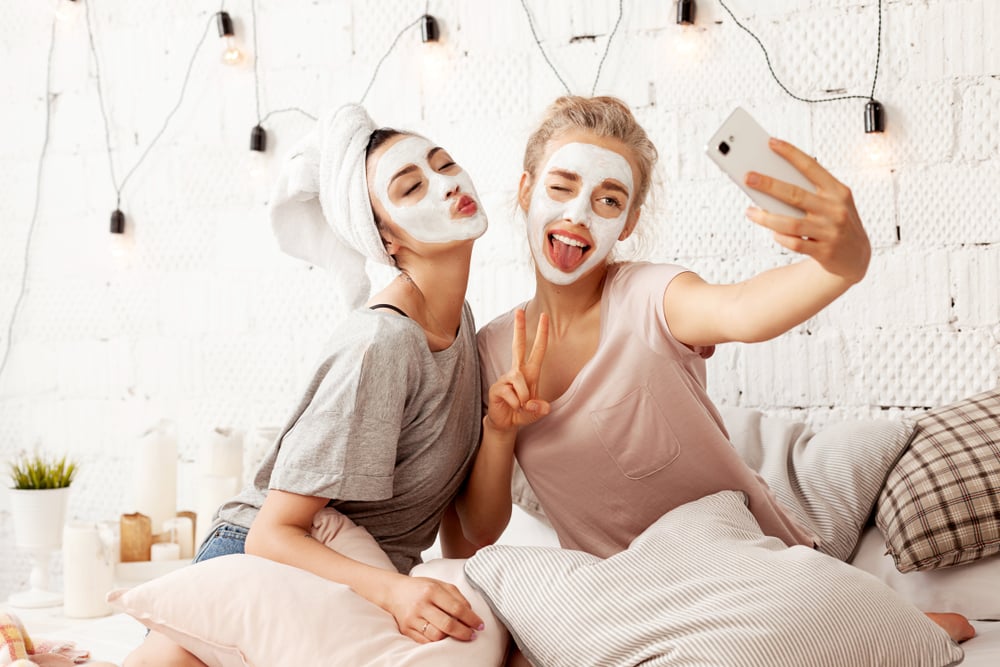 Why You Should Be Using Skin Care With Natural Ingredients

A skin care routine is only as good as the ingredients you use. Close to 60% of what we put on our skin gets absorbed, which means the products we use can have either have a positive or negative impact on our health—but not all beauty products are created equal!
In fact, you'd be surprised at how many popular brands use harmful chemicals in their products. U.S. researchers report that one in eight of the 82,000 ingredients used in personal care products are industrial chemicals, including carcinogens, pesticides, reproductive toxins, and hormone disruptors.
Exposure to these types of toxic ingredients can cause a variety of side effects including headaches, thinning hair or hair loss, acne, skin allergies, eye infections, infertility, premature aging, hormone imbalances, and skin discoloration. Choosing skin care products that contain natural ingredients can reduce your exposure and nourish your skin in a healthy way.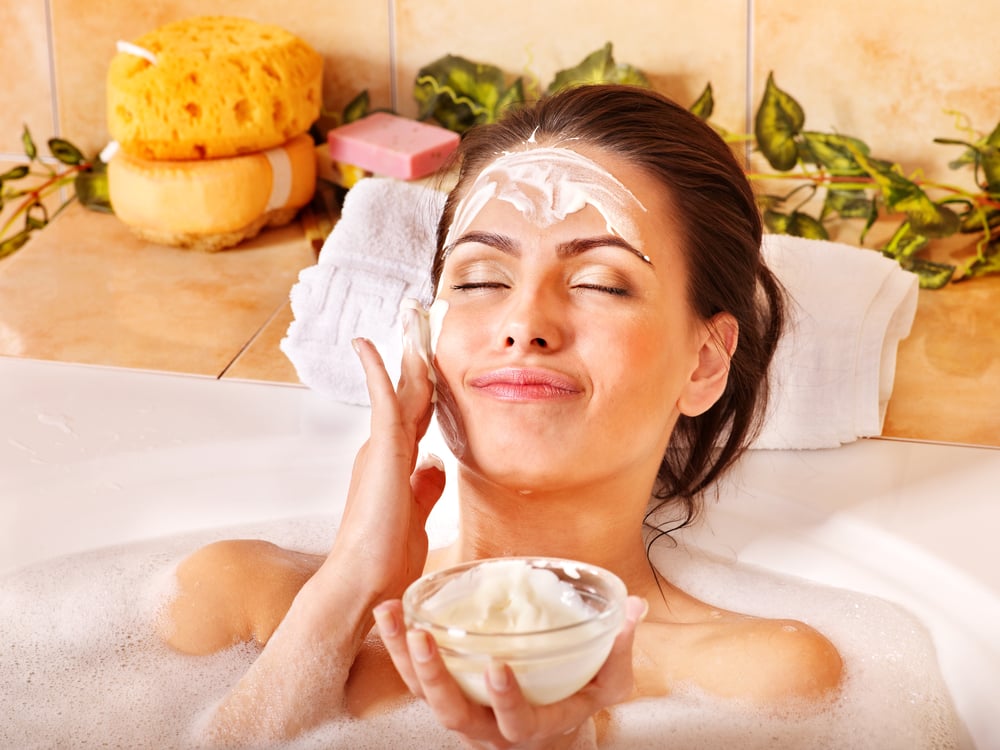 12 Harmful Ingredients To Avoid In Skin Care Products

It's important to be mindful of the ingredients in your skin care products to ensure you are nourishing your skin, not overloading it with toxins! Here is a list of the 12 most harmful ingredients that are commonly found in skin care products that you should avoid at all costs:
Aluminum
DEA (Diethanolamine), MEA (Monoethanolamine), and TEA (Triethanolamine)
DMDM Hydantoin & Urea (Imidazolidinyl)
Mineral Oil
Parabens (Methyl, Butyl, Ethyl, Propyl)
PEG (Polyethylene Glycol)
Phthalates
Propylene Glycol (PG), & Butylene Glycol
Siloxanes
Sodium Lauryl Sulfate (SLS) & Sodium Laureth Sulfate (SLES)
Synthetic Fragrances
Triclosan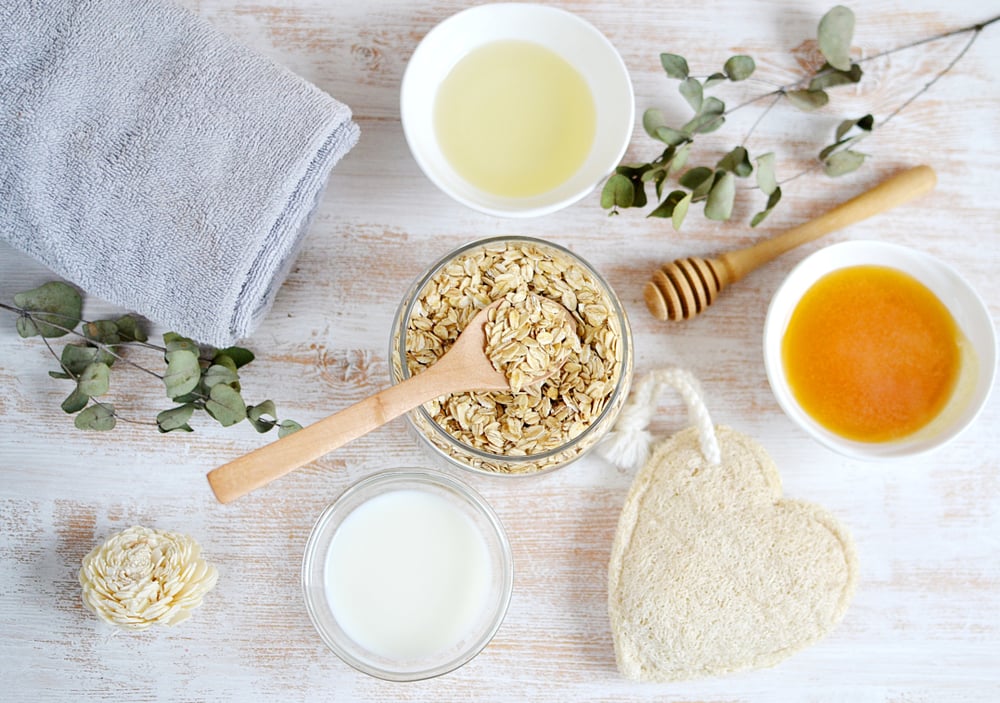 Easy At-Home Face Mask Recipes With Good-For-You Ingredients

Now, before you go and spend your hard earned money on the most luxurious face mask on the market simply because of that exotic sounding ingredient on the label, hear me out. These easy at-home face masks I'm about to share with you are made with all-natural ingredients that are healthy enough to eat, literally! In fact, a lot of these ingredients are most likely sitting in your kitchen right now, and are packed full of skin-loving nutrients!
What's even better is that you can create a different type of face mask specific for your skin type or skin goals. You can make a face mask to boost moisture and hydration, brighten and tone, exfoliate and smooth, refine and tighten, and even create a homemade face mask for glowing skin! You'll love these homemade face masks so much even your hubby will want to try them out! 💑
Tips For Getting The Most Out Of Your DIY Face Masks

For all masks, make sure to thoroughly cleanse your face and pat dry prior to application. When applying your masks, avoid the eye area. If you have sensitive skin, limit your wear time to 4-8 minutes or whatever feels comfortable for you. Using a natural toner post-mask, like rose water or witch hazel, for example, will lock in the nutrients from your mask and leave your skin feeling softer than ever. And don't forget to apply your favorite face lotion or night cream afterward!
5 At-Home Face Mask Recipes For All Skin Types

Moisturize & Hydrate

This avocado-based superfood mask is packed with healthy fats that help keep your skin moisturized and hydrated even after a long day in the sun! Avocado is also rich in Vitamin E which is an important antioxidant that helps protect your skin from oxidative damage that can leave your skin looking and feeling dry, and rough. This is the perfect at-home face mask to replenish your skin of its natural oils without leaving a greasy residue.
Ingredients:
¼ avocado
1 Tbsp raw honey
½ banana
2 Tbsp plain Greek yogurt
Directions:
Mash the avocado and banana into a bowl and add the yogurt and honey. Stir well until the mask is fully mixed.
Use a face mask applicator brush and apply over your face. Let it sit for 10-15 minutes and remove with a warm washcloth and water.
Brighten & Tone

Turmeric, the star of this brightening face mask, contains antioxidant and anti-inflammatory properties that can naturally brighten your skin bringing out a natural glow. When combined with baking soda, honey, and lemon juice, you can shrink your pores and transform the look of your skin.
Ingredients:
1 tsp baking soda
2 tsp raw honey
1 tsp lemon juice
1 tsp turmeric


Directions:
First, mix the baking soda and turmeric and then add the lemon juice. Mix until the lemon juice is worked into the dry ingredients.
Once mixed, add the honey and stir until fully mixed.
Use a face mask applicator brush and apply over your face. Let it sit for 10-15 minutes and remove with a warm washcloth and water.
RELATED: The Best Turmeric Detox Recipe To Prevent Inflammation!
Exfoliate & Smooth

Don't let this two-ingredient easy at-home face mask recipe fool you. Although it doesn't look like much, it contains a lot more benefits than you might think. A study conducted by the Journal of the American Academy of Dermatology found that baking soda and water can actually reduce the "scaly" appearance of rough, dry skin. This naturally occurring exfoliating mask is perfect for removing dry, dead skin cells and rejuvenating your complexion!
Ingredients:
2 tbsp baking soda
1 tbsp water
Directions:
Mix two-parts baking soda with one-part water (adjust measurements until you reach the desired quantity).
Using your fingers, apply the scrub to your face and begin distributing the mask throughout your face or trouble areas using circular motions scrubbing gently.
Once the mask has been applied, let it sit for about 5-10 minutes. (If the mask is causing any discomfort, remove the mask with warm water. If you have sensitive skin I recommend using this as a face scrub and to skip step 3).
Youthful Glow

This powerful anti-aging mask will reduce inflammation, soothe irritation, moisturize, and reduce the appearance of wrinkles! Adding one scoop of hydrolyzed collagen peptide powder, like SkinnyFit Super Youth, can stimulate collagen production to tighten and firm your skin for a more youthful appearance.
Ingredients:
1 Tbsp aloe vera gel
1 Tbsp coconut oil
1 Tbsp honey
1 scoop of collagen
Directions:
Mix the aloe vera, coconut oil, and honey and mix well.
Add one scoop of Super Youth Collagen and stir until the collagen is fully mixed with the other ingredients.
Use a face mask applicator brush and apply over your face. Let it sit for 10-15 minutes and remove with a warm washcloth and water.
RELATED: 5 Amazing Benefits Of Collagen For Skin (+How To Get A Youthful Glow)
Refine & Tighten

Believe it or not, using egg whites in a DIY at-home face mask can reduce the appearance of enlarged pores to tighten your skin and polish and refine problem areas.
Ingredients:
½ tsp coconut oil
1 egg white
½ tsp lemon juice
Directions:
In a small bowl, separate the yolk and the egg white (you won't need the yolk).
Add the coconut oil and lemon juice to the egg white and mix well.
Use a face mask applicator brush and apply over your face. Let it sit for 15-20 minutes and remove with a warm washcloth and water.
How To Maintain Youthful Looking Skin Every Day

For many women, one of the biggest motivators for making an at-home face mask is to maintain younger looking skin without spending an arm and a leg on high-end beauty products. But let's be real, who really has the time to make a DIY at-home face mask every single day?
If you want a quick and simple solution to reduce wrinkles and improve complexion without having to make a fresh homemade face mask every day, simply add one to two scoops of Super Youth Collagen with your favorite beverage every morning. This way, you can look forward to making a weekly at-home face mask part of your self-care routine!