Jump To top
You've likely heard of superfoods before. Superfoods are low calorie, nutrient-dense foods that contain impressive health benefits that aren't abundant in the average American diet. Green tea, nuts, eggs, and spinach are among the most popular (and most common) types of superfoods consumed on a daily basis, but there are actually dozens of other superfoods that have yet to make their way to the spotlight.
In recent years, however, green superfoods like spirulina, chlorella, and wheatgrass have been making strides in the health and wellness industry for their energy and immune-boosting benefits—and these green superfoods, while extremely powerful and highly effective, are just the tip of the iceberg! In fact, there is an entirely new group of superfoods emerging in 2020—in 2020, it's all about RED superfoods!
Red superfoods are not only gaining mass popularity for their antioxidant and gut-healing benefits, but also for their energy-boosting and anti-aging benefits! The best part? You can now find an assortment of red superfoods in supplement form. This means that you can enjoy the incredible health and beauty benefits of red superfoods in a convenient red superfood powder! But, what is the best red superfood powder and how do you go about choosing one? If you're considering adding a red superfood powder to your repertoire and need a little more information before pulling the trigger, don't worry, I've got you covered.
In this article, we'll discuss everything you need to know about red superfoods and red superfood powder, including: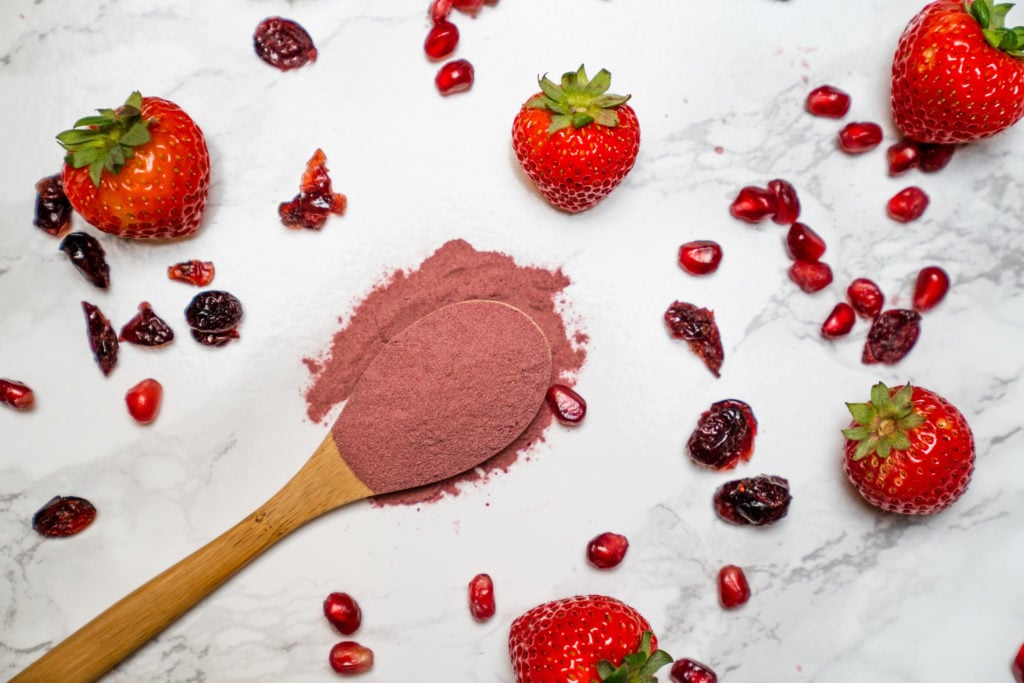 What Is Red Superfood Powder?

Red superfood powder is a polyphenol- and antioxidant-rich supplement that contains a variety of potent superfood ingredients blended together in one convenient, easy-to-use powder. However, not all red superfood powders on the market are created equally. Factors such as the type and quality of the ingredients and processing all play a role in its efficacy and health benefits. 
The best red superfood powder should contain all the following red superfoods at the very least, but the most superior red superfood powders on the market will contain far more! I'll go into more detail on what to look for and what to avoid when choosing a red superfood powder, but here are some of the incredible health benefits of the top 11 most powerful red superfoods!
Top 11 Most Powerful Red Superfoods
1. Açaí berry

Açaí berries are extremely nutrient-dense—meaning, they contain a lot of healthy nutrients with very few calories. These deep purple berries are known for having a ton of antioxidants that fight off free-radical damage and may help prevent certain diseases such as diabetes, cancer, and heart disease. Similarly, açaí contains powerful flavonoids called anthocyanins (the property responsible for giving it the brilliant bluish-purple color) that have the capacity to potentially lower blood pressure, improve vision, inhibit tumor formation, reduce the risk of cardiovascular disease, and reduce cancer cell proliferation. (1, 2, 3) Over the last decade, millennials have taken a liking to the açaí berry and have created unique (and delicious) ways to take advantage of all its incredible health benefits. Have you ever heard of an açaí bowl? You know, the $16 smoothie bowls they sell at those trendy cafes? Well, if you've ever wanted to try them but got sticker shock at the price tag, you can try out this protein-rich acai bowl recipe at home and enjoy the benefits for a fraction of the cost!
2. Acerola cherry

Acerola cherries are most notably known for their rich vitamin C content. For this reason, they are often used to treat or prevent colds or flu and boost immunity. But that's not all they're used for! In fact, acerola cherry is a powerful astringent that is helpful for treating skin blemishes, tightening pores, and improving skin elasticity! So, needless to say, it's not only great for your health but also great for your skin and preserving a youthful appearance—win-win! (4, 5)
3. Beetroot

Beetroots are some of the most popular red superfoods used in pressed red juices because they are, in fact, super nutritious! They are packed with vitamins and minerals, like fiber, folate, manganese, potassium, iron, and vitamin C! Beetroot is also shown to improve circulation, lower blood pressure, and can even boost cardiovascular endurance! (6, 7)
4. Blueberry

Okay, so blueberries aren't exactly red superfoods but they do contain the same flavonoid found in açaíberries, anthocyanins! This gives blueberries their color, as well as a ton of other health benefits like improving vision, reducing blood pressure and risk of heart disease, and reducing inflammation. Just one cup of blueberries provides a person 24% of their recommended daily allowance of vitamin C, which is great for improving skin health and boosting immunity! (8, 9)
5. Cranberry

Cranberries have become widely popular for their incredible digestive benefits! They are known for preventing urinary tract infections and cleansing the digestive tract—it's no wonder people recommend drinking cranberry juice when you're sick! Cranberries are also packed with antioxidants, polyphenols, vitamins, and minerals that can boost your immune system, prevent heart disease, and lower cholesterol levels. (10, 11)
6. Goji berry

Despite their exotic name, goji berries are gaining popularity in the United States for being one of the best red superfoods out there! These little berries are full of antioxidants, specifically zeaxanthin, that have a particularly powerful effect on eye health. They also boost immunity, may protect against cancer, promote healthy skin, stabilize blood sugar, and may even improve mood and sleep! (12)
7. Grapes & grape powder

Like most of the best red superfood powders, grapes and grape powder contain high levels of antioxidants, vitamins, and minerals, and can improve heart health in a variety of ways, like reducing cholesterol, blood sugar, and blood pressure. They also contain compounds that have been shown to improve memory, attention-span, and mood. (13, 14)
8. Pomegranate

The research is clear that the link between antioxidants and aging is strong. Fruits like pomegranates are important sources of antioxidants, anti-carcinogens, and anti-inflammatories. Because these fruits provide such a high source of antioxidants, they are effective at preventing and treating chronic disease, infectious disease, and cancer. (15)
9. Reishi mushroom

Although reishi mushrooms aren't exactly red superfoods, they are often included in the red superfood powders for their adaptogenic properties. These healing mushrooms boost immunity, reduce stress, improve sleep and lessen fatigue, and contains anti-cancer and other disease-fighting properties! (16)
10. Rhodiola

Another adaptogenic mushroom, Rhodiola, made our list for top red superfoods for its incredible ability to combat stress, fatigue, and anxiety. Since medicinal mushrooms don't typically have the most appetizing flavor profile, they are often blended with other fruity and delicious red superfoods which is how it ended up on our list of best red superfoods. (17)
11. Strawberry

Who doesn't love a bright red, juicy strawberry? Not only are strawberries one of the most popular red superfoods out there, but they are arguably the most delicious. They are excellent sources of vitamin C, manganese, folate, potassium, and rich in antioxidants and plant compounds! They may also lower blood sugar, protect against heart disease, and lower bad cholesterol while increasing good cholesterol. (18)
How To Choose The Best Red Superfood Powder

If you're debating which red superfood powder is best, I've got a few tips to help you make an informed decision. Here's what to avoid and what to look for when selecting a red superfood powder for daily consumption:
What to avoid:
Added sugar—Red superfoods often contain fructose which is a natural sugar found in most fruits. This typically adds plenty of natural sweetness on its own accord and added sugar will most likely increase the calorie count which is entirely unnecessary. A healthy red superfood powder shouldn't contain any added sugar. 
A long list of "other ingredients"—Most supplements have a small area below the nutrition facts panel where it lists the "other ingredients" used in the formula. A good quality red powder shouldn't have any more than four or five other ingredients outside of the superfood ingredients. Anything more is unnecessary and likely contains hidden calories. 
What to look for:
Contains pre and probiotics—It's important to look for a red superfood powder with a blend of pre- and probiotics that includes digestive enzymes. This helps your body absorb the nutrients in the superfoods more effectively. 
Contains bonus blends—Red powders that contain bonus blends are always a, well, bonus! They don't affect the efficacy of the superfoods themselves but they offer a wider variety of health and beauty benefits that a regular, run-of-the-mill red powder can provide. The best red superfood powder will contain roughly two to four added benefit blends (like anti-aging or adaptogen) in addition to the red superfoods.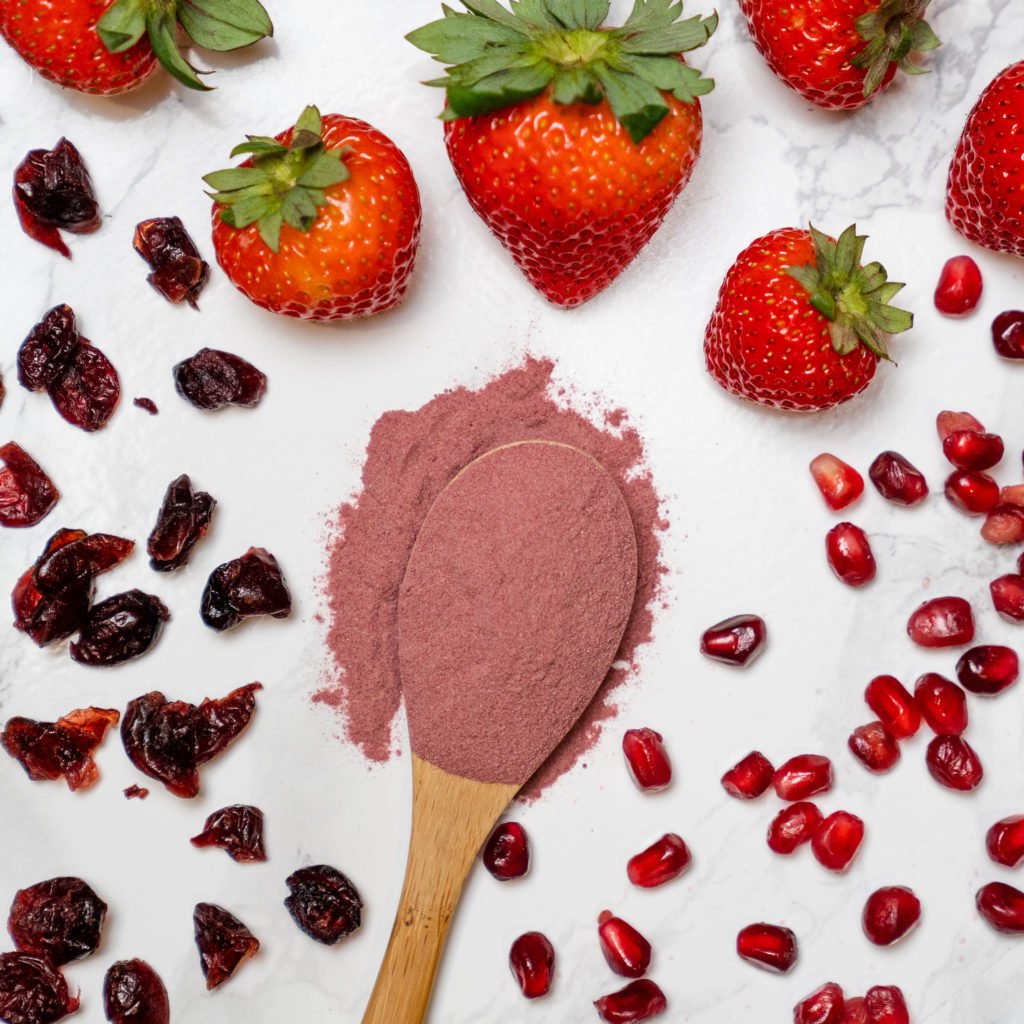 So, What Is The Best Red Superfood Powder For 2020?

Selecting a daily red superfood powder shouldn't be impulsive. If you want to get the most out of your red powder, not to mention the biggest bang for your buck, don't waste your time (or money) on low-quality superfood powders that don't back up their claims. 
Considering the different factors, the best red superfood powder is, hands down, SkinnyFit Beauty Juice. Beauty Juice is more than just a red superfood blend. This delicious, adaptogenic superfood blend is like sipping straight from the fountain of youth. Beauty Juice superfood powder contains not just the 11 red superfoods mentioned above… it contains a whopping 36 superfoods and all of your essential daily nutrients for youthful, vibrant-looking skin, increased energy, and optimal digestion in one simple, açaí-flavored powder. Bursting with mood-boosting superfoods, probiotics, digestive enzymes, and anti-inflammatory and antioxidant ingredients, this red juice powder will leave you looking and feeling renewed with just one scoop a day. All you have to do is mix one scoop with 8 to 12 oz. of water!  
What makes Beauty Juice even better is that there are no added sugars, it's free of gluten, soy, and dairy, is non-GMO, and completely vegan! There are also only three "other ingredients" included which makes it far more pure than other red superfood powders on the market. 
One of the other reasons Beauty Juice is the best red superfood powder of 2020 is that it contains four unique and powerful superfood blends in one, including an antioxidant red superfood blend, a pre- and probiotic blend, an anti-aging beauty blend, and an adaptogen blend! 
It also comes with a full 90 Day Money-Back Guarantee so if you're unsatisfied for any reason, you can send it back for a full refund. I don't know about you but this is a HUGE bonus for me as a consumer!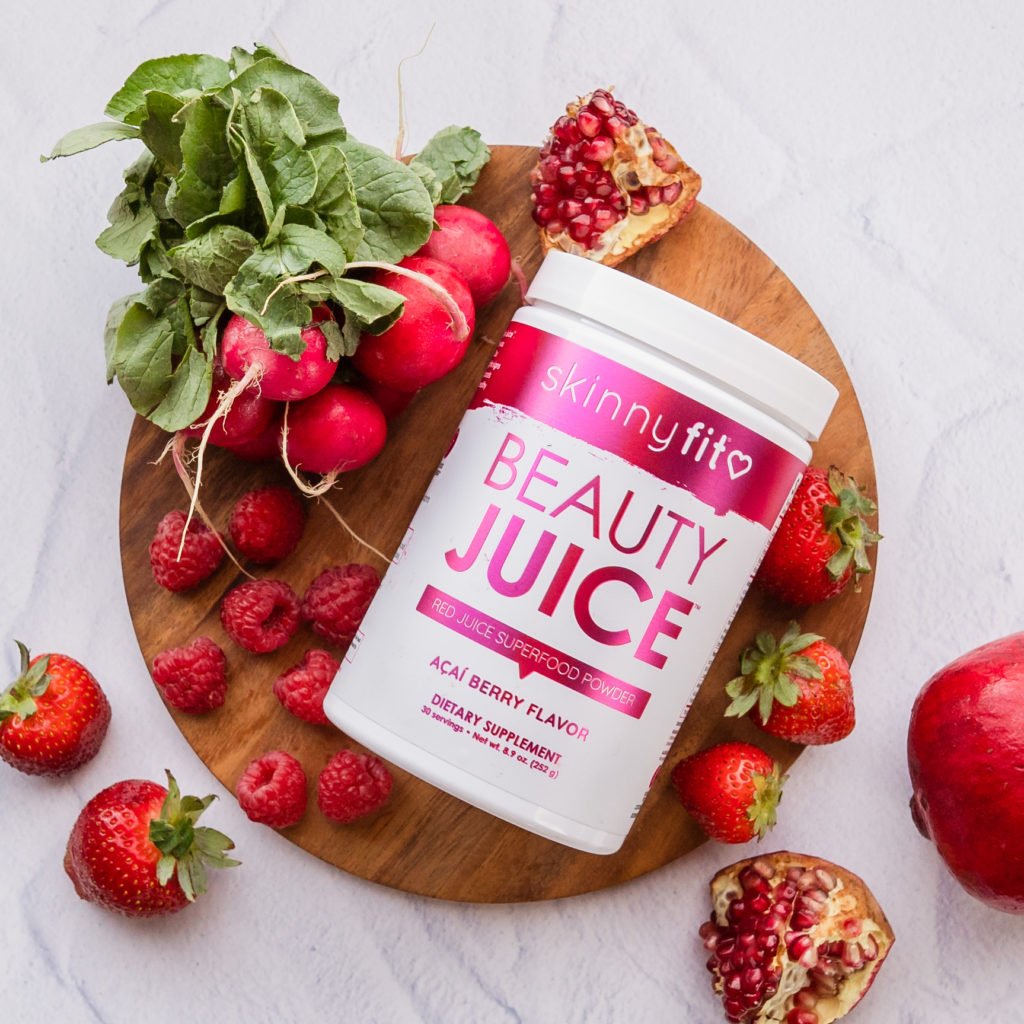 Beauty Juice Red Superfood Powder Benefits

Beauty Juice Superfood Powder supports overall vitality, improves energy, boosts immunity, and helps to reduce stress. Here are some other benefits you can expect with this beautifying red superfood powder:
Promotes vibrant, youthful skin 
Reverses signs of aging 
Promotes overall vitality 
Improves mood & decreases stress
Reduced inflammation & stimulates immunity
Improves digestion 
Boosts energy
Helps mental clarity & focus
The Bottom Line 

If you're looking for the best red superfood powder to help you reach your health and beauty goals in 2020, it's important that the blend you choose contains the 11 red superfoods listed above, at the very least. Not all red powders are created equally, so looking at the nutrition facts panel to view all of the different health blends that are included, the health claims, and any added ingredients is crucial to finding the best one. With many red superfood powders failing to meet customer standards when it comes to ingredients, quality, price, and flavor profile, SkinnyFit Beauty Juice has proven to be far superior than any other red superfood powder on the market. It's also backed by a full 90 Day Money Back Guarantee so there is virtually no risk if you wanted to try it for yourself. To order Beauty Juice completely risk-free, click here. 
READ NEXT: 16 Of The Best Anti-Aging Superfoods & Antioxidants For Skin!