How To Make A Sweet & Festive Candy Corn Smoothie For Halloween!
Written by: Shelby Torrese - Oct. 23, 2019
It's happened to the best of us. We excitedly go to the store to buy a festive bag of candy corn, swearing we intend to share with our family or office, and then mindless hours of television or scrolling later, the bag is just chipped edges and crumbs! Whoops. This has happened to me, uh, twelve or so too many times. But who's counting?! This year, I made a promise to myself to stick with my health and fitness goals through the holidays. (God, help me 🙏) In lieu of that dedication, I created the ultimate anti-cravings, mindless-gobbling-fix for my unhealthy addiction, a candy corn smoothie! It's fruity, delicious and absolutely stunning. The true shining star of this recipe, though, is a little secret ingredient that can have you looking like Glinda the Good Witch instead of the Wicked Witch of the West—I'm talking about collagen. If you take collagen on the reg, you know just how super they really are. Stronger hair and nails? Check. Less cellulite and smoother skin? Double-check. Getting carded for wine? Easy now, it's not literally a time machine! 😂🍷
If you're completely baffled as to how to make a candy corn smoothie, don't you worry. It's much easier than it looks, and only requires 5 ingredients or less per layer. It's packed with 5 incredible health benefits, is gluten-free, dairy-free, made without any added sugar and looks absolutely spectacular! All of the treats with none of the trick!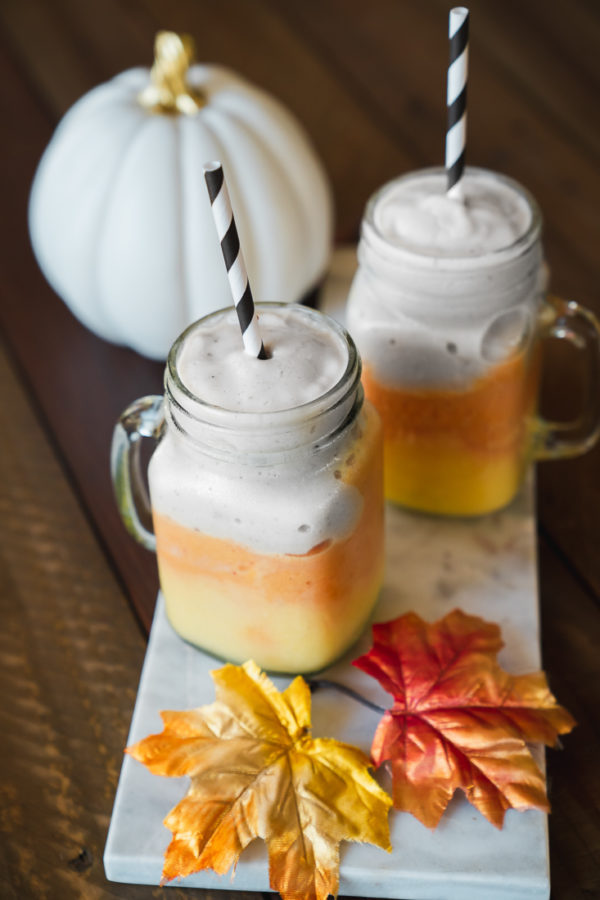 What Is A Candy Corn Smoothie?
This candy corn smoothie is simply a three-layer smoothie that utilizes different fruits and flavors to resemble quintessential Halloween candy corn. SkinnyFit's version is full of anti-aging, skin-transforming benefits along with the naturally incredible benefits of each fruit included. It's a fun way to get in the spirit of Halloween without indulging in fatty, tooth-decaying candy. Out of all the Halloween smoothies out there, this is definitely the healthiest and most benefits-packed one! Plus, it won't look too shabby on your IG either 😉
What Does A Candy Corn Smoothie Taste Like?
Although you may be expecting the sugary taste of candy, this candy corn smoothie tastes like the tropics! It's full of tart pineapple, juicy mango, sweet strawberry and peach, and creamy banana. The best part is that the yumminess is all completely natural! Haven't you ever wondered how candy gets its fruity flavors? Check the ingredients. You won't find cherries, grapes or raspberries in them, ever! Instead, you'll find numbers and chemicals and artificial ingredients masked as sugar-coated addictions. Well, not here! That's all thanks to the delicious peach mango flavored collagen—Super Youth Peach Mango Collagen!
The added collagen isn't just something I threw in here to sound good. Super Youth Collagen is full of benefits. It helps to increase skin elasticity, which reduces fine lines and cellulite. Collagen also helps to keep the skin hydrated, helping to lessen wrinkles and crepey skin. Our bodies stop effectively producing collagen as we age. Particularly over the age of 20. So, I try to add collagen in whenever, wherever I can!
To me, the most exciting part about this candy corn smoothie is that each layer has its own unique flavor profile. So even though it's technically one smoothie, it has three different tastes going on. You work your way from tropical pineapple and mango to sweet strawberries and peach to silky-smooth banana. Yummm!
RELATED: 5 Evidence-Based Reasons To Try Collagen For Skin (+Benefits)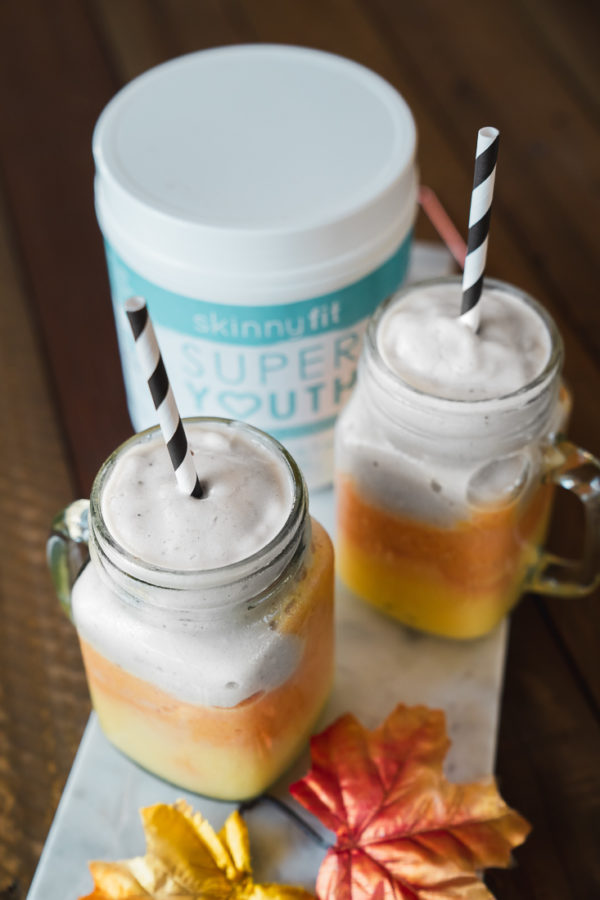 How To Make A Candy Corn Smoothie
You may think that these Halloween smoothies seem pretty straightforward. However, we have a few tricks up our sleeve on how to make a candy corn smoothie that will knock your Halloween socks off. Each layer should be made individually, and always rinse out the blender between layers to avoid discoloration. The most important tip we have, though, is to SCOOP, not pour, each layer on top of one another. For instance, once you have the yellow layer in your cup or jar, scoop the orange layer on top of it by the spoonful. If you try to pour it on top straight from the blender, the weight from the pour will combine the layers, leaving you with more of a tie-dye smoothie rather than candy corn. For extra firmness, you can put your cup in the freezer while you make each layer to avoid melting.
These candy corn Halloween smoothies are the perfect, healthy treat for this festive holiday! Your friends and family will thank you, and will probably come back adult trick-or-treating, begging for more! 👻
Nutrition Facts
Nutrition facts for one candy corn smoothie:
Calories: 275 calories
Protein: 14g
Carbs: 49g (from fruit)
Fat: 4g
Sugar (natural): 32g (from fruit)
Fiber: 8g
YOU MAY ALSO LIKE: How To Make The Best Activated Charcoal Lemonade Detox To Remove Toxins!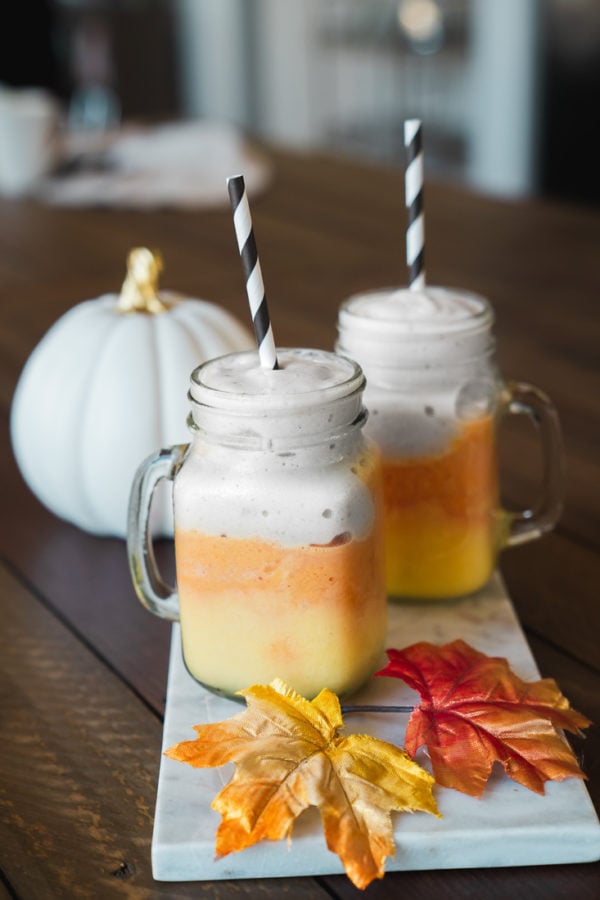 Candy Corn Smoothie Recipe
Ingredients
FOR THE YELLOW LAYER:
½ cup almond milk
⅓ cup diced pineapple, fresh or frozen
⅓ cup chopped mango, fresh or frozen
½ scoop of Super Youth Peach Mango collagen
⅓ cup ice
FOR THE ORANGE LAYER:
½ cup almond milk
⅓ cup strawberries, fresh or frozen
⅓ cup peaches, fresh or frozen
½ scoop of Super Youth Peach Mango collagen
⅓ cup ice
FOR THE WHITE LAYER
½ cup almond milk
1 banana, frozen
½ scoop of Super Youth collagen, unflavored
¼ cup ice
Directions
Starting with the yellow layer, mix all the ingredients into a powerful blender and blend until smooth. Divide the mixture between two tall glasses and pour until ⅓ full. Rinse the blender.
For the orange layer, mix all ingredients into the blender, blend until smooth. Using a spoon, gently scoop the mixture and place it on top of the yellow layer until the smoothie is about ⅔ full. Rise the blender.
For the white layer, mix all ingredients into the blender, blend until smooth. Using a spoon, gently scoop the mixture and place it on top of the yellow layer until the smoothie is about full. Enjoy!
Nutrition
Wellness