Jump To top
Step aside, face masks, there's a new queen in town! That's right, the new must-have self-care routine is actually DIY hair mask recipes. While our skin is super important, we tend to pay a lot more attention to it than our precious locks. Hair can be damaged by heat, styling products, and even improper brushing. That's why hair mask recipe posts have been popping up everywhere! DIY hair mask routines are everyone's new favorite way of relaxing and rejuvenating, and with good reason!
If your hair could use some TLC, turn your next ladies' night into a hair mask DIY night! It's something new for everyone to enjoy, plus there are so many DIY hair mask recipes to choose from, you can host over and over again without making the same mask twice!
Hair mask recipe ideas should stem from what your hair specifically needs. Today I'll be sharing five of my favorite DIY hair mask recipes for the most common hair complaints I hear, and what superstar ingredients make them so effective!
How To Use A Hair Mask
How to use a hair mask recipe is one of the most common questions I hear when it comes to hair mask DIY, because they don't come with instructions! 😂  The best way to reap all of the benefits of a DIY hair mask is to apply it to washed, and natural or towel-dried hair. Once the hair mask is in, let it sit for 10-20 minutes and then rinse with cool water. I then like to let it air dry. Generally, masks should be distributed throughout your entire head of hair, unless you're specifically doing a root or ends treatment mask.
Hair mask DIY are a bit more tedious than, say, a quick face mask. They require a bit more time and energy, though, I promise they are worth it! If you can only make time for a hair mask once a month or just once every couple of months, I always suggest nourishing your body and hair with a collagen supplement. Collagen is a protein that helps keep our skin from sagging, and our hair from excess damage. It's an easy addition to any flavored drink or smoothie, or if you buy a flavored collagen, you can add it directly to water! Check out Super Youth collagen for the best results. To learn more about the benefits of collagen for hair, click here.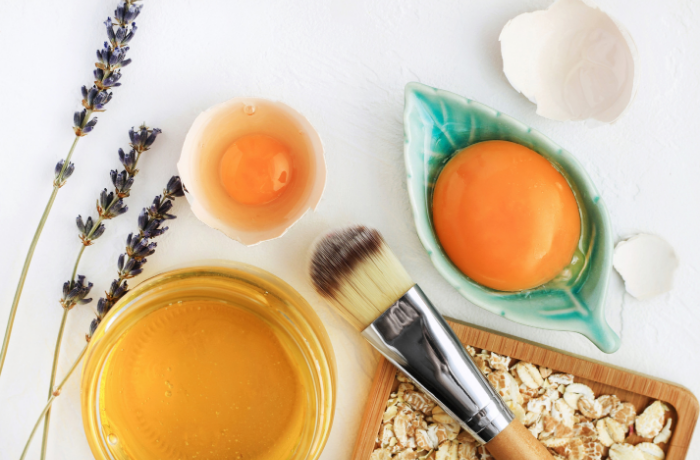 Best Hair Mask Recipes To Make At Home
These are the very best hair mask DIY recipes to make yourself. They are easy, quick and totally work! Next time you need a hair fix, look no further than your very own kitchen! I guarantee your new favorite DIY hair mask recipe is cheaper than the best one you'll find in stores.
1. Damage Repairing Avocado Hair Mask
1 Avocado + 2 tbsp Honey + 2 tbsp Extra Virgin Olive Oil
Think of this hair mask recipe as the body oil of hair masks. It will penetrate your hair follicles, working to repair and hydrate dry, damaged hair. I use this one as my go-to for wedding season, because I spend so much time heat styling it! This will help keep dead, dry ends healthy and shiny.
2. Anti-Frizz Hair Mask
½ Mashed Sweet Potato + 3 tbsp Honey + ¼ cup Full-Fat Yogurt
This is a girls' night hit! Everyone loves this hair mask DIY recipe because we could all use some good taming. I once saw a picture of myself against a white backdrop and it literally looked like someone had just rubbed a balloon on my head. I'm not joking. This is my favorite mask because I have such frizzy hair. Plus, if you get any on your hands, it tastes so good you can just lick it off. Again, not joking. 🤣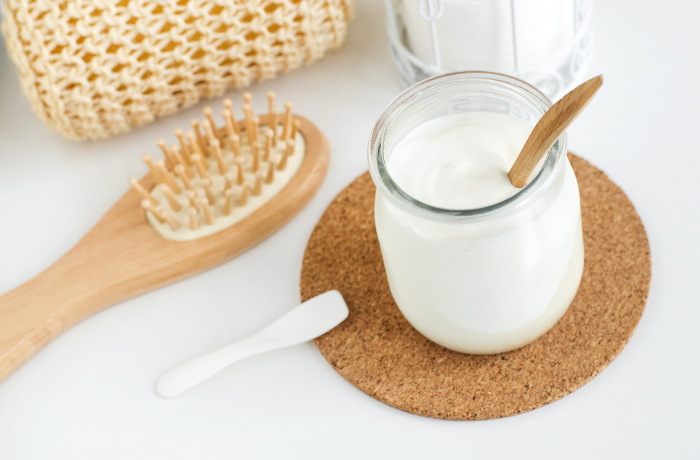 3. Moisturizing Mayonnaise Hair Mask
1 cup Full-Fat Mayonnaise
Trust me, I know this sounds disgusting. Who would want to dunk a bunch of mayo on their head? Well, ME! I first learned this trick in middle school, and ladies, I will never be above being called a mayonnaise head! Your hair will be SO shiny, SO lustrous, and SO smooth, that you will be running to Costco for the family-size gallon of mayonnaise. Don't believe me? Try it for yourself!
4. Anti-Dandruff Coconut Oil Hair Mask
½ cup Coconut oil + 2 tbsp Jojoba oil (or avocado oil) + 5 drops Peppermint essential oil
The dual oils in this DIY hair mask is killer for anyone who struggles with dandruff or a dry, itchy scalp. The peppermint oil is antiseptic and anti-inflammatory, which helps with itchiness. [1] Rather than dealing with expensive shampoo and conditioners that usually smell bad or simply don't work, try out this mask 1x per week or until you notice improvement! 
5. Hair Growth Protein Hair Mask
2 tbsp Coconut Oil + 2 tbsp Avocado Oil + 1 Egg (egg white only if you have oily hair)
This one may look simple, but it is a powerhouse for getting your hair healthy and strong to help it grow long! The oils work together to repair damaged hair, and the protein in the egg helps to nourish it to grow long and strong. This is a good one for anyone who tends to style or brush their hair a lot, or looking to grow out a cut.
The Bottom Line
No matter which of these DIY hair mask recipes you choose, I know you're going to love it! They are so fun and easy to make, plus you get the satisfaction of making it yourself! It's good to get your hands dirty now and then, especially when healthy, shiny hair is the reward!
Remember, hair masks are just a fun, add-on to help get the healthy hair you want. Eating well and staying hydrated, taking a collagen supplement, and getting proper rest are all-natural and free ways to stay healthy. If you do love these DIY hair masks, be sure to share them with a friend! 💕