Jump To top
Don't come for me, Christmas lovers – Halloween is the BEST holiday. It just is! You can take it in so many directions. From scary to cute, and sexy to funny, there's something for everyone to enjoy. Plus, the decorations trump all other holidays. I love nothing more than driving around my neighborhood every October to see how people Halloween-ified their homes. It's a timeless tradition I'll never grow out of.
If you want to step up your game this year, I've got some fun Halloween decorations for you to try. For anyone who's never done any DIY crafts, don't worry. These are simple enough for anyone to do, but awesome enough for everyone to enjoy.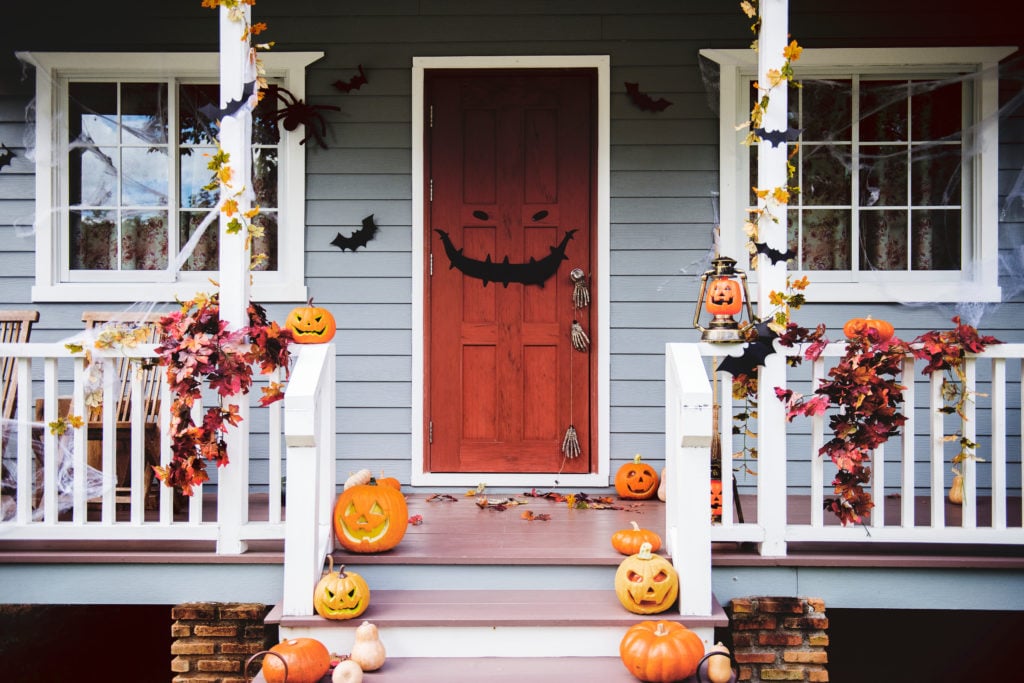 DIY Halloween Decorations To Transform Your Home
If you love Halloween and DIY crafts, you're going to love these decoration ideas!
1. Floating Witch Hats
Decorate your front porch or a room in your house with spooky floating witch hats! All you need are black witch hats, thread, a needle, scissors, and paint-friendly tape. Make sure you get the flimsy, lightweight hats so the thread can hold them up. Add your thread to your needle, and pull it through the tip of the hat from the inside out. Measure how low you want it to hang from the ceiling, and then cut your string. Tie a knot (maybe a few) on the inside of the hat, and then tape the other end of the thread to the ceiling. Repeat with as many hats as you'd like and you've got yourself a spooky witch-haunted house!
2. Grave Escapers
Turn your lawn into a haunted cemetery of not-so-dead skeletons. You'll need a bag of dirt, white rocks, and some paint and paintbrushes. The white rocks are meant to be the eyeballs themselves, so just paint on the irises and pupils. Let them dry while you create mounds of dirt around your lawn. Once the paint is dry, add two "eyeballs" to each mound of dirt as if someone is creeping out of them. This is a fun way for kids to get involved, too!
3. Mummy House
I love this project because it's so simple, but makes a big spooky statement! The supplies you need for this project are toilet paper (or white streamer paper), scissors, and black and yellow construction paper. Start by opening your front door, and wrapping it with paper until it's fully covered. This may take a few layers. Next, cut the edges off of one piece of black construction paper. Then, cut two ovals out of the yellow construction paper. These are going to be your mummy's eyes. Grab another piece of black construction paper, and cut out two small circles to create the irises of the eyeballs. Glue the small black circles onto the large yellow ones, then glue those onto the black sheet of paper. You can then tape it onto the door, or nestle it into the layers of toilet paper. To give it the full mummy effect, you can also tape some layers of toilet paper on the area around your door.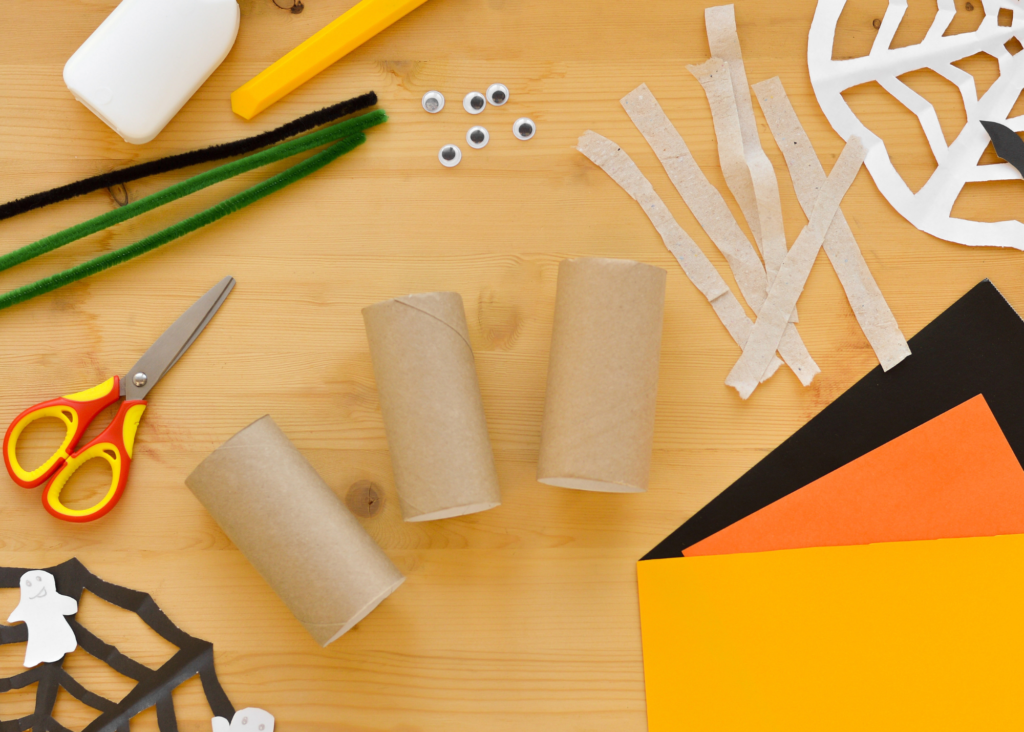 4. Bat Silhouettes
This is by far the easiest project. But hey, Halloween decorations don't have to be complicated to be fun! These decorations are simple but great, especially for kid's rooms. All you need is black construction paper, scissors, and tape. Start by cutting out bat shapes from the paper. They can be all different sizes. Next, you're going to tape the bats to the inside of any lamp shades you have around the house. That way, when the light is on it looks like there are little bats inside. It's cute, it's festive, and kids love it!