Jump To top
At the beginning of each new year, millions of people have one goal in common—to lose weight and prioritize their health. This is an incredible goal to have, but unfortunately, many people lose focus and motivation to hit the gym and eat healthy before Valentine's Day rolls around. It usually starts the moment you decide to skip that morning workout class or treat yourself a bag of potato chips… next thing you know your "new year, new me" kick is postponed until next year. It happens all the time. 
I've been a personal trainer for nearly a decade and have worked with hundreds of clients over the years. Despite their individual goals, whether they wanted to lose 30 lbs, squat their body weight, or even run their first 5k, there was one thing the people who reached their goals all had in common. This was something that turned out to be very valuable for me in order to help others reach their goals faster. I learned that motivated people produce the best results. These were the people who had some form of daily inspiration or fitness motivation to fire them up every day as a reminder of what they're working towards. I found that they not only worked harder and made fewer excuses, but they ultimately saw better results because of it. 
Now, I'm not suggesting that motivation is the only factor to reaching your goals. In fact, motivation alone will only get you so far because finding long-term success also requires effort and consistency. But, motivation has a powerful effect on shaping your decisions. And, in the end, showing up to an early morning workout class or resisting a bag of potato chips will all come down to your ability to make a choice that favors your goals. 
So, in the spirit of the "new year, new me" attitude, I'm proposing a new way to approach your fitness goals. Instead of making a list of goals and signing up for a bunch of workout classes, let's try something different. What if this year, you made thoughtful changes to give yourself daily inspiration and fitness motivation that FIRES👏🏼 YOU👏🏼UP👏🏼 so that every day, there's no reason to make excuses. This way, you'll be able to focus your energy and attention on what you really want instead of over-thinking how to get it. These fitness motivation hacks are guaranteed to be the radical, in-your-face change you need to see this year if you want to reach your goals.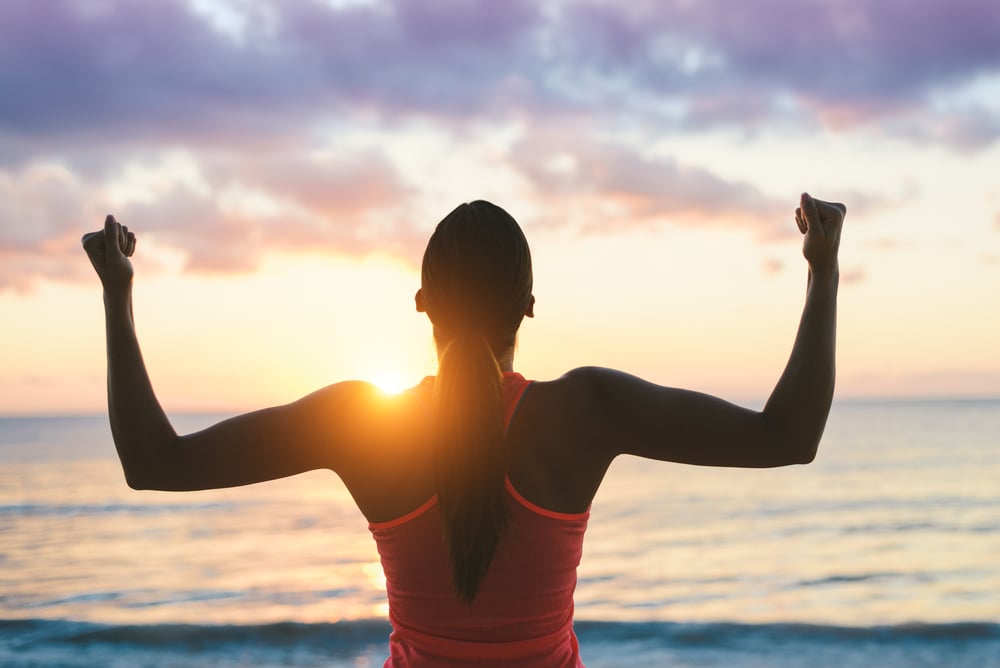 1. Create a vision board and an action board

Let's talk about vision boards for a second. Now, before you dismiss this idea because it sounds "cheesy," you need to understand that visualization is one of the most powerful mind exercises you can do. Visualization exercises are based on the Law of Attraction—a thought philosophy that surrounds the idea that your mode of thinking directly affects what the universe gives you. That positive or negative thoughts bring positive or negative experiences into your life. [1]
What is a vision board?

Literally speaking, a vision board is any type of board on which you display a collage of images and phrases that represent a goal in life, but its purpose is to help you clarify, concentrate, and maintain focus on that goal.
How does a vision board work?

The idea behind a vision board is that when you see your goals on a regular basis, your subconscious will recognize opportunities when they are presented to you—and when it does, you will be able to take action on it. Thus, helping you accomplish your goals.
What is the difference between a vision board and an action board?

Vision boards are excellent tools for discovering what your long-term goals are, and they serve as amazing daily inspiration and reminders of them. When it comes to creating a vision board for weight loss and fitness motivation, however, people often focus on what they aspire to look like. Sure, this can serve as a great motivator for anyone wanting to get in shape, but when you're following the Law of Attraction, your goals and actions aren't aligned and your conscious mind (the one you're aware of) and subconscious mind are not in sync. That's where an action board comes in. An action board uses the long-term goals and vision you want from your vision board and turn it into a visual representation of the actions you'll need to take to accomplish them. In other words, visualization will only get you so far. You're more likely to accomplish your goals when you not only visualize them every day but have a plan to take action on them.
Let's say, for example, that one of your goals entering the new year is to get in the best shape of your life. So, you add female fitness motivation, like women with chiseled abs and a lean physique, to your vision board. Your goal is to one day look like these women. Seeing your vision board every day will drill these images into your subconscious mind and help influence your decisions in order to achieve it. But when creating your action board, you might include daily inspiration images of women doing your favorite form of exercise—it could be dancing, running, cycling, weight lifting, anything! Whatever it is, it should be something that you love doing and represent an action that will help you achieve your overall goal.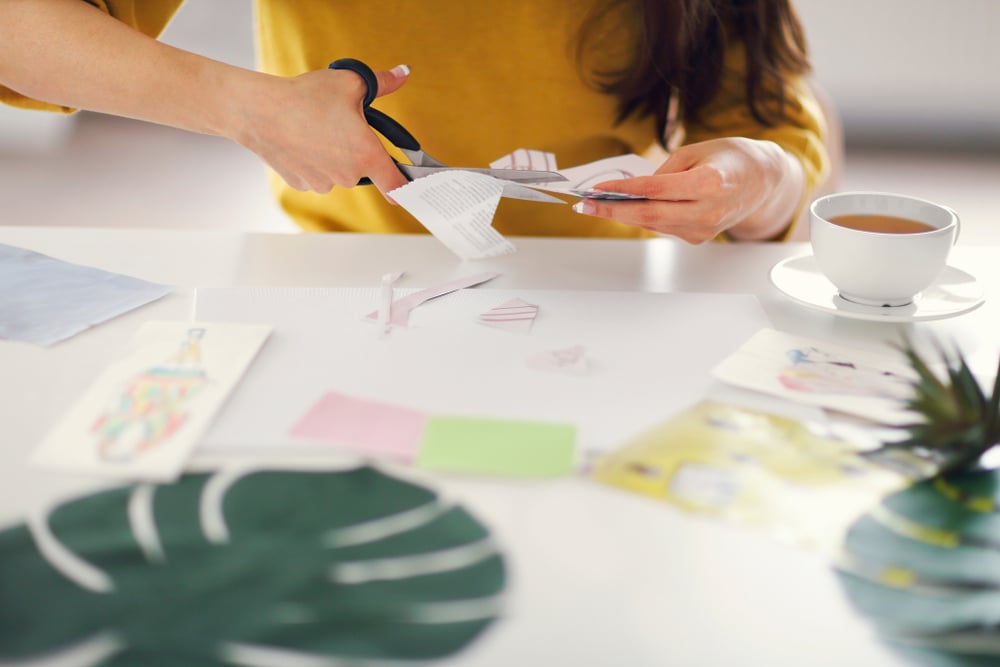 2. Follow inspiring social media accounts (& unfollow toxic accounts)

When was the last time you evaluated your circle of influence? Your circle of influence is a combination of the people and information you have access to on a daily basis that, for lack of a better word, influence the way you live your life in some way or another. The most obvious forms of influence in your life are your friends, family, co-workers, and your environment. Who you surround yourself with on a daily basis can have an influence on the way you talk, the way you dress, the way you act, where you hang out, your belief systems, your hobbies, and even your behaviors. 
What many people don't realize, though, is that they can be just as influenced by the people they don't have contact with in person at all—they can be influenced by what they see in movies and TV shows and, over the last decade, influenced by what and who they follow on social media. 
When it comes to health, wellness, and fitness, social media can have both positive, and negative effects on your physical and mental health, and it all comes down to who you choose to follow and what type of content they are producing. 
For starters, let's talk about the cons of social media in respect to your health and fitness journey.
Cons: Social media can foster unrealistic expectations of health.

Sure, following fitness models and healthy eating accounts can certainly motivate you to work harder in the gym and eat healthier—but, following accounts that portray this type of "perfection" can make people feel like eating healthy and working out are unattainable, or "not for them," if they don't look a certain way, skip a workout, or eat junk food every once in a while. When it comes to using social media as a fitness motivation tool, be very careful who you choose to follow. Sometimes they can do more harm than good, so don't be afraid to hit the unfollow button if an account is sharing content that makes you feel bad about yourself, causes you to become judgemental, second guess your beliefs or morals, or if you find yourself playing the comparison game. Following toxic accounts can not only make it harder to reach your fitness goals, but make the process less enjoyable. 
While some social media accounts can have negative side-effects, others can provide positive female fitness motivation instead. Here are the pros that social media can have on your fitness journey…
Pros: Social media can be an excellent way to get daily inspiration and fitness motivation on-the-go. 

It's unrealistic to bring your vision board with you everywhere you go. So in a way, following inspiring Instagram accounts can be the next best thing. But, unlike toxic social media accounts, the best Instagram accounts for fitness motivation offer so much more than accounts that portray an unattainable or unrealistic lifestyle—they offer diet tips, workouts, and educate you on health and fitness to make living a healthy lifestyle easier and more attainable for you.
These are some of my favorite female fitness motivation accounts that will not only fire you up to reach your goals, but will lift you up and help you love yourself in all phases of your fitness journey!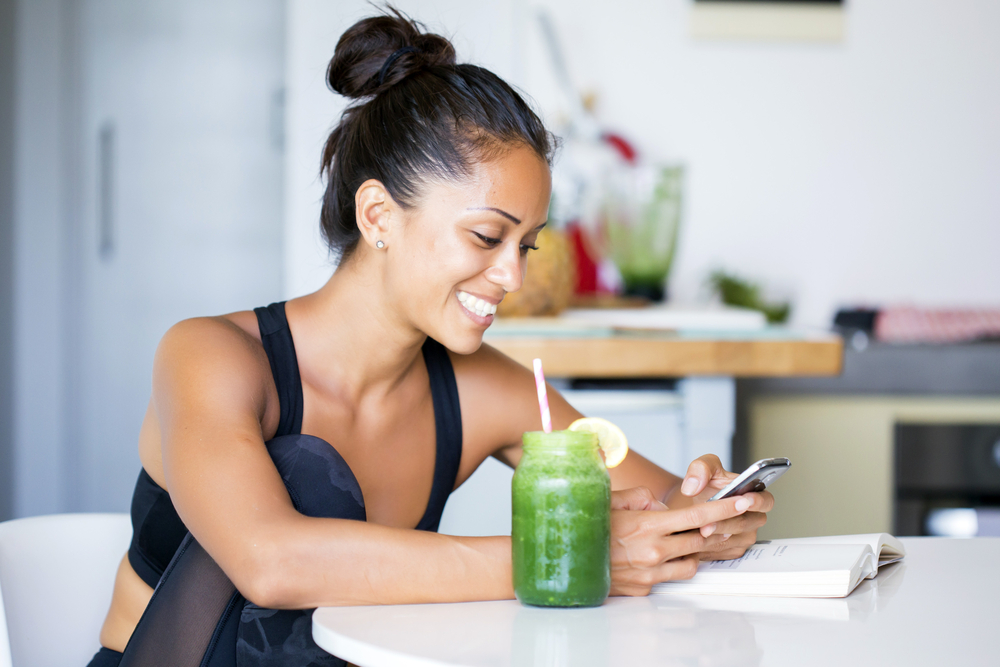 5 best Instagram accounts & social communities for female fitness motivation
Shona Vertue (#VertueCrew)

Shona is a UK-based personal trainer and yoga teacher who places just as much emphasis on rest and recovery in her content and training as she does hours in the gym. In addition to sharing great workouts and diet tips that help you get in shape, she stresses the importance of stretching, mobility, and posture alignment to prevent injuries and boost longevity. Her videos are not only helpful, informative, and approachable, but she has quite a sense of humor which makes them even more entertaining to watch. You can follow her on Instagram and her other social media channels which you can navigate through her website. 
Alexia Clark (#QueenTeam)

Alexia Clark is seriously #goals when it comes to workout creativity! If you're looking for a variety of new workouts or inventive ways to exercise, her feed is filled with great ideas and videos to help you stay fit and active! She is a Certified Personal Trainer, Fitness Nutrition Specialist, and leader of the #QueenTeam community. You can follow her on Instagram or her various social media accounts, which you can navigate through her website. 
SkinnyFit Facebook Group (#SkinnyFitLove)

Say hello to your new girl gang! The SkinnyFit Community on Facebook is an active group that makes it easy for women to make healthy changes in their lives. Whether it's through sharing simple and healthy recipes, quick workouts, or helpful tips and tricks, the community provides the support and guidance women need to thrive! You can join the Facebook group for free and expand your fit sisterhood by the thousands!   
Lauren Fisher (#GrownStrong) 

If you're looking for some serious female fitness motivation, Lauren Fisher is a must-follow! She is a professional CrossFit athlete changing the way women approach lifting weights. Lauren, and her brand Grown Strong, challenge women to tap into their individual strength to see that strong is beautiful and giving up is simply not an option. Whether you only have time for a 30-minute home workout or you're looking to do your first pull-up, Grown Strong's flexible fitness philosophy makes it easy to reach your goals on your terms. Their community not only motivates women to reach their individual goals in and out of the gym, but also helps them create healthy habits for long-term success. You can follow Lauren and Grown Strong on Instagram and their various social media channels through their website for daily inspiration, workouts, and nutrition guidance. 
Julie Ledbetter (#EmbraceYourReal)

If there's one thing any woman can benefit from after starting on their fitness journey, it's learning to embrace her body and love the process every step of the way. Julie Ledbetter inspires her community to live every day better, to honor your body with movement, and to give yourself grace even when you have a slip-up. But, helping women find balance with nutrition is one of Julie's biggest claims to fame—she teaches her community how to use macro-counting as a way to not only reach your fitness goals but maintain balance and a healthy mindset throughout the process. You can follow her on her Instagram and through her various social media channels which you can navigate through her website.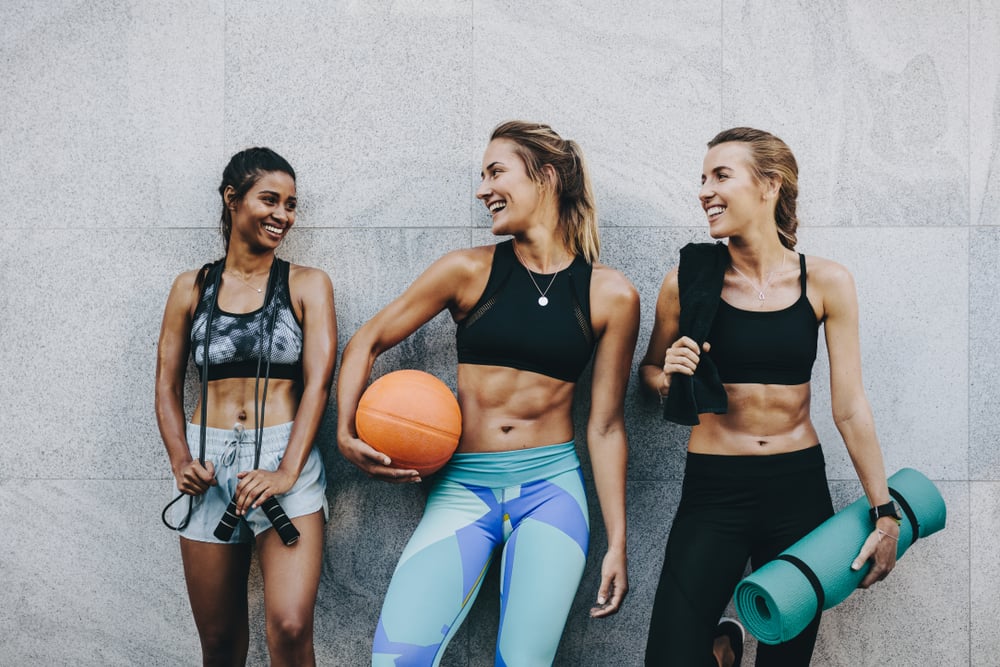 3. Find a fitness program to follow 
The next fitness motivation tip I can give you is to find a fitness program to follow. I can't stress the importance of this enough if you want to make exercise a daily habit! Having a pre-planned workout, especially one that's been written by a professional, has a few benefits. For starters, it motivates you to show up and encourages you to get in and out faster. Who doesn't love saving time in the gym?! It also ensures that you're working toward a specific goal. Typically, fitness programs have a specific end-goal or objective in mind. For example, you can follow a fat loss program in hopes to lose body fat, a booty-building program if you're looking to add some curves to your physique, or even a running program to help you run your first half marathon. Here are some of my favorite fitness programs to follow depending on what your goals are! 
4. Stock up on healthy supplements

An apple a day keeps the doctor away! But, when it comes to keeping your daily fitness motivation levels high, sometimes all you need is a high-quality health supplement. Keeping supplements on hand or simply adding them to your morning routine can serve as a great reminder to make healthier choices throughout the day! Taking supplements like green and red superfood powder, collagen peptides, or even a slimming detox tea can help give you the boost you need to tackle your health and fitness goals.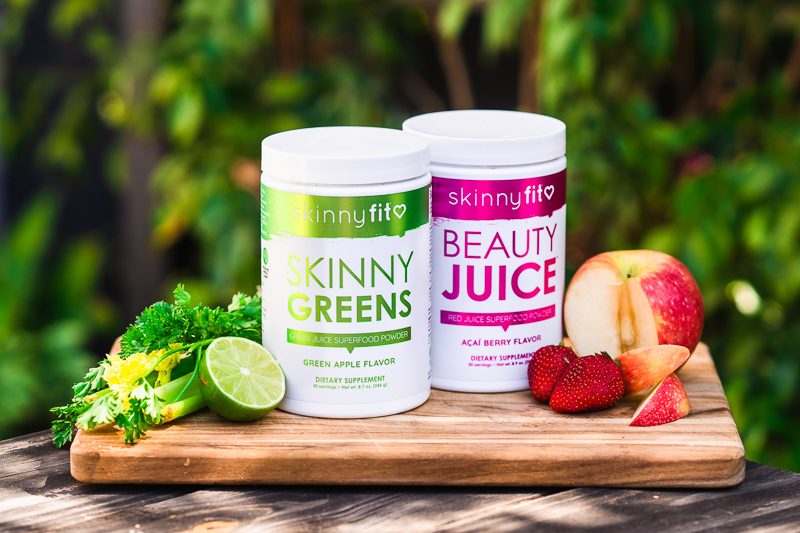 5. Download helpful apps

Nowadays, there are countless apps that help people stay focused and motivated to reach their goals. Want to track how many calories you're eating? There's an app for that! Need to keep track of your water intake or practice meditating? There are apps for that too! Take a few minutes to browse the top health apps on your smartphone and start loading up! The more health-conscious apps you have, the more likely you are to focus on those goals. Similarly, it might be a good idea to remove certain apps if they tend to distract you or turn out to be time suckers. 
6. Update your digital wallpapers 

With the number of times people look at their phones a day, why not be reminded of your goals with a motivational quote or two? Whenever you're looking for a boost of fitness motivation, change the wallpaper on your phone! It's super easy to do and you can change it up anytime you want! If you haven't been motivated to make it to your morning spin class, put an inspiring quote that pumps you up! Or maybe you need a little encouragement to make healthier choices with your diet—either way, changing up your digital wallpapers are a great way to get some daily inspiration.  
Save these motivational quotes to your phone for daily inspiration!