Jump To top
Looking for the perfect gift idea? Check out all the best gift ideas for women, fitness lovers, beauty lovers, moms, and more!
We all have that one sister, cousin, girlfriend, or even mom, that NEVER shares what's on their wishlist. They say they don't need anything or "haven't thought about it" only to be disappointed that they got socks and candles for the sixth year in a row. Well, it's time to settle the family drama, once and for all. This holiday gift guide will give you the best gift ideas for women in your life, from fitness fanatics to busy moms. Buy them soon, and proudly be done with your holiday gift-giving list without having to endure the shopping mall frenzy.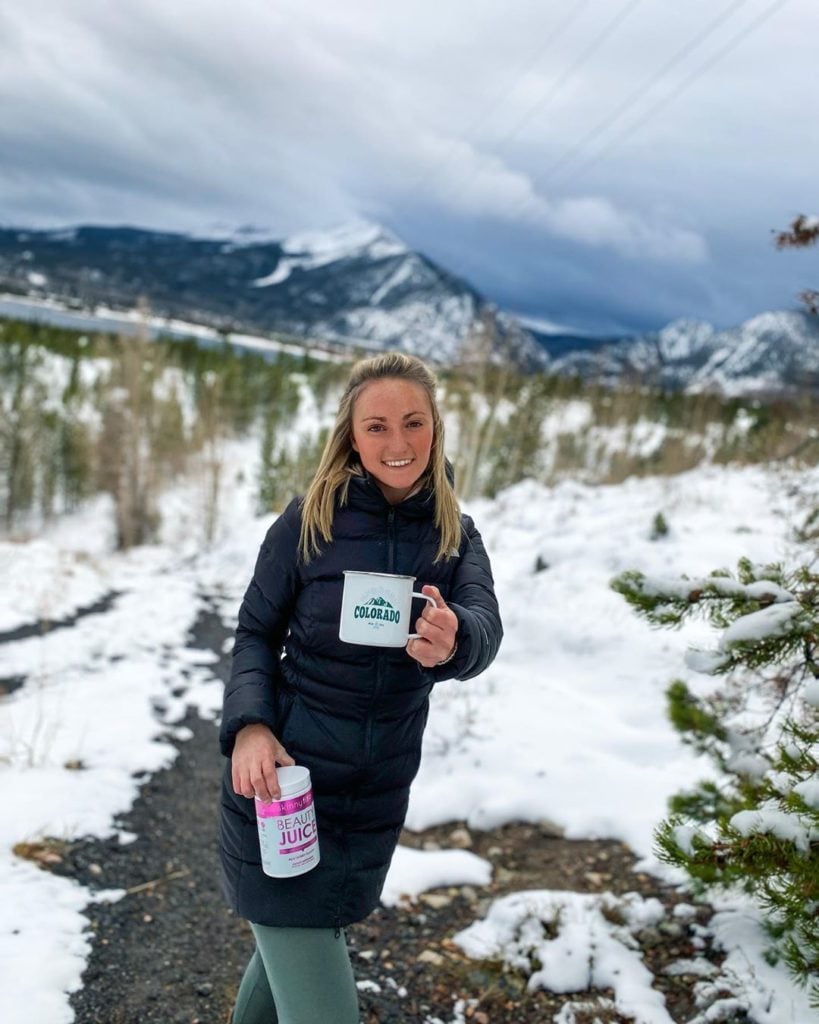 Gift Ideas For Fitness Lovers
Ah, the fitness lover. We all know and love one, and if nothing else, wish to be one. Instead of scrambling to find the one pair of leggings that they don't have yet (hint: they don't have them for a reason), give them the SkinnyFit Workout Warrior Bundle! It's hands down one of the best gift ideas for fitness lovers this year. It contains two delicious supplements, a pre-workout and post-workout powder, plus a shaker bottle! The pre-workout powder, Jump Start, is specially formulated for women and provides all of the focus and endurance they'll need to crush her workout, without the jitters or crash! Then they can follow it up with the post-workout powder, Repair & Recover, and quickly soothe sore muscles and feel ready for the next workout in no time! They get everything they need to have the best exercise routine possible, and you get major kudos for getting them a gift they'll actually use. You're welcome. 
Workout Warrior Bundle
Jump Start—Kick your fitness goals into high gear with this delicious pink lemonade pre-workout. It's formulated specifically for women and gives you, or your loved one, the motivation, focus, and endurance needed to get the most out of your exercise routine—without the jitters or crash!
Repair & Recover—Your fit friend will LOVE this powerful blend of BCAAs (Branched Chain Amino Acids). It's designed to promote muscle repair, ease soreness, and amplify fat burn after exercise.
Shaker Bottle—The perfect bottle to mix your pre- and post-workout supplements!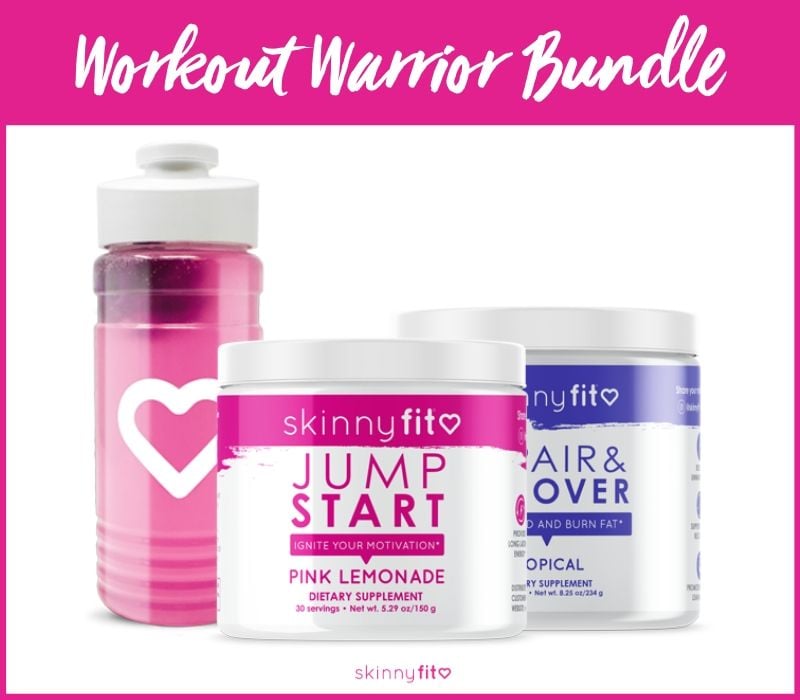 Gift Ideas For Health & Wellness
For the one that orders salad, only drinks water (or vodka sodas), and never, ever misses a pilates class. This one's for her. The Slim & Fit Bundle will keep her slim, trimmed, and satisfied. Show her that she can have a tasty drink without worrying about sugar content or weird ingredients! Detox tea is a fragrant and delicious mix of herbs and superfoods, and our Super Youth multi-collagen peptides provides all the anti-aging magic your wellness-loving bestie could dream of. 
Slim & Fit Bundle
Detox—This is the perfect gift for anyone who loves to look and feel their best, especially around the holidays. Detox contains 13 powerful metabolism-boosting superfoods that fight bloating and gives a natural energy boost!
Snack Attack—This fat-burning appetite suppressant is the missing piece to getting a jump on any New Year's resolutions. It makes fighting off holiday snacking and staying focused on your goals so much easier.
Super Youth Collagen, Tropical Punch—This fruity collagen flavor will transport your loved one to a tropical island for the holidays with just one sip! Who wouldn't love smooth skin and firm muscles before year's end? Mele Kalikimaka! 🌴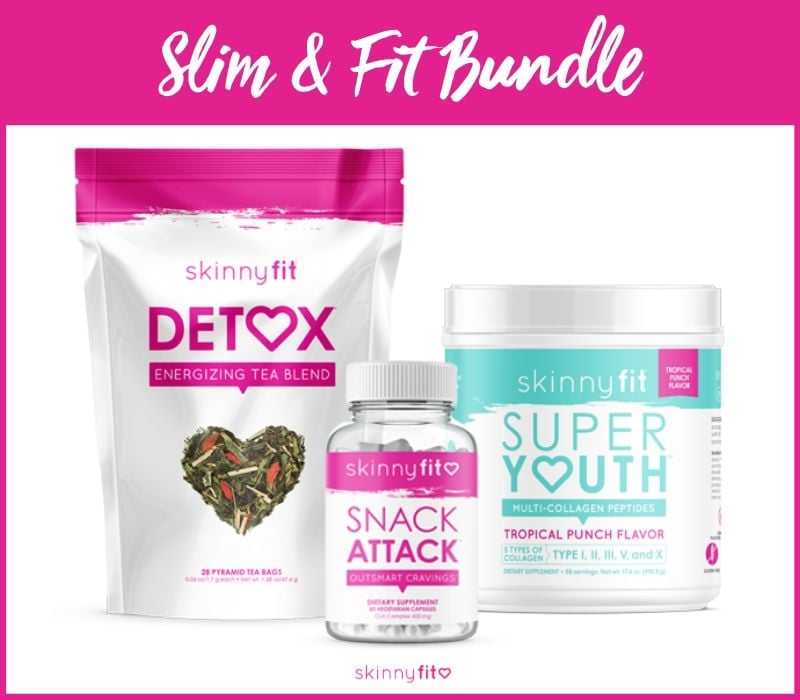 Beauty Gift Ideas
Forget trying to buy skincare for the beauty guru in your life. You know she already has it all. Help her beautify from the inside, out this year with our Glow Up & Go bundle. Beauty Juice superfood powder, Super Youth multi-collagen peptides, and Daily Glow vegan capsules all work to help you glow up like the beauty queen that you are, without makeup. That's right. We wouldn't be surprised if your Ulta-obsessed friend started rocking the au natural look after getting through this bundle. Don't believe us? Buy one for yourself, too!
Glow Up & Go Bundle
Super Youth, unflavored—Our most versatile collagen makes the perfect gift for just about anyone. It's packed with skin-, nail-, and hair-loving nutrients that stop Father Time right in his tracks!
Beauty Juice—Bursting with mood-boosting superfoods, probiotics, and anti-inflammatory and antioxidant ingredients, this daily juice will have your loved one looking and feeling rejuvenated every day! 
Daily Glow—This is the ultimate hair, skin, and nail vitamin and helps build stronger and longer hair and nails, and brightens skin tone.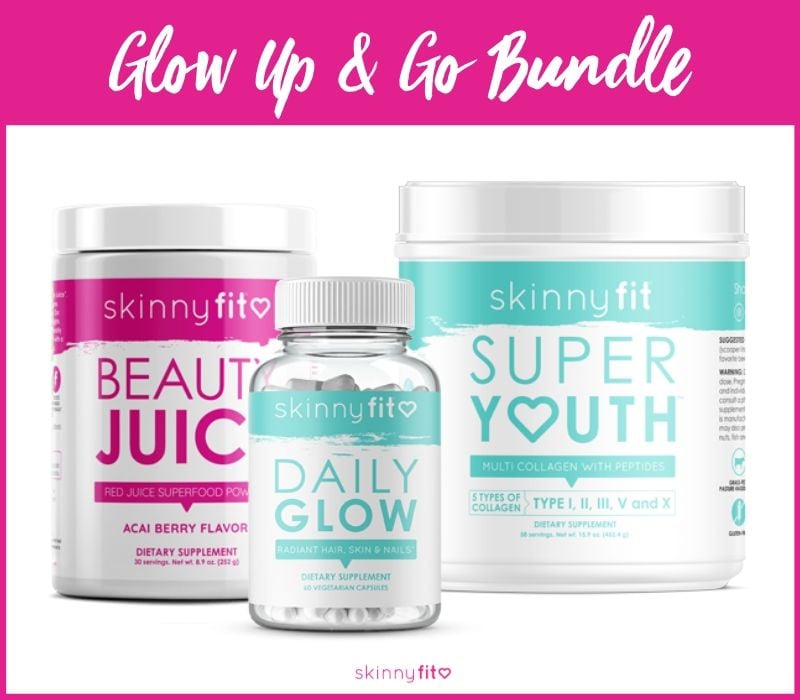 Gift Ideas For Moms
Give this Total Reset bundle to your favorite superhero mama. She's on the ball, never forgets a birthday, juggles a million tasks at once, and always sends thank you cards. She deserves this bundle more than anyone, and you have got to gift it to her before anyone else does! Beauty Juice is the fruity, delicious, beautifying drink she needs to pretend like she didn't birth three kiddos. Super Youth Peach Mango is perfect for on-the-go, because all you have to do is add water, shake, and go! She'll be looking ten years younger by the end of this jar, so you better be ready to replenish it by the time her birthday comes around, because it will 100% be on her wishlist. Detox tea is the slimming, slenderizing tea that will get her through carpool lanes and bounce houses alike. Note: The Total Reset bundle may cause increased joy and youthfulness. 
Total Reset Bundle
Beauty Juice—What mom wouldn't love an opportunity to sip from the fountain of youth for the holidays? NONE. Beauty Juice turns back the clock on aging and helps women look and feel younger than ever!
Super Youth Collagen, Peach Mango—This delicious collagen flavor makes it easy and convenient for moms with a busy schedule to fight the signs of aging. Simply mix one scoop with water and you're good to go!
Detox—Does your Supermom friend need a pick-me-up? This superfood tea offers a natural boost of energy and has incredible health benefits!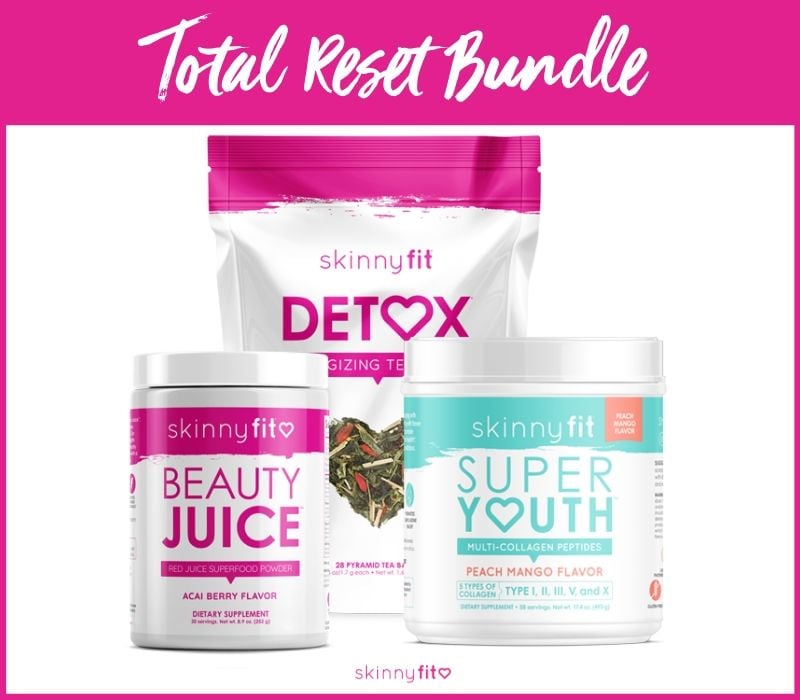 Stocking Stuffer Gift Ideas 
We get it, the holidays are a time where we feel pressured to give big gifts, small gifts, stocking stuffers and a 'gift to open the night before'. Even after you purchase a bundle, consider showering your friends and family with somewhere to put all their new superfoods and teas and collagen powders! SkinnyFit has so many bottles, uniquely created for each product, that you'd be missing the mark if you didn't extend the bundle! Here are a few more great gift ideas for women, and gift ideas for fitness lovers (because you know they always need a water or supplement bottle). 
The bottom line on gift-giving. If you're looking for gift ideas for women, look no further. Each of these bundles and bottles will give your favorite gal pal a little pep in her step in crushing her 2020 goals, whatever they may be. We hope you have just as much fun gifting these bundles as we had creating them. 
RELATED: SkinnyFit 101: A Beginners Guide To Healthy Living [+Product Guide]