Jump To top
Over the years, my gym bag has become a hodgepodge of random things that I rarely even touch. Hair ties? Let me throw in fourteen just in case. Underwear? Five pairs should be enough… By the time I'm done packing for the gym, my zipper barely shuts! I like to air on the side of caution, even though I know I'll never need multiple pairs of underwear unless I'm having a really, really bad day. 😂
Now, while I like to be prepared for just about anything when heading to the gym (even an apocalypse apparently), I especially like to make sure that I always pack my gym bag essentials. If you're not sure what to keep in your gym bag at all times, you've come to the right place. Here are my top 17 gym bag essentials for women that will make your life a whole lot easier! 
1. Headphones
When thinking about what to keep in your gym bag, headphones should always be music to your ears (literally). Motivating music can be the difference between a good workout and a killer workout!
2. Personal cleansing wipes
Gym bag essentials #2: Disposable cleansing wipes. These are great for those quick workouts when you don't have time to shower. Pro tip: you can even use them for your underarms! I call that a drive-through shower. 🤣
3. Dry shampoo
When you don't have time to wash your hair after a workout, this is one of those gym bag essentials that is an absolute lifesaver! Dry shampoo soaks up excess oil and sweat, while adding volume and texture to your roots. Check out these post-workout hair tips to speed up your gym routine.
4. Pre- and post-workout 
If you're looking to maximize your results every time you workout, pre and post-workout supplements are a gym bag essentials must! I recommend SkinnyFits Jump Start to give me the energy I need to power through any workout, and Repair & Recover to help repair my muscles and keep burning fat even after I've finished at the gym. The best part is you can save some moola when you order them together.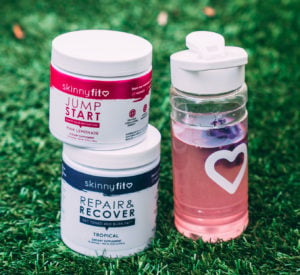 5. Small microfiber towel
Sometimes the towels provided at the gym are, well, gross. You'll feel better by bringing your own clean, fresh towel with you.
6. Tampons
Quite possibly one of the most important (but often overlooked), gym bag essentials for women. Because you never know…
7. Lip balm
Nothing's worse than dry, chapped lips while you're gettin' your sweat on. Your mouth is already dry from crushing your workout, let's not make it worse. 
8. Gum
Hot workout = hot breath. Gum is pretty much never an answer when I ask people what to keep in your gym bag, but nothing feels quite as relieving than popping a minty fresh stick of gum in your mouth after a tough workout. 
9. Shower shoes
I used to go barefoot before the pandemic, but now, my hygiene standards have changed a bit. You can find these gym bag essentials at Target, Old Navy, or Amazon; they shouldn't cost you more than $5.00.
10. Dirty clothes bag
Gym bag essentials are nothing if your gym bag is sweaty or stinky! Keeping your dirty clothes in a separate bag helps keep your gym bag nice and fresh!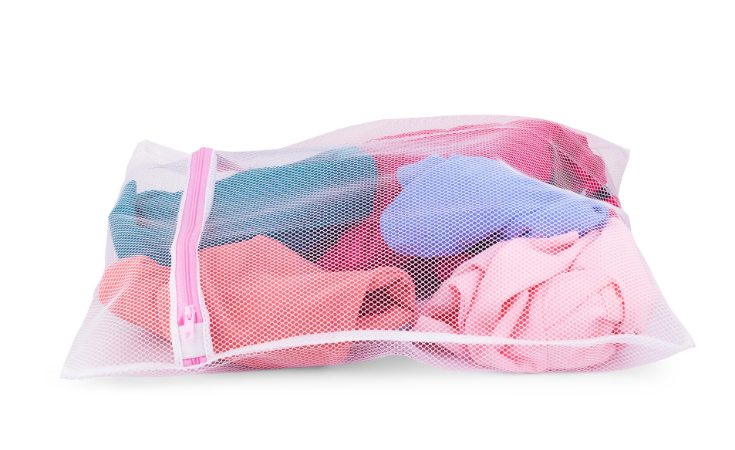 11. Resistance bands
Resistance bands are a travel-friendly accessory that you can take with you pretty much anywhere! Even if your gym already has resistance bands, knowing you always have your own in case they're all being used is a comforting plus! 
12. Reusable water bottle 
Let's be honest here, no one wants to drink from the oftentimes rusty water fountains. Pre-mix your pre-and post-workout supplements in a few reusable water bottles and not only are you saving yourself time, but you're helping the environment!
13. Combination lock
While most gyms typically have the locks already built-in, you never know when you might sign up for a random fitness class that doesn't. Keep your stuff safe by always having a combination lock on hand. 🙂 
14. Snacks
Having a protein bar on your gym bag essentials for women is a must! I don't know about you, but my workouts tend to not go so smoothly when I'm feeling hangry. 😉
15. Deodorant 
I know it feels like I probably shouldn't have to say this one, but if you've ever gotten to the gym and realized you forgot your deodorant, you'll appreciate this reminder. 
16. Umbrella
Having showered after a great workout, only to get drenched in rain while walking back to work is an absolute nightmare. Small travel umbrellas are great to keep in your bag, and you can find them for cheap on Amazon.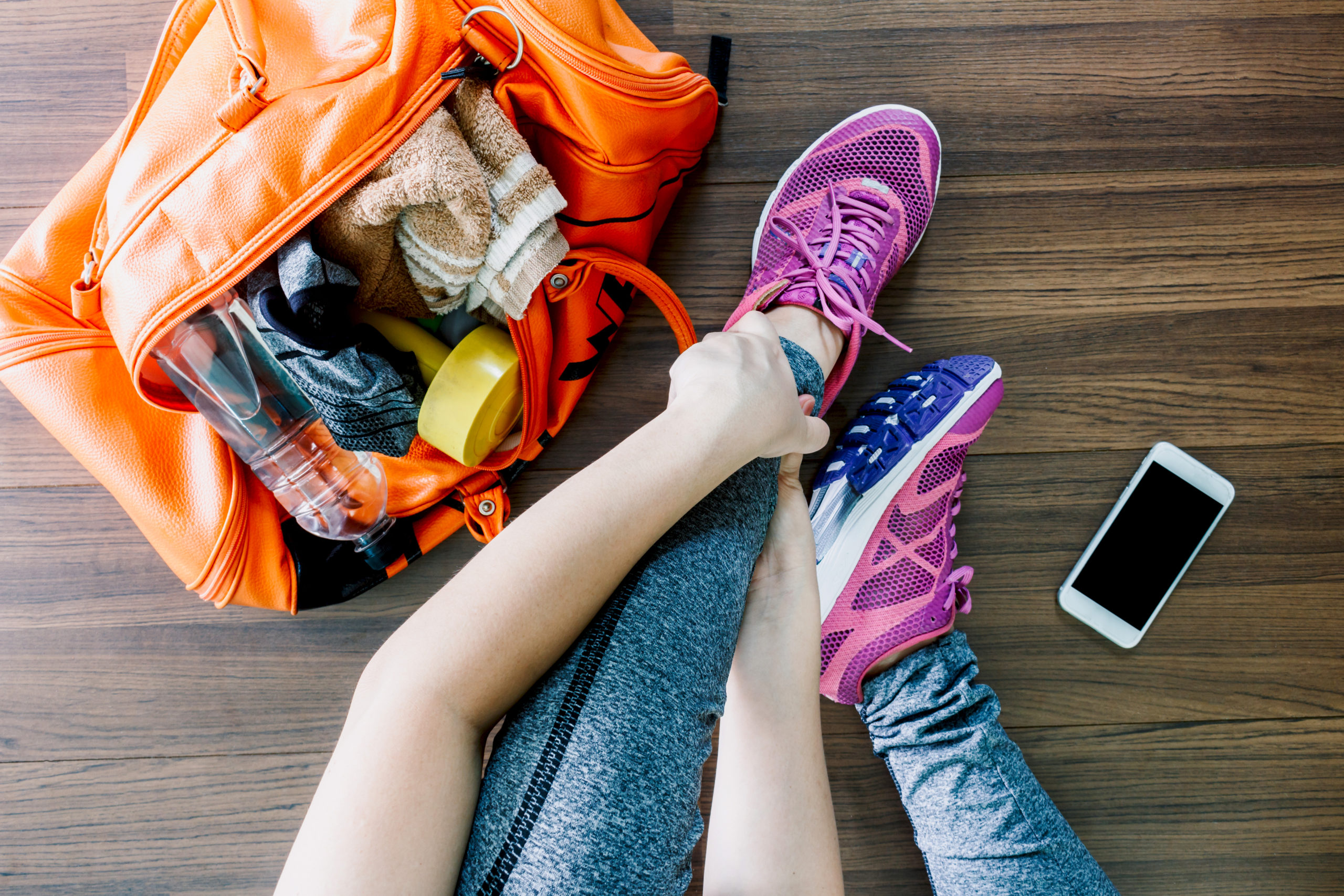 17. Travel-size toiletries
Save yourself some room and opt for travel-size shampoo, conditioner, and body wash. You can refill your bottles with your full-sized products at home. 
Welp, there ya have it! Now that you know what to keep in your gym bag, you can start loading up on these gym bag essentials, so you can focus on your workout and crush your goals! 
Mentioned In This Post
SkinnyFit Workout Band
Ready, set, sculpt & skinny! The SkinnyFit Workout Band enhances any workout, with medium resistance for any fitness level. Durable and compact, you can build your dream body anytime, anywhere!