How To Make Healthy Brownies That Are Moist & Fudgy!
Written by: Spencer Higgs - Jul. 16, 2020
Look. I'm just not on great terms with my taste buds right now. Don't get me wrong, I'm glad to have them, but they sure make healthy eating a challenge. Think about it… kale or cupcakes? Iceberg lettuce or ice cream sundae? Beets or brownies? What my body wants and what tastebuds want are two very different things. So began my search for healthy alternatives to my favorite vices, and I started with seeking out healthy brownies. 
It turns out, the hunt wasn't all that hard. There are no shortage of alternative ingredients out there, and options are available for almost everything you crave. My only real challenge was finding a healthy brownies recipe that was easy to make and as delicious as the fudgy dessert (and breakfast. And lunch.) that I bake at least twice a month. 
The recipe below is an adaptation from chickpea brownies, with some extra healthy ingredients thrown in. Chickpea brownies are great for satisfying your sweet tooth while showing your body some love. 
How To Make Brownies Healthy

Let's face it. Brownies don't belong in the health food aisle. 😭 Each one of those rich little cocoa-cubes is a baked box of insulin-surging simple carbs, love handle-making saturated fats, gut-busting inflammatories, and more calories than you ever want to count. All of this would, for the most part, be just fine—if it were within the human capacity to have just a brownie. As in one.
But, hey! You're here for the healthy brownies recipe, right? While traditional brownies aren't inherently good for you, there's a lot of culinary craftsmanship you can use to make them closer to healthy than not. 
Let's go over a few tips that you can use to make brownies that aren't half bad for you. Brownies that actually have a lot of nutritional value and are still fudging delicious!
1. Make chickpea brownies instead

You read that right. Chickpea brownies are my favorite alternative healthy brownies. I actually came across chickpea brownies when seeking a healthy brownies recipe to get me past fudge cravings. 
Chickpeas may be small, but they're mighty healthy. For starters, they are an excellent source of dietary fiber, which provides the body with numerous benefits. In the case for healthy brownies and other plant-based alternative treats, fiber can help you lose pounds and maintain a healthy weight. This is because fiber helps you feel full and lead to weight loss by way of reducing caloric intake. [1] They provide you with seven grams of protein per serving, and an ample supply of minerals (namely, iron, magnesium, phosphorus, and manganese) for maintaining your health. [2] This alone makes chickpeas brownies healthier than standard flour-based brownies.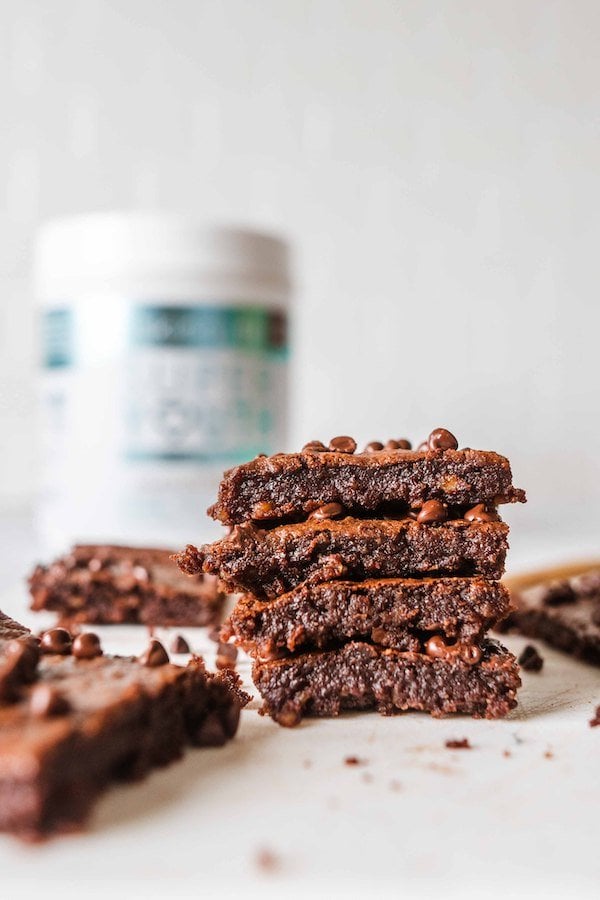 2. Swap wheat flour for almond flour

Swap out the flour in your healthy brownies recipe. I realize most people don't just have almond flour hanging around, but you might want to make it a cupboard staple if you do a lot of baking. Almond flour has significantly fewer carbohydrates than its gluten-ous counterpart, which makes it a go-to for low-carb baking. [3] 
Almond flour also provides a denser texture and flatter rise, which is actually a plus when it comes to making healthy, chickpea brownies. If you're worried about the calories of almond flour vs wheat flour, just remember that healthy diets aren't all about low-cal food. Almond flour is loaded with nutrients your body will love, plus it adds incredible flavor to this healthy brownies recipe!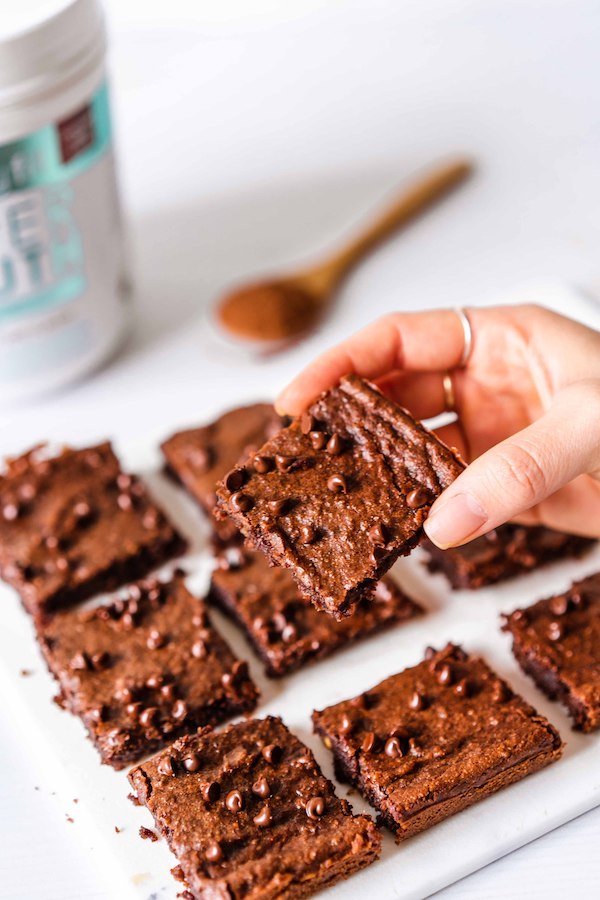 3. Scoop in some Super Youth Chocolate Cake collagen 

For inner and outer wellness, add a delicious chocolate-flavored collagen for a cheat-free explosion of cocoa flavor. I mean, the name kind of says it all: Chocolate Cake! 🎂 
Collagen is a great addition to your diet. It's the most abundant protein in our bodies and is responsible for improving joints, skin, hair, nails, and even digestion. It's shown to be particularly helpful in managing joint pain and reducing wrinkles. [4, 5]
Here's why I suggest Super Youth:
1) Super Youth uses premium collagen peptides. Collagen peptides have undergone a process called hydrolysis, which breaks down collagen's amino acids into an easily digestible form, which enters your bloodstream easier.
2) Arguably just as important—for our healthy brownies recipe, anyway—is that hydrolysis heats the collagen up to a very high temperature. The effect allows collagen peptides to sustain high temperatures, like the 350ºF you'll be preheating your oven to.
3) Super Youth contains five different types of collagen from four premium sources, providing your body with more benefits than single-source collagen. For instance, collagen Type I helps our skin stay firm and tight and our hair strong and lush, while Type II strengthens our joint cartilage, and Type III supports gut health, in addition to our skin and hair. 
4) And of course, there's taste! Super Youth Chocolate Cake has a rich chocolatey taste that gives these chickpea brownies their real brownies taste. 
Do be shy with your chickpea brownies! You'll be surprised (and excited) how well they get received by even the most refined brownie connoisseurs.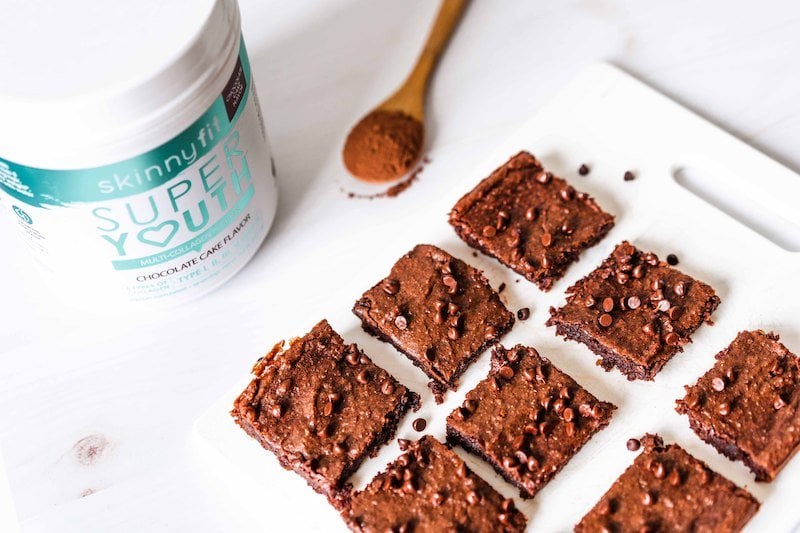 Healthy Chickpea Brownies Recipe
Ingredients
1-15oz can chickpeas, drained and rinsed
½ cup nut butter (almond or peanut)
½ cup maple syrup
1 tbsp melted coconut oil
1 tsp vanilla
¼ cup almond flour
2 tbsp cocoa powder
2 scoops Super Youth Chocolate Cake collagen
¼ tsp baking soda
¼ tsp baking powder
¼ tsp salt
½ cup chocolate chips for sprinkling on top (optional)
Directions
Preheat oven to 350ºF
In a food processor, blend chickpeas, nut butter, maple syrup, coconut oil, and vanilla.
Once blended, add in almond flour, Super Youth Chocolate Cake, cocoa powder, baking soda, baking powder, and salt.
Continue to process, scraping down sides as necessary, until smooth.
Once creamy and smooth, take off the lid and remove the blade and stir in chocolate chips if you'd like. This step is optional.
Pour into a greased 8×8 pan and sprinkle with extra chocolate chips if desired.
Bake for 21-23 minutes
Nutrition
Wellness