Jump To top
Each year I call my Mom and ask her the same thing: "What's on your wishlist this year?" And each year she tells me the same thing, "I already have everything I need, you." Cue eye roll. 🙄 I'm joking, it is sweet, yes, but it can also be frustrating when my new holiday gift ideas seem to dwindle each and every season.
And let's be honest, it's not always just Mom who has no idea what they want. It's like pulling teeth to get my family to give me their holiday gift ideas—I know you know what I'm talking about.
So, and while I hate to admit it, my Aunt, Cousins, Grandmas, etc., get a good ol' candle, or a lovely picture of me (my personal favorite, and probably theirs too 🤣) every year. I've realized, after the 100th year of doing this, their lack of excitement when unwrapping another pumpkin scented candle, is completely on me. 
Well, not this year folks! I WILL stroll into every family holiday get together as the next best thing to Mrs. Claus. And you can too, because I've put together the ultimate holiday gift guide that satisfies even the most "present picky" person in your life!
So, if you've given one too many pairs of socks during the holidays, then this holiday gift guide is for you!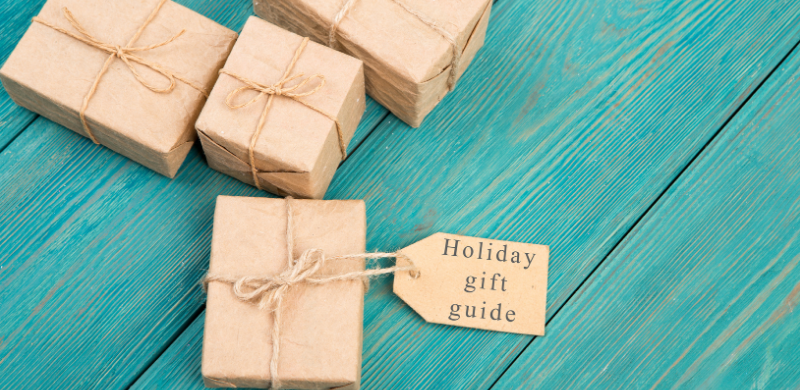 1. Collagen Peptides 
Give the gift of youth! Collagen peptides are the perfect gift for anyone on your list because of its versatility, and most importantly, its beautifying benefits. If you have a family member that you know spends a TON on skincare, shake up their routine with collagen! 
Collagen powders work to promote youth from the inside-out, rather than an expensive cream or moisturizer that can't penetrate the top layer of the skin. They'll be blown away by their results, and you'll probably get an overdose of aggressively squeezed hugs because of how much money you'll be saving them on their skincare routine. 
Best collagen peptide powder
The best collagen peptide powder that is sure to be one of the best holiday gift ideas is SkinnyFit Super Youth.
Benefits of Super Youth collagen:
Promotes younger-looking skin
Lengthens & strengthens hair & nails
Reduces joint pain & strengthens bones
2. Green Juice Powder
This one is for that special family someone in your life who lives off salads and only takes the stairs. Green juice powders were created to make getting your daily dose of greens easy and will help them keep fit, slim, and most importantly, maintain a healthy lifestyle!
Green superfood powders are generally packed with a variety of superfoods to help boost energy, immunity, and even helps maintain a healthy weight. But not all green juice powders are created equally, so it's important to do your research to ensure you're not only gifting something of quality, but you're getting the best value. 
Best green juice powder
If you're looking for the best green juice powder to add to your holiday gift guide, consider Skinny Greens. Skinny Greens contain 34 powerful superfoods in each scoop that help support a healthy weight, naturally boost immunity and energy, and contain pre- and probiotics for optimal digestion. Green juice powder is not simply just for weight loss however, it is perfect for anyone looking to get their essential vitamins, antioxidants, and superfoods in an easy, delicious way! 
Benefits of Skinny Greens:
Support a healthy weight
Support a healthy immune system
Naturally increase energy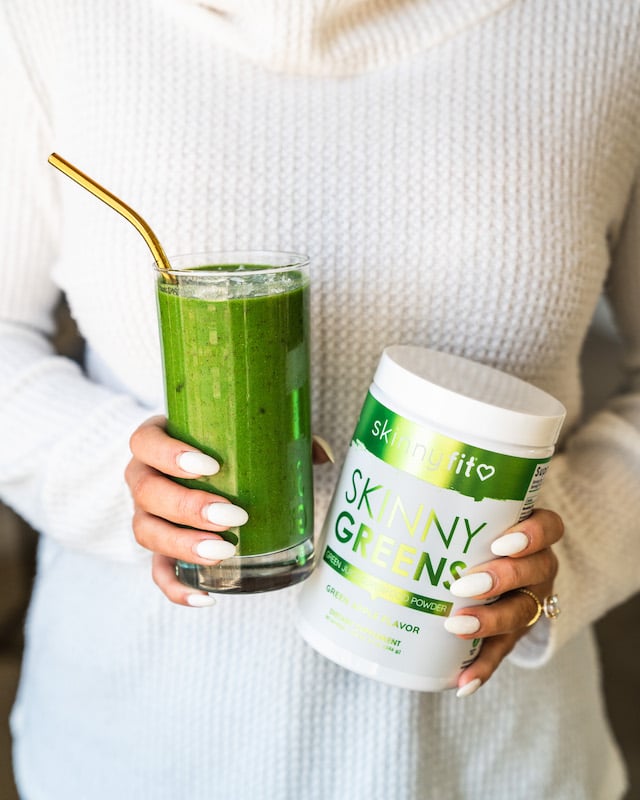 3. Detoxifying Tea
The holiday dinner tables can hit hard! T'is the season for second helpings, of course. As with myself, my family, and I'm sure yours too, staying healthy and dieting around the holidays is near impossible. 
Detox teas are the perfect gift for anyone who loves to look and feel their very best, especially when the holiday dessert tables seem to never end. Detox teas help cleanse the body and release harmful toxins that can build up over time, especially during the holiday seasons. 
The holidays are also notoriously known for causing stress. I don't know how Santa does it, but I can barely handle shopping for my five nieces…
Detox teas contain powerful amino acids and nutrients that help reduce stress and calm anxiety. They can also help promote a healthy weight, beat that holiday bloat, and boost immunity. 
Best detox tea:
The best detox tea is, hands down, SkinnyFit Detox. It's not only packed with 13 powerful superfood ingredients, but it's also free of laxatives, making it safe to drink every day with no harmful side effects.
Benefits of SkinnyFit Detox
Helps maintain a healthy weight 
Boosts immunity
Reduces stress and anxiety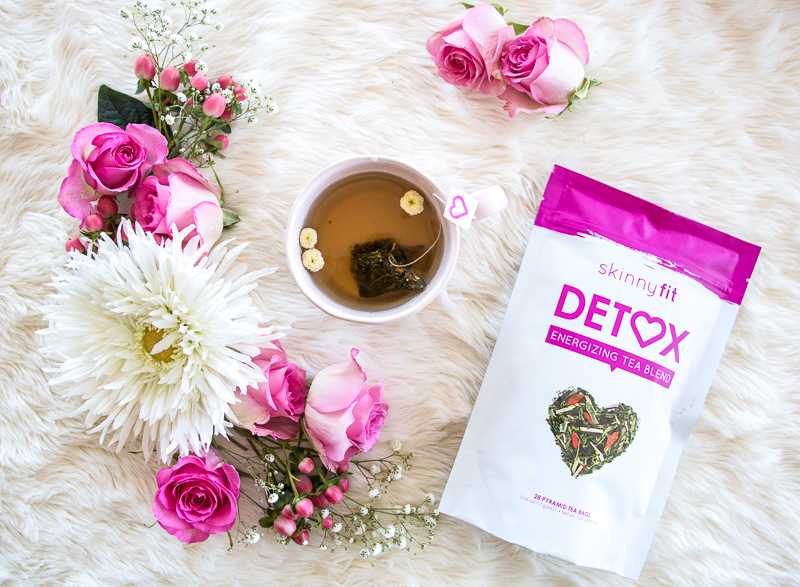 4. Red Superfood Powder
It's tough to find holiday gift ideas for the beauty queen in your life who seems to have it all—until now! Red superfood powders are a delicious way to incorporate polyphenols and essential vitamins and minerals into anyone's routine for glowing skin from the inside out! 
So, get ready to put that beauty queen crown back on your cousin Mollie's head, because I've just found you the ultimate beauty essential you probably didn't even know about…
Best red superfood powder
SkinnyFit Beauty Juice contains 38 youth-enhancing ingredients like sodium hyaluronate that help keep skin young, dewy, and radiant. Powerful adaptogens also promote positive mood, and can help calm stress and improve focus. The antioxidants in Beauty Juice and red superfood powders alike also help protect cells and boost immunity, perfect for the winter season! 
Benefits of Beauty Juice:
Promotes youthful, radiant skin
Improves mood and focus
Boost the immune system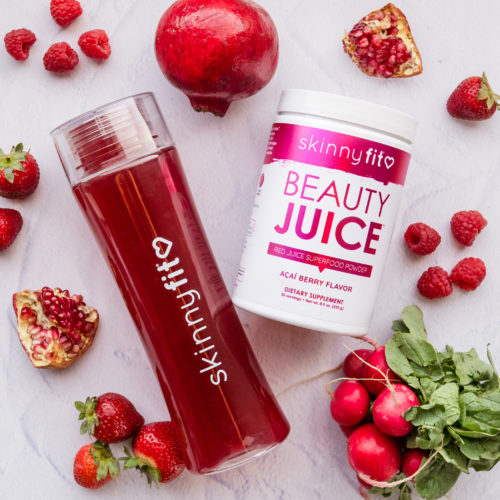 5. Stress-Relieving Tea Blend
If I had had this holiday gift guide years ago, I would have saved myself an immense amount of stress shopping. Or should I say lack thereof. Any source of stress-relief during the holidays tops my list in terms of holiday gift ideas, but you can only give so many candles. 😂
Instead of filling your relatives homes with scents of pine trees, try a stress-relieving gift that is also good for the body. Stress-relieving teas are an amazingly relaxing gift for any friend or relative. 
Stress-relieving tea blends promote an overall sense of well being, help boost immunity, and can promote relaxation and cozy moments—much needed in the fall and winter months! Certain tea blends can even help with insomnia, and promote a more restful sleep. 
When adding a stress-relieving tea blend to your holiday gift ideas, tailor the specific blend to the needs of who you're buying for. If you're not sure which to buy, here is my top recommendation…
Best stress-relieving tea
SkinnyFit ZzzTox tea is a delicious, intoxicating blend of stress-fighting superfoods that any tea lover will appreciate. Each sip will be even more relaxing than the last and will even help fight off stress-related weight gain while your loved one gets their beauty sleep!
Benefits of ZzzTox tea:
Improves rest & sleep
Promotes healthy weight
Releases harmful toxins
Well there you have it! I hope this holiday gift guide has crossed a few people off your list, or perhaps a special treat for yourself 😉