How To Make The Best Homemade Granola Recipe! (Easy & Healthy!)
Written by: Spencer Higgs - Mar. 19, 2020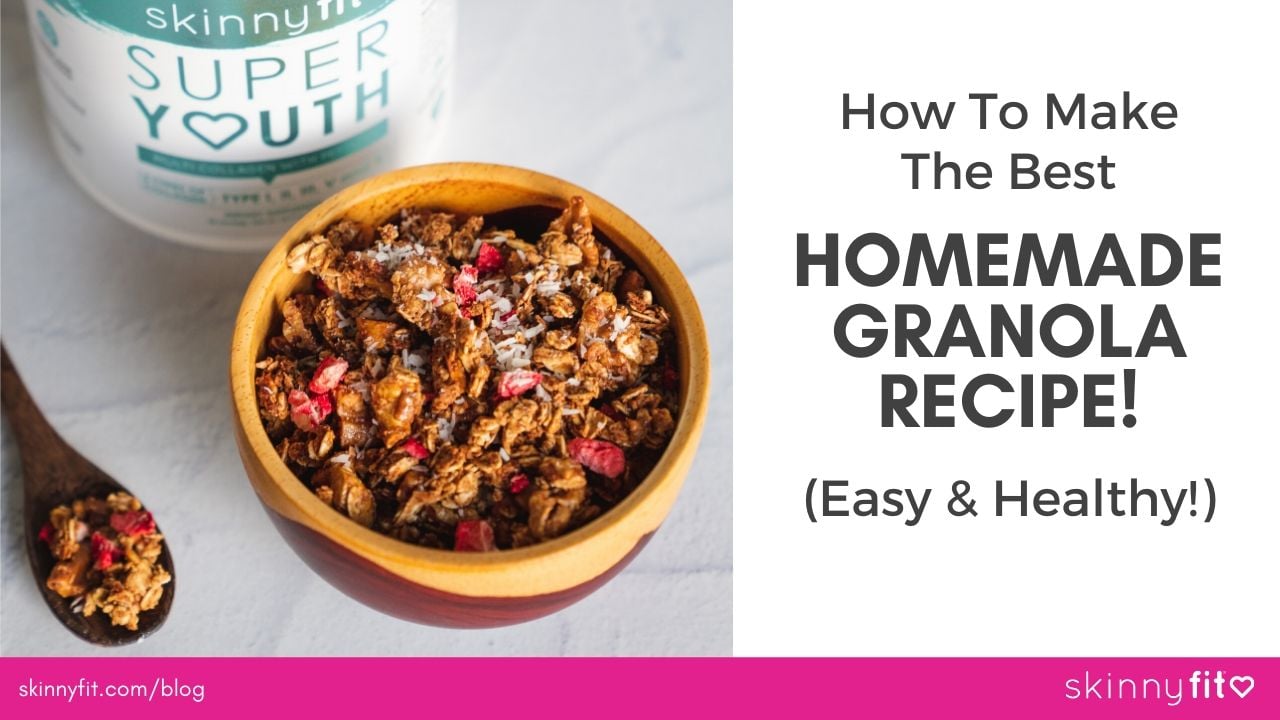 Embraced by hippies, adored by soccer moms, abundant in healthy cereals (even not-so-healthy brands), and arguably the greatest thing to ever be crumbled over yogurt, granola packs a crunch without the punch to your diet—at least if you're chowing down on the right kind. 
If health matters to you as much as taste, you're going to want to pass on the pre-made mix of added flavors and food preservatives and follow a homemade granola recipe that provides a host of diverse nutrients, from flavonoids to vitamins to protein. 
Granola gurus are privy to the benefits, but if you're just dipping your toes in the proverbial waters of homemade granola, you might be asking yourself… Why bother? I mean, like, just grab a "Family Sized" box of granola off the Costco shelf without skipping a beat, right? Not if you care about your health, energy, and figure. The next time you grab a big brand-name box, take a peek at two things:
☝️ – The nutrition label (in particular, the sugar and carbohydrate content) 
✌️ – The ingredients list (in particular, all the ingredients you can't pronounce) 
It's true. Most granola on most shelves in most stores is mostly unhealthy. 
Big-name brands enrich their grains with vitamins in a pale attempt to appear healthy, but these nutrients are anything but natural and your body knows the difference. There's even evidence suggesting that too much of certain vitamins and minerals from enriched foods can be harmful, especially to children. [1] 
But if you choose to lose weight, gain lean muscle, and treat your tastebuds to a truly good time, follow this healthy granola recipe. I promise you'll be hooked from the first bite and love every bite after!
Healthy Granola Ingredients
Rolled oats

—These groovy grains are famous for their high levels of soluble fiber, which aids digestion and reduces the absorption of LDL (bad) cholesterol into your bloodstream. [

2

] They're also a taste and texture-balancing ingredient in this

healthy granola recipe

.

There are two main categories of oats: rolled and steel-cut. Rolled oats are easier and quicker to cook with because they've been literally rolled down and made thinner. Since we'll be baking our granola, we'll want rolled oats to that perfect

homemade granola

texture.

Please note: If you want to go gluten-free, you'll need to leave the oats out. 😭

Nuts/seeds

—Another imperative ingredient for granola! The crazy thing about nuts (pun intended 😁) is that, like oats, they're excellent for lowering total and LDL cholesterol, thanks to prevalent mono- and polyunsaturated fatty acids content. [

3

]

I've suggested using walnuts, pecans, and cashews. But, depending on your preference, you may want to consider other healthy nuts, like almonds or macadamia.

For all intents and purposes, seeds work similarly to nuts for keeping our bodies healthy. When choosing seeds for granola, it's largely a matter of preference. Here are a few I recommend:

Sunflower seeds
Pumpkin seeds
Sesame seeds
Flaxseed

Natural sweetener

—A little natural sweetener goes a long way in helping your granola taste satisfyingly sweet, versus having an earthy taste. But again, this is a matter of preference. Beyond honey, I typically like to avoid sugars where I can, and often gravitate toward natural sweeteners like stevia. However, a little raw sugar will do the trick too, but it's not recommended for certain diets. 

Collagen

—The secret ingredient in my

healthy granola recipe

! Just one scoop of collagen adds about 7 grams of protein to granola mix. On top of that, it allows you to diversify your protein intake. With SkinnyFit's Super Youth unflavored collagen peptides, you receive 5 different collagen types from 4 all-natural sources. But SkinnyFit collagen goes beyond strong muscles. Those 5 types of premium collagen help reverse aging by tightening skin, smoothing wrinkles, strengthening joints & reducing joint pain. Because collagen also is a key component to healthy digestion, you'll visibly and viscerally notice bloating disappear!
Dried fruit

—Here's where you have a ton of leeway in this recipe. I personally like using strawberries for their surprising kick, but a lot of people like to play things safe and make blueberry or raisin granola. Or, you could be super-adventurous and throw in some dried apricot, mango, or pineapple! This part's totally up to you!

Spices/seasoning—So, here's what separates a good homemade granola recipe from a gourmet one. Seasoning. Hello unexpected flavor pops! Spices and seasonings can transform your granola, and you may want to consider choosing your seasoning based on what you'll be using it (see below). For instance, if you plan to eat your granola on a hike, the same way you would trail mix, you may want to go for more autumnal seasonings or even give it a salty or spicy kick. However, if you're putting your granola into yogurt or milk, I'd err away from salt and spice and stick to flavors like cinnamon and honey. Again, feel free to get adventurous.
Optional mix-ins–At the end of the day, it's your granola. You should add or remove what sounds good to you. For instance, I love topping my granola with coconut flakes for a tropical flavor that isn't crazy sweet. Have a favorite ingredient you want to add in? Go for it! 🙌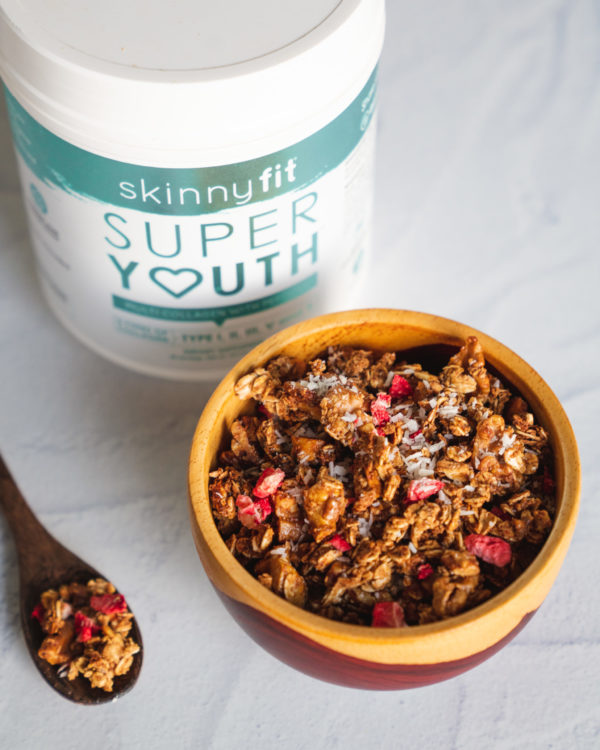 How To Make Homemade Granola

Making your own granola is not nearly as difficult as you may expect. Plus it'll be healthier than anything that comes in a box and cheaper than anything you'll buy at a farmers market. 
We'll dive more into it in the instructions below. But here's a quick peek at what we'll be doing:
First, we'll roughly chop the nuts before mixing with the collagen, chosen seasonings, and honey. Add all other ingredients except for the dried fruit and continue mixing gently until the honey has coated everything fully and evenly. Bake for 16-18 minutes, tossing every 5 minutes or so. Then add your fruit and toppings while the granola is still warm. It may seem kind of soft and gooey at first, but fear not—as the granola dries it will harden and get crunchy. 
5 Ways To Use Homemade Granola

Because you can be flexible with this homemade granola recipe, there's an endless variety of ways you can use it. But here are five that I love and would recommend to anyone:
Mix with yogurt

—Sure, it's obvious. But it's also the best way to enjoy granola, if you ask me. But since you didn't technically ask me, you can also… 

Smush bananas into it and freeze (then eat)—

I know, I know… It sounds weird, but it's also fun and surprisingly delicious, and a great way to introduce kids to healthy snacking. My little nieces insist on smushed banana granola almost every time I babysit them.

Make a granola-nut-butter dip—

Just mix your granola into your favorite nut butter and gently stir. Then spoon it attop slices of apple. The crunch granola-apple combo goes perfectly with peanut, almond, or nut butter.

Top your smoothie or acai bowl

—If you've never topped a sweet and delicious smoothie or acai bowl with

homemade granola

, you're missing out. That's all I have to say about that.

Roll into healthy energy bites—

Granola has 90% of the ingredients you need to make

healthy energy bites

(or

chocolate energy bites)

. Just add a little bit of vegetables or chocolate, a bit more honey, and roll ping pong-ball-sized bites and serve cold. Thank me later. 😉🙌
Homemade Granola Recipe
Ingredients
¼ cup honey
1 scoop of Super Youth Unflavored Collagen
½ tsp cinnamon
½ tsp vanilla extract
¼ tsp nutmeg
¼ tsp sea salt
1 ½ cup of rolled oats
¼ cup walnuts, roughly chopped
¼ cup pecans, roughly chopped
¼ cup cashews, roughly chopped
⅓ cup freeze-dried strawberries (or your favorite no added sugar dried fruit)
2-3 tbsp shredded coconut flakes
Directions
Preheat oven to 325ºF and line a baking sheet with parchment paper.
In a large bowl, mix the honey, Super Youth, cinnamon, vanilla, nutmeg, and sea salt until well blended.
Add the oats, walnuts, pecans, and cashews into the bowl. Using a sturdy spatula, coat the nuts with the honey mixture.
Pour evenly onto parchment paper.
Bake for 16-18 minutes, tossing every 5 minutes or so. Keep an eye on the granola and check frequently over the last 3 minutes to ensure the granola doesn't burn.
Once golden brown, remove from the oven and sprinkle with shredded coconut and freeze-dried strawberries. Cool completely and keep in an airtight container for up to 3 weeks.
Nutrition
Wellness