Jump To top
Have you ever wanted to just dunk your whole body in honey before? Please say yes so I don't sound crazy. I once saw a music video with a girl pouring gold all over her body, and I thought to myself how amazing that would feel if it were warm honey. Strange, I know. Lo and behold, though, using honey for skin benefits is actually very popular! Maybe not a whole tub of honey, but applying honey to the skin is like having a mini facial done right at home. There's even some rumors going around that honey can tighten skin up almost instantly.
In today's blog I'll be getting to the bottom of this enticing rumor by sharing all of the benefits of using honey for skin, how to use it, and some fun skin tightening combos that start with none other than, honey!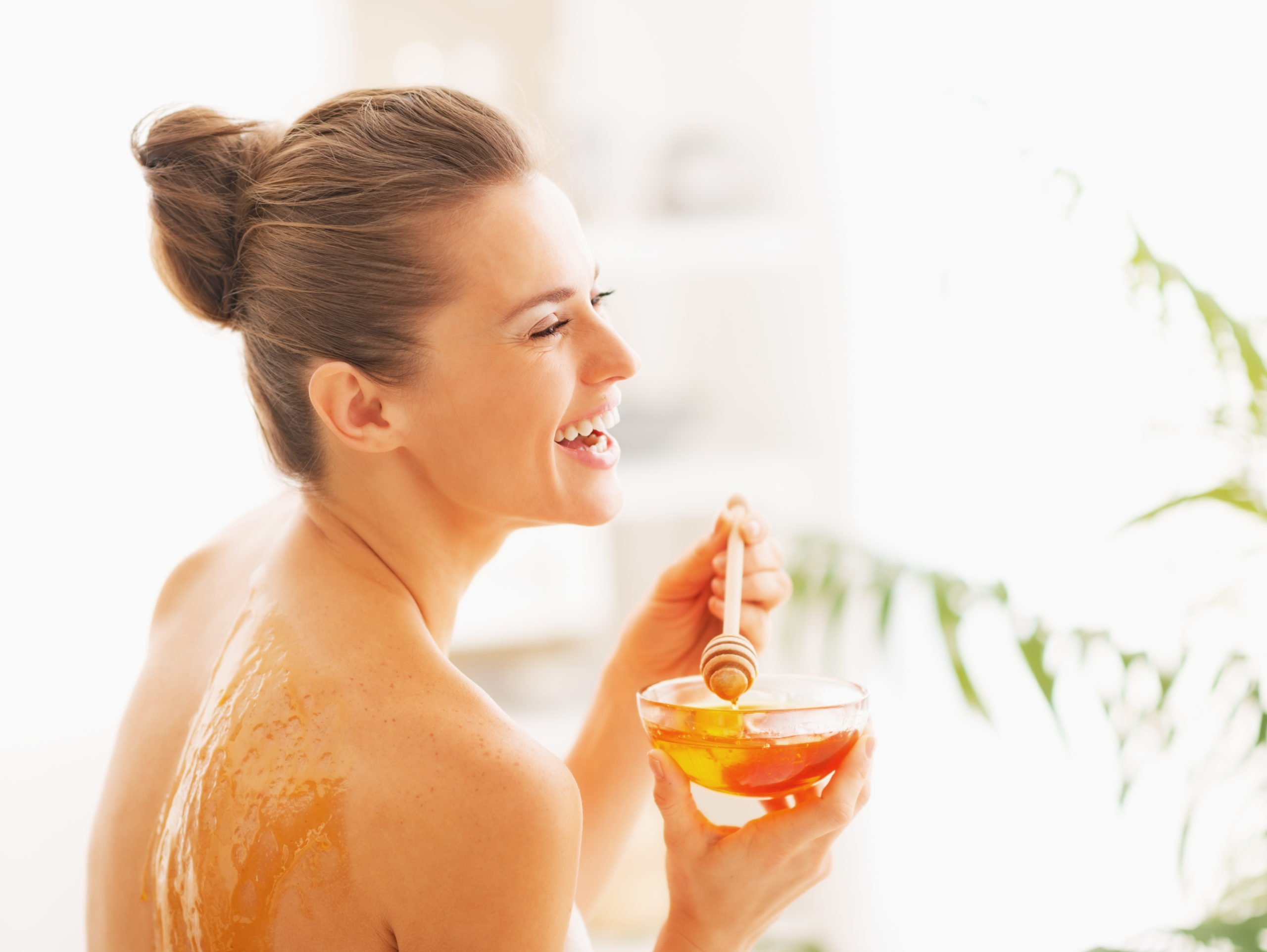 Benefits Of Honey For Skin
Honey isn't called liquid gold for nothing! Honey has so many amazing vitamins and minerals in it–zinc, niacin, vitamin B6, folate, and vitamin C to name a few. These powerful nutrients can help rejuvenate the skin from the inside out! Whether you're enjoying eating a delicious raw honey, or applying it to your skin, you're going to love the beautifying benefits of honey. 
Honey also contains antioxidants which can help to reduce redness and inflammation that appear on the skin. Now, here comes the good part! Honey has actually shown to help make skin look younger and brighter, and to help reduce wrinkle formation. If that's not reason enough to lather your face and skin with honey, I don't know what is! [1,2,3]
While there isn't much research to prove that honey will instantly provide these amazing effects, I encourage you to try it for yourself! Almost immediately after I remove a honey mask my skin looks and feels amazing. If you've ever gotten a skin tightening facial, a honey mask will make your skin look just as bright and snatched. Don't take it from me, though, give it a try!
How To Use Honey For Skin Tightening
The obvious choice for enjoying all of these amazing benefits of honey is to apply it to your face! Because honey also has incredible antimicrobial and antibacterial properties, you can actually apply it to just about anywhere on your body, including wounds. [4] 
Of course, for the cosmetic benefits of honey, applying honey to the face, neck and chest would be my pick! Skincare doesn't stop on the face, keeping your neck and chest tight and clear is also part of skincare! You can apply it directly on the skin or combine it with other ingredients to make a homemade mask. We'll get into some recipes below. How long should you leave honey on your skin? You can leave honey on your face for between 8-15 minutes for the best results, and up to 20 minutes.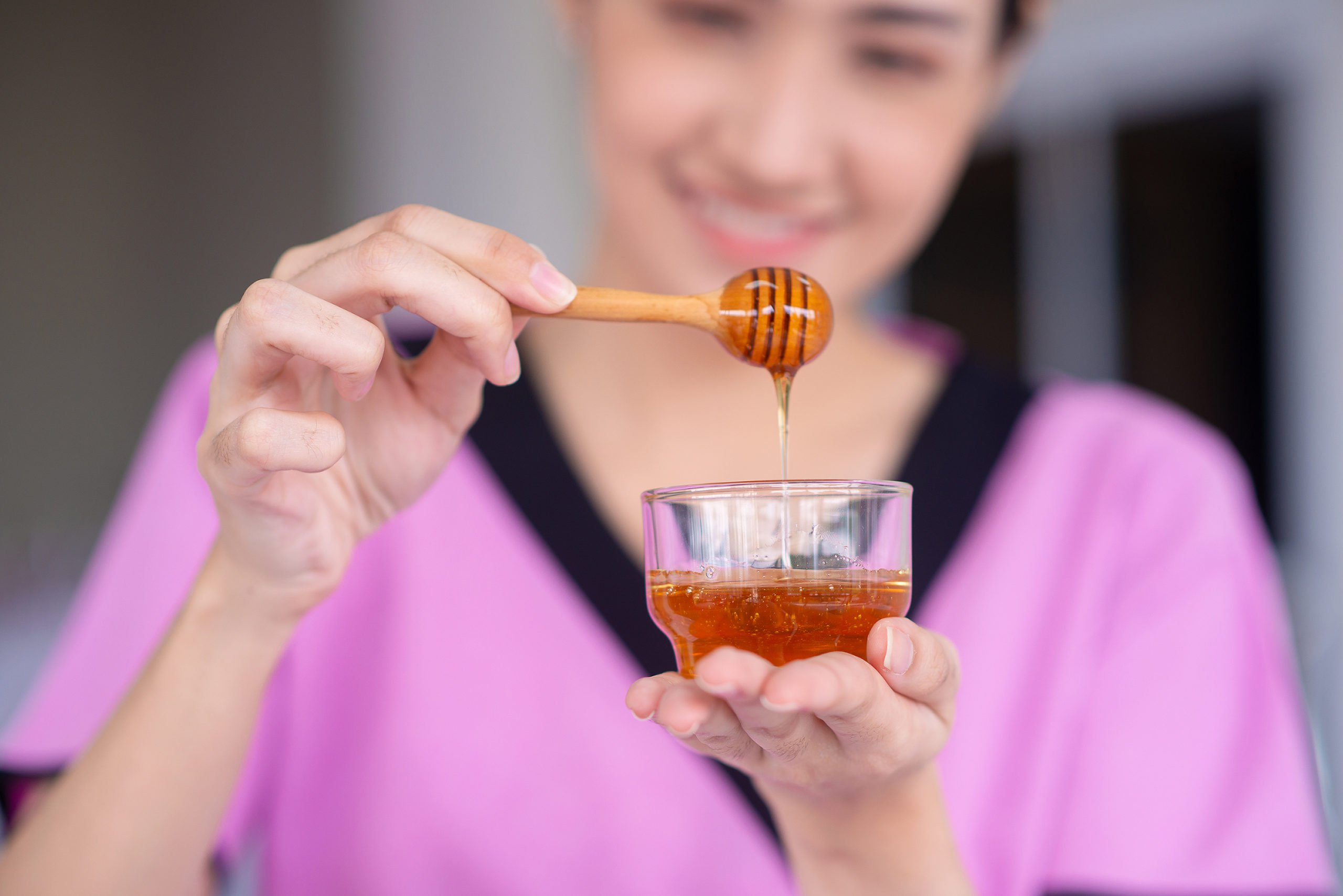 Skin Tightening Combos
You can apply honey as is directly to your skin, or you can add some more ingredients to boost the beautifying effects! Here are a few of my favorite:
To soothe redness and inflammation, a honey oatmeal mask would be perfect. Simply add one part honey to one part oatmeal (for example, ¼ cup honey and ¼ cup oats) and apply!
For maximum supple skin, add two scoops of Super Youth (unflavored or chocolate!) to about ¼ cup honey to your skin daily for double the benefits!
To moisturize the skin, add equal parts honey to equal parts mashed avocado. The healthy, natural oils from the avocado will work alongside the honey to moisturize your skin, and leave your skin feeling so soft!
For acne prone skin, a cinnamon honey mask is my recommendation! Cinnamon also contains antibacterial properties, and will help clean and clear your skin. Simply add a few pinches of cinnamon to honey, combine, and apply!
For sensitive or sunburnt skin, an aloe vera honey mask is going to be your new favorite mask! Add about one tablespoon of aloe vera gel to about two tablespoons of honey, combine, apply, and enjoy! It will feel so calming and smell amazing.