Jump To top
People are always looking for new ways to out-do their latest hairstyles. Coloring, wild hair cuts, blowout bar trends, supersonic hair dryers, and flat iron must-haves are always on the pages of health and beauty blogs and magazines. 
But… the question remains, how to keep your hair healthy when you're aggressively brushing wet hair, changing colors, or blasting it with hot air every day to style? Better yet, are you asking how to get healthy hair and reverse the harsh treatment you've subjected your poor hair follicles to? Me too, sis. Me too. 
That's why I turned to Google and rounded up expert advice on how to give your hair that beautiful bounce and protect your precious mane.
And ta-dah, this blog is a list of the best tricks I could find. This blog will break down how to get stronger, healthier-looking hair with 10 easy healthy hair tips.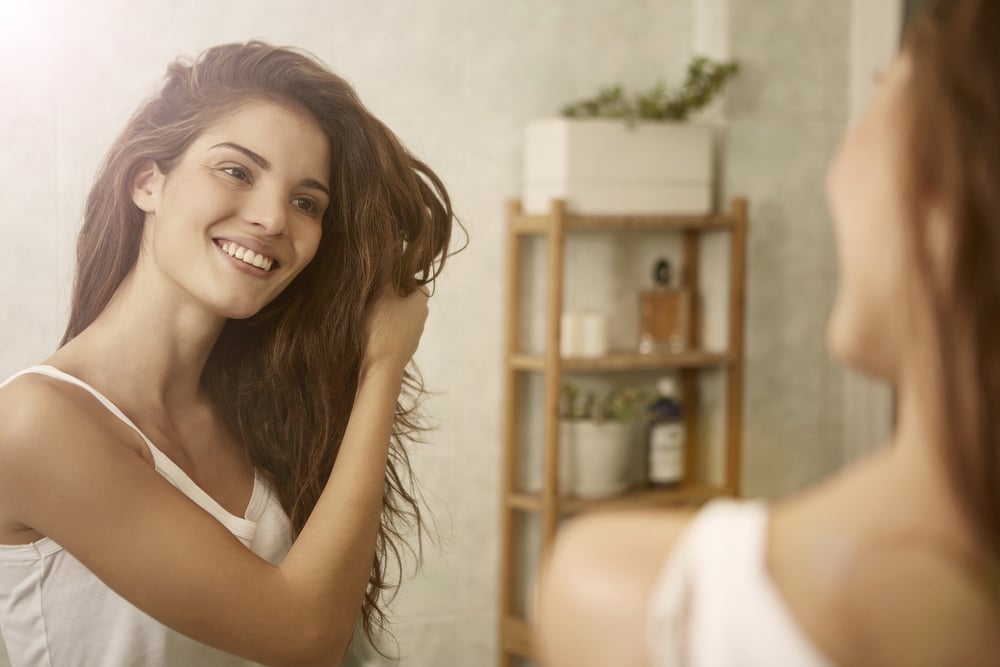 What Causes Hair Damage? 

I think it's safe to say that no one enjoys the feeling of dry, damaged hair. But the good news is even if you have dry hair, you don't have to live with it. Companies have literally dedicated their entire business to figuring out how to repair hair. That's why we now how shelves full of hair oils, deep leave-in conditioners, specialized collagens, and brushes that are gentle on our hair follicles. Yay! 
But, back up… are you wondering what the top challenges are when you're figuring out how to keep your hair healthy? Well, the most common causes of hair damage are:
Too much heat or hairstyling
A poor diet and not enough protein
Rough combing or brushing
Sleeping on a cotton pillowcase
Skipping regular haircuts
Overwashing
Exposure to chemicals (ie over dying hair)
Blow drying dripping wet hair
Aging (loss of collagen)
Luckily, there are ways to make your hair stronger, silkier, and healthier. It wouldn't be the master of all healthy hair tips if I didn't show you exactly how to protect against these common causes of hair damage. You're about to discover a good hair day… for life.
10 Healthy Hair Tips 

By making small tweaks to your beauty routine, you can protect your hair cuticles and prevent hair breakage. Simple solutions like an overnight conditioner can help provide internal strength and fortify cuticles. 
Shinier, healthier-looking hair is just 10 healthy hair tips away!
1. Schedule regular haircuts

Scheduling a regular visit to your hairstylist keeps your mane looking fresh and healthy. 💇Put regular appointments on your calendar as a reminder to take care of your locks! 📅Getting regular hair trims prevents breakage and split ends so new, healthy hair has room to grow. I'm a junkie for growth, whether it's my indoor succulents, personal growth, or hair. So, bring it on!
2. Use a hair mask

Your hair loves a little TLC from time to time. Take yourself on a date to the grocery store, or heck, stay in your PJs and roam the aisles of Amazon and Google to find a luxurious, deep, leave-in conditioner that smoothes frizz and repairs severe damage in the hair shaft. Ask your hairstylist for their recommendation of a leave-in conditioning treatment or hair mask that will hydrate and replenish your hair. 
3. Take a collagen supplement

To grow long, strong, gorgeous hair, your body needs protein. Protein repairs weak areas in your hair shaft, so it's vital that you get an adequate supply of protein daily. 
Did you know that collagen is the most abundant protein in your body? Unfortunately, as we age, our collagen supply begins to diminish. To supplement your collagen supply, you can take a collagen supplement, which can make your hair more youthful and healthy again. Collagen contains amino acids and proteins that help improve the strength and shine of your hair. Collagen even boosts keratin production and increases circulation that helps repair and build new hair follicles.
Collagen is found nearly everywhere—in your blood vessels, your skin, your hair, your bones, and even the lining of your gut. And because it's a natural substance, taking collagen on a daily basis is completely safe especially if you make it a priority to use high-quality collagen to strengthen the cells in hair, skin, and nails, take a collagen supplement. Collagen is the building blocks of the body and when you supplement your diet with collagen, the cells in your body become stronger. 💪💪💪
There are different types of collagen that help strengthen specific parts of the body like hair, tendons, joints, teeth, nails, and skin. Although each type of collagen helps stimulate new hair growth, the best types for hair and nails are collagen types I, III, and V.  
If you're looking for a collagen supplement that's easy to take and contains all 5 collagen peptides, make Super Youth Collagen your beauty go-to! SkinnyFit collagen comes in three DELICIOUS flavors: Tropical Punch, Peach Mango, and Chocolate Cake. Simply mix them with your preferred amount of water based on sweetness and enjoy! For a more versatile option, the original Unflavored Super Youth Collagen can be mixed into your morning coffee or favorite flavored beverages and reap the incredible hair strengthening benefits of collagen.
4. Take colder showers

Yes, I know that there are few things in the world better than a steaming hot shower after a long workday or workout. But, did you know that putting your head under extremely hot water isn't good for your hair? Cut down on the hot showers and protect your hair from heat damage. If you have frizzy hair, rinsing with cold water helps smooth the hair cuticle and reduce frizz. Plus, if you're like me, your significant other will be delighted to hear that they don't have to brave scalding hot water when they hop into shower with you. 😉
5. Air dry vs blow-dry

Common sense would tell you that air drying is safer for your hair than blow-drying… but not in all cases. For example, combing your hair while it's wet can place extra strain on the hair, stretching and sometimes splitting the hair when it's at its most delicate. If it's extremely cold outside, air drying can make the hair prone to breaking. Instead, brush through hair before you get in the shower and air dry on low heat.
6. Don't wash your hair as often

When you overwash your hair, it can damage the hair follicles and strip away the natural oils. 🚿🚿🚿Depending on your hair type, you may only need to shampoo your hair 3 or 4 times a week, or less. Experiment with decreasing the frequency that you shampoo and condition and pay attention to the effects it has on your hair.  
7. Don't overexpose your hair to heat

Use a heat protectant to prevent breakage and keep your precious strands safe. When you're blow-drying your hair, don't pull too hard on your hair and try not to hold the hair dryer too close to your strands. If you're the type of person who uses heat style every day, try challenging yourself to only use a blow dryer, flat iron, or curling iron a couple of times a week.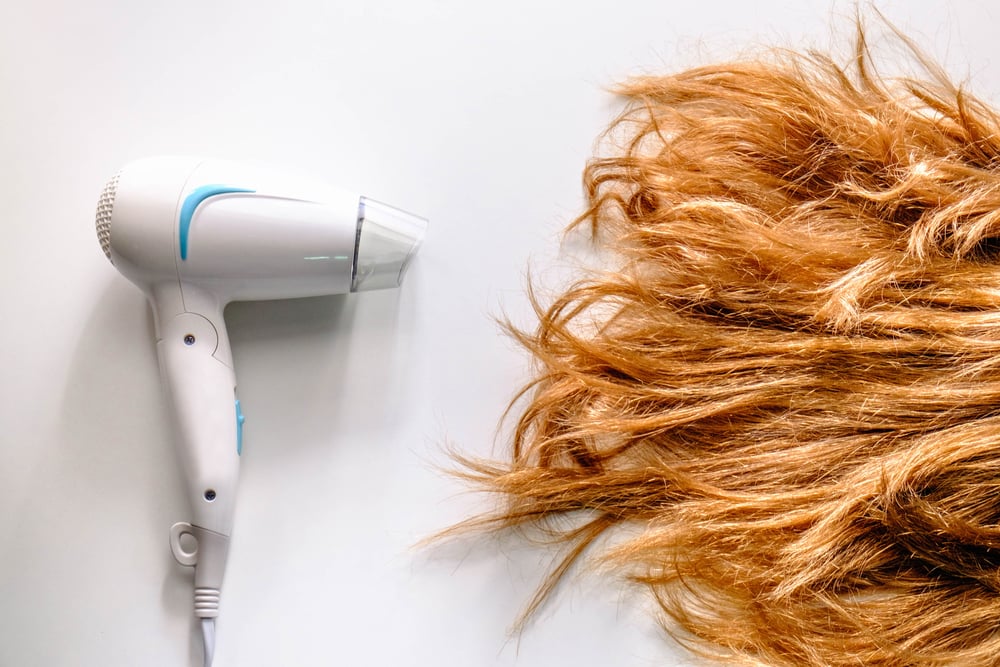 8. Use a silk pillowcase

I recently learned that sleeping on a silk pillowcase can help with split ends… GAME CHANGER! Seriously, a cotton pillowcase can cause friction on your scalp, leading to split ends. To protect your hair, buy a silky or satin pillowcase to keep your hair from snagging while you get some Zzzs. Plus, sleeping on silk makes you feel like royalty! So if you're asking yourself how to get healthy hair try swapping out your pillows! 😉
9. Avoid harsh chemicals

It's a no brainer that chemical straightening and harmful dyes can wreak havoc on your hair. If you regularly dye your hair you understand how the chemicals break down the bonds, leaving your hair follicle feeling weak. It can be tough to come back from that. Likewise, if you are using chemicals to straighten your hair, the recovery period to rebuild broken down bonds can drag on. 
What's a girl to do? Opt for more natural treatments and dyes. Or go natural! You're beautiful just the way you are.
10. Don't skip the conditioner

Regularly hydrate and smooth your hair to protect it from breakage. Invest in high-quality conditioners to give your hair ample moisture. When you incorporate conditioner into your hair routine, you'll add shine, strength, and much-needed hydration. If you blow-dry or flat iron your hair, conditioner can provide an extra layer of protection too.
Personally, I love using hair oil to give my hair a little extra moisture:
Argan or Moroccan oil: Rich in fatty acids, vitamin E to help turn dry hair into soft, shiny locks! Great for taming frizz and fly-aways. 
Coconut oil: The magical one and done oil, coconut oil is one of my favorites! Keep your hair healthy with a weekly coconut oil treatment. Just be sure to either let it dry naturally on your hair or use your hot tools below 300 degrees when it's in your hair. The heat point of coconut oil is 350 degrees so using hot tools that exceed that temperature can burn or fry your hair.
Marula oil: Super nourishing and packed with vitamin C, marula oil protects your hair from drying out and locks in moisture.
Final Thoughts On How To Get Healthy Hair

If you sometimes look at your hair in the mirror and hate that it looks dull, frayed, or fried, imagine how your hair feels! With these how to get healthy hair tips you can start showing your hair a little more love and start unveiling the happy, strong, shiny hair you were born to show the world! Start using these tips and keep your hair healthy all year long. Make sure to hydrate whenever you, take a daily collagen supplement, and stock up on essentials that can easily take your hair game to the next level. 
Got a healthy hair secret we didn't share here? Share it on our Facebook community page! We'd love to hear your brilliant options and perfect styling products are!