Jump To top
The benefits of juicing are amazing. Improved gut health, healthy weight loss, vibrant energy, and more. What's not so amazing is the price tag or the shelf life of fresh juice. One single fresh-pressed juice can be almost $12 per serving, and it's only good for a few hours. I don't know about you, but that's not a realistic daily habit for me! 
Instead of splurging on a fresh juice once in a blue moon, you can prioritize your gut health, fitness goals, and have natural energy every day with Mango Splash Skinny Greens! It's the easiest way to feel your best, and get all the amazing benefits of juicing (and more!) without the price tag, shelf life, and it tastes way better!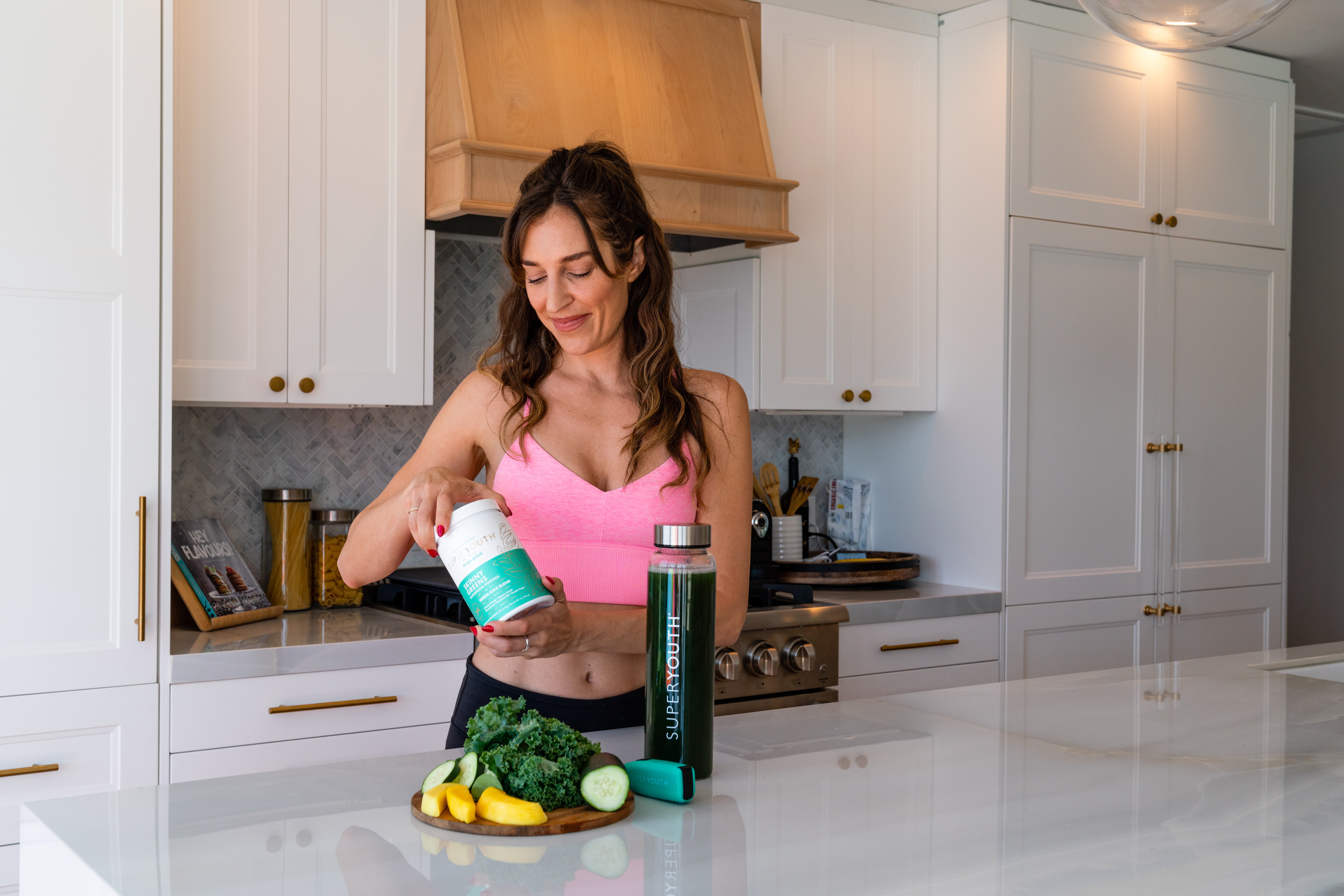 What Is Mango Splash Skinny Greens?
Mango Splash Skinny Greens is a green juice superfood powder that contains all of the essential nutrients your body needs. It's a great way to support overall health, and has an incredible list of benefits. Mango Splash Skinny Greens contains four unique blends of superfoods, probiotics, adaptogens, and super-greens. All of these amazing blends work together to support weight loss in a healthy way, fights bloating, helps boost immunity, supports natural energy, and can even help reduce cravings. It's vegan, contains no added sugar, and is non-GMO. Did I mention it's delicious!?
5 Different Ways To Use Mango Splash Skinny Greens?
Mango Splash Skinny Greens is so tasty, and there are so many ways you can enjoy it! Here are my top five favorite ways to use it:
1. Anti-Aging Skinny Greens 
If you want to kill two birds with one stone, mix one scoop of Mango Splash Skinny Greens with unflavored Super Youth collagen. This is the power couple of supplements. You get all of the superfood benefits of Skinny Greens, with all of the anti-aging, beauty benefits of Super Youth.
2. Simple Smoothie Add-In
If you love smoothies, but don't love all of the ingredients it takes to make a great tasting one, Skinny Greens is going to be your new best friend! With so much flavor, and a long list of benefits, it's the highlight ingredient you need! Simply mix one cup of milk or yogurt with half of a frozen banana (or ⅓ cup of frozen blueberries), one scoop of Skinny Greens, and a handful of ice. It's tasty, simple, and so good for you!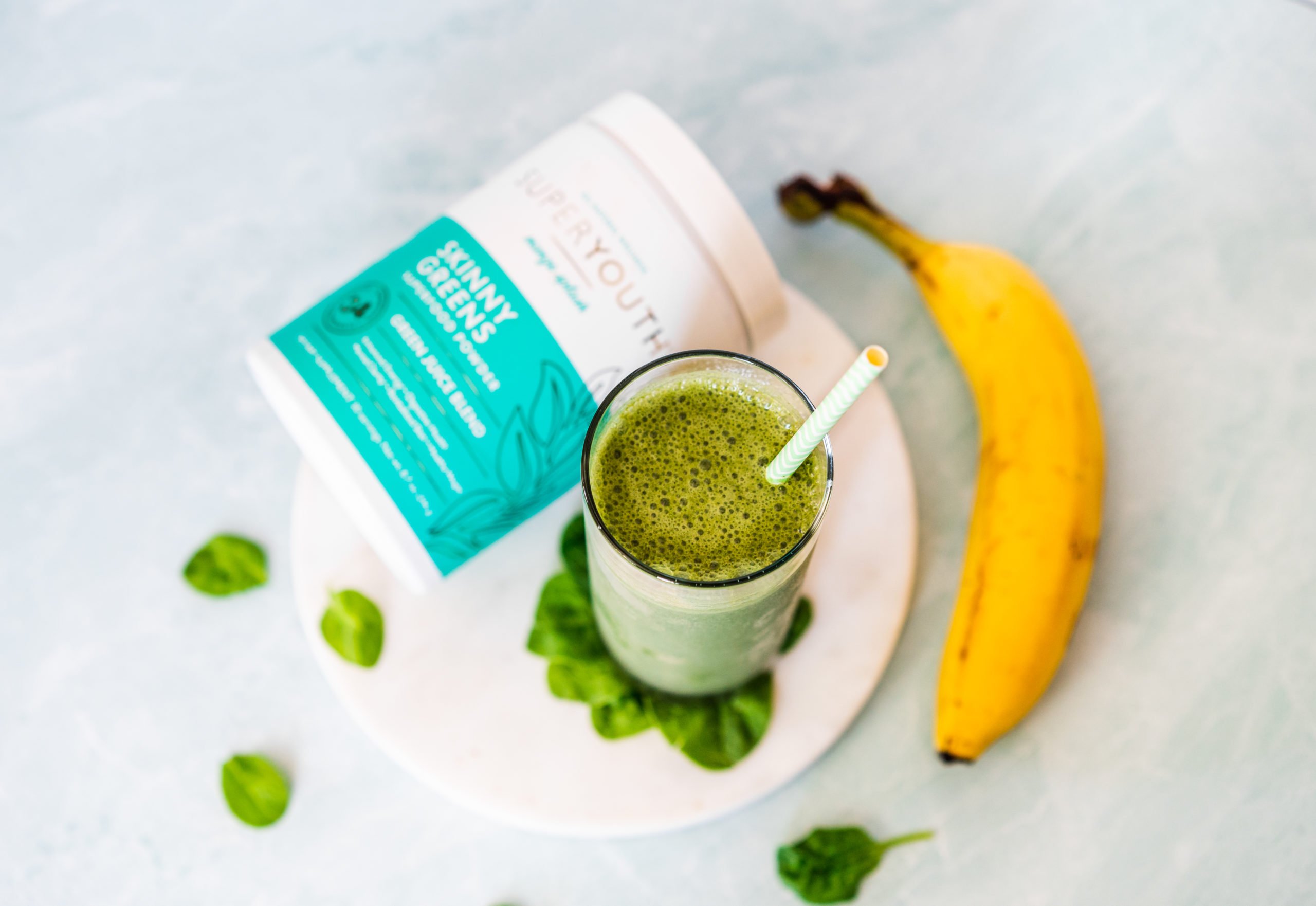 3. Post-Workout Sips
I used to never know what to eat or drink after a workout. Now, I sip on Skinny Greens! Sometimes I'll add in a scoop of BCAAs, or a scoop of collagen for added protein. It's my go-to because it dissolves in water easily and quickly. I just add it into a shaker bottle, and enjoy! 
4. Afternoon Coffee Replacement
Skinny Greens is a great alternative for your second or third cup of coffee in the day. Instead of your 2 PM pick-me-up after work, opt for Skinny Greens! It contains green tea, matcha, moringa, and other superfoods that help you feel alert and energized, without the jitters, crash, or brain fog. 
5. Breakfast Juice Replacement
As delicious as they are, fruit juices first thing in the morning can be a reason for day-long cravings. They contain little to no fiber, and are often stripped of nutrients in the process. Replacing your morning OJ or other juice with Skinny Greens will help you crush cravings, feel energized, provide your body with pre and probiotics, brain-healthy adaptogens, and more!
Green Juice Superfood Powder
Skinny Greens Mango Splash
Juicing made simple! Skinny Greens has 34 essential superfoods, stress-relieving adaptogens, & pre and probiotics for all of the daily nutrients your body craves.