Jump To top
Improving complexion is always at the top of our "to-do" list, as we're sure it is for you too! Here at SkinnyFit, we're constantly on the lookout for the latest and greatest hacks to improve skin complexion, and while we thought about keeping our latest discoveries a secret, we quickly realized that these tricks on how to improve complexion were just too good to keep to ourselves.
Don't worry, we're not about to bombard you with the typical "drink water, moisturize daily, exfoliate weekly, always wear sunscreen" spiel, we know you do that already and encourage you to keep doing it. But if you're looking for even MORE (and unique) ways to improve skin complexion, then these quick and easy hacks are for you!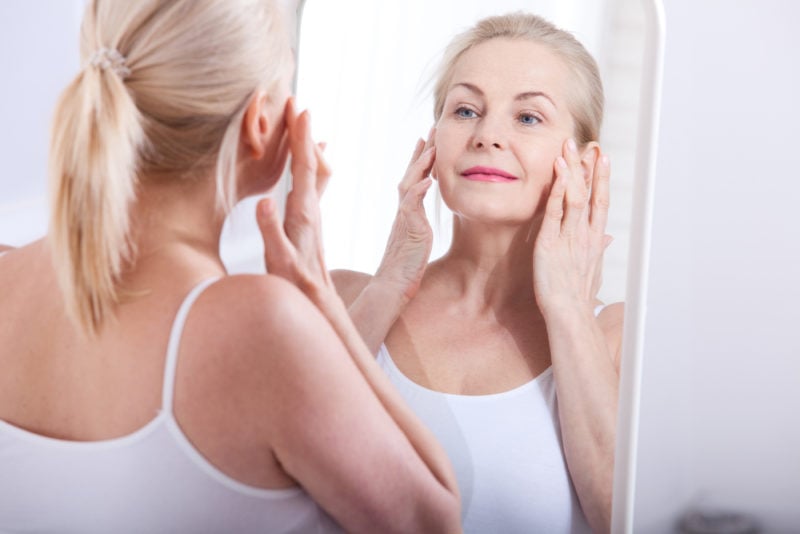 How To Improve Skin Complexion In Ways You Never Thought Of
These unique tricks for improving complexion might come as a shock, and we get it—we had the same reaction. But we have personally tested them, and to our great surprise, they worked, and worked WELL!
By now we're sure you're wondering what these secrets are on how to improve complexion, and we don't want to keep you waiting any longer…
Read on to get the best tips you've ever heard of on improving complexion and get ready to flaunt the best skin you've had in a long, long time.
Skincare Secret #1
This unique hack is one you're going to want to do when no one is around…
Carve out a few minutes a day to do mouth stretches. Yes, you read that right, mouth stretches. Simply stretching your mouth improves circulation in your face which in turn brightens skin tone.
There are 43 muscles in the face, so it would make sense that these require some stretching out in the same ways our entire bodies do. Doing facial exercises such as this can tone and tighten the face, leading to fewer wrinkles and improved skin complexion.
It might feel weird, and let's be honest, you'll probably look weird doing it, but frankly, these benefits are worth it. Just think of it as yoga, but for your face. 🤪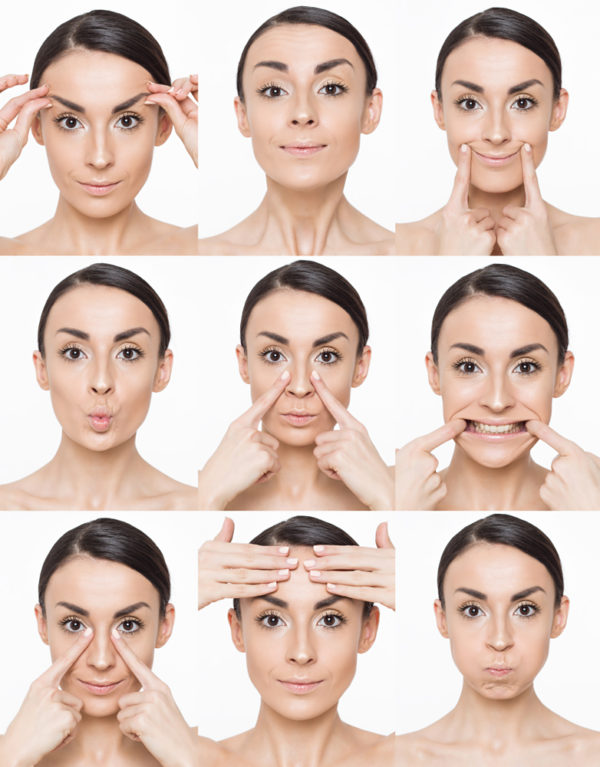 Skincare Secret #2
Green tea is packed with health benefits, but did you know that green tea is good for more things than just drinking?
Putting green tea directly on your face can improve skin complexion immensely. Green tea contains a TON of polyphenols called catechins. Catechins work on your skin to reduce irritation, redness, and swelling and leave your skin glowing. ✨
If you're wondering how to apply green tea directly to your skin, here's a quick and easy DIY recipe that takes just a few seconds to whip up.
Simply steep 2 bags of green tea, let cool and remove tea bags.
Next, add 1 tbs of aloe vera and mix into the tea. Apply directly to the skin and voila! You just made yourself an inexpensive skin solution you can use daily.
If you're looking for even MORE glow, add SkinnyFit's Daily Glow to your skincare routine. By simply taking a single capsule daily, you can get that youthful skin you've been craving.
Skincare Secret #3
Ice, ice baby! This chilling remedy reduces inflammation, minimizes pores, and even reduces puffiness…and all you need is a couple of ice cubes!
Ice isn't just for keeping your drinks cold anymore…rubbing it on your face improves the circulation of your skin, leaving you with a bright, gorgeous complexion.
This simple skin hack works best if you rub the ice on your face after you apply cream or moisturizer. The ice works to constrict the capillaries on your face and creates a pulling effect on the skin, which helps products absorb better.
After doing this your skin will look rejuvenated, and you'll get a nice little wake-up call. 😁
Skincare Secret #4
You have probably heard of collagen and why it's so great for digestion and weight loss—you might have even tried SkinnyFit Super Youth (our best-selling collagen powder that's been sold out 3 times!) But did you know that collagen also gives you glowing, radiant skin? Even if you did know, here's a nice little reminder on why you must use this easy beauty hack every day.
Collagen is found in the dermis, the middle layer of our skin that gives it its plumpness and fullness. Collagen is also the body's most abundant structural protein, so it would make sense that adding even more of it into your diet will work to give you gleaming skin.
Mix Super Youth into your favorite smoothie, drink, or food twice a day and you'll experience smoother and firmer skin, free of fine lines and wrinkles.
Skincare Secret #5
Here's your fifth and final beauty tip to improve skin complexion that you're probably not doing, or have even heard of for that matter.
Ready? Facial acupressure. Before you roll your eyes, hear us out…  By gently rubbing your face for a few minutes daily, you can improve circulation, skin tone, and metabolism in the skin and even enhance muscle tone.
Just like we get massages to relax our bodies, relaxing our facial muscles is just as important. Before starting your facial acupressure, try putting a little aromatherapy oil on your fingertips to induce relaxation and create the ultimate calming effect.
Working in an upward, circular motion, use your fingertips to rub between your eyes, behind the jaw, and at the base of the cheekbone on both sides of your face. With these motions you will get better circulation in your face, leaving it glowing and vibrant. Do this beauty hack before bed while sipping some ZzzTox, and you'll feel relaxed and ready for a good night's sleep 😴
The 5 Beauty Secrets Finally Revealed
Now that we've revealed our best and brightest beauty hacks, we leave you with radiant skin, improved complexion, and a new source of confidence we hope you'll flaunt everywhere you go! But remember, the easiest way to improve complexion is to address the root cause, from the inside-out. Replenish your skin's collagen storage quickly and naturally with SkinnyFit Super Youth. Just two scoops a day can completely transform the look and feel of your skin!