Jump To top
It's that time of the year again: When we pull out a piece of paper and write down all of our new years resolution ideas. We decide it's time to turn over a new leaf and make the resolution that will get us to the place where we want to be. 
But, we all know that feeling when February or March rolls around and the gym membership has expired, the meditation practice was forgotten, and the meal prep containers never got used. The anxiety of losing motivation can make weight loss and health goals feel like unreachable new years resolutions.
Despite the difficulty in making new years resolutions that last, most of us truly enjoy thinking about the future. In fact, we spend most of our thought space hanging out in the future or the past. Our thoughts immediately gravitate towards that "next step" but sometimes the path to getting there is a bit murky. Good news is that planning out your next twelve months can help you get excited and in alignment with what you truly want to achieve.  This blog discusses why new years resolutions fail and how you can prevent setting yourself up for an oh-so-familiar resolution disaster.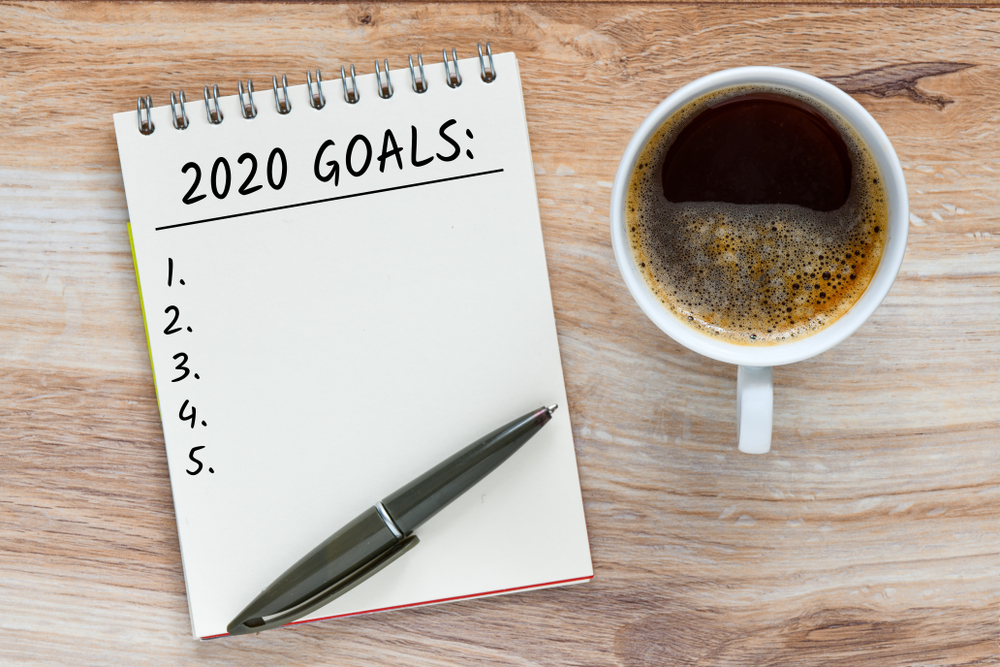 Why New Years Resolutions Fail

Big, lofty lifestyle changes don't usually work without a plan… even if they're made during a magical New Year's Eve party with a glass of champagne in hand. Announcing to your family that you're finally going vegan or that you're going to fit into those tight jeans are all great, but without a plan, it can be tough to turn those resolutions into reality.
So why do so many people make New Year's resolutions if only a few actually follow through on them? One of the main reasons people fail on New Year's resolutions is that their goals are not specific enough. If you're one of the millions of people who make a resolution to lose weight, exercise more, or change their diet for the better, you may be setting yourself up for disaster. Why? These goals are broad and don't have a specific timeline or metric to measure whether or not you achieved what you set out to do. 
The way to start effectively setting weight loss goals is by following the S.M.A.R.T formula. When you're setting a resolution around weight loss, make sure your goal is:
Specific
Measurable
Attainable
Relevant
Timely
Setting goals that are SMART puts you on the fast track to achieving your desired results. Why? Because SMART goals work. SMART goals boil down your resolutions into realistic, bite-size chunks. There is a greater chance that you will keep a resolution if it is realistic. The acronym stands for specific, measurable, attainable, relevant, and timely. For more on how to create SMART goals, check out our blog that breaks them down step-by-step. 
This blog will help you take a step back and evaluate how new years resolutions can help you get where you want to be. Resolutions are much more meaningful when you give yourself time to look behind you and appreciate the bends in the road. When you understand your past behaviors, especially ones that led to your happiest and most challenging moments over the past year, you're better able to focus on what you want moving forward. Self-reflection is a powerful practice any time of year, but New Years is always an excellent time to brainstorm new years resolution ideas that will set yourself up for success. 
How To Be Successful With New Years Resolutions

The New Year is symbolic and represents new beginnings and a fresh start. However, instead of thinking of New Years as a time to make sweeping, life-altering changes, use the New Year as a time to take a step back and reflect.
Make time to journal and think back through your year. Reflect back on your behavior. What was your behavior like last year? What impact did your choices and lifestyle have on your family, health (mental and physical), career, and finances? How could you make positive lifestyle changes coming into this next year? 
Self-reflection is just as important to your personal growth as achieving your new years resolutions. When we're able to understand where we've been we're better able to direct ourselves where we want to go.
Here is a list of self-reflection questions to help get you started. You can answer these alone, with a partner, or even with your kids. 
If you had to pick just one thing, what was the single best thing that happened to you this year?
What was the single most challenging thing that happened?
In what ways did you grow emotionally/physically/spiritually over the past 12 months?
If you had to sum the year up in three words, which would you choose?
What were the best books you read this year?
Who were your most valuable relationships with?
What was the most powerful lesson you learned?
After answering these questions, you can use these as a way to guide how you want the next year to go. What changes do you want to make? What do you want to do more of/less of? This exercise can be a great jumping-off point to create lasting resolutions. Below are a few more tips and sage advice on how to stick to a resolution: 
Have A Plan: Buy A Planner And Use It!: Write down your goals in a planner that you'll use daily. One of my favorite ways to stay true to resolutions is by creating mini-goals for each month. I even set aside a celebration day once a quarter where I review my goals, my progress, and if I'm on track, I'll take myself out to dinner or treat myself to a massage! Celebration days are wonderful opportunities to practice self-care and reward yourself for where you are right now.
Opt-Out Of Resolutions: I'm all for starting out fresh in the New Year with some amazing goals in mind, but guess what? You don't even have to set resolutions if it stresses you out. You'd be much better off setting 60 or 90-day challenges than broad resolutions that you know you can't stick to. Basically what I'm trying to say is that if you want to be a rebel and ditch the whole resolution thing, I support you!
Talk About Your Resolutions: According to the American Psychological Association (APA), talking with friends about your new years resolution ideas can help you reach them faster. Sharing your successes with others can make reaching your resolutions easier and more fun! If you want to work out more, consider joining a meetup group that gets together and works out regularly. Talking with people about your resolutions can increase your accountability and make resolutions a lot less intimidating.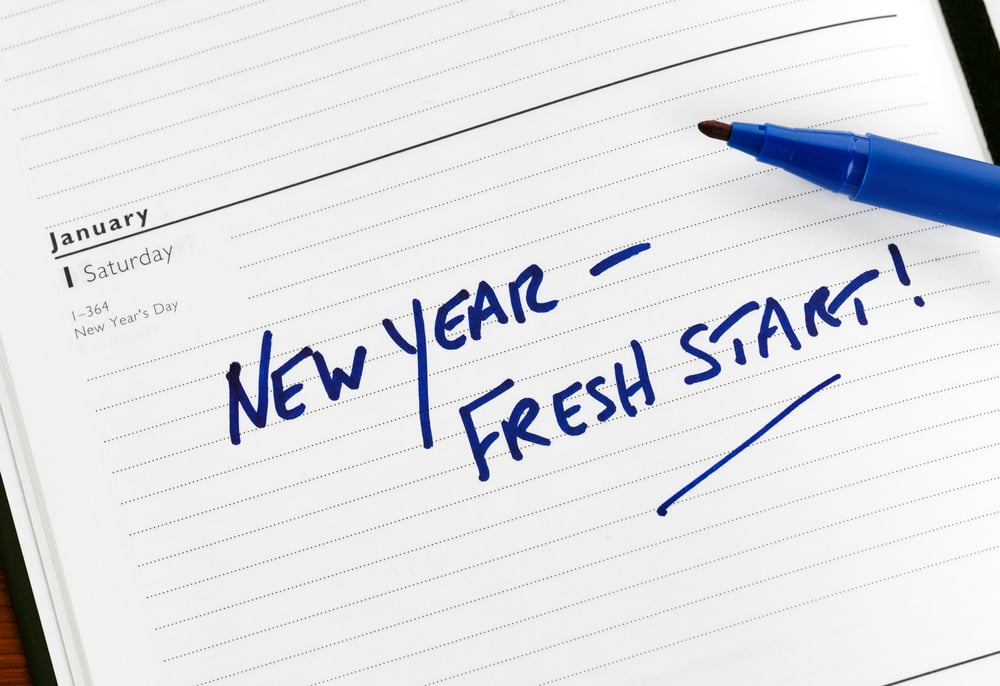 15 Unique New Years Resolution Ideas You Can Actually Commit To

Instead of setting goals that are going to collect dust in your journal, we have an idea for you. How about filling your resolution list with healthy, good-for-you, achievable goals? Simple, small goals can help you work towards a healthier mind and body. Jumpstart this next year with these easy and totally doable resolutions that will brighten up your days, weeks, and months to come! 
Tip 1: Get into nature more

We could all use a little more sunshine, fresh air, and natural surroundings in our lives. Make it a goal to spend more time in nature this year. Studies confirm that getting into nature helps with stress. According to Harvard University, getting outside helps reduce stress, anxiety, depression, and can even improve your memory. (1)
Tip 2: Perform one act of kindness a day

The reason why new years resolutions fail is that people overlook tiny changes they can make to their daily routine. Holding the door open for someone, smiling at a stranger, or writing a quick thank you note is much more powerful than you think. You can make a huge difference by practicing doing small acts of kindness each day. 
Tip 3: Find a role model

We all need role models as a reminder of how to uphold our moral and ethical values. They don't have to be the CEO of a big company or a famous star, maybe they're an ordinary person in your life who you admire. Ask yourself why you admire them and how you can practice more of the behaviors that they exhibit on the daily. 
Tip 4: Find someone to mentor

Have you ever felt big in someone's eyes? Do you have a specific skill to share with the world? Mentoring is a two-way relationship, that can leave you feeling great. Not to mention, mentoring benefits you and your mentee. There are endless opportunities to mentor and you can find resources online.  
Tip 5: Increase your financial knowledge

People usually say that money is one of their biggest life stressors. Unless you're actually looking at where your money is going, and analyzing your spending, money can create serious stress to your life. Make it a resolution to read your credit card statement every month and analyze your spending. Knowledge is power and taking control of your finances can have huge, positive effects on your year and life. 
Tip 6: Please your partner

Do you like feeling good? Chances are your partner likes it too! When you give more in the bedroom, you receive more too. Make a commitment to pleasing your partner and reap the mutual benefits. If you're really looking to spice things up, try these 7 mind-blowing kama sutra positions that turn up the heat and burn serious calories!
Tip 7: Call a family member each week

Carve out 10-15 minutes a week to call a family member and see how they're doing. Calling and checking in on a family member is a wonderful new years resolution that can keep you connected to your family unit. If you have older family members, it can be especially powerful to spend a few minutes each week showing that you care and that you're thinking of them.
Tip 8: Find your "thing"

Everyone has a thing – something that they're working on or striving for. What do you love doing besides your job? Figure out and be intentional about what your "thing" will be this year. Maybe it's visiting all of the National Parks or maybe it's finally taking that yoga teacher training  you've been eyeing. Whatever it is, go all in and make it YOUR thing! 
Tip 9: Clean up your photos 

Do you ever open your phone and see an endless stream of photos that you really don't need? Commit to only taking pictures that you really want and love this year. Clear out the clutter and snap responsibly. 
Tip 10: Set a dream budget

What's your dream income? How much money would you like to make this next year? Write it down on paper and take the steps to get there. Do you need to pick up another job? Freelance? Rent out a room in your house? Sell some of your belongings? Take a broad view of where your finances are and how you can get to where you want to be.
Tip 11: Change up your music 

A lot of us fall into the same routine – consuming the same music, TV, and movies. Try to switch it up and challenge yourself to explore something new. Is there a genre of music you've always been curious about? A type of film you've wanted to learn more about? Challenge yourself to expand outside your comfort zone. There are so many amazing artists and streaming channels out there, go check some out!
Tip 12: Learn something new

Two years ago I decided that instead of new years resolutions, I would commit to learning something new each month. I got out a sheet of paper and made two columns. On the left I listed each month and on the right column I listed which subject I would devote myself to learning about.
12 Skills To Learn This Year
January – Composting
February – Journaling
March – Budgeting
April – Blogging
May – Time Management
June – Cooking
July – Meditation
August – Public Speaking
September – Painting
October – Minimalism
November – Sports
December – Photography
Tip 13: Do something creative, consistently 

We all have a creative side. Use this next year to unleash your inner child and dedicate time to nurturing your favorite creative outlet. Maybe it's writing, cooking, painting, or playing music. Commit to exercising your creative muscles for a set number of days and record your progress. If you feel brave enough, you could share your progress on social media and inspire others to pick up a creative outlet. 
Tip 14: Commit to taking one healthy supplement each day

Overwhelming yourself with taking too many supplements can often feel like a chore, which can cause you to fall off track with the routine. Taking one supplement a day that contains a variety of health benefits makes it easy to stick to and offers amazing results. Taking 1-3 scoops of Unflavored Super Youth collagen a day is an easy way to healthify your routine. Also, a flavored collagen makes it quick and enjoyable to take collagen, versus taking pills.  Try Tropical Punch, Chocolate Cake, and Peach Mango flavored Super Youth – you can add directly into water or mix into your favorite recipes.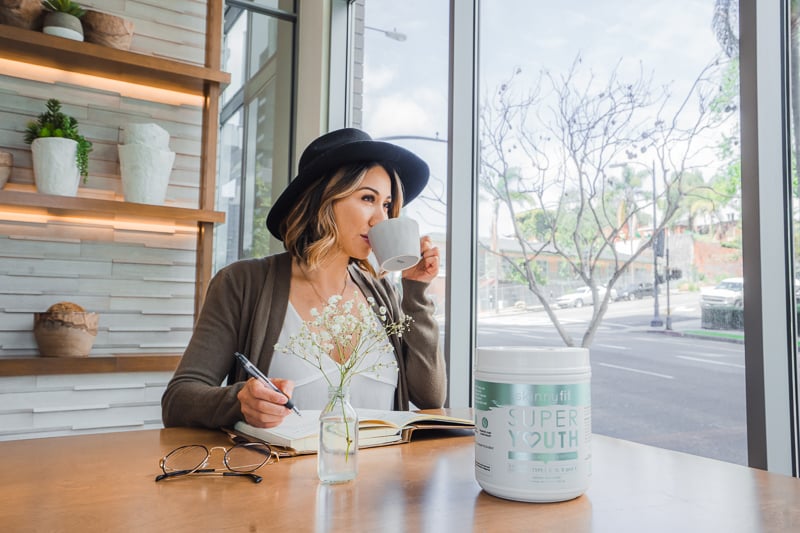 Tip 15: Meditate regularly 

Along with eating better and working out more, people tend to make a resolution to meditate more. But how do you stay committed? Make it a part of your day. Designate an area in your home that's purely for meditation – you can signify that this is a meditation space with a special candle, pillow, or picture. Start slow, with 5 minutes a day and work your way up! For more info on meditation, check out our meditation for beginners blog. 
Final Thoughts

Make resolutions that you think you can keep. There are simple and effective ways to make new years resolution ideas stick. People have spent a lot of time trying to figure out why new years resolutions fail and the psychology behind how we can make better ones!
As a final recap, when in doubt, keep it small and simple. Reward yourself for meeting mini goals along the way to your grander goals, and carve out time for self-reflection throughout the year. You totally got this, we believe in you!
If you'd like to share your new years resolution ideas with the SkinnyFit community, hop on our Facebook or Instagram page and connect with other women who are also setting goals and staying accountable!
Harvard University. (2018). Sour mood getting you down? Get back to nature.