Jump To top
Now you can SAVE BIG on all of your favorite SkinnyFit products!
If you're a SkinnyFit fan, then boy do I have a treat for you! In honor of SkinnyFit's 5th birthday, we're launching a SkinnyFit Referral Program! This means that you now have the opportunity to get BIG discounts on your favorite products! 
In this blog, we'll cover everything you need to know about the referral program and answer any questions you may have. If you have a question you don't see here, our Customer Care team is on standby 24/7 to answer any and all of your SkinnyFit questions! (1-888-862-1758)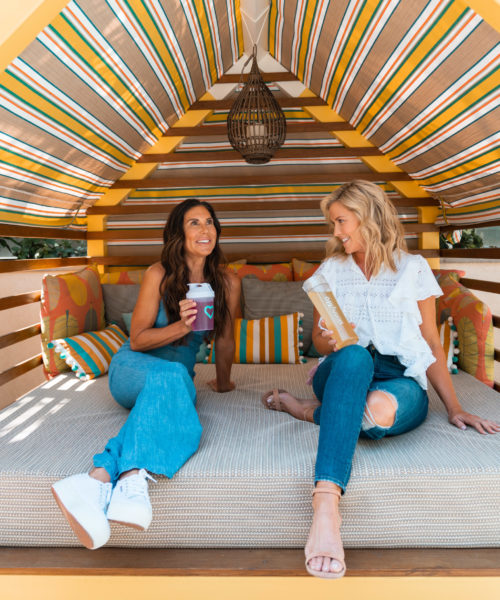 SkinnyFit Referral Program FAQ
1. What is the SkinnyFit Referral Program?
The SkinnyFit referral program is an exciting opportunity for SkinnyFit fans everywhere to earn exclusive discounts by referring friends and family. It's our way of saying thank you for sharing the SkinnyFit love!
When anyone purchases SkinnyFit using your referral link, you get 25% off and they get 25% off! Talk about a win-win!
2. How does the referral program work?
Go to referral website.
Enter your email to get your referral link unique to you.
Share your referral link with friends and family.
Once your referral purchases using your referral link, you'll receive an email with 25% off your next purchase.
Refer more friends and earn more rewards.
3. What are ways I can share my referral link?
You can share your referral link via Facebook, Instagram, Messenger, email, or text.
4. Which of my friends are eligible to refer?
Anyone and everyone who you think will love the amazing benefits SkinnyFit has to offer!
5. What counts as a successful referral?
Your referral reward is successful once your friend has completed any SkinnyFit purchase using your unique referral link.
6. How do I track my referral status?
You will be notified via email whenever a reward is available for you to use.
7. How can I tell if my friend used my referral link?
You will receive an email letting you know when a friend has used your referral link. Your status will also be posted to your referral dashboard.
8. Is there a limit to the number of people I can refer?
We want everyone to experience the same amazing SkinnyFit results as you, so share the SkinnyFit love with as many people as you'd like! More friends = more benefits. 
9. Where can my friends enter my referral link?
No code necessary. When your friend clicks your link, they will be taken to the SkinnyFit website where their discount will automatically be applied at checkout. Purchase must be made using your unique referral link in order to receive referral rewards. 
10. What if a friend purchased, but forgot to use my referral link?
The purchase must be made using your referral link in order to receive rewards. They can use your referral link on their next purchase in order to receive a discount. 
11. I lost my referral link, how can I access it?
Refer back to your referral email from SkinnyFit to access your link. Try searching "SkinnyFit" or "Referral Program" in your inbox to locate it. 
12. How many times can I use my referral reward?
Each time you get a successful referral, you can use your reward once.
13. Does my referral coupon expire?
Your referral coupon can be used within 60 days of receiving it. 
14. How do I redeem my referral coupon?
You will be emailed your referral coupon with a link containing your discount. The link will take you to the SkinnyFit website, where your discount will be automatically applied at checkout. Purchase must be made using the unique link sent to you. 
15. Does the referral coupon apply to all products?
Absolutely! You can use your exclusive discount on any and all of your favorite products on the SkinnyFit website, using the discount link sent to your email.
16. How can I receive more rewards?
Sharing the SkinnyFit love is the guaranteed way to long-lasting friendships! Share your referral link with more people and you will receive a 25% off coupon each time someone purchases using your link. More friends = more benefits.
17. Can I apply my discount to a previous purchase or to an existing subscription?
No. Discount can only be applied to new purchases.
18. Can I combine multiple referral code rewards for a bigger discount?
No. You can only apply one (1) referral code reward per checkout.
Mentioned In This Post
SkinnyFit Referral Program
Sign up for the SkinnyFit Referral Program and save BIG on your favorite SkinnyFit products by sharing the #SkinnyFitLove with your friends and family!