How To Make The Best Ginger & Spiced Pear Moscow Mule!
Written by: Liz Brown - Nov. 2, 2018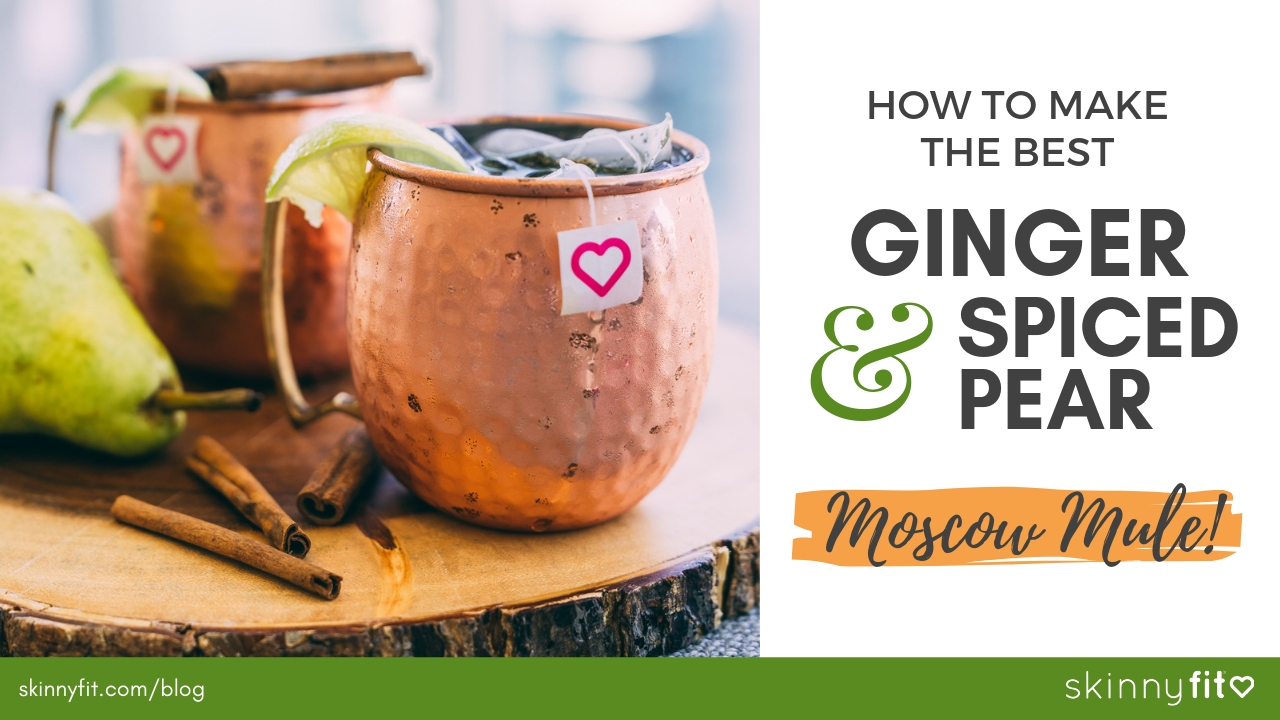 If you want the perfect fall cocktail, look no further—this ginger and spiced pear Moscow Mule will have you, and your taste buds, buzzing!
What makes the autumn weather so enjoyable is the cozy and comforting feeling of fall flavors alongside a chilly day—like nutmeg, cinnamon, and spices! Of course, something like our cinnamon hibiscus tea would do the trick just fine, but sometimes you need something with a little more oomph if ya know what I mean. 😉
This is where something a tad stronger comes in, like this spicy Moscow Mule! Now, I should clarify, this recipe isn't actually a spicy Moscow Mule. The combination of fall spices (like cinnamon, allspice, and nutmeg) make the pear simple syrup, spiced.
With this recipe, you can actually make cocktails for a small group of people, serving anywhere from 4-8 people with the simple syrup! But of course, we created this recipe to account for a single serving of the cocktail. If you don't use all of the simple syrup the day you make it, don't worry, it will keep for 4-7 days in the refrigerator when covered completely.
RELATED: How To Make The Most Delicious Skinny Margarita With These Unexpected Ingredients!
How To Make Spiced Pear Simple Syrup
For the spiced pear simple syrup*, here's what you need:
Ingredients:

1 cup pear juice (you can use the juice from a can of pears if you'd like)
1 cup sugar
1 cinnamon stick
1/4 teaspoon nutmeg
1/4 teaspoon allspice
1 pear, diced (we used a fresh pear but if all you have is canned pears, that will work too!)




Directions:
In a small pan, add the pear juice, sugar, cinnamon stick, nutmeg, allspice, and diced pear.

Bring to a boil and cook for 5 to 8 minutes. The liquid should be slightly thickened.

Strain through a strainer or fine mesh sieve and allow to cool.
Again, this simple syrup recipe can make up to 4-8 cocktails depending on how much you'd like to use per cocktail. If you won't use all of it, you can store the remainder in the refrigerator in an airtight container and use again later.
Prepare SkinnyFit Detox
Before you proceed with making the cocktail, make sure to brew one cup of SkinnyFit Detox and cool completely. To make you Detox, simply bring 8 ounces of water to a boil and steep one bad of the Detox for 5-7 minutes. To accelerate the chilling process simply place it in the fridge whilst making the simple syrup.
SkinnyFit Detox provides additional sweetness with little calories to this pear Moscow Mule and won't compete with the fall flavors. SkinnyFit Detox is a combination of 13 powerful superfoods that help release toxins that have accumulated in your body that can cause uncomfortable belly bloat and unwanted weight gain!
By drinking one cup of Detox each day, you can look and feel pounds lighter! Mixing your Detox with your favorite cocktails and beverages won't have a negative effect on the benefits either—all of the ingredients are 100% natural!
To order SkinnyFit Detox, click here.
RELATED: 5 Of The Best Apple Cider Vinegar Recipes To Boost Longevity +Health Benefits)
Ginger & Spiced Pear Moscow Mule
Ingredients
8 oz SkinnyFit Detox, brewed and cooled
2 oz vodka
1.5 oz spiced pear simple syrup*
1 oz freshly squeezed lime juice
4 oz ginger beer
Directions
Fill a copper mug with ice
add SkinnyFit Detox, vodka, spiced pear simple syrup*, and lime juice
Top with ginger beer
Garnish with cinnamon stick and slice of pear
Nutrition
Wellness