Jump To Recipe
Overflowing with nutrients to keep you healthy, hydrated, and youthful—it's no wonder everyone is making tropical coconut water this summer. Here's our favorite recipe (and the secret ingredient everyone else is leaving out)!
One of my favorite discoveries as of late has been coconut water. Not just any coconut water, mind you—I like to go all out by mixing up refreshing tropical mocktails that evoke the flavors and revitalizing energy of the southern latitudes. Naturally tropical coconut water is light in taste, body, and sweetness, and can be the best friend of any budding mixologist. Today, I'm excited to share a tropical coconut water recipe that I make almost every weekend to beat the summer heat.
In fact, DIY flavored coconut water is the perfect summertime drink. Not just because it's refreshing, but because it's also replenishing. This recipe is packed with rehydrating electrolytes that nourish your body during and after intense exercise, while replenishing your collagen levels. So if you plan to burn some calories in the sun this summer, definitely keep this mocktail-esque beverage in your gym bottle. 

How To Make Flavored Coconut Water 
As I hinted at earlier, versatility is one reason tropical coconut water is a great go-to. There's no limit to the array of ingredient combinations at your disposal to create the perfect flavored coconut water. Beyond flavor combos, you can also add ingredients that elevate coconut water's healthfulness. 
Let's take a look at some different ways you can give your tropical coconut water a unique taste and nutritional spin. 
"Put de lime in da coconut and drink em both up."
Harry Nilsson's lyrical advice should definitely not be overlooked when making flavored coconut water. Lime adds a distinctly tropical taste to this recipe. Just remember to avoid using artificial lime juice—it's simply not the same. I like to squeeze my lime fresh, directly into the coconut water. 
Add a scoop of Super Youth Tropical Punch
A scoop of Super Youth Tropical Punch collagen powder gives you a wildly delicious coconut-collagen water that's sweet as a summer breeze and about as healthy as you can get. 
The perfect addition to any coconut water refreshment, collagen is also a must-have in almost any diet. That's because it's responsible for joint health, glowing skin, thick hair, and even improving digestion. It even works great to smooth wrinkles. [1, 2]
Tropical Punch not your favorite flavor? No worries, Super Youth also comes in thirst-quenching Peach Mango and a nearly undetectable flavorless option. Peach Mango makes a great collagen water, as it is, but becomes a Caribbean vacation for your taste buds when mixed with coconut water and lime.

Use collagen powder, not collagen water
It may seem like a nifty shortcut to just mix coconut water with collagen water and call it a day, but in reality, using pre-made collagen water just sets you back in taste, money, and health benefits. 
Firstly, collagen water can dilute the benefits of coconut water and other natural ingredients. Whereas adding collagen peptide powder directly to your coconut water literally gives you heaps of collagen goodness without watering down the other ingredients. 
Collagen water is also far more expensive per serving than powders, such as Super Youth. Common collagen water sells for around $4.00 per serving, whereas Super Youth Tropical Punch only sets you back about $1.20 per serving. And within each serving are five premium collagen types, compared to one or two types, found in most collagen water. 
Splash in a some sparkling water
Just 1/3 a cup of sparkling water is enough to alight your tropical coconut water with a refreshing effervescent pop! I personally find that sparkling water makes this recipe even more thirst-quenching, and gives it more of a mocktail mouthfeel that's appreciated anytime of day. Remember that this coconut-collagen water mix is naturally sweet, so make sure the sparkling water you choose contains just carbonated water so you don't overly sweeten your drink. 
Benefits Of Coconut Water
Look & feel younger: Thanks to Super Youth collagen, this tropical coconut water recipe helps hide the effects of aging. Collagen's age-defying benefits include significant reduction in joint pain, smoothening of wrinkles, improvement in hair shine and density, stronger tendons, healthy weight, and more. [3, 4, 5]
Naturally hydrating: Coconut water is loaded with electrolytes that help to rehydrate you just as well as any sports drink—without the ingredients you can't pronounce. [6]
Adjust to your needs: Using collagen powder allows you to adjust your intake based on your specific flavor preferences or physical needs. Just another reason to choose collagen powder over collagen water.
Rich in anti-inflammatories: Coconut water and lime both have anti-inflammatory properties that help fight free radicals and the effects of aging. [7]
Great for skin: Vitamin C, found generously in lime, and B3, found in coconut water, support collagen levels and keep skin healthy. [3]
Already building up a thirst? I don't blame you. Without further adieu, let's dive into the recipe!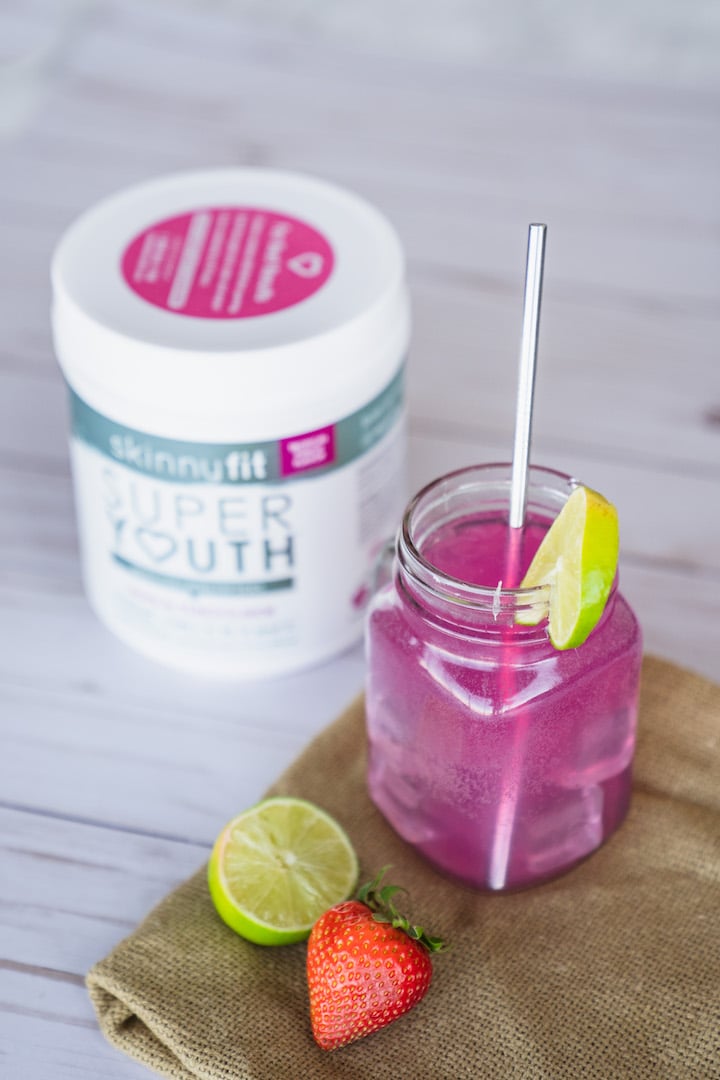 Tropical Coconut Water Recipe
Overflowing with nutrients to keep you healthy, hydrated, and youthful—it's no wonder everyone is making tropical coconut water this summer. Here's our favorite recipe (and the secret ingredient everyone else is leaving out)!
Prep Time: 2 minutes
Cook Time: 0 minutes
Total Time: 2 minutes
Serving Size: 1 drink
Ingredients
½ cup of coconut water
1 scoop Super Youth Tropical Punch
Juice from 1 lime
⅓ cup of sparkling water
Ice
Steps
Mix Super Youth Tropical Punch with coconut water
Squeeze lime, to taste 
Add Ice and top with sparkling water