10 Of The Best Foods For Clear Skin & A Healthy Complexion
Written by: Lauren Villa - Jun. 29, 2020
No matter how dedicated I am to my skincare routine, there is one thing I know for sure: The secret to achieving clear, radiant skin starts with what I put into my body. It starts with what I eat, what I drink, how much I sleep, how much exercise I'm getting, and how I'm taking care of myself. When I see a pimple or blemish pop up on my forehead, I know it's a way of my body telling me that whatever I put into my body in the past 24-48 hours was not ideal. Nine times out of 10 it's about my diet, which makes me question what I've been eating. Have I been drinking too much caffeine or alcohol?
Which makes me think… if 4 slices of pizza can show up on my face as a big red pimple, what effect does eating healthy foods have on my skin? The answer is the exact opposite: A gorgeous, healthy glow. There are tons of foods for clear skin, and when you start incorporating them into your diet, you'll look younger, have less puffiness around your eyes, and your skin will feel more hydrated and supple!
If your goal is to look younger and achieve a Jennifer Lopez-level glow, start with a list of tasty foods that are good for you and easy to take daily! Here's a list of the best skin clearing food go-tos that every woman (including you!) should have in her kitchen cabinet. Read on and enjoy healthy, supple skin every day.
10 Foods For Clear Skin

The skin clearing foods in this list have been a part of the human diet for centuries. They've kept us strong and prevented disease. When you incorporate foods that boost your body's defenses, you'll trigger a series of positive effects for your hair, skin, and nails!
What's more, eating a healthy mix of fruits, vegetables, upping your H2O intake, and taking a supplement can tighten skin and have a huge effect on how clear, strong, and radiant you look. You can expect to experience all of these healthy, amazing skin benefits when you eat from this list of foods:
Heal dry skin
Replenish hydration to skin
Hydrate and moisturize from the inside out
Calm itchy red skin
Protect against sun damage
If you're ready to look years younger and get a jump start on your beauty routine, start with these best foods for clear skin. Each one is brimming with nutrients that revitalize your skin. The best part? These skin clearing food tips aren't as complicated as you'd think and they're super affordable!
1. Pre- and probiotics

Another word for foods for clear skin might as well be these helpful bacteria. Pre- and probiotics are essential to protecting not only the gut biome, but your skin's health. In fact, pre- and probiotics work similarly on the skin as they do for the digestive system. Talk to any nutritionist and they'll tell you that pre- and probiotics are excellent supplements to help you achieve clear skin. They keep the skin balanced to prevent flare-ups, and protect against free radicals. (13) Probiotics are especially beneficial to help prevent inflammation in the skin so for anyone with conditions like eczema, rosacea, and acne, eating enough probiotics can keep breakouts at bay. Plain and simple: Pre- and probiotics are best of the best when it comes to best foods for clear skin. For the best results, find pre- and probiotics, like Belly Balance, that you can take daily to help keep unwanted breakouts at bay.
2. Dark berries

There's no reason that healthy foods can't be super delicious! Dark berries like raspberries, blueberries, and strawberries taste amazing and are disease-fighting superfoods for your skin. How do you know if a food is a skin clearing food? Bright, beautiful colors are usually excellent indicators. The deeper the hue of blue and red colors actually signal that a fruit contains high amounts of a specific type of antioxidant called anthocyanin that protects your skin from sun damage and keeps your skin vibrant. Berries high in vitamin C and antioxidants like the ones listed below are found in a ton of anti-aging treatments. Why? Because they help remove wrinkles, reduce inflammation and redness, and reverse the damaging effects of aging.
Dark berries rich in antioxidants:
Goji berries
Blueberries
Strawberries
Cranberries
Acerola cherries
Grapes
Acai berries
Research into anthocyanins has shown that this specific antioxidant may increase longevity, improve cardiovascular health, prevent cancer, and prevent dementia symptoms. Those all sound like positives to me! (1)
3. Cruciferous vegetables

Wrinkle-free skin could be staring at you from your salad bowl if you fill it with kale, spinach, brussel sprouts, cabbage, bok choy, and other cruciferous vegetables every day. Cruciferous vegetables are nature's super affordable and super effective skin clearing secrets. The best foods for clear skin are packed with vitamins A, C, E, and K, which go to work at keeping your complexion clear and glowing. (12)
Cruciferous vegetables also have anti-inflammatory benefits that help with:
Preventing bloating
Preventing puffiness
So whether you're balancing a high-stress job and a new workout routine, or you are looking for ways to clear up acne and blemishes, loading up on delicious Cesar salads, kale salads, green smoothies, green bowls packed with veggies, or healthy soups, you can seriously impact the health and look of your skin. If you struggle to get enough greens in your diet, try taking one scoop of Skinny Greens every day! It's packed with skin-loving nutrients and even helps fight bloating!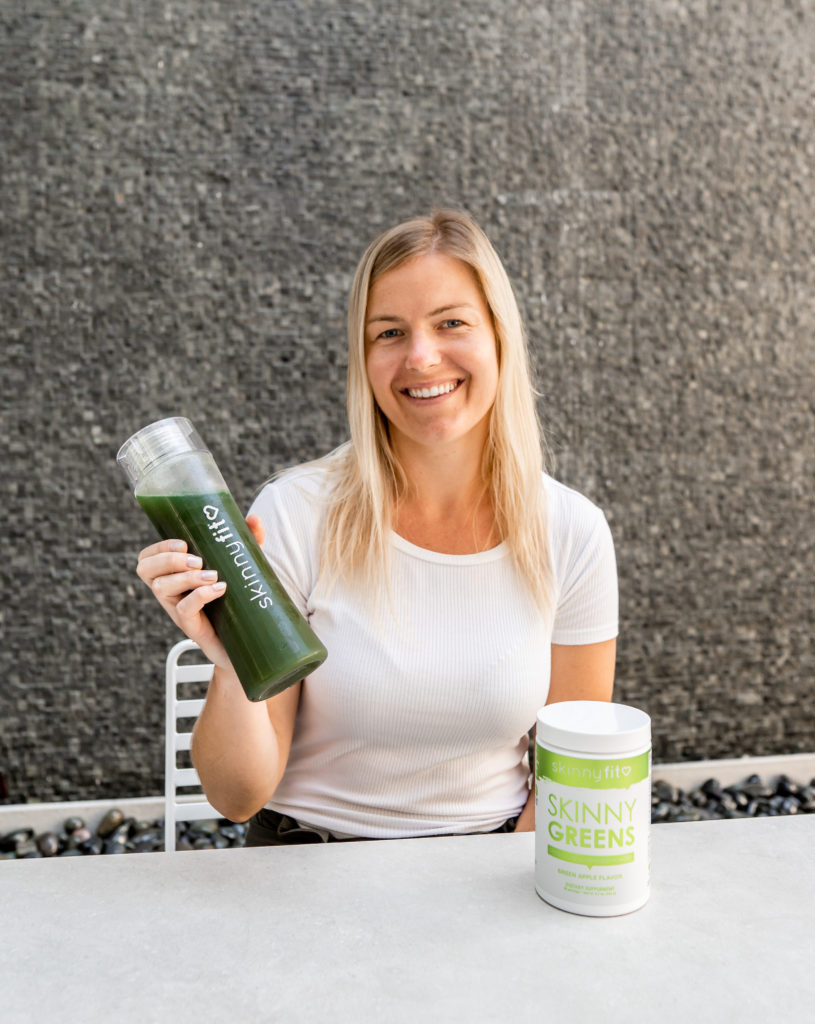 4. Good oils

Everyone says it: You are what you eat. Although oils tend to get a bad rap in the health and wellness world, natural oils are incredible skin clearing foods. As it turns out, some of the best oils for your skin come from our favorite fruits and vegetables, including:
Coconut oil
Avocado oil
Grapeseed oil
Extra virgin olive oil
The antioxidants and anti-inflammatories in these oils can help your skin stay hydrated and smooth. For example, avocado oil can help with wound healing and clearing up dry patches of skin. (2) So whether you're using these oils in a homemade face mask or you're keeping bottles in the pantry, make sure to sneak them in your diet whenever possible!
5. Green tea

It wouldn't be a list of top foods for clear skin, if I didn't include my personal favorite: Green tea! Not only does green tea and green tea extract help your skin look younger and more hydrated, there's evidence that it can treat disease. Studies have shown that it has a wide range of benefits, including working as an anti inflammatory that plays a big role in treating cardiovascular disease and metabolic disease, like diabetes. (3) People have used it to achieve beautiful, clear skin for centuries.There's a reason you'll see so many cosmetic and beauty products use green tea.
One of green tea's mightiest benefits is that it can help with aging. Studies show that drinking green tea can improve the skin's elasticity and slow down the skin's aging process. (4)
Green tea is more than an antioxidant powerhouse. Add a cup of green tea to your daily routine or find a product that includes green tea extract to moisturize and sip on some major beauty benefits all day long.
6. Nuts

Nuts not only taste delicious and are one of the most versatile foods for clear skin. They contain omega-6s and omega-3s which are… like the best possible vitamins you can put into your body to help your skin improve. Research into omega-3s show that they're effective at preventing certain disorders, including cardiovascular disorders, neurodegenerative, neuropsychiatric, and inflammatory diseases. Omega-3s may also protect against cancer. (11)
So yeah… nuts are kinda a big deal. But not all nuts are such heavy hitters. The best ones to stock up on are Brazil nuts, pistachios, cashews, almonds, and walnuts are all healthy choices to keep your skin healthy and hydrated. Selenium, which is found in a variety of nuts, including Brazil nuts, helps protects the skin from damage and prevents breakouts and acne. (10)
The bottom line? Nuts will help keep your skin smooth and help stave off wrinkles! I love keeping a jar of healthy nuts in my kitchen for healthy snacking and to sprinkle on top of salads and healthy desserts. Try to squeeze these tiny, delicious foods into your meals each day for maximum results. Now you know that eating a diet that includes nuts can help improve skin elasticity, reduce skin inflammation, fight off infections, and heal scarring!
7. Fatty fish

Fatty fish like salmon, mackerel, and herring are protein-rich foods for clear skin with unbelievable sources of essential fatty acids that protect and nourish the skin. Fatty fish also contain skin-saving antioxidants that fight inflammation, reduce redness, and keep your skin elastic. Fish gives you a boost of high-quality protein, vitamin E, and zinc to help support skin health. (5)
Many studies have found that fish oil is effective at treating skin disorders such as skin cancer, allergies, wounds, and dry skin. (6) Eating a diet rich in omega-3 and vitamin E delay skin aging and prevents wrinkles. When you eat healthy fatty acids, you can boost your hair's silkiness and keep your skin supple and hydrated.
8. Watermelon

Hydration, hydration, hydration. Watermelon is such an easy and delicious way to boost your skin's health. Of course hydration is important any time of year, but during hotter summer months when sun exposure is high, watermelon can soothe the skin and leave it feeling radiant and glowing.
Watermelon is great for clear, hydrated skin because watermelon contains: (7)
92% water
Lycopene
Vitamin A
Vitamin B6
Vitamin C
Potassium
Amino acids
Lycopene is so beneficial to skin health because it is a phytonutrient, which is a powerful antioxidant that naturally occurs in fruits and vegetables. Lycopene is a great way to boost prostate, bone, and heart health.
Rule of thumb: The riper and redder the watermelon, the more lycopene. So wait until your watermelon is fully ripe to enjoy the most benefits. But the red parts of the watermelon are not the only nutrient dense areas. The white flesh close to the rind and the seeds are packed with benefits too.
On your next grocery store romp, throw a watermelon into your cart and to start making your skin look healthy and hydrated. Add watermelon to water, on top of a salad, in a smoothie, or of course, enjoy it on its own!
9. Beets

Another ingredient with skin super powers? Beets! Beets are key for youthful, smooth skin. They are rich in iron, vitamin C, folate, fiber, potassium, and low in calories. Beets are high in vitamin C, which can benefit your skin by repairing and preventing dry skin. (8)
10. Turmeric

Turmeric is one of the best good-for-you ingredients. It keeps your skin clear and gorgeous—which is just another reason to throw it into all of your favorite recipes. Check out our turmeric latte recipe here.
Turmeric is high in vitamin C and can protect your skin from signs of aging, and help: (9)
Protect the skin against sun damage and aging
Hydrate and revitalizes skin
Prevent acne
Reduce puffiness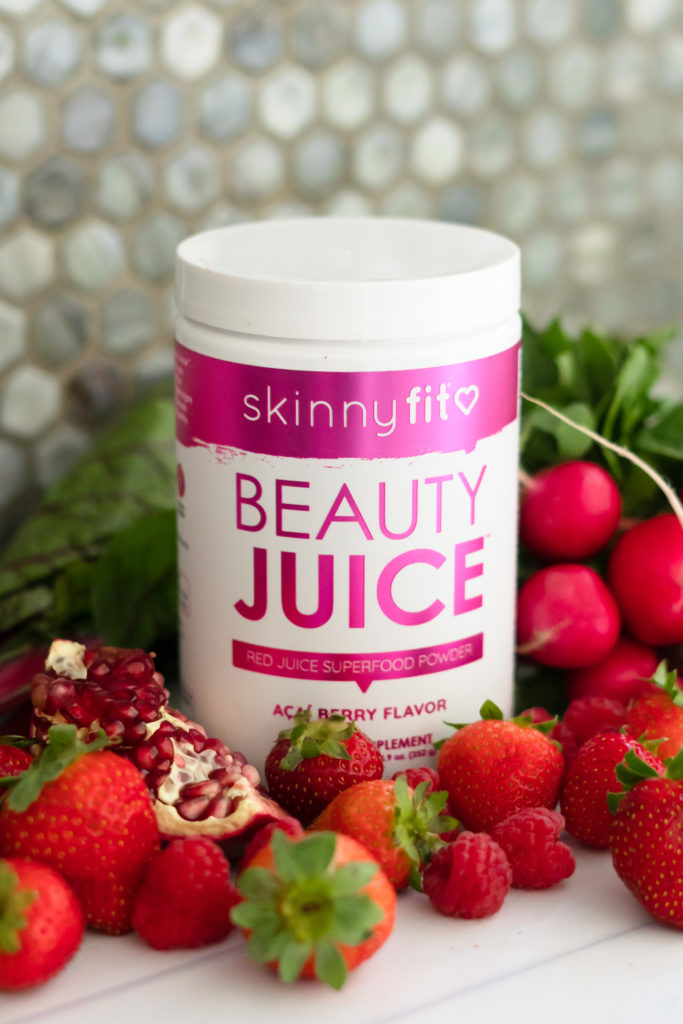 #1 Recommended Skin-Clearing Food

Spend a lot of time in the sun? Are you noticing that your skin could use a bit of brightening? Are you looking for foods for clear skin? Good for you! Prioritizing your skin is one of the healthiest things you can do for your body. As I've mentioned, the food you put into your body is just as vital as the moisturizers and cleansers you put on it.
Instead of stressing about how to eat all of the best foods for your skin individually, you can pick up a product that does the legwork for you and includes ALL the foods for clear skin. SkinnyFit Beauty Juice combines all of the greatest skin-enhancing ingredients into one easy scoop! Making it the #1 recommended skin-clearing food because it's formulated with 36 skin-transforming superfoods, like the ones listed in this blog.
Say goodbye to messy countertops or expired produce and opt for an easy, once-daily supplement that packs in ALL of the secret anti-aging superfoods you need to look younger!
In every scoop, discover younger, more youthful skin! I love drinking a glass of Beauty Juice in the morning because it keeps me on track to reach all of my wellness goals for the rest of the day. And when your skin feels hydrated and healthy, your whole body does too!