Jump To top
Digestive issues are more common now than ever before. The standard American diet is filled with chemicals and additives that can be difficult for your body to digest, often leading to some extended stays in the bathroom department. 💩  Similarly, diets nowadays tend to be high in fat, high in carbs, and low in fiber, which only makes things worse on your digestive system. If you struggle with digestive issues, here are some high fiber, low carb, foods to add to your diet that can make your tummy trouble a little smoother, if ya know what I mean… 
Article At A Glance
Types of fiber
Benefits
How much to eat
How to add fiber to your diet
Best high fiber, low carb foods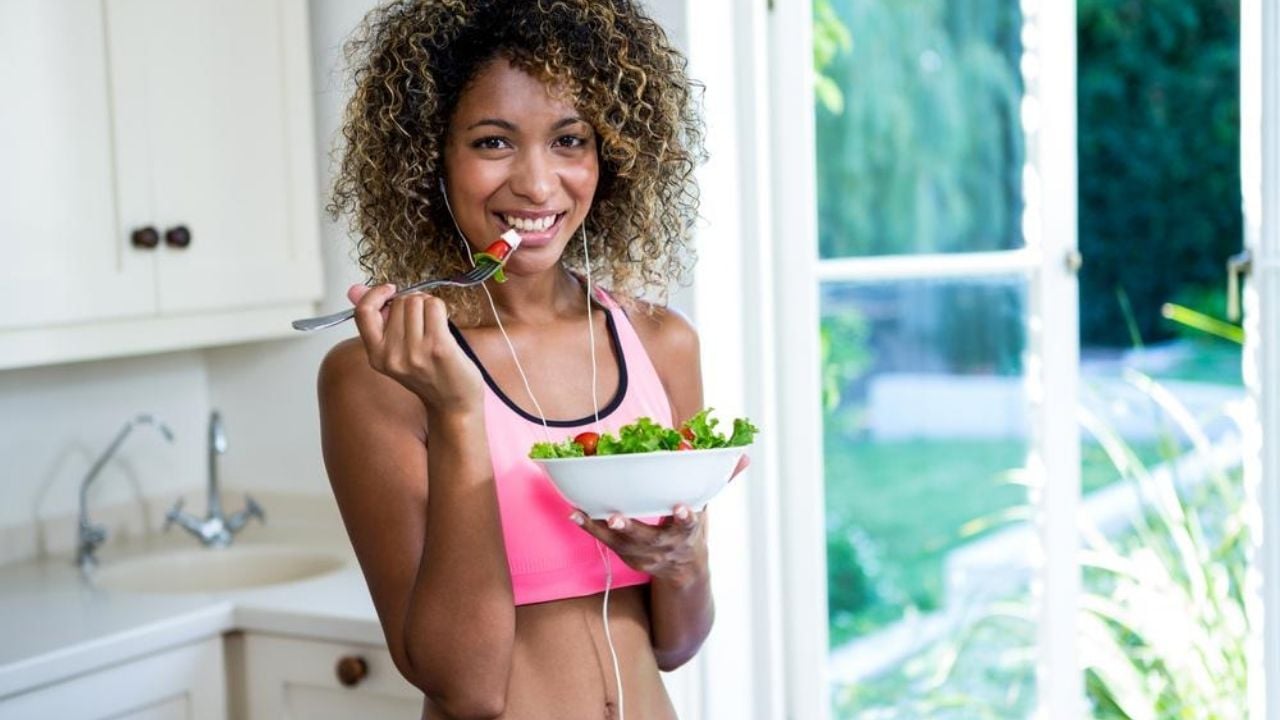 Types Of Fiber
There are two main categories of fiber in the diet—soluble and insoluble fiber. Here's what you need to know about them:
Soluble fiber—Soluble fiber attracts water and turns into gel during the digestion which slows the digestive process. Soluble fiber is found in a variety of foods, such as oat bran, barley, nuts, seeds, beans, lentils, peas, and some fruits and vegetables.
Insoluble fiber—Insoluble fiber is found in foods such as whole grains, vegetables, and whole grains. It adds bulk to the stool and appears to help food pass more quickly through the stomach and intestines.
Benefits Of Fiber
Dietary fiber has numerous health benefits, including: [1]
Lower cholesterol
Lower risk of coronary heart disease
Reduced blood pressure
Enhanced weight control
Better glycemic control
Reduced risk of certain forms of cancer
Improved gastrointestinal function
How Much Fiber Do I Need?
As mentioned above, the American diet makes it difficult for people to get the recommended amount of fiber in their diet. According to the Academy of Nutrition and Dietetics, women should aim for 25 grams of fiber per day, while men should target 38 grams, or 14 grams for every 1,000 calories. The recommendation for children depends on biological gender and age and ranges from 19-38 grams per day. 
Tips For Adding High Fiber Foods To Your Diet
If you struggle to get enough fiber in your diet, here are a few tips that can help:
Start your day with at least 5 grams of fiber in your breakfast
Switch to whole grains
Add ground seeds to baked goods 
Swap potatoes for legumes
Eat more fruits (with the skin) and green vegetables
Snack on nuts nuts and seeds
Eat enough micronutrients (one scoop of Skinny Greens contains 34 different superfoods and gut-renewing pre- and probiotics that help with digestion)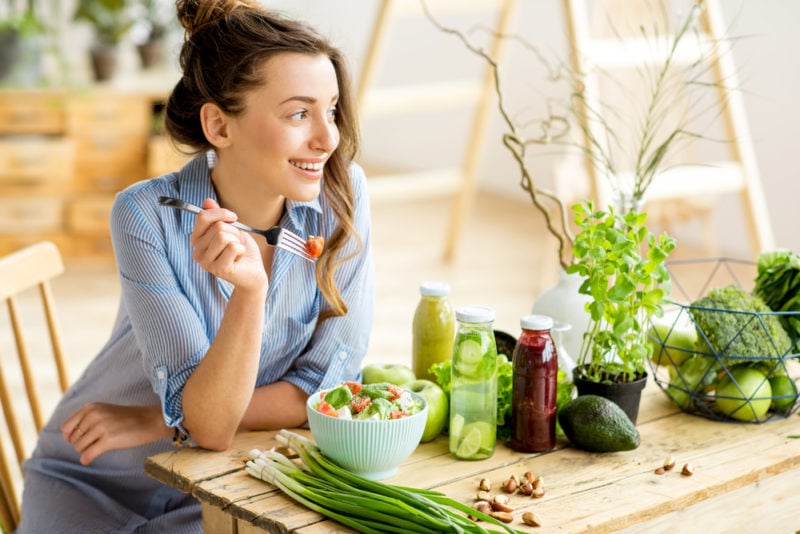 Top 10 High Fiber, Low-Carb Foods
Looking for some of the best high fiber, low carb foods to add to your diet? These are the top ten high fiber foods that can improve your digestion and also help with weight loss. 
1. Flaxseed
Flaxseed is a type of seed that can be ingested whole, or ground. It's loaded with healthy nutrients like omega-3s, B vitamins, folate, calcium, iron, magnesium, and potassium, to name a few. But when it comes to fiber, just one tablespoon contains close to 2 grams! Because flaxseed is so small and is also available in a ground form, it can easily be added to smoothies, baked goods, and oatmeal to give your food an added boost of protein! [2]
2. Chia Seeds
Chia seeds are considered nutrient-dense, meaning they have a high amount of nutrients (like vitamins and minerals), but are still low in calories. This makes chia seeds a great option for anyone looking to maintain a high fiber diet without gaining weight. What's even better, just one ounce of chia seeds contains a whopping 10 grams of fiber! 
3. Avocados
Avocados are known for being high in monounsaturated fats—a type of HDL (high-density lipoprotein) that helps lower cholesterol levels. But did you know they are also high in fiber? 10 grams for every cup to be exact! 
4. Almonds
Another high fiber food that provides healthy fats is almonds. Almonds contain a variety of vitamins and minerals that are needed for a healthy diet. One ounce of almonds contains roughly 3.5 grams of fiber and 6 grams of protein. 
5. Blackberries
Like most berries, blackberries are high in fiber, low in calories, and loaded with nutrients. The natural sugar found in blackberries is also a great alternative to high-sugar desserts. One cup of blackberries contains 8 grams of fiber, making it one of the best high fiber, low carb foods. 
6. Raspberries
If you're looking to add some fiber to your morning routine, add some raspberries to a yogurt parfait or to your oatmeal! Raspberries are only 60 calories per serving but contain 8 grams of fiber! They are also packed with healthy micronutrients like manganese, vitamin C, and vitamin K!
7. Broccoli
Broccoli is known for being one of the best high fiber, low carb foods out there because it's actually 85% water! In fact, just one cup of broccoli is only 31 calories, but contains 2.5 grams of fiber. Broccoli is great for your digestive system because it contains sulforaphane. Sulforaphane helps keep the stomach bacteria, Helicobacter pylori, from becoming overgrown or clinging too strongly to the stomach wall. [3]
8. Asparagus
Asparagus tends to get a bad rap because it's known for making your pee smell after eating it. While this is enough to turn off a lot of people, you should really reconsider! Asparagus is high in folic acid and a good source of potassium, thiamin, and vitamins A, B6, and C. And, you guessed it, FIBER! A 5-ounce serving provides 60% of the RDA for folic acid and contains almost 3 gram of fiber.
9. Eggplant
Eggplants are high in nutrients and low in calories, making it a perfect contender for our list of high fiber, low calories foods. One serving comes in at a whopping 20 calories and contains 5 grams of carbs, 3 grams of fiber, and is packed with nutrients like manganese, folate, potassium, and vitamin K.
Mentioned In This Post
Skinny Greens Green Superfood Powder
Juicing made easy! Skinny Greens has 34 essential superfoods, stress-relieving adaptogens, & pre and probiotics for all of the daily nutrients your body craves.