Jump To Recipe
These lemon lavender shortbread cookies are a delicious, picture-worthy springtime treat, made with collagen for added skin-smoothing benefits!
Spring is the perfect time to introduce new tasty treats into your kitchen. And nothing quite does this as spectacularly as these lavender shortbread cookies! With the perfect balance of lemon and lavender, these two star ingredients are a match made in heaven!
Fill your home this season with the fresh, tantalizing aroma of lemon lavender shortbread cookies, but be warned, it's nearly impossible to eat just one! These particular lemon lavender cookies, however, are very light, and contain a secret ingredient that helps rid me of my guilt as I reach for my third serving. 😊
What Are Lavender Shortbread Cookies?
Lemon lavender shortbread cookies are a light and delicious snack or dessert that the whole family will enjoy! Made with dried lavender and a hint of lemon, the picture-perfect look and taste of lemon lavender cookies make it an ideal springtime recipe. 
If you've ever tasted regular shortbread cookies before, you know that the buttery taste and light crispness of them is absolutely mouth-watering! This lavender shortbread cookies recipe kicks shortbread cookies up a notch by adding the fresh taste of lemon zest and calming aroma of lavender. 
You'll love how Pinterest pretty these cookies look, and the subtle sprinkle of purple throughout these lemon lavender cookies makes them incredibly picturesque! I love packing a little picnic for me and the fam with these cute cookies and some tea.🌻  They are so light and scream springtime, that enjoying them in the beautiful outdoors only makes sense. 😊 
I also love using this recipe for my family's annual cook(ie)-off! Every year, everyone is blown away by the look and taste of this recipe, and I don't want to brag, but, I've won many, many times. The uniqueness of this recipe sets them apart from traditional cookie recipes you're probably used to baking, and even though these are made for the springtime, you'll most likely end up making them all year round!  
How To Make Lemon Lavender Cookies
These lemon lavender shortbread cookies take a total of 40 minutes to make, and you get a total of 18 scrumptious treats when all is said and done. To start, sift your flour, secret ingredient, salt, and lavender together. Don't worry, we'll get to the secret ingredient in just a moment…
Next, cream together the butter, sugar, and zest. Once your dough starts to come together, roll it into a log, wrap in plastic, and refrigerate for 2 hours. Warning: because this recipe is that good, the 2 hours may seem like a lifetime. 😂  Never fear, I promise it'll be totally worth it! 
Next, slice your dough to about ¼ inch rounds, and place your cookies on parchment paper. Refrigerate for about 15 minutes while you preheat the oven to 350F. Bake your cookies for approximately 12 minutes, top with lemon zest or lavender buds and enjoy! See the full recipe below.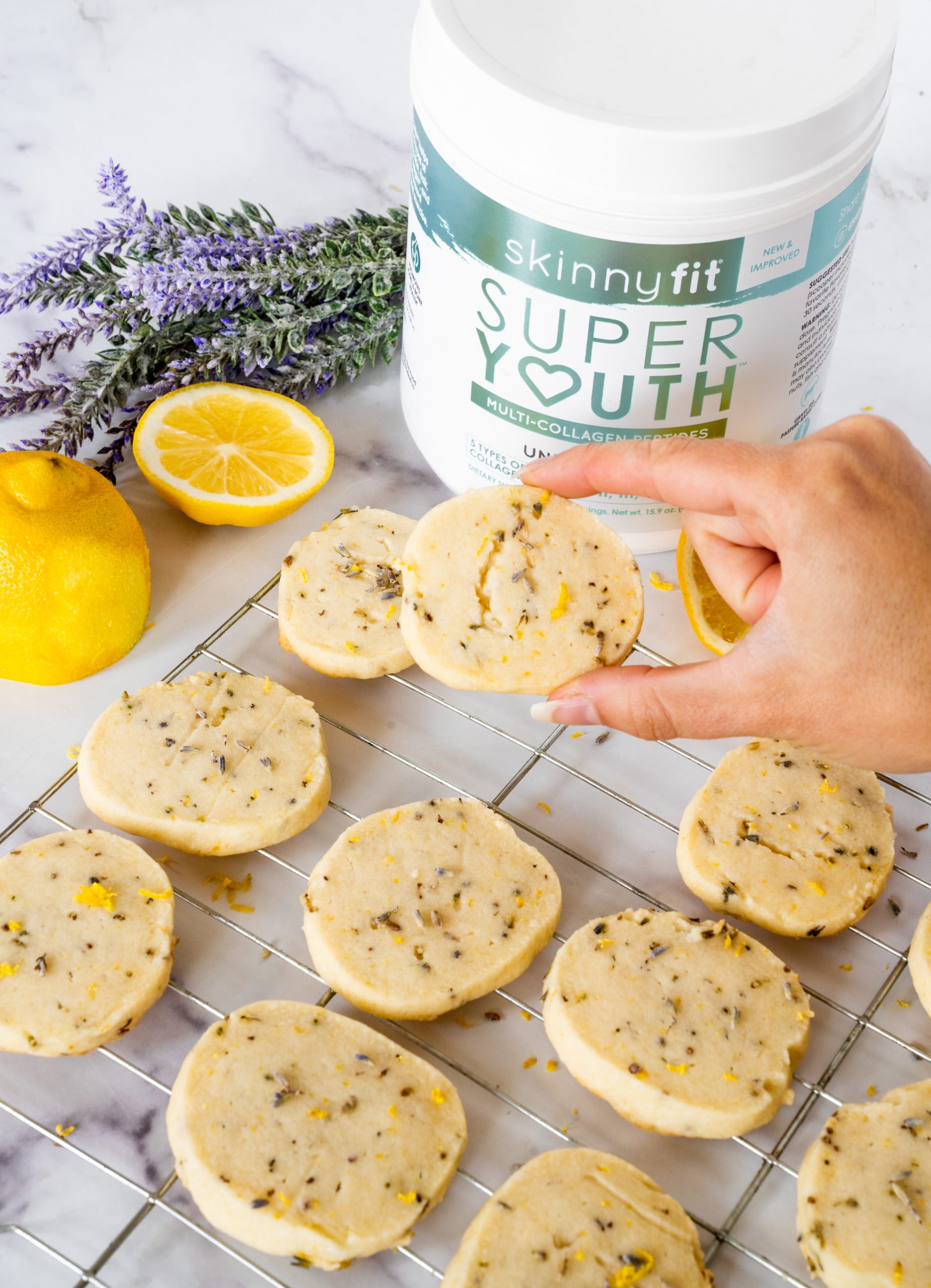 Lavender Shortbread Cookies Ingredients
This recipe might sound fancy, but it only has a total of seven ingredients, most of which you probably already have in your kitchen! 
Super Youth unflavored collagen
Surprise, surprise! I added Super Youth unflavored collagen to this recipe so you can smooth out your skin, soothe your gut, and keep your bones and joints healthy and strong, all while eating cookies! 😱
I don't know about you, but I feel better about eating cookies when I know I'm replenishing by body with premium collagen peptides! I hope you enjoy this cookie recipe as much as I do, and I have no doubt that it will soon become your new favorite springtime go-to! Enjoy!
Mentioned In This Post
SkinnyFit Unflavored Collagen
Look and feel younger with Super Youth Multi-Collagen Peptides! This versatile collagen powder includes 5 collagen types from 4 natural sources to restore youthfulness from the inside out.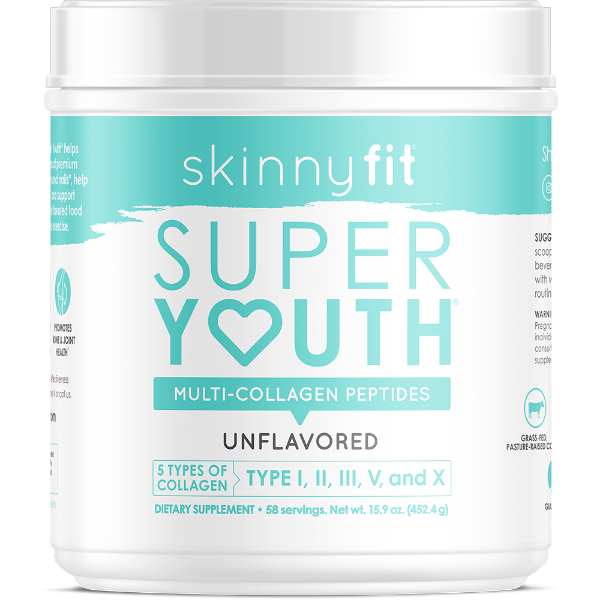 Lemon Lavender Shortbread Cookies
The perfect snack for springtime!
Prep Time: 15 min
Cook Time: 25 min
Total Time: 40 min
Serving Size: 18 cookies
Ingredients
½ cup + 3 tbsp salted butter, softened
½ cup + 2 tbsp powdered sugar
Zest of 1 lemon
1 ¼ cup + 2 tbsp all purpose flour
1 pinch salt
1 tbsp dried lavender
1 scoop Super Youth Unflavored collagen
Steps
Sift together the flour, Super Youth, salt, and lavender.
Cream together the butter, sugar, and zest. Once the dough starts to come together (even if you haven't added all the flour), move to a flat surface and roll into a log. (If you need extra flour add one tablespoon at a time, if the dough is too crumbly add more butter, a little at a time).
Wrap in plastic and refrigerate for 2 hours. 
Slice the dough to about 1/4 inch rounds.  Place cookies on a parchment paper lined cookie sheet and refrigerate for about 15 minutes.
Preheat the oven to 350F.
Bake cookies for approximately 12 minutes. Top with lemon zest or lavender buds, and enjoy!