Jump To Recipe
Kick those chocolate cravings the guilt-free way with these delicious (but healthy) no-bake brownie collagen bites!
When those chocolate cravings start to kick in and you want nothing more than to snack on something deliciously sweet, the last thing anyone wants to do is wait an excruciating 30-45 minutes for something like brownie bites or chocolate chip cookies to bake in the oven. And I don't know about you, but when those 30 minutes start to feel like a decade, my hangry side starts to come alive and anyone left in my path of destruction, well, I apologize.
So, that's why I've created these mouthwatering, ooey-gooey no-bake brownie bites, because no one should have to wait more than 20 minutes for the satisfaction of that craving you can only get from chocolate! 
What Are No Bake Brownies?
No bake brownie bites have all of the tasty qualities of regular brownies, but can be made in half the time because they require no baking! If you've ever had the pleasure of scooping globs of raw cookie dough into your mouth, then I don't need to describe to you how incredibly satisfying it is. Brownie bites are similar in texture and satisfaction, but with that chocolatey taste we all crave more often than we'd like to admit…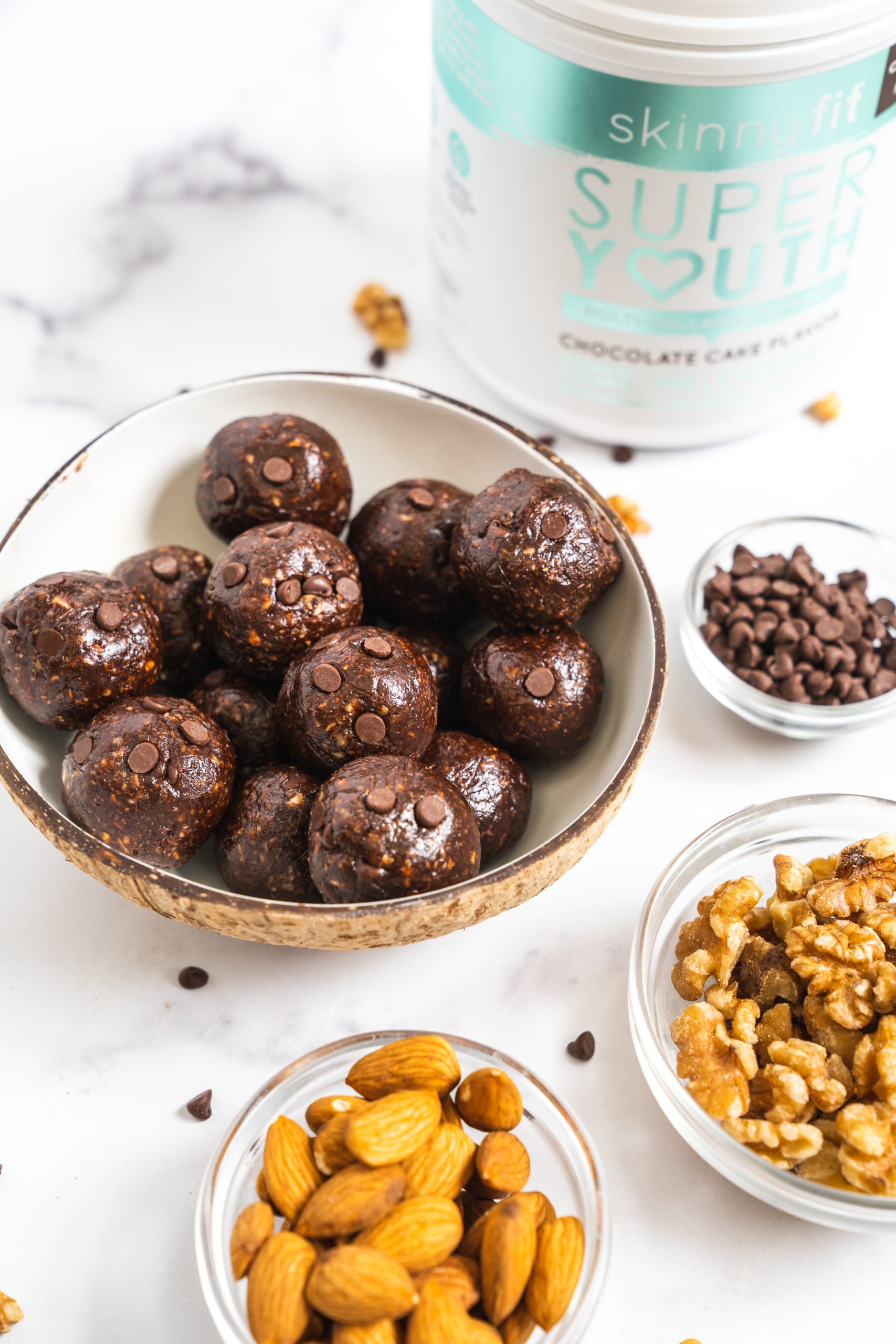 How To Make No Bake Brownie Bites
No bake brownies take only 20 minutes to make—no preheating, no baking, no waiting! This particular recipe is even made with Super Youth Chocolate Cake collagen, for that extra boost of real chocolate flavor, but that's actually healthy for you! 
Simply add your walnuts, almonds, dates, cocoa powder, vanilla extract, salt, and Super Youth to a food processor. Then, transfer your dough into a bowl and add chocolate chips. Scoop your brownies into 1-inch round balls and refrigerate. Now you've got a tasty treat waiting for you whenever those cravings start to hit!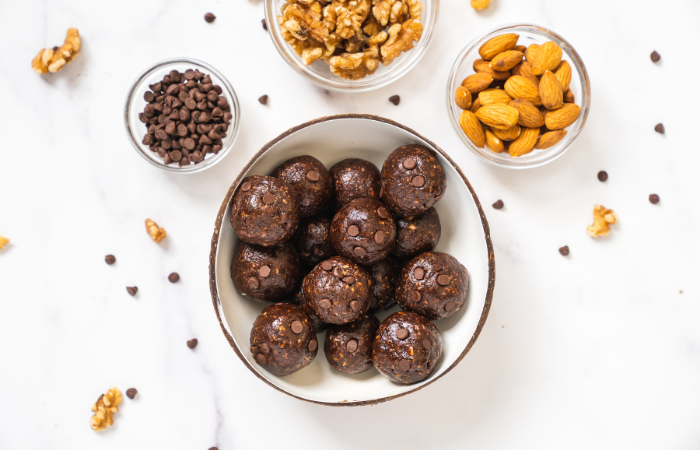 Healthy Brownie Bites Benefits 
It's easy to reach for the nearest donut or sugar-packed cookie when you're craving something sweet. So if you're looking for healthy alternatives, this recipe is for you! 
Low sugar—These brownie bites have no extra added sugar, making them a healthier option from traditional desserts.
High protein—Most desserts contain no protein at all, but since this recipe is made with Super Youth collagen, you're getting a healthy dose of protein in each delicious serving!
Skin-smoothing—Super Youth collagen also contains five types of premium collagen peptides to help smooth out skin and reduce wrinkles. How many desserts can do that?!
This no bake brownie bites recipe comes out to a grand total of 14 delicious bites. Make them ahead of time and store in the fridge for a healthy snack that puts guilty temptations to rest. The kiddos will especially love the fact that they get to eat dessert more often now with this healthy recipe! 😉
No Bake Brownie Bites Recipe
The easiest (and most delicious) way to enjoy brownies!
Prep Time: 10 min
Cook Time: 10 min
Total Time: 20 min
Serving Size: 14 bites
Ingredients
1 cup walnuts
½ cup raw almonds
12 medjool dates, pitted
⅛ cup cocoa powder
2 scoops Super Youth Chocolate Cake collagen
1 tsp vanilla extract
¼ tsp salt
¼ cup mini chocolate chips (optional)
Steps
Add walnuts, almonds, dates, cacao powder, vanilla extract, salt, and Super Youth to a food processor. Process the ingredients until a sticky dough forms. If your dough is crumbly rather than sticky, add 1-2 tbsp of water and process again.
Transfer the fudgy brownie dough to a bowl. Add chocolate chips (of course, these are optional). Use a rubber spatula, spoon, or clean hands to mix in the chocolate chips.
Line a plate with parchment paper. Scoop the brownies into 1-inch round balls. Use clean hands to roll them into balls and refrigerate for 30 minutes to 1 hour. Enjoy!