Jump To Recipe
BBQ Pineapple Chicken Skewers (yum!)–the name of this dish alone conjures up visions of Summertime bliss. The smell of the grill, the warmth of the sun, the condensation dripping down the perfectly chilled glass of white wine (ok, that last part got personal)! 
If you're looking for a healthy yet tasty summertime dinner recipe–look no further! I'll show you how to turn fresh veggies, sweet pineapple, and juicy chicken into easy-to-make bbq chicken skewers that will become your go-to grilling option this Summer. 
How To Make Chicken And Pineapple Skewers
Fun fact: the kebab is considered to have originated in Turkey when soldiers used to grill meat skewed on swords on open field fires! But you don't have to be a member of the royal guard to make delicious pineapple chicken skewers, you just need a few veggies, fresh chicken breast, and a hot grill–and a few other things, but we'll get into that in a few. 
Time to get saucy! With chicken and pineapple skewers, it's all about the marinade. But don't worry, this won't be complicated, in fact, you can pull this off while catching up with your girlfriends, you can share the duties with your little chefs, or my personal favorite–you can Netflix and grill. 
First, you'll create your marinade, using a saucepan, a couple of scoops of Super Youth unflavored collagen and the list of ingredients below. Be sure to set some reserve sauce to the side; we'll use it to baste our bbq chicken skewers once they're grilled. 
Next, you'll pour the sauce over the chicken breast and let it marinate in the fridge for at least 30 minutes. After the chicken is marinated, cut it and thread it onto the skewers along with the peppers, red onion, and pineapple–alternating until the pineapple chicken skewer is filled. Lastly, throw it on the grill for about 5-10 minutes, then remove it from the grill and baste with some of the reserved sauce and serve! 

4 Reasons To Make Pineapple Chicken Skewers This Summer 
Once you get your first taste, you won't need any more reason to make bbq chicken skewers than the mouth-watering flavor. But just in case, here are a few more reasons to create the perfect healthy summertime dish:
It's fun for the whole family—This is the perfect chance to get the little ones or significant others involved. Have them help you cut veggies or thread the skewers for an experience everyone will enjoy! 
It's super easy to make—You don't have to be a culinary genius to make delicious chicken and pineapple skewers. Just follow the instructions and serve! 
It's high in protein—Chicken breasts provide a great amount of protein, but there's no doubt that the star of this recipe is the Super Youth collagen. With 5 types of premium collagen peptides in every scoop, it helps fight the signs of aging by promoting healthier skin, hair, nails, joint and bone health, and more! 
It's a good reason to get outdoors—After being cooped-up for the past year, we're looking for any excuse to get together and get outside, right? What better way to kick-off summer than grilling something delicious? 
What To Serve With BBQ Chicken Skewers 
So, you've already decided that you're going to make delicious grilled skewers, but what else can you serve?  Here are a few tasty ideas that won't tip the scales, enjoy!
Jasmine Rice—lay your pineapple chicken skewers on a bed of rice and a side of mixed greens for a quick and easy summer meal. 
Pasta Salad—pair your skewers with an easy Italian pasta salad. Make it from scratch, or buy it from your local grocer – either way, it's a match made in heaven! 
Caesar Salad—imagine your hot and juicy skewers next to a cool Caesar salad with homemade croutons, parmesan cheese, and easy homemade Caesar dressing (Yasss!)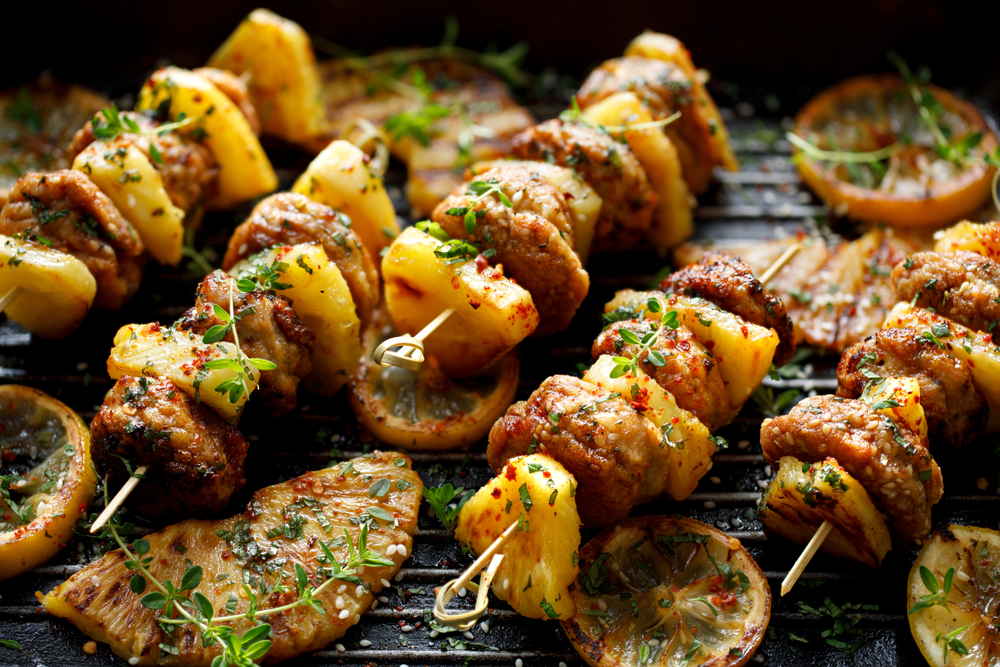 Grilled Chicken & Pineapple Skewers
This simple recipe is not only healthy, but the perfect way to enjoy the bbq weather during summer!
Prep Time: 15 min
Cook Time: 15 min
Total Time: 30 min
Serving Size: 4 servings
Ingredients
4 boneless skinless chicken breasts, cut into 1 inch cubes
½ cup brown sugar
½ cup soy sauce
¼ cup pineapple juice
2 garlic cloves, minced
¼ tsp pepper
½ tsp salt
1 tbsp cornstarch
1 tbsp water
1-2 scoops Super Youth Unflavored collagen
1 red bell pepper, cut into 1 inch cubes
1 yellow red bell pepper, cut into 1 inch cubes
1 green bell pepper, cut into 1 inch cubes
1 red onion, cut into 1 inch cubes
2 cups pineapple, cut into 1 inch cubes
Steps
In a small saucepan on medium heat, whisk together the brown sugar, soy sauce, pineapple juice, garlic, Super Youth collagen, pepper, and salt. In a small bowl, whisk together the water and cornstarch. Slowly whisk into the mixture.
Bring to boil and cook about 1-3 minutes until the mixture just starts to thicken. Remove from heat and reserve ¼ cup of the sauce for later.
Pour the sauce over the chicken and marinade in the fridge for at least 30 minutes. Thread the chicken on skewers along with the peppers, red onion, and pineapple, alternating until the skewer is filled.
Grill for 8-10 minutes until the meat is fully cooked. Remove from the grill and baste with reserved sauce. Serve immediately.
Total Calories:
Carbs:
Fats:
Protein:
Sugar:
Fiber: