Jump To Recipe
Summer is just around the corner and you know what that means! A new menu of fruity poolside cocktails, crisp and refreshing salads, and ice cream, of course! I especially love experimenting with fresh fruits and veggies during the summer months, and when recipes like this watermelon and feta salad come about, I know it's going to be a summertime filled with healthy, but best of all tasty, eats! 
Traditional green salads are always a great option, but when I've filled up on my greens for the week, a delicious fruit salad is a fun, healthy alternative. This juicy watermelon and feta salad recipe packs everything you love about summer into one, refreshing lunch or dinner that the whole family will love! 
I love making this recipe for family BBQs, a poolside snack, a hike break treat, or anytime I'm looking for a refreshing lunch that doesn't take a lot of time to whip up! This watermelon and feta salad is so good, I often get requests for it whenever my glass and I get together!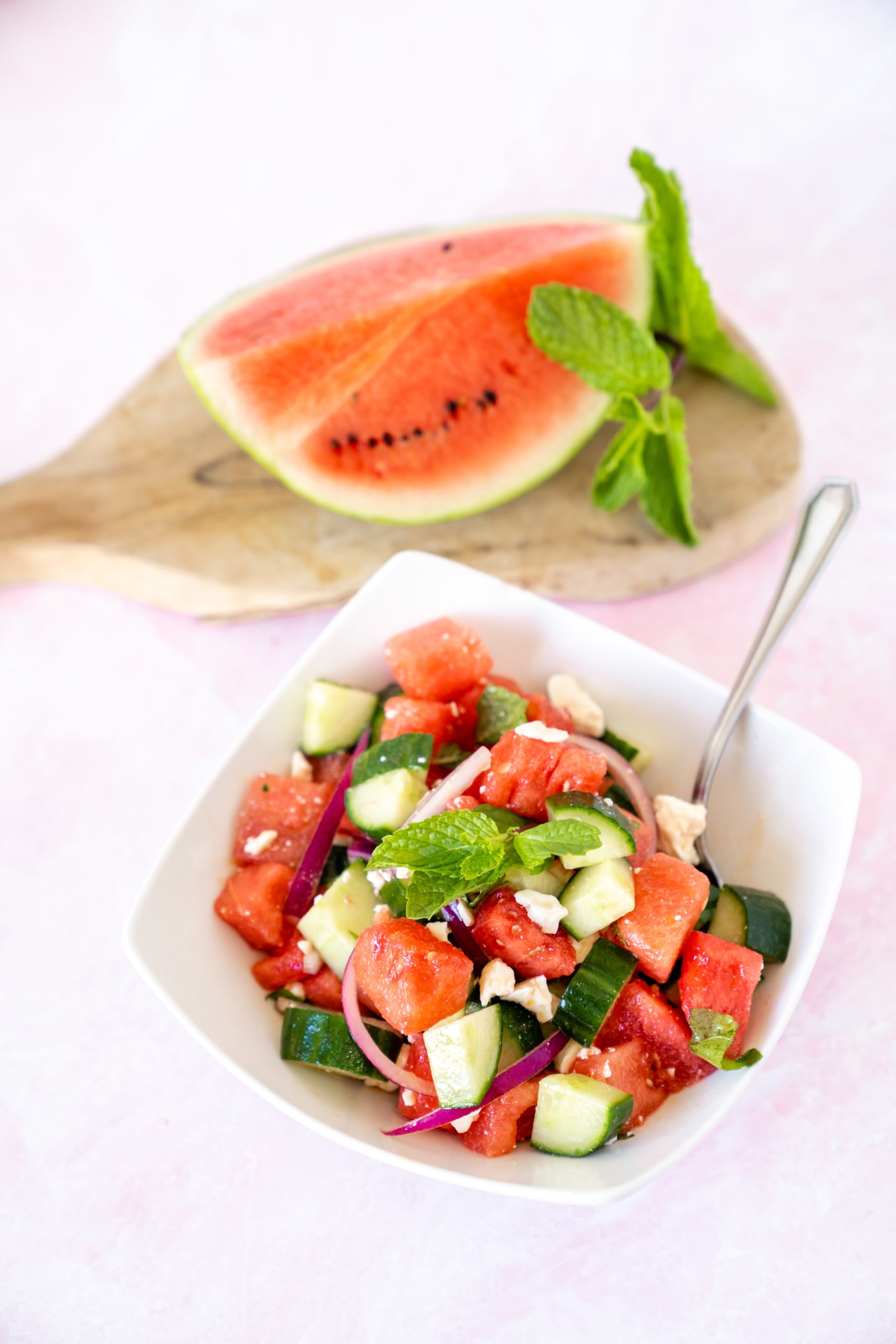 Watermelon Salad Health Benefits
Watermelon salad is not only delicious, but it has some pretty great health benefits too! So you can keep your summer bod goals goin' without losing any flavor! Here are just a few of the awesome benefits you can expect from this watermelon and feta salad:
Hydration—There's nothing quite like taking that first bite of watermelon as the summer temperatures start to rise. Since watermelon is made up of 92% water, it's a great way to keep your body hydrated when things start to heat up. [1]
Nutrients—This watermelon feta salad also comes with important nutrients from watermelon, like vitamin C, vitamin A, potassium, and magnesium.
Waistline-approved—Watermelon contains very few calories, and just like cucumber, is mostly water. So if you're looking to stick to your diet this summer, this watermelon feta salad recipe is sure to be your new best friend!
Antioxidants—The cucumbers in this watermelon and feta salad contain antioxidants, which can help protect against harmful free radicals. [2]
Youth-rejuvenation—What would a summer salad be without summertime skin-smoothing collagen? The dressing in this watermelon and feta salad is made with unflavored Super Youth collagen, so while you can't taste it, you'll definitely notice it when you look at your youthful skin in the mirror! 
This recipe is great because it's a unique spin on the classic salad, which let's be honest, can get a bit boring. So, move over greens, there's a new healthy salad option in town! 
How To Make A Watermelon Feta Salad
Our summers are short, so this watermelon feta salad takes just 10 minutes to make! After you've mixed your dressing together, toss your watermelon cubes, cucumber, feta cheese, and onion into a large mixing bowl. Pour your skin-smoothing dressing over your mixture and you've got a light, crisp, refreshing lunch that you'll want to make again and again! 
Cheers to making your summer salad menu a little bit sweeter this year, enjoy! 
Mentioned In This Post
SkinnyFit Unflavored Collagen
Look and feel younger with Super Youth Multi-Collagen Peptides! This versatile collagen powder includes 5 collagen types from 4 natural sources to restore youthfulness from the inside out.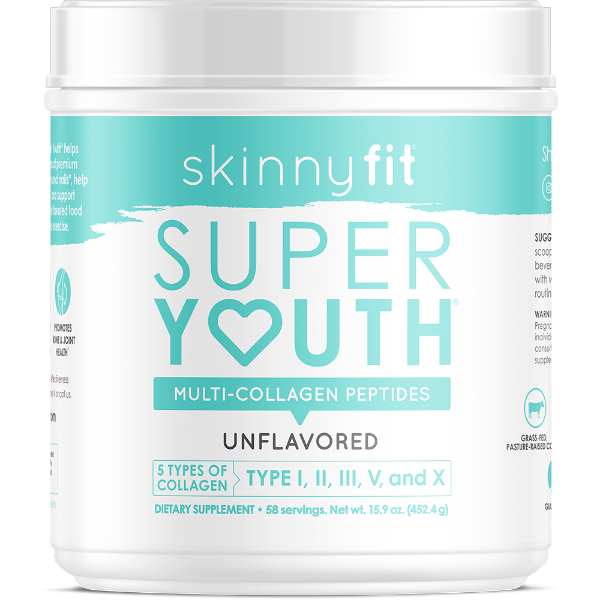 Watermelon & Feta Salad
This watermelon and feta salad is not only the perfect blend of sweet and savory, but is also a unique spin on a summertime classic treat!
Prep Time: 10 min
Cook Time: 0 min
Total Time: 10 min
Serving Size: 6 servings
Ingredients
3 cups watermelon, cubed
1 ½ cups cucumber, chopped
½ cup feta cheese, crumbled
¼ cup red onion, slices
2 tbsp mint leaves, chopped
2 tbsp extra virgin olive oil
2 tbsp fresh lime juice
2 tbsp fresh lime juice
1 scoop Super Youth Unflavored collagen
Flakey sea salt
Steps
Mix together the olive oil, lime juice, reserved watermelon juice, Super Youth, and salt. Set aside.
Place watermelon cubes, cucumber, feta cheese, red onion, and mint in a large mixing bowl. Pour the dressing over the top and toss.
Sprinkle on flaky salt and serve immediately.