Jump To Recipe
There is a multitude of summertime cocktails that get my taste buds excited, but none of them come quite as close to perfection as the delicious combination of ingredients in this recipe…
What am I talking about here? Why, wine slushies, of course! Now, I've had my fair share of wine slushies, and have even attempted to learn how to make wine slushies the way restaurants do. But while a crisp, cold, wine slushie sounds like the ultimate refresher, I have had far too many that are watered down with just ice. I still drank them (I've never been one to waste…), but I couldn't help but feel disappointed.
So I set out on my next recipe adventure: How to make wine slushies that are bursting with flavor, and that make a brain freeze totally worth it!
What Is A Wine Slushie?
A wine slushie is a boozy cocktail blended with ice, making it an excellent drink choice for summer. But far too often, wine slushies made only with wine and ice can taste a bit plain, and even watered down.
I'm going to show you how to make wine slushies that will transport you to a tropical paradise, blended with fruit and a secret ingredient to blow other wine slushies out of the water!
How To Make Wine Slushies
If you have a blender, then you'll have no problem perfecting how to make wine slushies. Simply grab your favorite bottle of white wine (I typically prefer sauvignon blanc or pinot grigio), some fresh fruit, the secret ingredient while I'll talk about in a bit, and blend! 
Let's get to that secret ingredient, shall we? Not only does it have age-reversing superpowers, but it's also what helps add that extra fruitastic flavoring. Thanks to Super Youth Peach Mango collagen, each sip will have you feeling like you're on a beach somewhere soaking in the sun. 
Super Youth is a multi-collagen peptide that contains all 5 types of collagen needed to help smooth wrinkles, reduce cellulite, strengthen hair, nails, bones, and joints, and helps keep us looking and feeling youthful. It's also bursting with the mouthwatering flavors of peach and mango, a powerful flavor duo to make your summer that much sweeter!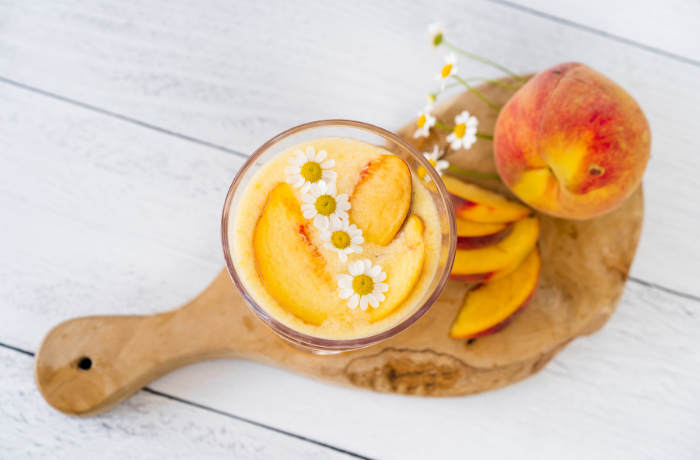 Best Wine Slushie Flavor Combos To Try
This particular recipe is peach flavored, but you can switch it up at any time with different fruits, and even a different flavor of SkinnyFit Super Youth collagen.
Try Super Youth Tropical Punch mixed with your favorite berries for a perfect poolside cocktail, or mix Super Youth Peach Mango and Super Youth Tropical Punch together with your favorite fruit for even more of a flavor punch!
No matter what fruit and Super Youth combination you try, you'll love how simple it is to whip up these crowd-pleasing cocktails! They're perfect for hosting brunch with your girlfriends, and can easily be made in large batches, since you know your guests will be wanting more! 😉
Wine slushies are perfect for cooling down in the summer and can be garnished with fun little umbrellas or edible drink toppers to suit any occasion! You'll be scoring antioxidants from the fruit PLUS indulging in some pretty impressive youth-rejuvenating benefits from Super Youth. Now, if that's not enough to go and make this recipe right now, I don't know what is! Cheers, you deserve it! 🥂
Peach White Wine Slushie
Crisp, refreshing, and best of all delicious!
Prep Time: 10 min
Cook Time: 0 min
Total Time: 10 min
Serving Size: 4 slushies
Ingredients
1 bottle chilled white wine or rose wine (we use sauvignon blanc)
3 scoops Super Youth Peach Mango
1 16 oz bag frozen peaches
1 fresh peach cut into wedges, for garnish
Steps
Combine all ingredients in a blender and blend until smooth.
Immediately pour into glasses and serve garnished with fresh peach slices.