Jump To top
If you aren't already taking a collagen peptide supplement, you're definitely late to the party. Collagen powder is everywhere right now and it continues to grow in popularity every single day. Even celebrities like Jennifer Aniston swear by it! Collagen is also known for having a variety of incredible health and beauty benefits that years of science and research can back up—from reducing wrinkles and firming sagging skin to improving bone and joint health, strengthening hair and nails, and improving gut health, which can ultimately help with weight loss. Needless to say, it's easy to see why collagen is so popular.
But, with so many collagen powders on the market, it begs the question: which collagen peptide powder is best? Well, let me spare you the trouble (and possibly hours of painstaking research) and reveal the #1 BEST collagen peptide powder on the market—it's SkinnyFit Super Youth. I know that that's a pretty bold statement to make. But let me assure you that I'm not just blowing smoke, it's the truth! And I can prove it…
In this article, I'm going to share with you all of the reasons why Super Youth Collagen Peptides is better than any other collagen out there and why it's the premium collagen choice for women. And hey, if you don't believe me, you can try it out for yourself completely risk-free. Because just one of the many reasons why Super Youth collagen is the best, is that it comes with a full 90-day money-back guarantee. More on that later, but for now, let's dive into the meat and potatoes of this thing, shall we?…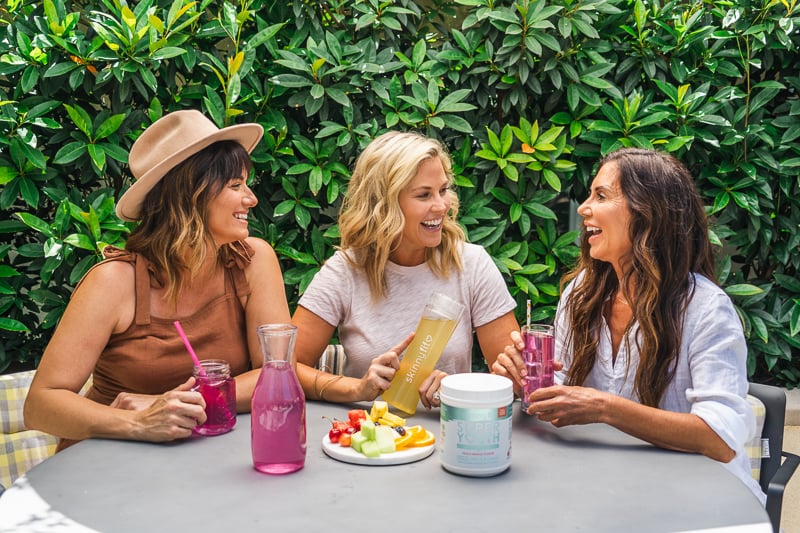 1. Super Youth Has 5 Different Types Of Collagen
Did you know there are over 16 different types of collagen? [1] In the present time, however, there are only a few types of collagen that are available for consumption in the form of supplements—collagen types I, II, III, V, and X. Most, if not all collagen supplements on the market today only contain one, or at the very least, a select few of those different types of collagen. Super Youth Collagen Peptides, however, contains ALL 5 types of collagen in every scoop.
Types I and III: Supports Skin, Hair, Nails, & Bones—This type of collagen makes up the skin, hair, bones, teeth, tendons, and ligaments. It contributes to hair thickness, reduces hair loss, and improves skin smoothness and elasticity.
Type II: Joint & Cartilage Support—Type II collagen makes up the joint cartilage, and may reduce popping knees and support back, jaw, and joints to keep your body strong and flexible. This improves elasticity in tendons and ligaments that decline with age.
Type V: Fibrillar Support—Type V is essential for the formation of Types I and III, and supports optimal tissue quality in hair, skin, nails, and vital organs—restoring youth from the inside out.
Type X: Healing Process—This type of collagen supports bone formation in cartilage, which prevents normal wear and tear in joints and keeps your body performing at optimal, youthful levels.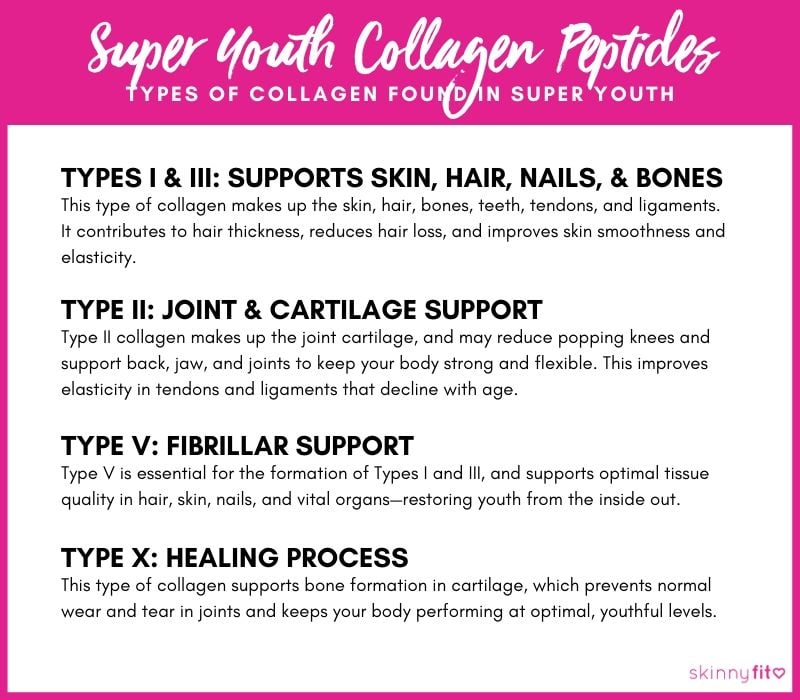 2. Super Youth Contains 4 Unique Sources Of Collagen
So, we know that Super Youth contains all 5 necessary types of collagen to see significant results, but it's not just the variety and type of collagen found in Super Youth that makes it the best—it's also the variety of sources the collagen comes from.
There are 4 primary collagen sources that are powerful enough to have a significant impact on your body: bovine, fowl, marine, and eggshell. Without all 4 primary sources of collagen included in a collagen supplement, you're missing a huge piece of the puzzle and a ton of potential benefits! Each source is responsible for supporting certain effects of a collagen type. Most collagen supplements contain collagen from only 1 or 2 collagen sources, but not Super Youth. Here are the 4 collagen sources found in Super Youth Collagen Peptides, explained…
Bovine, from grass-fed, pasture-raised cows—In order to reap the benefits of Types I and III collagen (that's all of the skin, hair, and nail benefits), the collagen must come from a bovine source. Super Youth sources their bovine collagen from grass-fed, pasture-raised cows.
Fowl, from cage-free chickens—Similarly, you won't be able to enjoy the benefits of Type III collagen unless your collagen comes from chicken. So, if your collagen supplement doesn't include collagen from a fowl source, you can say goodbye to bone, joint, and cartilage support! Super Youth sources fowl collagen from cage-free chickens.
Marine, from wild-caught fish—Collagen from a marine source is responsible for the benefits associated with Type I collagen and the health of your tendons and ligaments. Super Youth collagen sources their marine collagen from wild-caught fish.
Chicken eggshell, from non-GMO eggshell membrane—Eggshell membrane is a powerful source of collagen, but surprisingly, not many collagen companies include it in their formula. Super Youth, on the other hand, gets their eggshell collagen from non-GMO chicken eggshell membrane, and it's responsible for the benefits associated with Types I, II, V, and X!
3. Super Youth Is A Hydrolyzed Peptide Powder That Can Really "Take The Heat"!
What do I mean when I say that Super Youth Collagen Peptides can "take the heat"? Well, it all starts with something I like to call "the coffee test." The coffee test is simple: if you add your collagen to a cup of hot coffee, will it be able to withstand the heat and still maintain its efficacy? Spoiler alert: Super Youth passes the test with flying colors. Other collagen supplements, on the other hand, not so much. 😬
You see, not all collagen supplements are created equally when it comes to their ability to be mixed with food, particularly hot liquids, like coffee. Collagen supplements come in a variety of forms: pure collagen, gelatin, bone broth, and hydrolyzed peptides, and it's important that if you want to get the most out of your collagen and its benefits, that your collagen can pass the coffee test.
Pure collagen, gelatin, bone broth, and even some low-quality, partially hydrolyzed collagen peptides are all processed in a way that prevents them from being used at high temperatures, like cooking, baking, and mixing with hot liquids. In layman's terms, they are unlikely to pass the coffee test.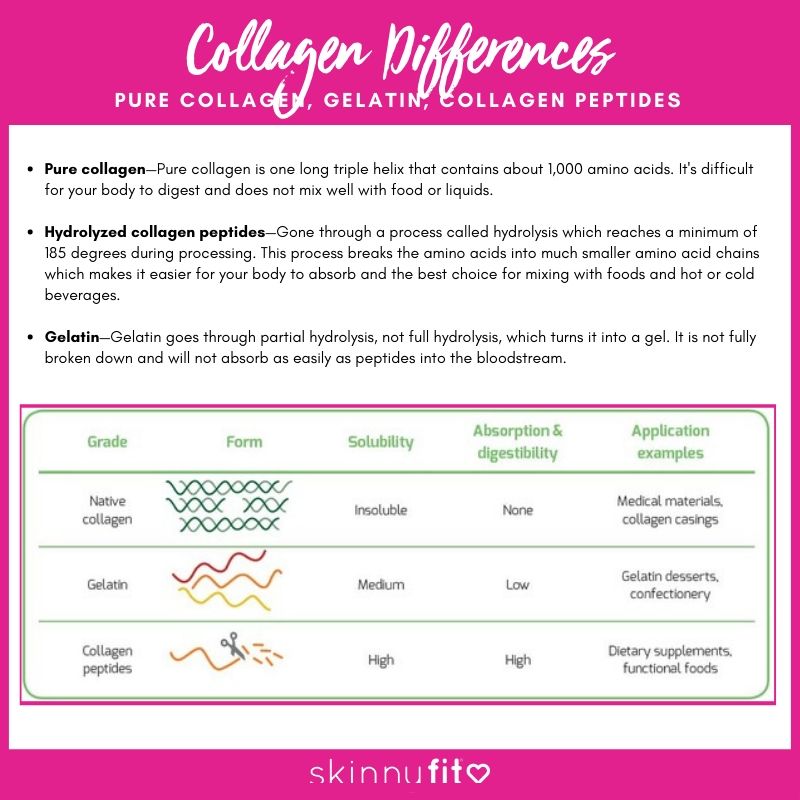 Super Youth Collagen Peptides is a fully-hydrolyzed collagen peptide powder, which means that it's gone through a process called hydrolysis. This process breaks the collagen down into smaller amino acid chains which not only makes it easier for your body to digest and enters the bloodstream faster and more effectively, but it also means that it will dissolve in hot liquids with no issues. Similarly, this processing exposes the collagen to temperatures significantly higher than the standard cup of coffee—temperatures that, on average, reach 185 degrees. This gives SkinnyFit Super Youth Collagen Peptides the unique ability to be used in baked goods and hot liquids, like coffee, with no problems with protein or efficacy degradation. Other, poorly produced collagen supplements that do not go through full hydrolysis at high temperatures may lose its efficacy the second you mix it with anything hot. In other words, it fails the coffee test.
It's also worth mentioning that a scientific study found that eggshell membrane collagen has a higher thermal stability and can maintain its structure even at high temperatures. The study also concluded that collagen from chicken eggshell membrane can be used in a variety of ways—like cooking. In case you forgot, Super Youth contains eggshell collagen from non-GMO eggshell membrane that supports the collagen benefits in Types I, II, V, and X! This makes adding Super Youth Collagen Peptides into your morning cup of coffee a safe and effective way to take your collagen. In fact, it's one of the most popular ways that Super Youth customers take their collagen!
So, that's what I mean when I say that Super Youth can "take the heat." It passes the coffee test, no question. And you know what they say, "If you can't handle the heat then get out of the kitchen!" That means those other, low-quality collagen supplements have no place in your yours! 😉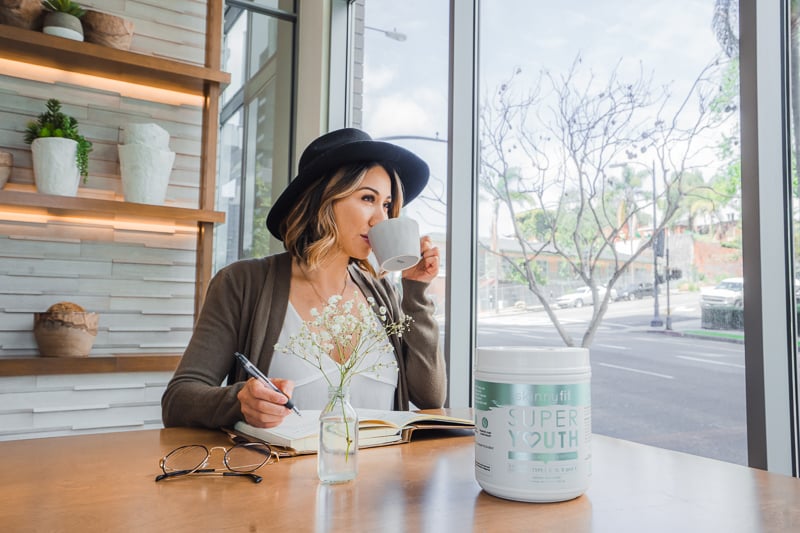 4. Super Youth Comes In A Variety Of Delicious Flavors
So far, it's pretty obvious that Super Youth Collagen Peptides has proven to be the best on the market. But, I'm about to make the deal even sweeter—Super Youth also comes in a variety of flavored collagen powders that can be mixed easily with water. All you have to do is mix 1 to 2 scoops with water and you're good to go! They can be used to make a variety of recipes, too, like smoothies, popsicles, and even cocktails! (Yes, even cocktails! 🍹) Oh, and did I mention that all of the flavors are natural with no added sugar? Talk about a huge bonus! These are all the delicious Super Youth flavors:
Chocolate Cake—A chocoholics dream! Now you can have your cake and collagen too with this decadent chocolate cake flavor.
Tropical Punch—It's like sipping on your favorite island drink any time of the day. Super Youth Tropical Punch is sweet, fruity, and bursting with flavor!
Peach Mango—This flavor is a perfect combination of sweet and citrus! It's crisp, satisfying, and tastes like summertime.
In addition to the flavored collagen peptides, there is also an ultra-versatile unflavored collagen that can be mixed with your favorite foods, flavored drinks, and even coffee. We just don't recommend mixing it with water alone due to its natural taste. So get creative! It's also amazing for baking, along with Super Youth Chocolate Cake!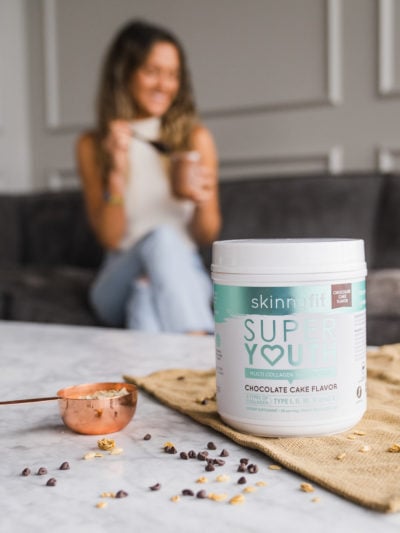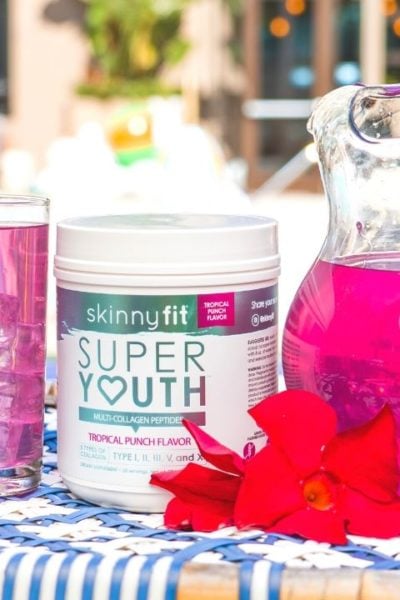 5. Super Youth Collagen Peptides Gives You The Best Value For Your Dollar
The benefits of collagen are no joke, and it's easy to see why people love it. One of the reasons why Super Youth Collagen is better than the rest is because it gives you the best value for your dollar. Here's what I mean…
Bigger serving size—Super Youth gives you 58 servings per container. This is almost DOUBLE the serving size compared to others on the market.
Cheaper cost per serving—While many collagen companies charge anywhere from $3.17 per serving, Super Youth collagen costs as little as $1.20 per serving if you receive a monthly delivery of Super Youth. That's cheaper than a cup of coffee!
90-Day Money-Back Guarantee—Like I said, your investment in Super Youth Collagen Peptides is completely risk-free and protected with a 90-day Money Back Guarantee. SkinnyFit promises to refund your money, no questions asked, if you don't think Super Youth is for you… even if you send back an empty jar. That is a HUGE bonus because no other comparable collagen offers a guarantee as solid as this one.
The Bottom Line
With all of the different collagen supplements out there, SkinnyFit Super Youth Collagen Peptides takes the cake by a landslide! If you're looking for the biggest bang for your buck and a list of benefits in a league of their own, you won't find a better collagen peptide than Super Youth. So, what are you waiting for?! Buy Super Youth today. Beautiful, youthful benefits await!
Mentioned In This Post
SkinnyFit Unflavored Collagen
Look and feel younger with Super Youth Multi-Collagen Peptides! This versatile collagen powder includes 5 collagen types from 4 natural sources to restore youthfulness from the inside out.