Jump To top
When brunch tempts you with sugary stacked treats like pancakes and french toast, you need to have alternative, healthy brunch recipes on-hand that will keep you feeling satisfied without breaking your hard-earned healthy habits.
The weekend, especially brunch, is something you should be looking forward to, not stressing about. Whether you're eating out or hosting brunch, we've got you covered.
With tips on how to eat out without cheating and three indulgent, yet healthy, brunch recipes, you'll be excited for the weekend's favorite meal all over again!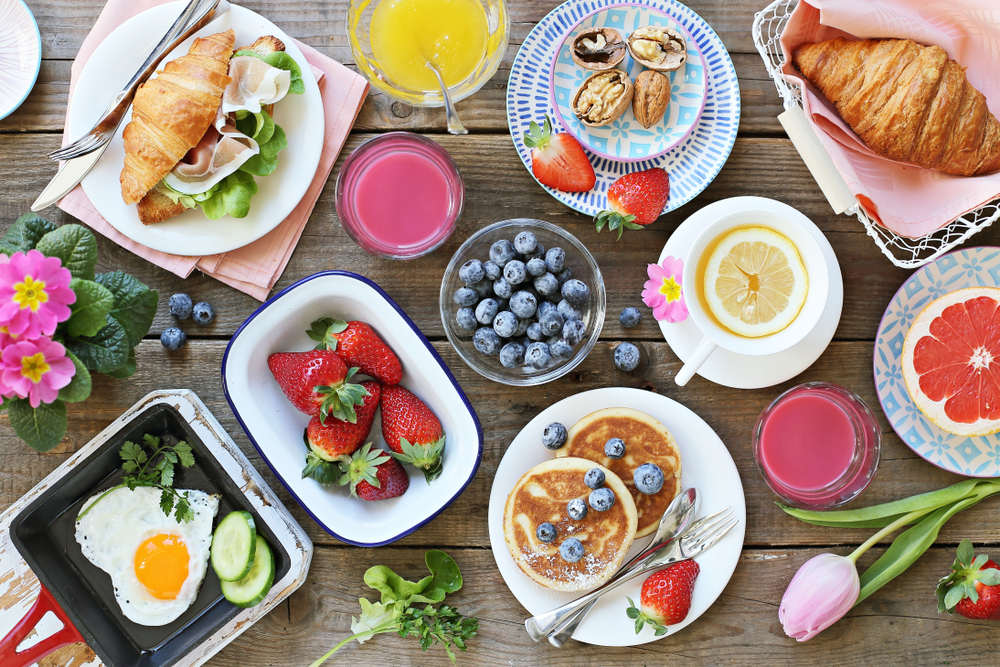 How To Enjoy Brunch Without Feeling Guilty!

If eating out stresses you out, these tips are for you! Going out for a meal with friends, a date, or family should never be a point of tension. There are plenty of ways to healthify existing restaurant dishes so that you can enjoy your time together and your food. If you're always sulking looking at menus feeling like you have to choose between sweet and savory, fear no more. With the following tips, you'll be eating out without the guilt in no time.
1. Hash it out

Instead of breakfast potatoes or hashbrowns, swap out the tots for tomatoes or avocado (or both!). Since most breakfast potatoes are either fried or soaked in oil before cooking, they end up having a high fat and calorie content. Swapping them out for veggies such as tomatoes or avocado slices, which are prevalent in most breakfast recipes anyway, should be no problem. Especially if you ask politely. Plus, they go just as well with runny eggs as hashbrowns do!
2. Sweet swap

If you love oatmeal but don't want the sugar rush, opt for cinnamon and bananas or raisins instead of brown sugar. Brown sugar is white sugar with molasses, aka more sugar, coated over it. Talk about a sugar overload! Fruit and cinnamon spice are an easy way to flavor your oats without adding too much sugar, plus they provide more nutrients. If you absolutely need a sweet something, swap the sugar for honey or maple syrup which are at least two natural sweeteners.
3. Holy bagel

If you can't imagine having a bagel and not feeling guilty, gather 'round. One easy way to reduce the calories of a bagel is to ask for it scooped. A scooped bagel is exactly what it sounds like. All the fluffy insides, scooped out. This reduces a bagel's calories by, wait for it… half. Yes, half! Stuff it with lox, capers, and tomatoes and you've got yourself a pretty balanced bagel, if we ever saw one.
4. Two's a party

When celebrations are in order, it's hard to want to choose the healthy option. You want to eat the damn cake! We get it. You should never feel guilty for honoring your accomplishments, but there are ways to feel better about indulging. The easiest way to order the stack o' flapjacks without feeling totally glutinous is to share! It shouldn't be too hard to convince anyone to split a stack with you. Plus, you're more likely to be conservative with your bites. Another hack that we absolutely love is to swap out maple syrup for orange wedges. Squeeze the slices over the top of your pancakes for a sweet and tangy alternative to syrup. You can thank us later.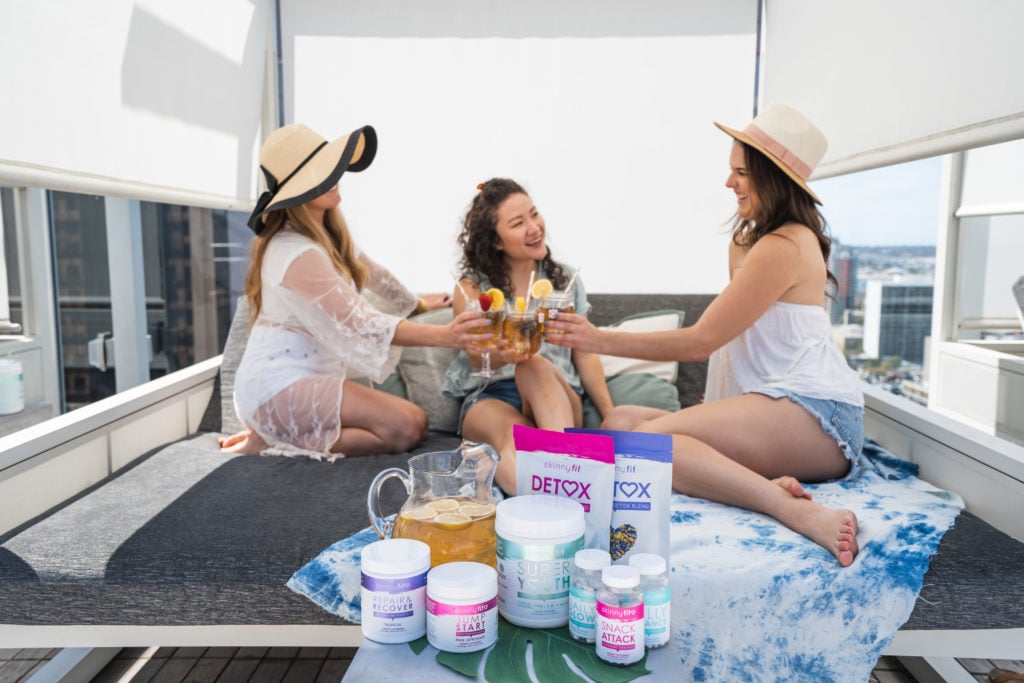 3 Healthy Brunch Recipes

Healthy brunch is not an oxymoron. You can still have cravable, Instagram-worthy food without feeling like you're cheating on your workouts. Eggwhite scrambles and smoothies are not your only breakfast option when trying to stay fit. Mimosas aren't even off the table. In fact, our healthy peachy mimosa recipe is a double-whammy of SkinnyFit Detox tea and champagne. Balance is key, as you've probably heard a million times before. Leaning to one side of a seesaw for too long will make stepping to the other side feel drastic. When you're able to teeter somewhere in the middle, your body will feel a much deeper sense of equilibrium. There's no use, or benefit, in feeling regret or shame after a meal spent with friends or family. Allow yourself to focus on the connection and nourishment happening, not stressing about how many miles you'll have to run to burn it all off.
Luckily, there are tons of ways to make your favorite breakfast items healthier by simply swapping out certain ingredients with healthier ones. My favorite way to "healthify" a meal is with Super Youth collagen. It's literally this insane, magical age-defying powder that can be added (unnoticed!) into A N Y T H I N G. Since sneaking it into my smoothies, pancake mixes, guacamole—literally everything—I have noticed firmer, youthful skin and nearly non-existent cellulite. So, believe me when I say this is a magical powder, it's so 👏 freakin' 👏effective.
With that said, here are three healthy brunch recipes you can easily make at home that you won't feel guilty about! 
Avocado Toast Recipe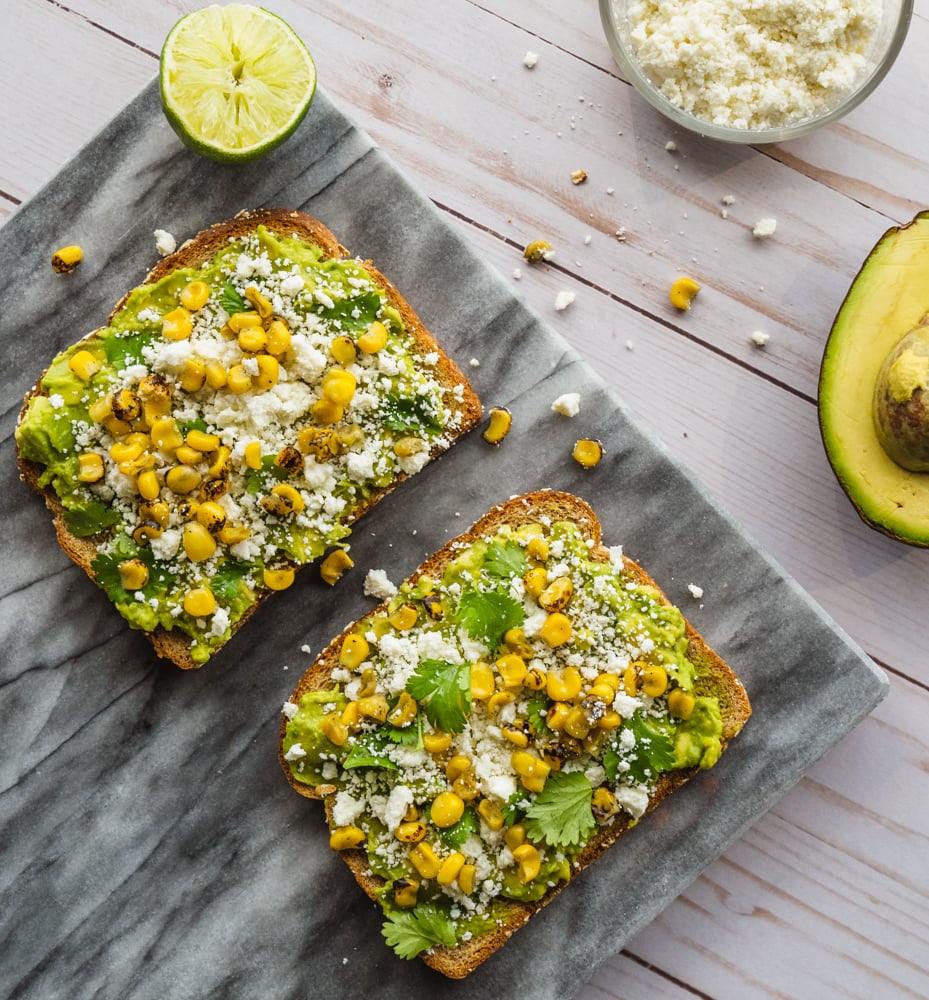 This avocado toast remix is anything but basic. If you're a breakfast tacos, huevos rancheros orderer, then this Mexican Street Corn Avocado toast will hit the spot. It's the perfect blend of crunchy, creamy, and zesty. You can either buy store-bought fire-roasted corn or you can make your own by simply heating corn kernels over a skillet and adding seasonings like cumin, chili powder, and garlic powder. However you spice it up, this is one of our healthy brunch recipes that you'll be craving all week long.  
Total Time: 10 minutes
Prep Time: 10 minutes
Cook Time: 0 minutes
Serving Size: 2 avocado toasts
Ingredients:
2 slices of sourdough bread, toasted
1 ripe avocado
¼ cup cotija cheese
¼ cup fire-roasted corn
Juice from ½ lime
Salt & pepper, to taste
Instructions:
1. Toast sourdough bread to your liking.
2. Cut the avocado in half and spread ½ of avocado onto each slice of toast.
3. Sprinkle on corn and cotija cheese. Add a squeeze of lime juice and add salt and pepper to your liking. Enjoy with Super Youth Peach Mango collagen! (Mix one scoop of Super Youth Peach Mango with water.)
Peach Mimosa Recipe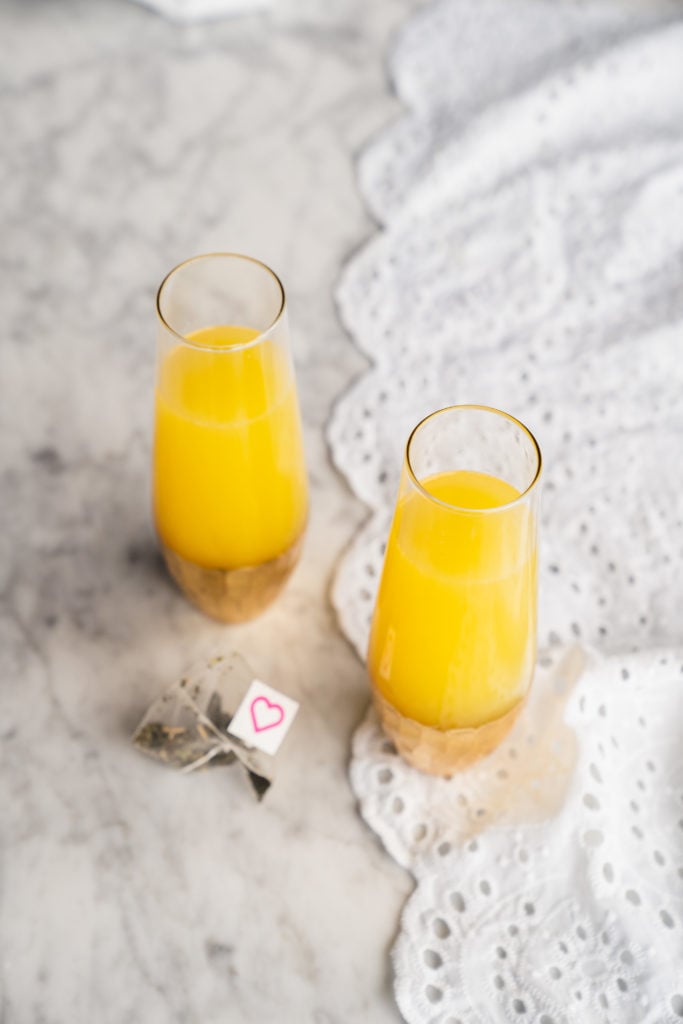 This is a recipe for all of our multitaskers out there. Get a good buzz and a healthy detox in at the same time. Our SkinnyFit Detox tea just so happens to make for an amazing mixer, so cheers to more mimosas and less guilt! 
Total Time: 5 minutes
Prep Time: 5 minutes
Cook Time: 0 minutes
Serving Size: 1 mimosa
Ingredients:
2 oz SkinnyFit Detox, brewed and chilled
2 oz orange juice
4 oz champagne or sparkling wine
Instructions:
1. Brew one cup of SkinnyFit Detox and cool completely. You will only need 2 oz. of this for the mimosa so feel free to sip on the remainder and enjoy the detoxification benefits!
2. Pour the champagne into a champagne flute (about ¾ of the way). Add 2 oz. of SkinnyFit Detox and add orange juice. Enjoy!
Frittata Muffins Recipe
If you're hosting a healthy brunch, these frittata muffins are a must. Jam-packed with protein, these eggy bites are sure to fill up and fuel your guests in all the best ways. The best part is, they're so versatile. You can add chopped bell peppers, spinach, diced tomatoes, whatever your favorite veggies are! Out of all of our healthy brunch recipes, this is one that you can enjoy all week long. Just bake up a big batch on Sunday and store in an airtight container in the refrigerator for up to 4 days. 
Total Time: 30 minutes
Prep Time: 10 minutes
Cook Time: 20 minutes
Serving: Makes 6 large muffins or 12 small muffins
Ingredients
10 large whole eggs
2 scoops SkinnyFit Super Youth, unflavored
⅓ cup fat-free milk
1/4 teaspoon kosher salt
black pepper
2 oz. shredded cheddar cheese, optional
Add desired mix-in's 
Instructions1. Preheat the oven to 350F. Spray muffin tins with cooking spray.
2. In a large bowl whisk the eggs and Super Youth until the Super Youth is mixed thoroughly. Add the cheddar cheese (optional) and season with salt and pepper.
3. Mix in your filling ingredients.
4. Using a measuring cup, fill the tins and place the pan onto a cookie sheet. Bake 20 to 25 minutes, until set.