Jump To Recipe
"How The Grinch Smoothie Saved Christmas"
Everyone loves the holidays, and loves them a lot.
Except for your diet. Your diet does not.
Your diet hates all those carbs and gravy-covered meats,
Each bite goes straight to the belly, thighs… and butt cheeks.
It dreads all the calories, that turn into pounds
Faster than snow piles up on the ground.
But you have a secret, known all throughout Whoville,
Your diet's safe for the season; the reason's quite simple—
All the cookies and pies and twice second helpings,
All the eggnog and cider and apple pie crumblings,
All the popped buttons and stretched too-thin thread—
You avoided it all by drinking this Grinch smoothie instead!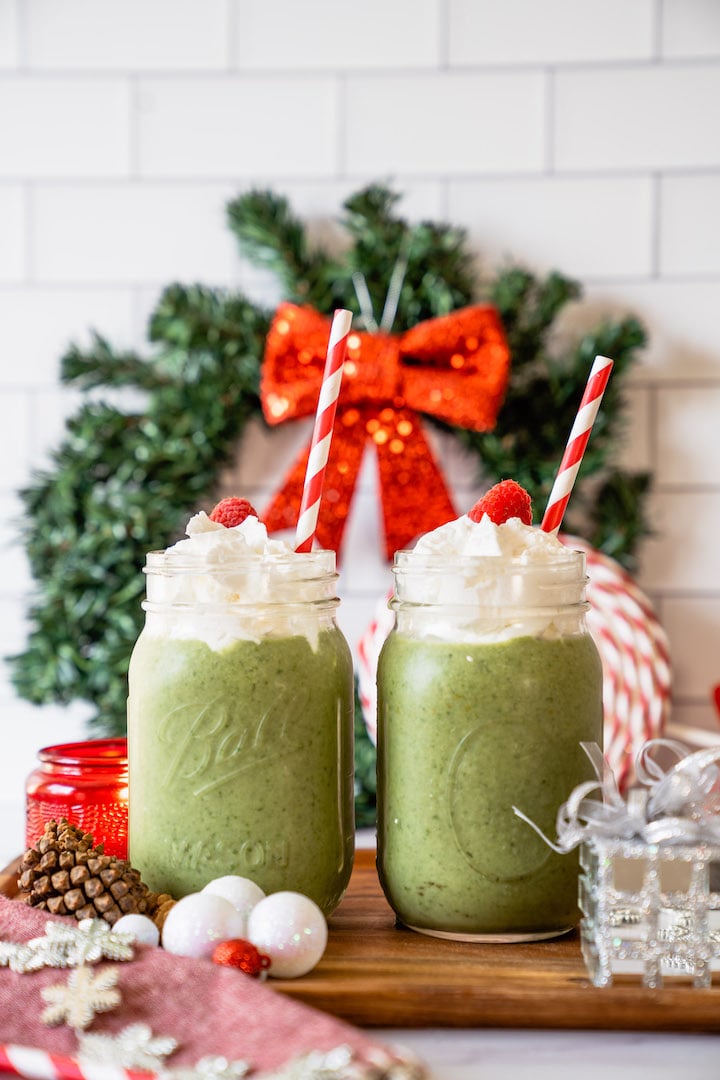 Okay, I'm no Dr. Seuss. But I am adamant about eating healthy during the holidays, and this superfood-based green Grinch smoothie is one of my secret go-to's from Thanksgiving through New Years. 
Unlike other Grinch smoothie recipes, it's got a healthy but hidden abundance of greens. While unlike many green smoothies, it doesn't taste like grass. Sure, it's low in sugar, but it's rich in flavor, so kids absolutely love it. One sip and you'll agree, this is the perfect holiday smoothie for all the Whos in your home.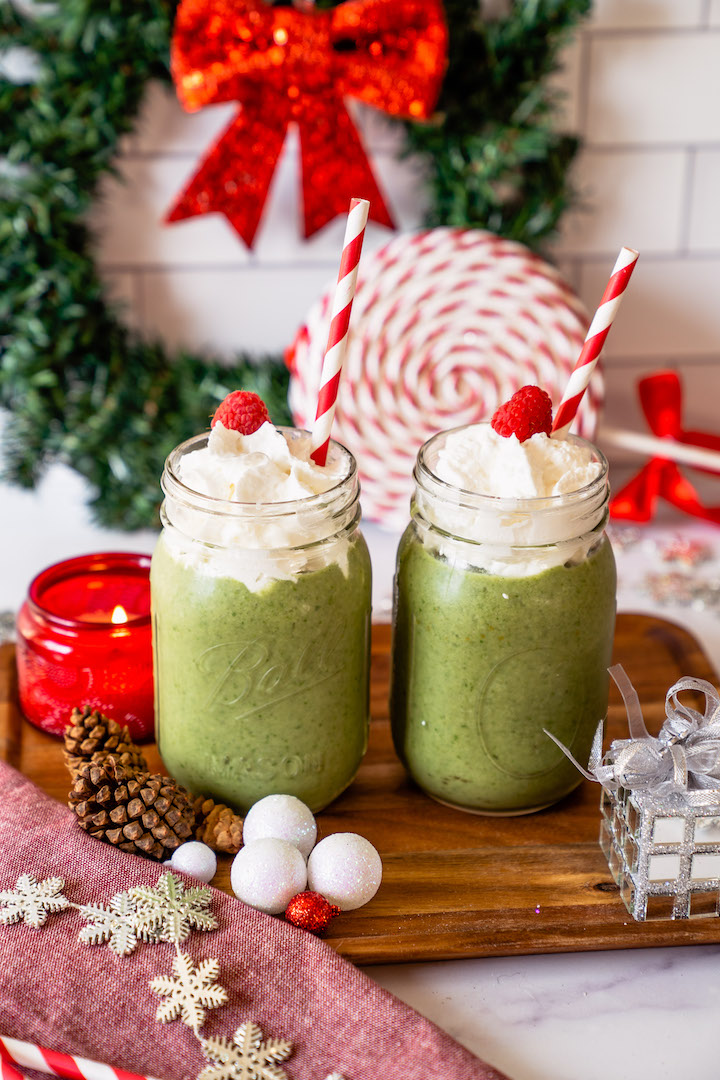 How To Make the Best Holiday Smoothie
What really makes this a holiday smoothie is that it's ridiculously healthy—a welcome contrast to all the grease, carbs, wheat, and saturated fats found in most holiday dishes. But make no mistake, this holiday smoothie is as delicious as it is nutritious. 
To make a greened-out Grinch smoothie taste sweet and creamy, we add banana, vanilla extract, and avocado. (The latter is key for getting the perfect texture.) The result is a perfectly balanced, sweet-meets-satisfying blend.
To really make this green holiday smoothie extra seasonal, I like to add optional toppings that bring out the holiday colors and add some extra sweetness. I recommend goji berries or raspberries for a little more fruit taste and a touch of red. Or, go all-out with a bit of snow-white whipped cream to round out seasonal color and taste palate.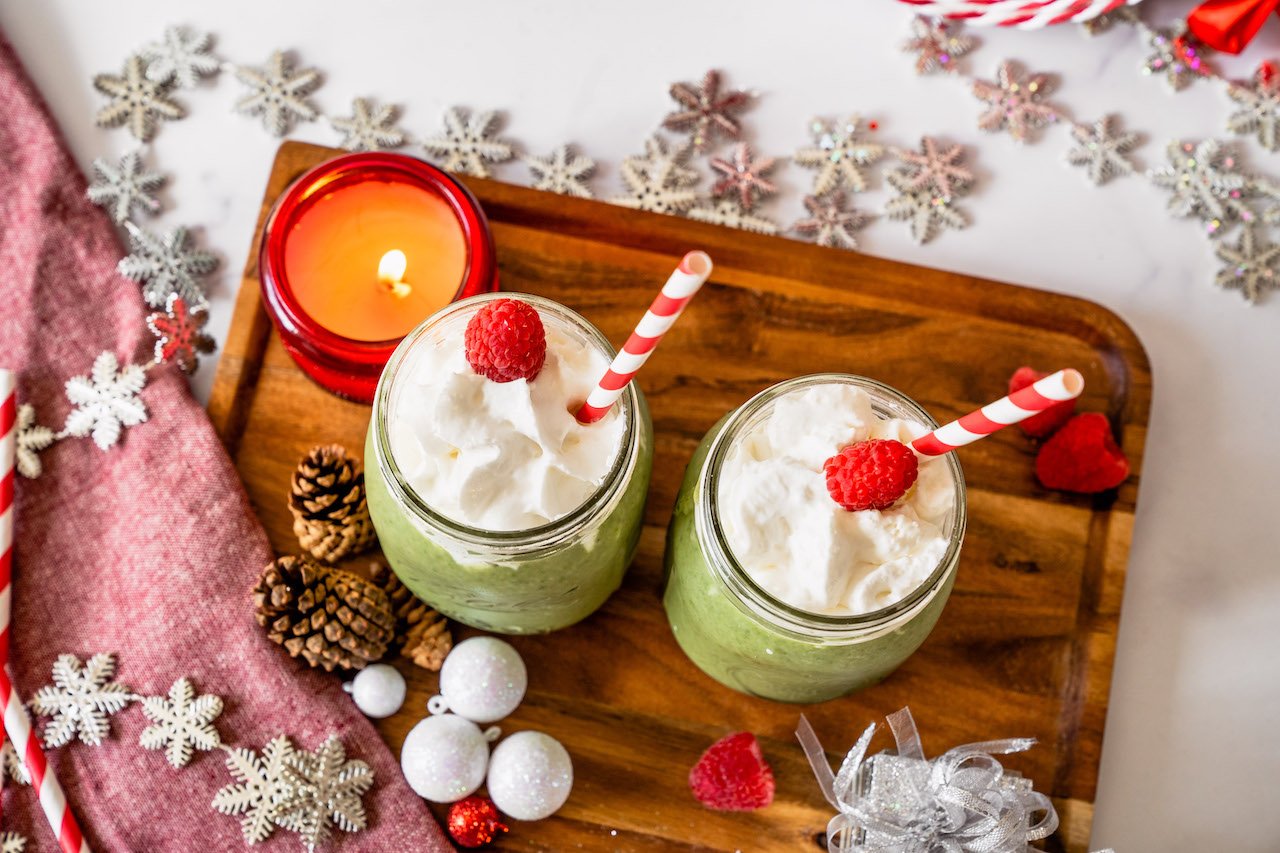 Grinch Smoothie Health Benefits
I like to say that if the holiday spirit helped the Grinch's heart grow three sizes, this holiday smoothie will help your waist slim three sizes! Now, that's a bit ambitious but, the fact is, this is one of the healthiest smoothies you can make. (Which, for any parents out there, is a wonder how kids love it so much!) Just look at the ingredients: 
But do you recall, the most healthy ingredient of all…

Skinny Greens. Okay, I may be mixing up the Christmas character theme of this blog a bit, but it's no joke: Skinny Greens is an incredibly nutritious green superfood powder that provides all your recommended daily nutrients into a single, concentrated serving. It's not some glorified grass mix, either. Skinny Greens brings some of the most powerful health foods under one lid: Spirulina, Chlorella, matcha, spinach, turmeric, ashwaganadha, and more. But it also has a delicious green apple taste that really makes this Grinch smoothie so good, and good for you!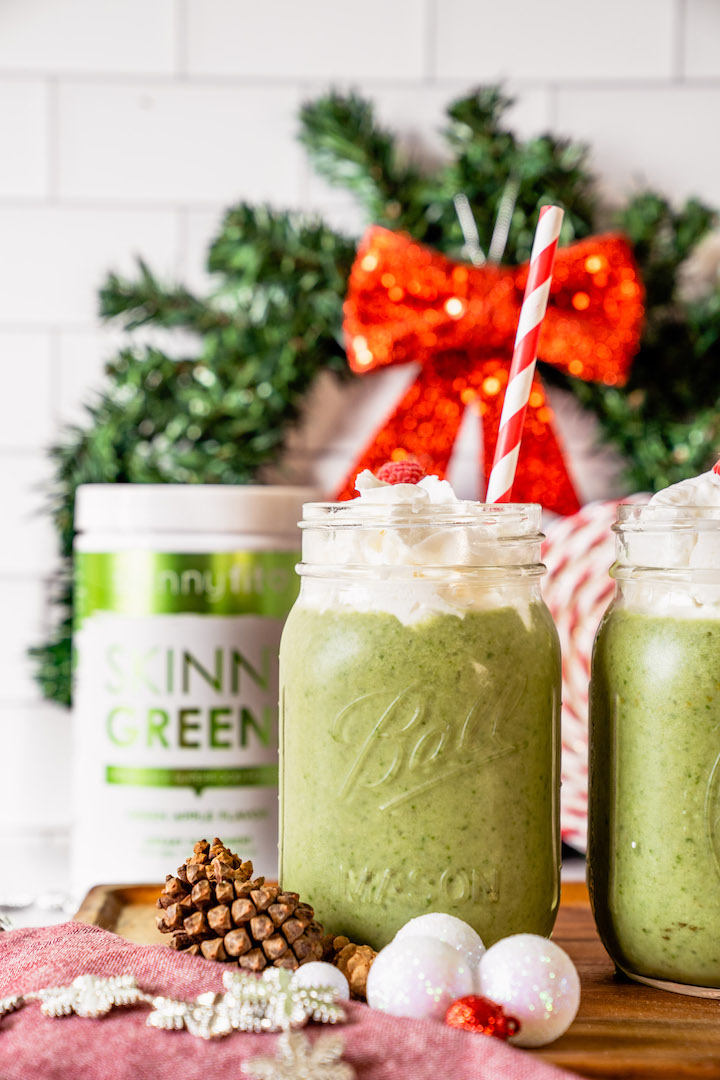 Mentioned In This Post
Skinny Greens Green Superfood Powder
Juicing made easy! Skinny Greens has 34 essential superfoods, stress-relieving adaptogens, & pre and probiotics for all of the daily nutrients your body craves.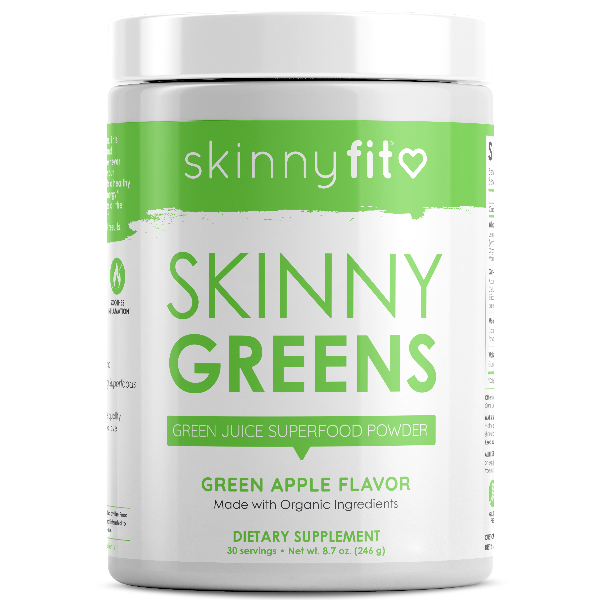 Holiday Grinch Smoothie
Meet the Grinch smoothie that's going to save your holiday dieting. It's simple to make and loaded with slimming superfoods and sweet, satisfying flavor!
Prep Time: 5 min
Cook Time: 0
Total Time: 5 min
Serving Size: 1 smoothie
Ingredients
1 cup almond milk
½ frozen banana
¼ ripe avocado
1 cup spinach
1 teaspoon matcha powder
1 tsp vanilla extract
1 scoop Skinny Greens
Ice cubes to desired consistency
Optional: goji berries (or raspberries) and whipped cream topping
Steps
Put all ingredients into a blender and blend until smooth.
Pour into a glass and top with goji berries and whipped cream. Enjoy!