Jump To Recipe
Is there any treat that says 'Murica like an ice cream float? Next to the hot dog it's gotta be the most "4th of July" that you can get when it comes to food. Another thing about deliciously frosty, creamy, ice cream floats is that they instantly turn you into a 10 year old kid again—and who can't use a little child like joy these days?  
Well, as my grandmother used to say, "If you're gonna do it, do it right!", and that's just what we're going to do! I'm going to teach you how to make tasty ice cream soda out of the healthiest ingredients, and by the end of this read you'll be rummaging through your fridge and freezer, ready to craft your own healthy ice cream float! 

How To Make An Ice Cream Float
If your culinary skills are subpar, don't fret, this ice cream soda recipe is easy-peasy. On top of that, you may already have most of the ingredients you need in your fridge. 
First, you add a couple scoops of vanilla ice cream or sorbet to the bottom of your glass (yum). 
Next, you would typically add root beer or the fruity soda of your choice and – viola! You've got a tasty summer treat! 
Simple enough, right? Of course. Heavy on sugar? Sure. But the good news is I have a way that you can get the same creamy, refreshing treat, with much less sugar and a lot less calories! 
Can You Make Healthy Ice Cream Floats?
Making a healthy ice cream float doesn't differ much from making a sugary one; the difference is just a few subtle changes and the addition of my favorite multi-collagen product on the market (you're going to love it too!). 
I'm a huge fan of tasty treats with health benefits, and this one won't disappoint! Here are a few ways to turn your tasty treat into a healthy, benefit-rich one:
Add sliced fruit—First of all, what's not better with sliced fruit? Sliced fruit gives your ice cream soda a natural sweet flavor, and another layer of goodness that when paired with creamy ice cream will delight every taste bud in your mouth! 
Use sorbet or sugar-free ice cream— As time goes on, ice cream makers have become much better at making sugar-free ice cream that tastes just about as good as the real thing. And if you're a fan of tangy, fruity flavors, you can't go wrong by using sorbet for your ice cream floats. Less sugar, less calories, better for you!
Swap soda for flavored collagen–Instead of using soda that is packed with sugar, harmful food coloring and more, use sparkling soda water for your carbonation, and  Super Youth Tropical Punch collagen for your flavor. Super Youth is my favorite multi-collagen – it's sugar-free, the fruit punch flavor is amazing, and it's even great to drink by itself! But that's just the tip of the iceberg. Super Youth multi-collagen strengthens your hair, skin and nails, promotes gut health, fortifies your bones and joints and so much more!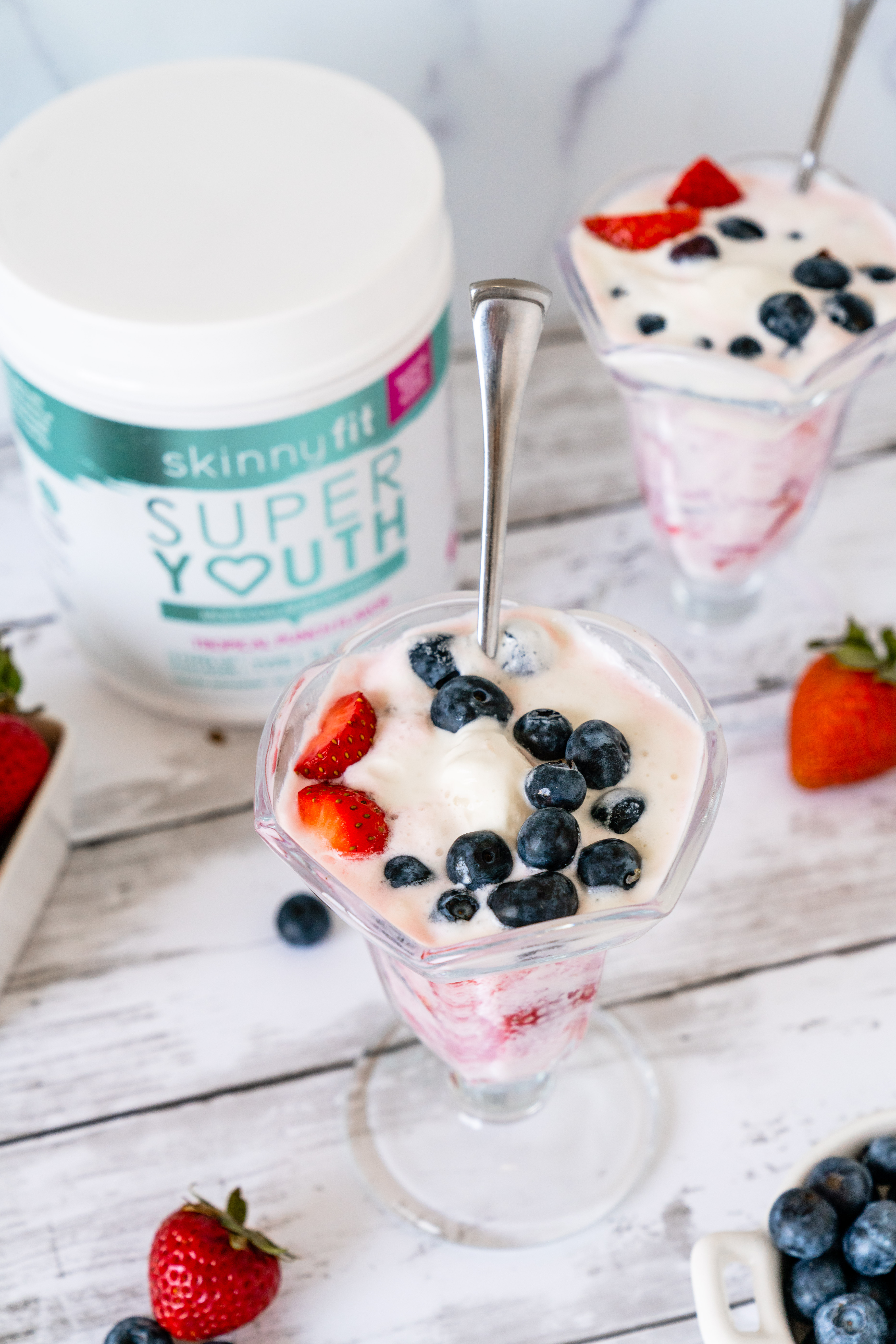 Mentioned In This Post
SkinnyFit Tropical Punch Collagen
Super Youth Tropical Punch tastes like a vacation with every sip. This premium collagen protein includes 5 major collagen peptides from 4 natural sources to restore youthfulness from the inside out. Tastes amazing with just water!
4th Of July Ice Cream Floats
This 4th of July Ice Cream Float is so creamy and delicious, you'll forget it's healthy!
Prep Time: 5 min
Cook Time: 0
Total Time: 5 min
Serving Size: 2 floats
Ingredients
¼ cup strawberries, quartered
¼ cup blueberries
2-4 scoops low-sugar vanilla ice cream or sorbet
2 cups sparkling soda water
2 scoops Super Youth Tropical Punch collagen
Steps
Add strawberries to the bottom of the glasses. Place 1 scoop of ice cream or sorbet for the next layer, and add blueberries. Top with another scoop of ice cream or sorbet if you'd like. 
Add the Tropical Punch collagen to the soda water and mix well. Slowly pour into the two glasses. Serve immediately and enjoy!