Jump To top
Summer is in full swing, so don't you dare go near the oven! I remember growing up and hearing my mom and grandma say that every time June would roll around. In hot and humid Florida, you do everything in your power to avoid a hot kitchen. Since the stovetop doesn't create as much heat throughout the house, it wasn't off limits (for short periods of time).
Whether you live somewhere cool and crisp or piping hot, you're going to love the three recipes I'll be sharing today. They're quick, delicious, and incorporate everyone's favorite secret ingredient–Super Youth Unflavored!
Benefits of Super Youth
If you're not already in the know, Super Youth Unflavored is the #1 best ingredient to have on hand. It's a hydrolyzed collagen that packs a punch of anti-aging benefits, plus protein. The best part? It is completely tasteless and goes undetectable in just about everything. I mix it into dressings, brownies, smoothies, you name it!
The recipes I'm sharing today include a Honeydew Summer Smoothie Bowl, Healthy Bruschetta Pasta Salad, and Summer In A Cup Smoothie. They're each delicious in their own way, and I'm sure you'll be making them on repeat once you get a taste.
But first–let's talk about Super Youth.
Super Youth collagen is a hydrolyzed collagen that contains the five main types of collagen you should be looking for in an anti-aging supplement. These powerful amino acids can help to:
Reduce fine lines & wrinkles [1]
Improve joint mobility [2]
Smooth cellulite [1]
Diminish signs of sun damage [1]
Increase recovery rate [3]
& More!
Taking daily collagen can help to reduce the signs of aging, and help support your skincare goals! I've heard of women who say it helps their face glow, their skin feel tighter, and even reduce acne scars. But collagen is so much more than just a beauty supplement! It is also great for post-workout to support recovery and improve joint mobility.
If there's one thing you buy this summer, let it be Super Youth! You can hide it in virtually any recipe, and it's going to help you look and feel your best in no time!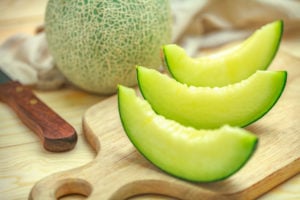 Honeydew Summer Smoothie Bowl
Ingredients:
4 cups frozen cubed honeydew (½-inch pieces)
½ cup unsweetened coconut milk
⅓ cup green juice (Skinny Greens blended w/ water)
1 tablespoon honey
Pinch of salt
Melon balls, berries, nuts for garnish
1 scoop Super Youth Unflavored
Directions:
Combine honeydew, coconut milk, juice, honey, Super Youth Unflavored and salt in a food processor or blender until smooth. Serve the smoothie topped with more melon, berries, and/or nuts if desired.
Healthy Bruschetta Pasta Salad
Ingredients:
1 lb. orecchiette
¼ cup extra-virgin olive oil
1 tbsp. balsamic vinegar
Salt
Pepper
1 clove garlic, minced
1 pt. Cherry tomatoes, halved
¼ cup torn basil for garnish
I scoop Super Youth Unflavored
Directions:
In a large pot of boiling salted water, cook orecchiette until al dente. Drain and set aside.
In a small bowl, whisk together olive oil, balsamic vinegar, and Super Youth Unflavored, then season with salt and pepper.
Add pasta, garlic, and tomatoes to bowl, toss with dressing to combine
Garnish with basil 
Summer In A Cup Smoothie
Ingredients:
1 ¼ cup frozen raspberries
1 banana, frozen and sliced
½ cup pomegranate juice
¾ cup orange juice
¾ cup unsweetened almond milk
1 scoop Super Youth Unflavored
Directions:
Add all ingredients to a blender and blend until creamy and smooth.