Jump To top
There's an art to shopping at the grocery store. You have a routine, a route, a dance almost with the aisles. If you're reading that thinking you must have two left feet, you're in luck. 
Call me crazy, but I love grocery shopping. I know that's not the case for everyone, so I want to share some tips and tricks on how to shop to make the most of your time and money. Today's blog is going to cover how to shop the aisles to make the most of your time, and some of my household staples that will make grocery shopping a breeze.
Your Complete SkinnyFit Grocery Store Shopping Guide
When you're at the grocery store shopping around for healthy recipes, it's very easy to get distracted. There are so many delicious-looking snacks and beverages calling your name. This is why people always say never go to the store hungry! There's so much temptation,  you'll end up buying things you don't even like just because you want to eat. Instead, try to go shopping after a meal or snack.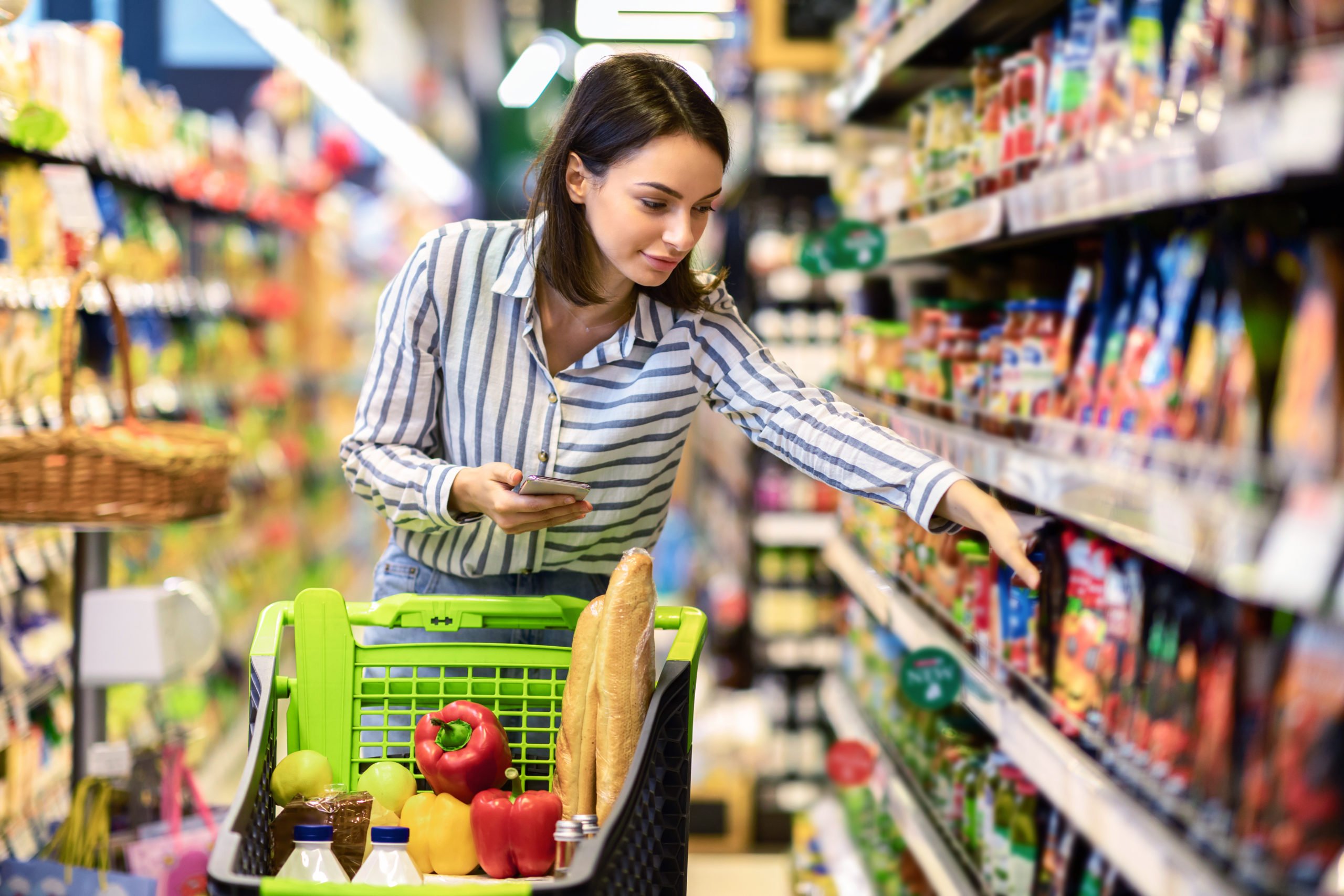 Whether you have a list or not, the best tip I can give you is to stick to the outer aisles of the store. This is where all of the nutrients are – meat and seafood, fresh produce, and refrigerated goods, like milk and eggs. The inner aisles are where things get dicey. Here you'll find sugar-filled sports drinks and cereals, chips, desserts, and more. When you do need to head to the inner aisles, it's good to have a list. I'll share my go-to grocery list for making healthy recipes, snacks, and more below.
Before getting into the shopping list, I want to share one of my favorite kitchen staples that can't be found in stores:
Super Youth Collagen
If you want smooth, gorgeous skin, better digestion, and bone and joint support, collagen is a must. I love Super Youth because it contains a variety of collagen types – which provide you with the most benefits. The Unflavored option is perfect for adding to smoothies, coffee, sauces, and more without altering the original flavor of the dish. This is a staple in my kitchen. I love it so much that I'm on a subscription for it! It arrives at my doorstep every month without me having to think about it and I save money this way, too.
Keep in mind that your grocery list may vary based on likes, dislikes, allergies, and dietary preferences. If it doesn't look exactly like mine, don't sweat it. My list changes based on season, finances, holidays, and more. 
Meat & Seafood
Shopping for meat and seafood is pretty simple. I like to get enough for a week. Based on the selection available, I like to get chicken breast, steak, ground beef, salmon, and shrimp. This is the best way for me to guarantee proper protein intake each meal, and keep me feeling full. Satiety is important for keeping cravings at bay, reducing energy crashes, and staying alert and focused throughout the day. If you don't want to cook meat or seafood every day, prepare a few days worth at a time. I like to bake about 3 salmon filets at a time, and I'll do the same with chicken breasts. Ground beef is great because you can make it with salt, pepper, and oil, and then dress it up however you like throughout the week. I turn leftovers into tacos, pasta sauce, and bowls. 
Produce 
Having fresh fruits and vegetables in my house is non-negotiable. The more produce I have on hand, the less likely I am to order out. Because they go bad so quickly, it motivates me to cook what I have. People like to get caught up in which fruits and vegetables are best for you, but my rule is that you should buy whatever you're going to eat and enjoy. If you don't love asparagus, don't buy it. In my experience, that only leads to wasted food and money. Instead, get the things you like and find new ways to prepare them so you don't get sick of them. I like to grab a rotation of onions, carrots, avocado, beets, arugula, blueberries, bananas, raspberries, pineapple, and kiwi.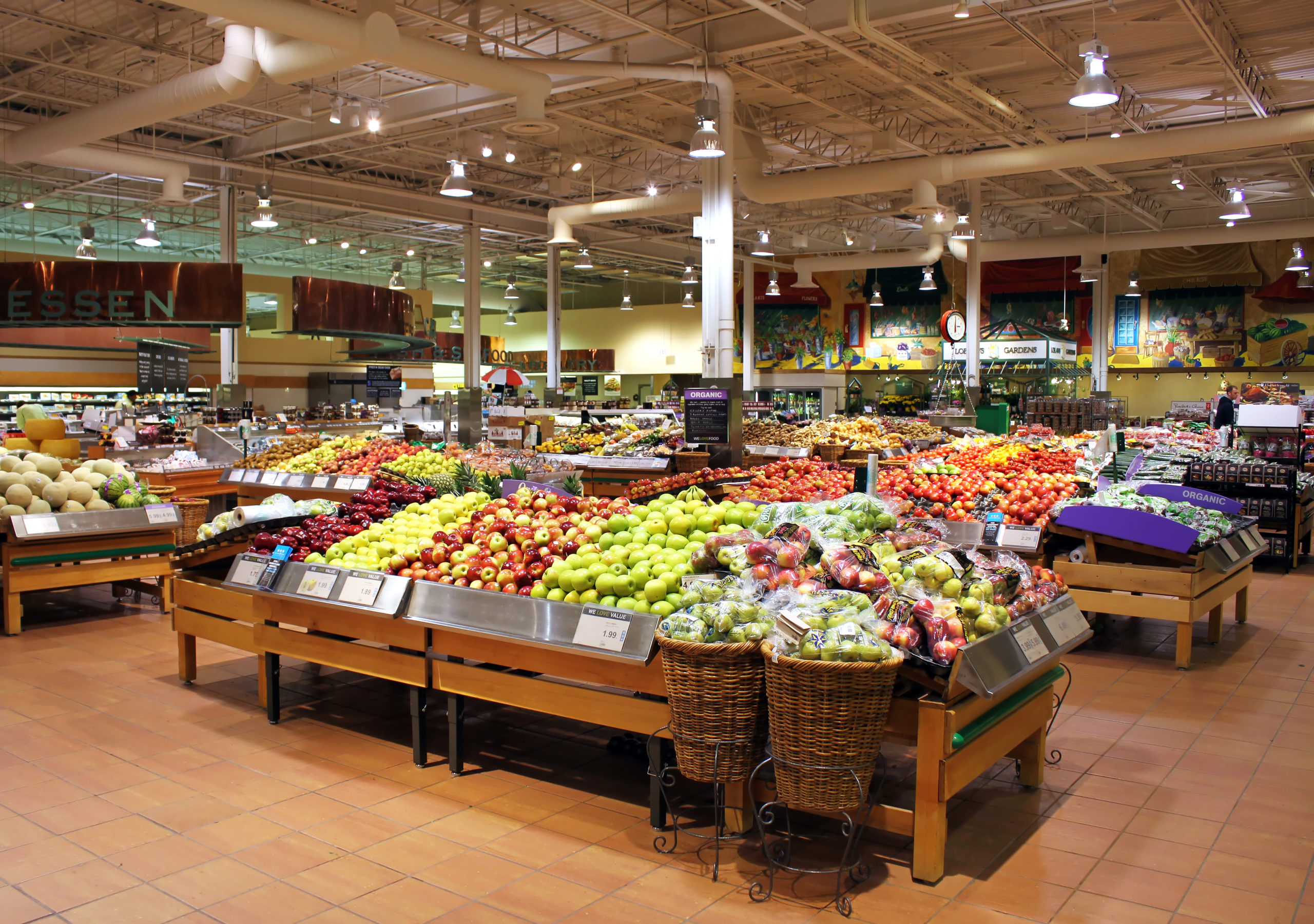 Refrigerated Goods
This is the section that will vary the most. My household drinks whole milk and almond milk, so I buy both. I always make sure to have eggs and butter in stock, and I love Greek yogurt. Everyone is different, but I like to get the plain flavor. There's less sugar, and it's the perfect blank slate for adding to smoothies, dressing up with whatever fruit I have, and enjoying solo. Cheese, hummus, salsa, and olives can also be found in the refrigerated section. These are easy to use as dips, on salads, and for appetizers. 
Finally, if you do want to head to the inner aisles, here are my go-to grabs:
Rice
Crackers
Pasta sauce
Unsweetened ketchup
Low sugar granola
Sea salt
Ceylon cinnamon
Canned pinto beans
Grass-fed turkey jerky
Popcorn
Dark chocolate
I hope this is helpful for you as you venture into the grocery store next time. Remember, try and stick to the outer aisles as much as possible, and use the inner aisles for basics. Enjoy!
Mentioned In This Post
SkinnyFit Unflavored Collagen
Look and feel younger with Super Youth Multi-Collagen Peptides! This versatile collagen powder includes 5 collagen types from 4 natural sources to restore youthfulness from the inside out.