Jump To top
Valentine's Day used to be a holiday for galavanting around with your loved one, booking a reservation three weeks in advance to your favorite restaurant, and some years maybe even a trip to Hawaii. But in 2021, cupid will be shooting his arrow in quite the different direction. 
New stay-at-home guidelines will make for an interesting V-day, but you can still make it special with these at home date night ideas. If you're worried about making this year's day of love one to remember, you'll be pleasantly surprised by these unique and memorable ideas for a date night in (you'll even want to keep doing them after quarantine has ended)! 
PSA: This message has been approved by Sir Cupid IV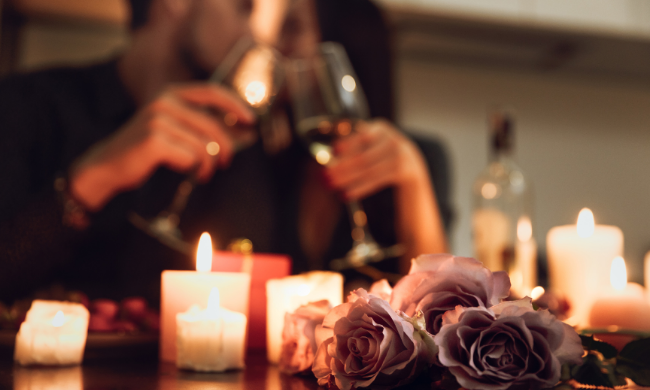 1. Grab Your Brushes, It's A Paint Off! 
Remember when Groupon posted about 500+ deals a day for wine and paint night? Well, there's a reason for that—they're totally fun! You can recreate this for date night in at a fraction of the cost, and spice things up even more by making it a competition. Agree on something to both paint, and then snap a pic and send to friends to vote their favorite! PSA #2: If you're super competitive, feel free to stick to the classic version of wine and paint night, sans competition. 😂 
2. Pack Your Bags, We're Going To Italy!
Okay not actually, and I apologize for anyone who got excited for a split second, but this date night in idea is the second best thing! Have a travel-inspired theme dinner right at home. Always wanted to go to Italy? Make homemade pasta and rejoice, "ciao bella!" after savoring every fork full of cheesy and saucy goodness. Dreamed of traveling to Japan? Roll up some sushi and pop open that sake! No matter where you choose your inspired cuisine from, cooking together is a fun, romantic way to connect.
3. Give Your Computer A Break…
When's the last time you wrote a good ol' fashioned letter? I thought so. Grab your pen and paper and write your partner a love letter. 💌 This list of at home date night ideas for Valentine's Day simply wouldn't be complete without a love letter. Spend some time to tell your partner how they make you feel, and exchange your letters in an envelope, sealed with a kiss. 💋
4. Ready, Set, Fight!
Don't worry, I'm not proposing living room wrestle mania here, but at home date ideas don't have to be boring! Have a pillow fight to get your adrenaline pumping, or hit up your backyard for a water gun or whipped cream battle. You'll love the high energy feels of these activities, plus the rush of dopamine you'll get when "love fighting" will have you feeling butterflies all over again.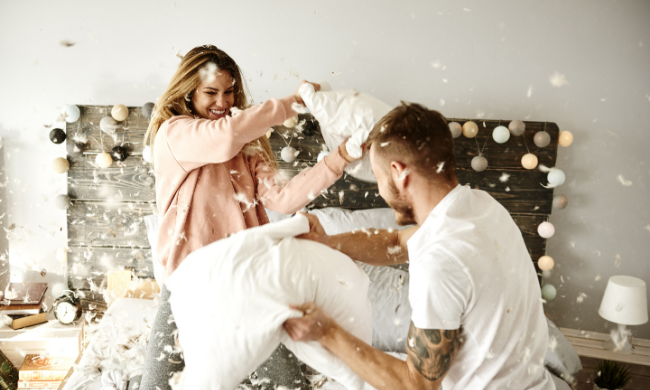 5. Drive On In, To The Living Room
Drive in movies are some of my favorite date nights, and you can do them right in your own living room! If possible, move your mattress to the living room floor and have a movie marathon. If you can't do that, grab all the pillows and blankets in the house, pop some popcorn, and cozy up on the floor for a unique movie night experience. You can even build a living room fort for a romantic touch!
6. May I Have This Dance?
Lounges may be closed, but dinner and dancing doesn't have to stop! Dress up and set the mood with dimmed lights and some of your favorite songs as a couple. Slow dance for ultimate Valentine's Day feels, or kick things up a notch with some fun pop hits. Pro tip: a glass of wine before cutting the rug helps get those legs movin' and groovin'. 🤣 If you really want to impress your significant other, have a virtual dance lesson prepared via YouTube!
7. You're The Final Piece To My Puzzle  💘
Feel free to use that pick up line when doing this date night in idea, you're welcome. Puzzling together is a great way to spark conversation, spend quality time, and boost your brain power. Plus, there's nothing quite as satisfactory as laying that last piece in. 🙌 
8. Bucket List, Baby! 
When it comes to at home date night ideas, none are quite as revealing as creating a bucket list together. Sit down and dream about the things you want to do together, or things you want to experience in your lifetime. You'll learn loads about your partner, and this date night in idea is sure to spark excitement!
9. Scavenger Hunt, Sexy Style 
Looking to shake things up this V-day? Try a sexy scavenger hunt! There are a ton of online adult-themed scavenger hunt ideas you can find, or make up your own with some hidden panties. 😏 When it comes to at home date ideas, sexy always sells. 😉 If you're interested in really spicing things up in the bedroom, try these steamy kama sutra positions that will not only feel amazing for you and your partner, but will burn some extra calories, too!
You are now officially ready for Valentine's Day—quarantine addition! Cupid would be proud, enjoy! ♥️