Jump To top
If you think it's impossible to get toned arms, a toned back, and a tight core without going to the gym, I'm happy to inform you that that assumption couldn't be further from the truth! It's a common misconception to believe that effective strength training can only be done in the gym.
It's understandable why people make that assumption—a gym has dumbbells, barbells, cable machines, kettlebells, medicine balls, and all the other fancy weighted equipment intended to tighten and tone our bodies—but you can still get effective at home upper body workout without all that.
Similarly, another misconception is that doing an at-home upper body workout means your only option for resistance training is to rely on your body weight to provide the resistance. Welp… guess what… wrong again! Getting an effective at-home upper body workout is all about getting creative! You don't need anything fancy, or expensive for that matter—just the motivation, the discipline, and a resistance band!
I'm so excited to share this particular workout with you because this workout will completely change the way you think about at-home workouts! Now, if you've ever been to a gym before you would most likely recognize a cable machine if you saw one. I personally love cable machines and incorporate them into my workout routines on a regular basis because of the variety of exercises and uses you can do with them. The only problem is because cable machines are sooooooooo big, you can usually only find them in larger, standard gym settings (unless you want to spend an arm and a leg buying an at-home cable machine.)
RELATED: How To Get Rid Of Love Handles With 6 Simple Exercises
At Home Upper Body Workout

So, how do you do an at-home upper body workout without a cable machine? The answer is simple—attach your resistance band to a door! The door serves as an anchor point for the resistance band and replicates the movement patterns of a cable machine!
Step 1: Place your resistance band on either the top or bottom corners of your door and shut the door tightly—ensuring that the resistance band is secure and won't move around.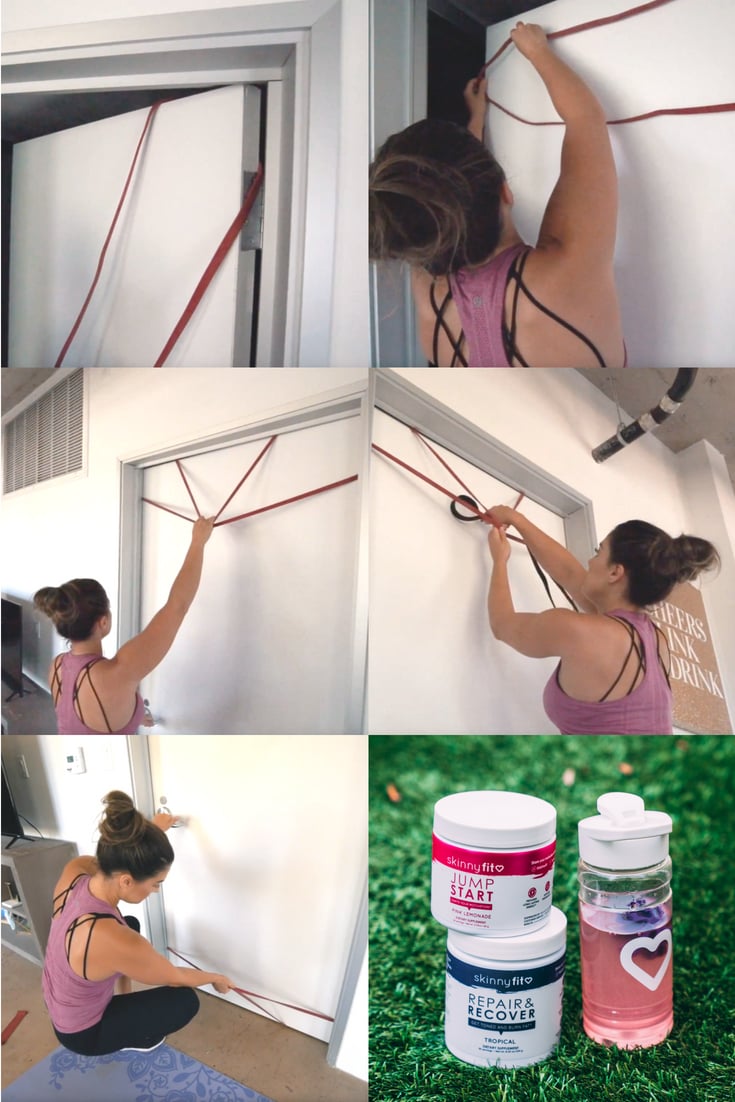 Step 2: Get in your starting position for the exercise and begin your set. (Make sure to keep a neutral spine and your shoulders are back and relaxed before you begin your exercise)
Step 3: Complete 3 sets of each exercise and complete 15 reps per set.
If you want to kick this resistance training workout up a notch, add some higher intensity bodyweight exercises in between each set.
For example, complete one set of the resistance band exercise and then do jumping jacks for 30-60 seconds. You don't have to do jumping jacks, you can do any exercise you'd like, but make sure the exercise gets your heart rate up!
YOU MAY ALSO LIKE: How To Do Effective Ab Workouts At Home With Just A Towel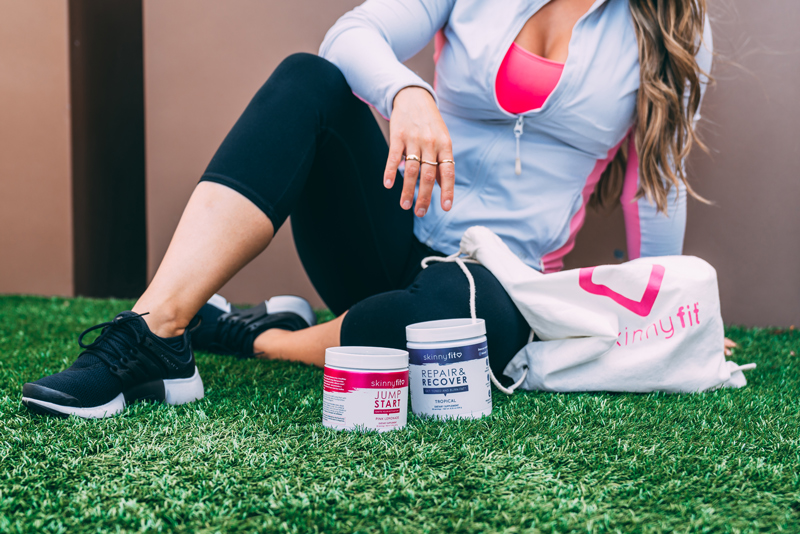 This resistance band upper body workout focuses on strength, so chances are, you might be a little bit sore after you finish! To help speed up your recovery and to ease the muscle soreness, take one scoop of SkinnyFit Repair and Recover. Branch Chain Amino Acids (BCAAs) replenish your muscles with essential nutrients to recover after a hard workout! If you aren't used to doing strength training, you might also feel fatigued throughout the workout—to prevent an energy crash, boost your energy levels and focus with SkinnyFit Jump Start! This pre-workout is a delicious pink lemonade flavor and gives you all the energy you need to crush your workout!
You ready to get started? LET'S DO THIS! 👊🏼
Resistance Band Upper Body Exercises