Jump To top
Want to burn serious cardio calories without running? Give this workout a try...
Is there a better feeling than the feeling you get after you crush an amazing workout and you're drenched in sweat? Okay, I'm sure there are plenty of other things that take the cake, like the morning of your wedding day, or the birth of your first child… but in terms of small "wins", this is certainly high on the list!
Sure, you might be laying on the floor gasping for air afterwards, but somehow being on the brink of a cardiac arrest after a workout is oddly satisfying. It's a feeling of pride and accomplishment that makes you want to high five a million angels and celebrate with a SkinnyFit Sangria Detox mocktail, am I right?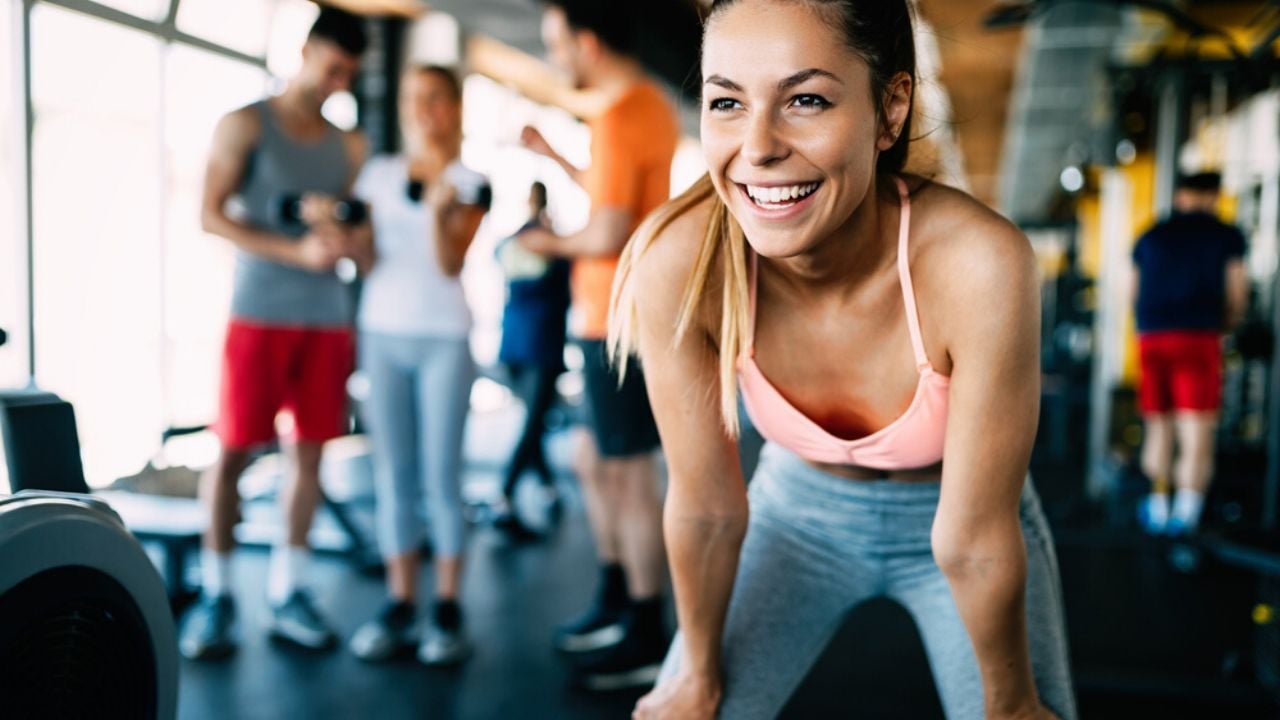 But what about those days you can't seem to find the time to squeeze in a good cardio session? As a personal trainer, I find that a lot of my clients have a To-Do list a mile long and struggle to find the time for cardio. Mostly because they find it hard to justify spending so much time on the treadmill.
I totally get it… running can be mundane. Especially if you're on a treadmill and there is nothing else to look at other than the sweaty back of the person on the machine in front of you…
Running outside can be a better option but it can also present some problems, like poor air quality depending on your neighborhood, safety concerns, or not being able to leave your children alone with no one to watch them.
But I have a solution for you! This 7 minute "no-run" cardio will not only make you sweat, but gives you the freedom to burn serious calories in the comfort of your own home. No treadmill and no running necessary!
Things To Remember

Always keep a neutral spine and try to relax your shoulders when performing each exercise. (Perform your exercises in front of a mirror if you want to keep an eye on your form).
Try to avoid shallow breathing. Focus on breathing through your diaphragm (stomach) to prevent dizziness or fatigue.
Inhale through your nose and exhale through your mouth.
Keep a steady pace! Moving too quickly in the beginning of a workout can cause you to poop out and lose energy!
7-Minute No-Run Cardio
Complete 30 seconds of each exercise and then repeat for an additional round. If you want more of a challenge then try moving from one exercise to the next with as little rest as possible. You can even take your workout to the next level and perform as many rounds as you like! 
1. Single-Leg Plyo Lunge
The plyo lunge is a great exercise to not only increase your heart rate but to tone and firm your legs and glutes! A few things to remember when you're performing the plyo lunge is to make sure your front knee doesn't move past your toe too much. This can cause unnecessary stress on the patella (knee cap) and can be very uncomfortable for some people. It can also lead to joint pain down the road if it is not corrected. Double check your form if you feel any pain in your knees and make any adjustments necessary.
If you experience knee pain and your form seems to be correct, shift the weight from the ball of your foot to the heel of your foot. This will activate your glute muscles and alleviate any tension on the knee. Also be mindful of the depth of your squat. You want to make sure you are bending your back knee but not smacking your knee on the floor! Use your arms to help give you enough momentum to propel you into the jump. If this move is too advanced for your fitness level, you can simple do a single leg reverse lunge and eliminate the hop. Trust me, you will still feel the burn!
2. Criss Cross Jumping Jack
When you're performing the Criss Cross Jumping Jack make sure to keep your arms at shoulder height and your legs should not exceed the width of your shoulders. And remember, it's a jumping jack… so get jumpin'!
3. Invisible Jump Rope
Anyone else getting a serious elementary school flashback? The Invisible Jump Rope is a simple exercise you can do not only increase your heart rate but to improve stabilization and agility! Get those heels up and activate those hamstrings!
4. Squat Jumping Jack
Okay, time to activate those thighs! When you're performing the Squat Jumping Jack squat as low as you are able to with proper form while your feet remain together. The let your inner cheerleader out for a big "HOORAH!" and finish into a jumping jack!
5. Toe Touch Jumping Jacks
We are really on a roll now! The Toe Touch Jumping Jack is a great exercise for your core and obliques! Hello gorgeous abs! Not only that, but the movement also targets your lower back, glutes, and hamstrings! When you're performing this movement, don't worry if you can't touch your toes. As long as you maintain proper form in your upper body you will still achieve all of the amazing benefits of this exercise! Try to keep your back straight and your head in a neutral position. 
6. Invisible Speed Rope
Tigger Bounces! Anyone else getting swim lesson nostalgia? By now your calves are probably burning! The Invisible Speed Rope exercise mimics a traditional speed rope but without the rope! It's amazing for your arms, calves, and cardiovascular system! You're almost there!
Repeat!