Jump To Recipe
This Mexican-food inspired avocado toast recipe is the perfect breakfast, lunch, or brunch meal for everyone. Your tastebuds will love you and your skin will thank you for all the glowing nutrients!
Food fads come and go, no doubt. But there are a few that I'd be okay with eating regularly for the rest of my days. Living in Southern California, there's no shortage of Mexican food and health food, and as often as not, the two overlap nicely. Such is the case with this avocado toast recipe—the perfect blend between healthful dieting, crave-worthy goodness, and my favorite kind of cultural exploration: FOOD! 🥘
To be sure, you don't NEED a recipe for avocado toast… I mean, you just spread avocado upon a crispy slice of bread and you're good, right? Right… ish. 
Just like many dishes, avocado toast can be basic—or bedazzling with delicious seasons and assortments of toppings. All of a sudden that jelly alternative is a delicacy worth 14 bucks at a food truck!
Today, I'm going to share the best avocado toast recipe that I've found in months! (If you're a fan of Mexican food, you definitely want to stick around for it!) I'll also give you some traditional and non-traditional avocado toast toppings so you can make a trendy, restaurant-quality breakfast no matter what's in your kitchen. 
¡Vamanos! 
("Let's Go!")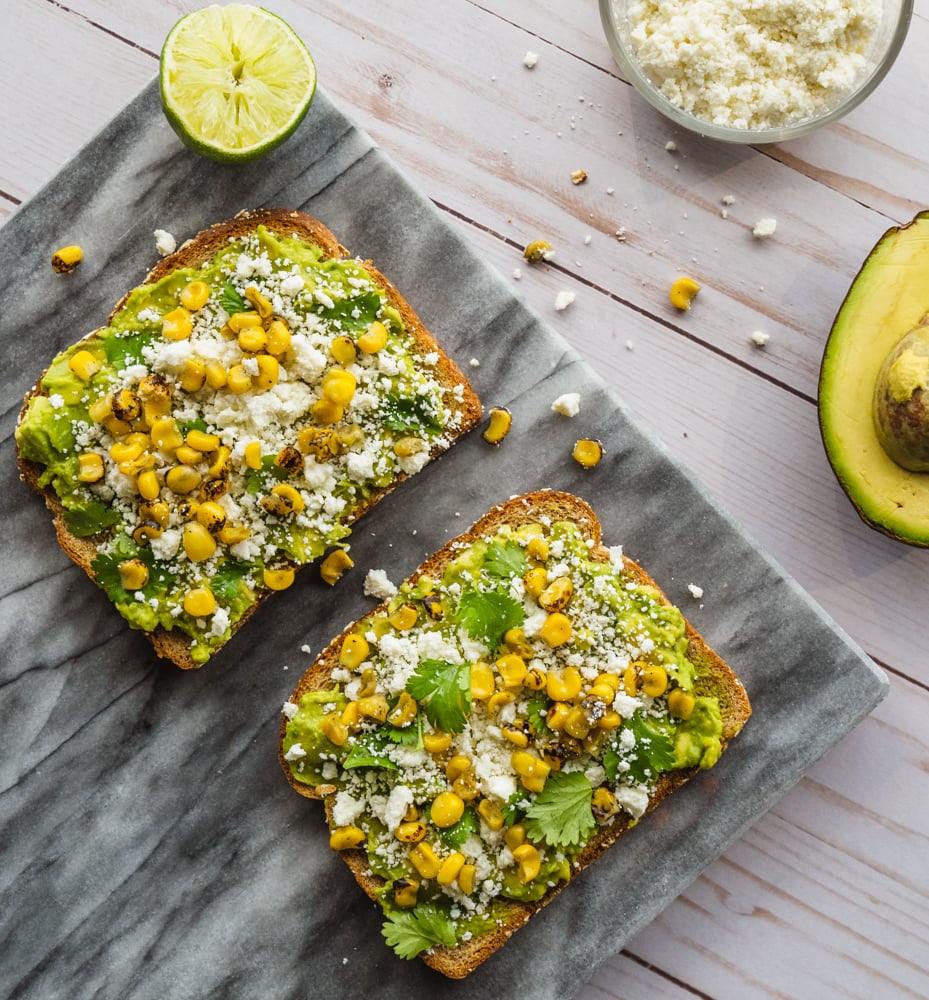 Is Avocado Toast Healthy?

Hass avocados are commonly found in grocery stores and restaurants and are the variety I recommend in this particular avocado toast recipe. They also go hand in hand with healthy diets because they are filled to the core with vitamins and phytochemicals. 
So don't let their high fat content fool you! Avocados can be very healthy for you. Like all food (and all things) moderation is key. Avocado fat actually helps promote healthy blood lipid profiles and works wonders to increase the bioavailability of fat-soluble nutrients that you often get from other foods eaten as avocado toast toppings or sides. [1] This means it helps your body absorb more nutrients from other foods you eat. 
Beyond "good fats", avocados are excellent sources of vitamins K, C, E and numerous B vitamins. They also have more potassium than bananas!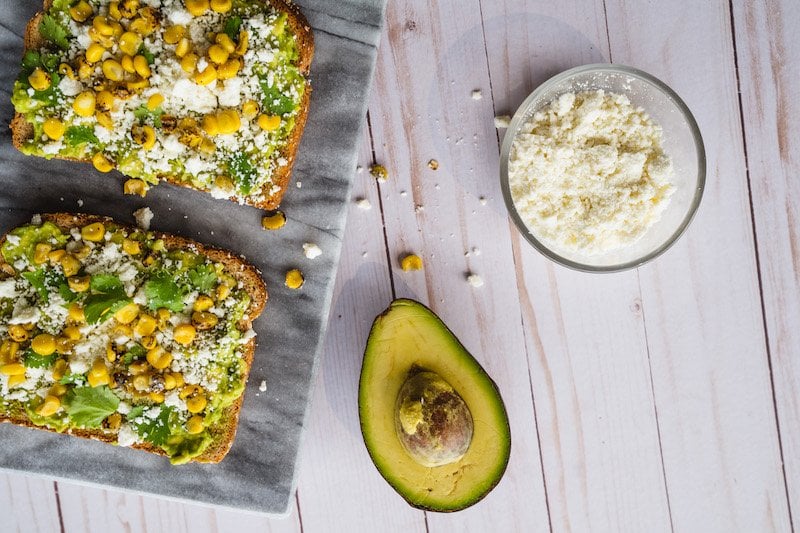 How To Make Avocado Toast

Looking for a recipe for avocado toast sounds silly until you realize all the different ways you can spruce up this trendy breakfast treat. There are a few things you can do to take any avocado toast recipe to the next level. 
1. Choosing the right bread

The bread you use in your avocado toast can be the difference between a pretty decent snack and an addictively delicious, totally healthy meal. While this recipe for avocado toast doesn't call for a specific type of bread, I thought I'd give some guidance for the super health-conscious among us.

Keep an eye out for sprouted whole wheat, sourdough, or 100% whole grain bread. These are among the healthiest breads out there that also make for a great base for this and any other recipe for avocado toast.
2. Garlic and olive oil

This tip is totally optional and can be skipped without worry depending on your taste preference or allergies. But, just like with garlic bread, rubbing roasted garlic into your toast prior to eating is a great way to keep things simple while still keeping them scrumptious. This is a quick little tip that I've used dozens of times when I don't have time to follow a more elaborate avocado toast recipe but still want more than just, you know… avocado and toast.
3. Super Youth Unflavored Collagen

So why collagen? Simple. I'm over 30. My collagen levels—like yours, most likely—are on the decline. Even though I'm "young and active" my knees pop constantly and my elbows hurt during certain exercises. Not to mention, all this Southern California sun is doing a number on my skin. That's why collagen is one of my staple avocado toast toppings. 
Collagen has been shown in numerous studies to greatly improve skin elasticity and hydration, which, in turn, slows the aging effect and improves our skin's appearance on our hands, arms, neck, and face. [2] Because collagen is the primary substance in our connective tissue, it also plays a crucial role in joint integrity. Daily collagen intake can reduce joint pain and stiffness and help increase mobility.
But the brand I trust is just as important. SkinnyFit Super Youth Unflavored Collagen covers my bases without me even noticing a difference in taste or texture. It's a premium blend made up of 5 types of collagen from 4 different sources. This is important, because the different types of collagen work together to support your body in a variety of ways.

If breakfast really is the most important meal of the day, adding collagen to your avocado toast recipe is one of the most important culinary secrets I can think of!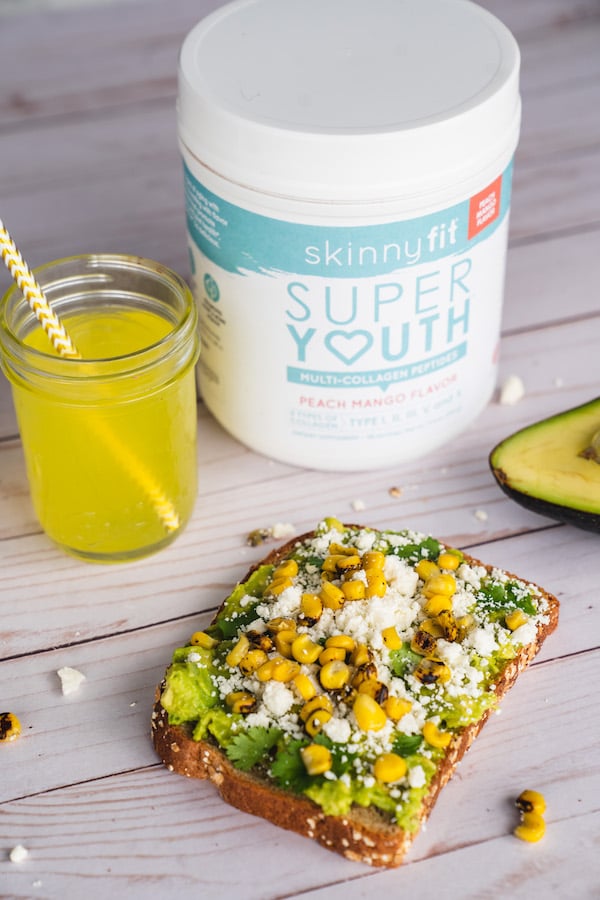 Best Avocado Toast Toppings

You don't always have to follow a recipe for avocado toast. For all the improv cooks out there, I've put together a quick list of toppings that will take your avocado toast skills up a few notches. 
Eggs (cooked any style)
Bacon
Everything But The Bagel Seasoning 
Prosciutto 
Tomato
Pine nuts
Red onion
Beets
Toasted chickpeas
Mozzarella cheese
Balsamic vinegar 
Smoked salmon or lox 
Garlic and olive oil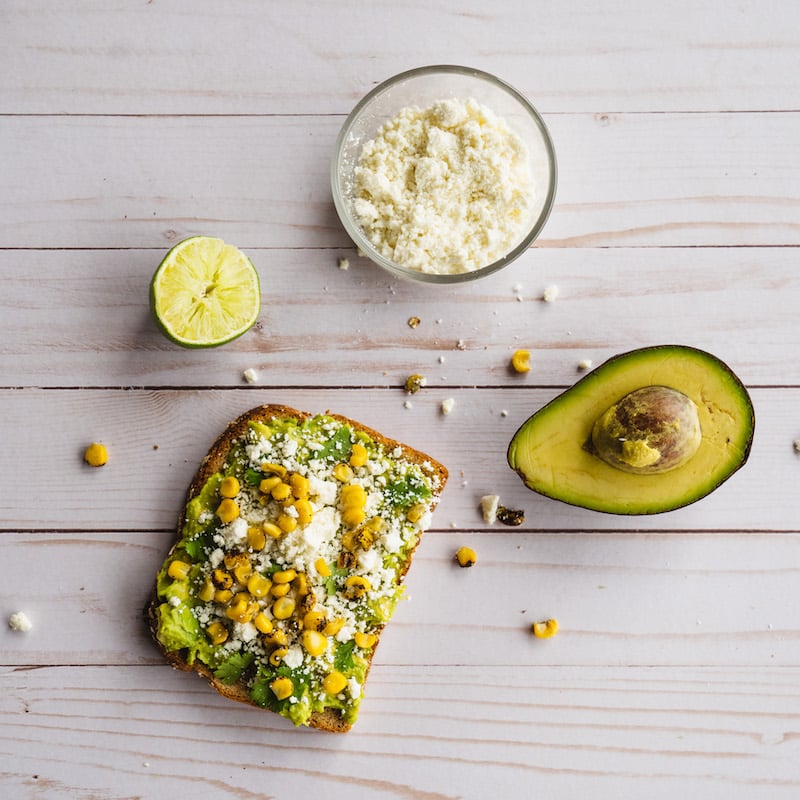 Mexican Street Corn Avocado Toast Recipe
This Mexican-food inspired avocado toast recipe is the perfect breakfast, lunch, or brunch meal for everyone. Your tastebuds will love you and your skin will thank you for all the glowing nutrients!
Prep Time: 5 minutes
Cook Time: -
Total Time: 5 minutes
Serving Size: 2 toasts
Ingredients
2 slices of your choice of bread
1 ripe avocado
1 scoop Super Youth Unflavored collagen
Juice from ½ lime
¼ cup roasted corn
4 tbsp cotija cheese
Dash of chili powder
Salt and pepper, to taste
Cilantro
Steps
Toast the bread.
While the bread is toasting, carefully cut open the ripe avocado and discard the seed. Scoop the avocado into a bowl and mash it with a fork. Add the Super Youth, lime, salt, and pepper to the avocado and mix until everything is well combined.
Once the bread is toasted, spread the avocado evenly onto the toast.
Top with corn, cheese, chili powder, and cilantro. Serve immediately.