Jump To Recipe
These gluten-free chocolate chip cookies are not only easy to make, but they are so delicious you won't even realize they are actually healthy!
Your search for the BEST chocolate chip cookie ends here! Taste tested and approved, not only are these cookies absolutely scrumptious, they are gluten-free as well! BUT—we're not just claiming that this is the best gluten-free chocolate chip cookies, no, this is the best chocolate chip cookie recipe out there—with or without gluten!
A bold statement, sure, but we are positive you will agree. 😁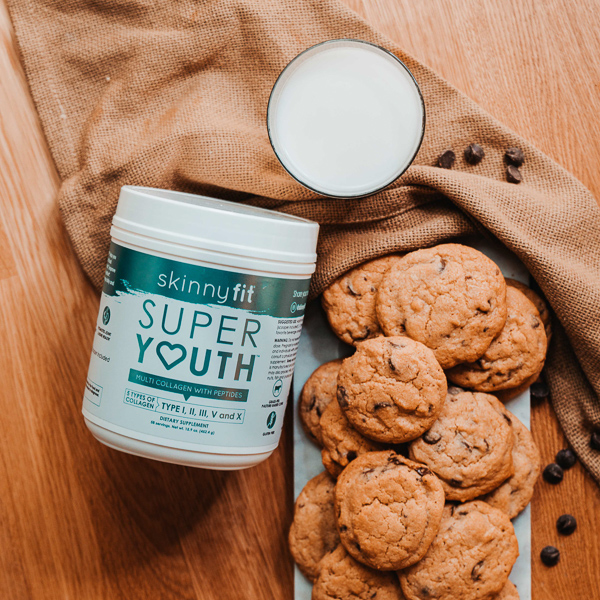 Are Gluten-Free Chocolate Chip Cookies Actually Healthy?
The word "gluten-free" has been tossed around a lot lately, but what does it mean to actually be gluten-free?
To put it simply, gluten is a mixture of two types of protein that can be found in foods like bread, pasta, and flour, and is responsible for holding foods together—giving them their shape, texture, and elasticity. However, some people, like those with celiac disease, are unable to have gluten because it can lead to damaging side effects to their immune system and small intestines.   Because the side effects of gluten among this population was so severe, the FDA created a "gluten-free" regulation that made it easier for people with celiac disease easily identify which foods contain gluten and which ones don't. And thus, the gluten-free movement began.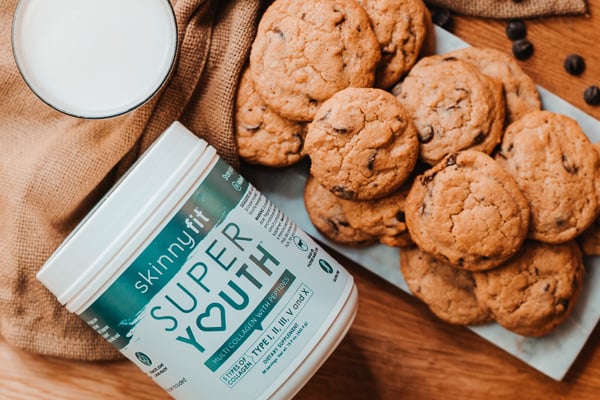 You don't need to have celiac disease to eat gluten-free. In fact, gluten can cause side effects in people who have gluten sensitivity—like depression, "foggy brain", constipation, headaches, bloating, etc. Others choosing to go gluten-free may do it simply for the health benefits and because it makes them feel better overall. This is precisely why we made this gluten-free cookie recipe!
The best part? You won't have that guilty feeling after eating it…you know, that "I'm so full I can't get off the couch" feeling…?
A Gluten-Free Cookie Recipe For A Healthier Dessert
Gluten can cause bloating, affect gut health, and even cause abdominal pain. For those with gluten sensitivities (and for those without), these gluten-free chocolate chip cookies are perfect for you!
Not only that, but our gluten-free cookie recipe is paleo-friendly AND completely grain-free! For those of you on a paleo diet, you know how hard it can be to find a dessert you can actually eat! Our gluten-free chocolate chip cookies will be your new sanctuary—you can thank us later. 😉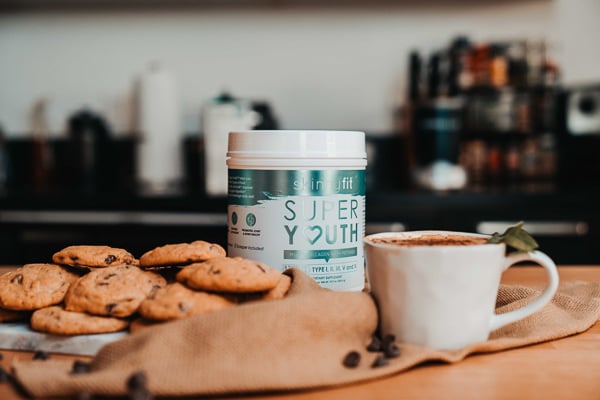 Easy Gluten-Free Cookies With Collagen
Easy gluten-free cookies are hard to come by, soft baked ones are even harder to come by! But we've discovered the solution with our gluten-free chocolate chip cookies—PLUS it comes with a secret (fountain of youth) ingredient…
We made this gluten-free cookie recipe with SkinnyFit Super Youth, our premiere blend of collagen peptides. You've never seen a cookie recipe with this many benefits before—trust us, we've looked!
SkinnyFit Super Youth supports your weight loss goals, and since this recipe is gluten-free, you've got a double dose of "I can fit into my skinny jeans again!"
Not only that, but these easy gluten-free cookies are a great alternative to get your collagen in for the day. Putting your daily collagen serving into your favorite recipe (like this one) has never been more convenient, nutritious, and delicious.
You're just seconds away from baking the best cookie you've ever had…
But don't forget to stock up on our #1 selling collagen so you can whip up this delicious treat whenever you're in the mood for something sweet (and healthy)!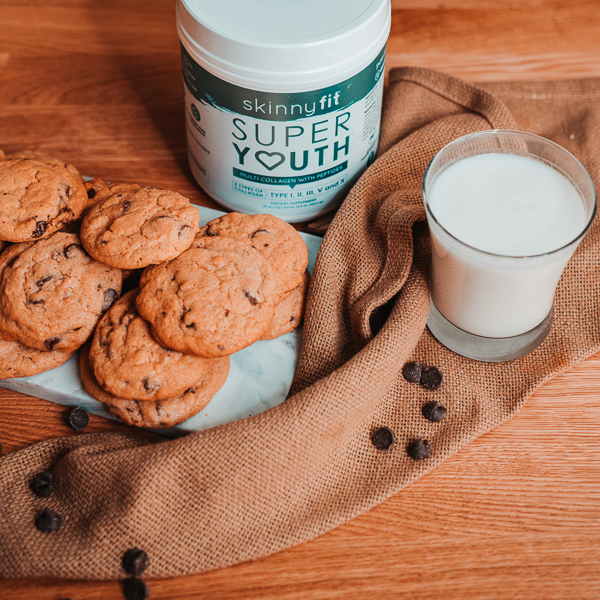 Chewy Gluten-Free Chocolate Chip Cookies
These gluten-free chocolate chip cookies are not only easy to make, but they are so delicious you won't even realize they are actually healthy!
Prep Time: 10 minutes
Cook Time: 12 minutes
Total Time: 25 minutes
Serving Size: 14 cookies
Ingredients
2 tablespoons melted coconut oil (you may also use melted butter or ghee)
¼ cup of maple syrup
2 eggs
1 teaspoon vanilla extract
2 cups blanched almond flour
½ teaspoon baking soda
¼ teaspoon salt
⅔ cup chocolate chips
¼ cup SkinnyFit Super Youth
Steps
Preheat oven to 350 degrees F. Line a large baking sheet with parchment paper.
In a large bowl, mix together melted coconut oil, pure maple syrup, eggs and vanilla extract until smooth.
Next stir in almond flour, baking soda, salt and SkinnyFit Super Youth until combined. Fold in chocolate chips.
Drop dough onto prepared baking sheet about 2 inches apart. Use your hands to flatten the dough so that it's about ¼ inch thick.
Bake for 10-12 minutes until cookies just begin to turn golden brown on the edges. (They may look underdone, but that's just because they're made with almond flour.)
Allow cookies to cool for 5-10 minutes on baking sheet before transferring to a wire rack to finish cooling.