Jump To top
Encourage healthy eating at home with these healthy meal planning tips & tricks for families!
If you've ever tried to eat healthier, then you've probably done some meal planning and prepping at one point or another. Healthy meal planning can be a bit tricky—especially if you're looking to give your taste buds some variety throughout the week with a few different meal options. It takes time to organize, shop, cook, weigh, and sort everything into its own individual food containers in order for your plan to go off without a hitch. Now, imagine throwing family meal planning into the mix. Talk about stress! 
While I understand that worrying about family meal planning on top of your own healthy meal planning can be difficult, it isn't impossible. I'm here to relieve some of your stress with some helpful tips to hopefully make healthy meal planning for yourself and your family easier than ever. I'm also going to share a meal planning template that you can use anytime you're feeling overwhelmed.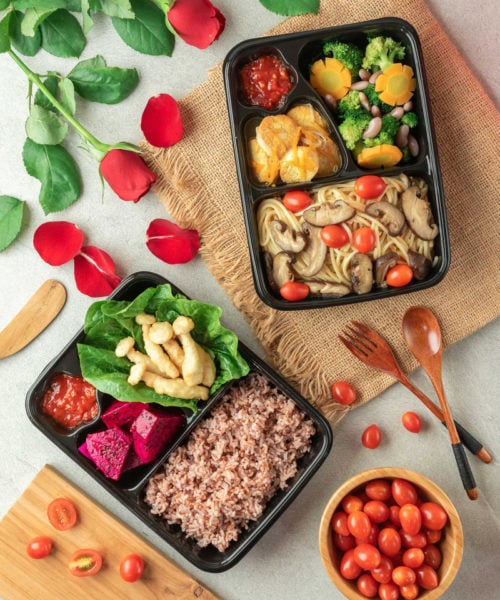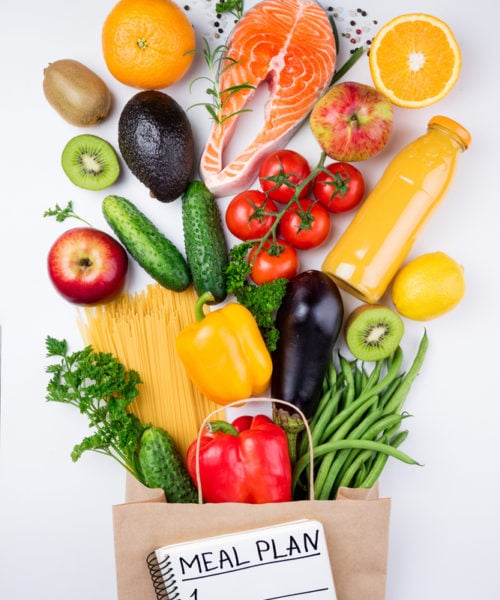 Healthy Meal Planning Tips
1. Discover your family's favorite meals 
Feeding your family can sometimes feel like an ongoing battle, especially if you have picky eaters on your hands. My advice is to take note of the meals that everyone loves and make it a part of your family meal planning each week. Trust me when I say that it will not only save you time on planning, but will also help you skip the headache of having to deal with any hissy fits that happen at dinner time.
2. Spend some time each week looking for new recipes to try
One of my favorite things about going to eat a restaurant is the variety of foods available to me. While I tend to be one of those people that orders the same thing at a restaurant, I will occasionally try something new and almost always be happy I did. Keeping things interesting in your home kitchen by incorporating new recipes is a great way to build the excitement for dinner time and to try new things. Some of my favorite ways to explore new recipes is to follow food bloggers and influencers on social media, and browse new recipes on Pinterest. Oh, and I can't forget about SkinnyFit's catalog of delicious and healthy recipes! 
3. Create a place to easily save recipes  
Speaking of finding new recipes, you'll need a place to save and organize them to refer back to. I recommend setting up a free account on Pinterest if you don't already have one. This is a great place to save any recipes you find on blogs or anywhere on the internet. You can also create categorized folders within the Instagram and Facebook apps for all your bookmarked content.

4. Get a calendar 
I'm one of those people who loves planning ahead, so using a calendar to create a meal planning template and a place to jot down my meal schedule for the week is a no brainer. But if you're reading this right now, you likely struggle in this department. But don't worry… Something that's helped me tremendously in this department is displaying a calendar somewhere in the kitchen that can be seen by the whole family. I use a magnetic meal planning template that sticks to the side of your refrigerator that you can erase and reuse every week. When I tell you it's a game changer, I'm not kidding. *Cough*, type "magnetic dry erase menu board" into the Amazon search bar and thank me later… If you prefer something you can download immediately and won't cost a thing, I've got your covered. At the end of this blog is a free meal planning template download! 
5. Create a shopping list
The second phase of healthy meal planning, after the planning part, of course, is making sure you have everything you need for your weekly menu. Create a shopping list for everything you'll need for the week and continue to add to it as needed. Depending on your preference, you can keep a digital version in the notes section of your cell phone, or you can do it the old school way and keep a notepad in your kitchen. (Psst, the free download has a section for this, too!) Either way, don't head to the grocery store without it. But only stick to what's on the list! This is super important! Keeping a grocery list while you're shopping will not only save you a ton of time at the store, but will also help you avoid buying unnecessary or unhealthy items.
6. Plan for leftovers 
Ahhh leftovers… my favorite word. Leftovers are quite possibly my favorite thing when it comes to meal planning. Why? Because when you plan ahead and anticipate leftovers, you've just saved yourself a ton of time wondering what to eat for lunch the next day. Not to mention the time it takes to make a whole separate meal! Be sure to plan for a few extra servings for each meal so you have enough for leftovers.
7. Clean and prep what you can in advance 
There are two phases of healthy meal planning—the planning and the prepping. If time seems to get away from you during the week, try washing and chopping all of your produce for the week right after you return from the store. You can prep things like bell peppers, onions, mushrooms, herbs, and other vegetables to cut down on your cooking time. You can also cook a few chicken breasts and keep them in a container for quick meals or healthy snacks. 
8. Keep your pantry stocked with essentials 
Something I always try to do is keep my pantry and refrigerator stocked with cooking essentials that are commonly used in a variety of recipes. Getting into the habit of refilling them when they get low will help keep your trips to the market quick and will help cut down on humongous grocery lists. 
Here are some of the most versatile pantry staples for healthy meal planning and healthy cooking: 
Citrus fruits (like lemons and limes)
Fresh herbs  
Milk (dairy or non-dairy)
Canned tomato products 
Fresh cheese
Stocks and broths
Grains, noodles, & starchy vegetables (rice, pasta, potatoes, etc.)
Baking essentials (flour, butter, sugar, eggs, cocoa powder)
Veggies (onions, mushrooms, garlic, bell peppers, green vegetables)
Cooking oils (olive oil, vinegars, etc.)

9. Plan your trip to the grocery store or order groceries from a delivery service 
In this day in age, going to the grocery store has become more time consuming than ever. Waiting in a long line just to get into the store, the one-way isles causing traffic jams at every turn, fighting over the last roll of toilet paper, the socially distanced lines at checkout, and don't even get me started on the frustration of forgetting your mask and having to drive back home again. Going to the grocery store just isn't the same. I've recently started ordering my groceries online and getting them delivered to my house, or having them ready for pick up. This also makes it easy to repurchase items in the future because it saves everything you've previously added into your card to make shopping a breeze! I can't even begin to tell you how much more pleasant this experience has been for me. So, if time is of the essence and going to the grocery store feels like a chore for you, I recommend giving this a try!
10. Keep protein-rich supplements on hand
Protein is known for its ability to keep your body feeling full and satiated between meals. A diet that is rich in protein has been shown to help with weight loss, muscle development, and fat burning. [1] I recommend keeping protein-rich foods and supplements, like collagen peptide powder, on hand to curb your appetite in between meal time. SkinnyFit Super Youth is one of the best collagen powders on the market because it contains the five types of hydrolyzed collagen peptides necessary to increase longevity, improve your gut health, support your muscles and joints, and even helps with weight loss! 
Meal Planning Template
Download and print this healthy meal planning template completely FREE and start your family healthy journey off right.