Jump To top
If you've ever suffered from hyperpigmentation, you're not alone. Here's everything you need to know about what causes it, and most importantly, what you can do about it!
It wasn't until my sister started working at Sephora that I learned about hyperpigmentation. She said that every single day women (and men!) would come in asking about how to get rid of hyperpigmentation. Often, people would just want the strongest concealer that money can buy. My sister being, well, my sister, she was much more interested in getting to the root cause of hyperpigmentation.
She would come home and frantically Google the best hyperpigmentation treatment options and hyperpigmentation treatment supplements. After a few months of researching, I learned so much. Knowing that so many people struggle with hyperpigmentation and finding the right treatment, I felt like a blog post was due.
I hope anyone dealing with how to get rid of hyperpigmentation or seeking the best hyperpigmentation treatment options, finds this post insightful! As always, if you have any serious concerns about a skin condition, contact your doctor for additional guidance.
What Is Hyperpigmentation?
Hyperpigmentation is a (generally harmless) condition that occurs when an excess of melanin forms deposits in the skin. Hyperpigmentation shows up and looks like dark patches of skin and can happen anywhere on the body frequently exposed to sun. [1]
Melanin is the amino acid that is responsible for tanning or darkening skin. Hyperpigmentation appears as dark brown to black pigment that can occur in the hair, skin, and iris of the eye.
Sometimes hyperpigmentation may disappear on its own, and other times it may seem as if nothing will make it go away. Depending on what the cause of your hyperpigmentation is, its duration and appearance may vary.
What Causes Hyperpigmentation?
Causes of hyperpigmentation vary, as well as the various remedies on how to get rid of hyperpigmentation. Some of the most common causes of hyperpigmentation are pregnancy, sun damage, and inflammation.
Hyperpigmentation causes:
Pregnancy—During pregnancy, women's hormones tend to go a bit haywire. (Hello, crazy cravings and mood swings!) Hormone disruption can cause melanin to fluctuate and cause skin conditions, such as hyperpigmentation. Some women stress about how to get rid of hyperpigmentation, only to realize it fades away postpartum.
Sun damage—The more we're exposed to UV rays from the sun, the more our melanin is affected. While some sun exposure is vital, overexposure can cause hyperpigmentation and other sun-damaging effects.
Inflammation—Inflammation seems to be the root cause of so many conditions and diseases, and that's because inflammation can occur just about anywhere in the body! When we can decrease inflammation, we increase cellular health and can help to avoid conditions such as hyperpigmentation.
Best Hyperpigmentation Treatment
Figuring out how to get rid of hyperpigmentation isn't always easy, and finding the right hyperpigmentation treatment that works for you may take some trial and error. To help narrow the list, I've rounded up the top three natural, non-invasive treatments that not only help reduce hyperpigmentation spots, but come with some other amazing side effects as well. My personal recommendation as the best hyperpigmentation treatment is collagen, and below you'll learn why!
1. Face peels
Not just for a feel-good spa day, face peels have been a popular treatment for trying to diminish signs of hyperpigmentation. Chemical face peels and laser face peels are not your typical Friday night and a bottle of wine face mask. These should be done in a professional setting and are best when done by a practitioner with experience in hyperpigmentation treatment. Chemical face peels are done by applying a layer of skin solution to the affected area to seep into the dermis layer of the skin and stimulate renewed, healthy cell growth. Laser face peels involve a laser for the same treatment, and results are often immediate.
2. Multi-collagen peptides
Because collagen is responsible for so much of our skin health, it's only natural that it would be one of the best hyperpigmentation treatment options! Collagen has been found to help reduce sun damage and melanin formation, making it a great option for anyone dealing with hyperpigmentation. [2] My favorite collagen, Super Youth multi-collagen peptides, contains all 5 types of collagen! This is especially important because it helps to cover all of the benefits that various types of collagen can help with. Marine collagen in particular is great for skin health and helps to significantly improve skin tightness. One study even confirmed that participant's biological age decreased after supplementing with marine collagen. [3] Biological age can cover everything from wrinkles to sagging skin to hyperpigmentation. Another reason I think collagen is a great hyperpigmentation treatment is because it is so easy to take. Super Youth comes in three amazing flavors which means you can literally scoop it into water, shake, and sip!
3. Topical creams
There are various topical, over the counter creams and serums that you can use to help with hyperpigmentation. I tend to have sensitive skin, so for me face creams aren't the best hyperpigmentation treatment option. But if you have normal or less sensitive skin, they can be a great and affordable way to help even out hyperpigmentation. The best ones contain a variety of B vitamins, as B vitamins are responsible for cellular health and growth. 
For lasting change, and amazing additional benefits, my preference would be that people start taking collagen supplements before spending money on creams and facials. It will not only help with a laundry list of other skin conditions, but will help repair your skin from the inside, out!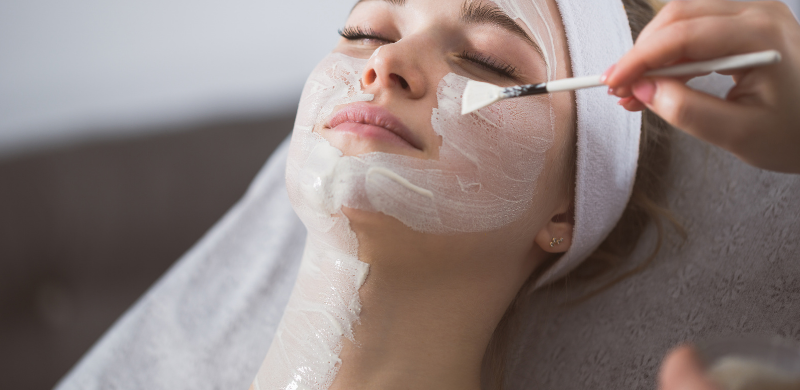 The Bottom Line
If you've ever had to worry about how to get rid of hyperpigmentation, I hope this blog post helped clear the air on some of the hyperpigmentation treatment options available. Skin is something everyone struggles with in their own way, and finding the best hyperpigmentation treatment for your skin type may take some time. Be patient. There are endless opportunities to practice self-love in the process!
If even just one person starts to see improvement from this post, then it was worth it. For more support on SkinnyFit products and to chat with women just like you, join our growing community Facebook page! We just hit 20,000 members thanks to women all around the world sharing their story. Who knows, someone may need to hear yours. 💕
Mentioned In This Post
SkinnyFit Unflavored Collagen
Look and feel younger with Super Youth Multi-Collagen Peptides! This versatile collagen powder includes 5 collagen types from 4 natural sources to restore youthfulness from the inside out.