Jump To top
First thing's first: CONGRATULATIONS! You just gave birth to another living human. That's freaking amazing. Like, c' mon, you're an actual superhero. So, before you do anything else, like asking how to lose baby weight, please acknowledge the beautiful fact that your body created the environment for another human to thrive and grow in.
You don't need to get your body back because guess what? It didn't go anywhere.
When you're a new mom, it sometimes feels like every magazine is talking about how so and so lost the baby weight. Let's be real: There is some insane pressure to shed pounds immediately, even though you have other things to worry about. 
In this blog, we're going to talk about postpartum weight loss and how to do it. Let's go ahead and get started with 11 how to lose the baby weight tips!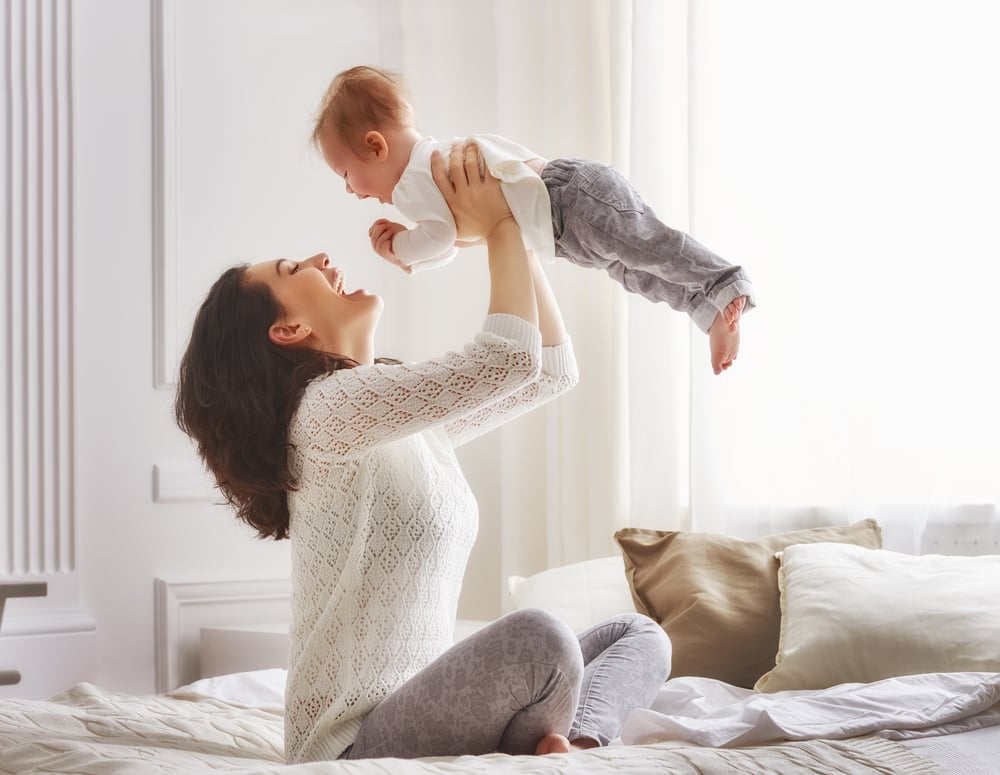 How To Lose Weight After Having A Baby

Once you have the green light from your doctor or midwife, you can create your own workout plan that feels both safe and challenging. Remember, give your body time to heal and shift the mentality from how to lose weight after having a baby to how can I feel more healthy and strong post-baby? Before you know it, you'll be back to crushing it at the gym! 
1. Meal prep

Once all the madness has subsided, take some time to clear things out. Here's the thing: when you have a clean fridge full of healthy food and snacks, you'll be more prone to eat healthy too. Start by cleaning out the fridge and freezer and wipe it down with hot, soapy water. Even if that's all you did after reading this article you'd feel amazing. I promise. 
You'll be grateful for all of your meal prep when you are up late with a crying baby and you don't have to worry about what's in the fridge. Invest in high-quality containers for your meal prep. I prefer glass to plastic but it depends on what makes the most sense economically and practically for you!
Boost postpartum weight loss with nutrient-dense, protein-rich, freezer-friendly meals that are simple to make. Extra tip: If this is your first journey into motherhood, you're about to discover the sacred art of eating with one hand. Burritos, sandwiches, and wraps are all excellent go-to's for a multi-tasking mama who is balancing a baby on the hip.
Check out these easy-to-prepare recipes that you can make ahead of time: 10 Easy, Healthy Crockpot Recipes To Warm You Belly (& Trim Your Waistline)
2. Connect with fellow mamas

Motherhood changes everything, including friendships. When you're a new mama, finding ways to get out of the house and create a community are paramount to your mental and emotional health. Reaching out to others in a similar stage of life will ease your stress and provide you with a greater sense of wellbeing. Joining a moms' group will give you the motivation to stay active, change out of yoga pants (or swap into your cuter pair!), and maybe even help you set up fitness for mommy and baby. It's also a great way to get out there and make some friends. You may find friendship, support, and a place to make special memories in your new realm of motherhood. 
If you live in an urban area, chances are there are real-life meetup groups dedicated to getting in shape that you can check out. If you live in a remote or rural area, you can always connect with other moms via Facebook groups and set up accountability challenges. 
During a walk, farmer's marketing outing, or playdate you can spark discussions about how to lose weight after having a baby.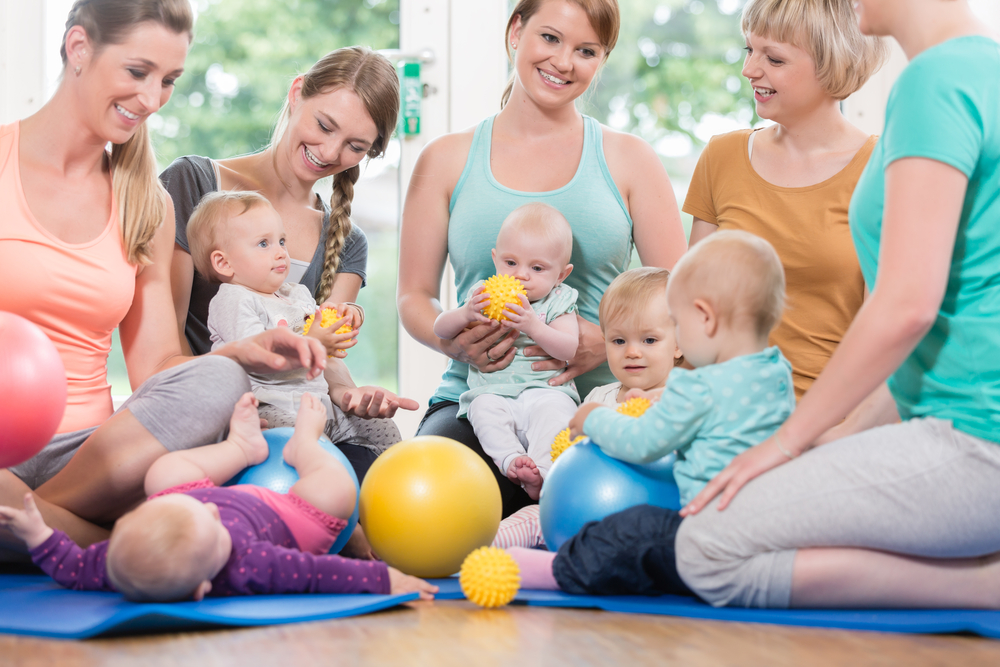 3. Breastfeed your baby

Breastfeeding is nature's healthiest and cheapest food, plus it's packed with benefits for your baby like helping to protect against viruses, allergies, and even prevent obesity later in life.
And guess what? The benefits of breastfeeding are good for you too! If you've started breastfeeding your child, you know that breastfeeding can be kinda… well, incredible. It burns a ton of calories (nearly 300-500 a day) and helps you bond with your baby on an entirely new level. From a nutritional perspective, most moms wonder if they need to eat more calories when they're breastfeeding. The truth is that you can eat the same number of calories as before you were pregnant to help with postpartum weight loss.  
Breastfeeding releases the feel-good hormone called oxytocin. Oxytocin will put you in a lighter, happier mood and promote loving feelings towards yourself and those around you. With that said, if you're a new mom, you know breastfeeding can sometimes be easier said than done. Whether or not you choose to breastfeed, it does carry exceptional health benefits, including: 
Psychological benefits for moms who breastfeed:
Decrease anxiety
Improve mood
Decrease stress 
Calm the mind
Provide better sleep
Physical benefits for moms who breastfeed:
Helps uterus return to pre-pregnancy size
Burn more calories
Reduce blood pressure
Lower risk of osteoporosis
4. Invest in workout equipment for your house

With a new baby around, finding time to exercise can be difficult but not impossible. We've all been there: Up all night with the baby and the LAST thing you want to do is a 30-minute workout. Sometimes you have to get creative and find new and effective ways to exercise with kids. Having a machine in your house that you love working out on or free weights can make a quick workout more feasible than driving to the gym. Postpartum fitness is all about motivating yourself to get up and moving so you can be the best for yourself and your family.
Here are some equipment ideas to invest in:
Yoga mat
Free weights
Exercise ball
Jog stroller
Elliptical
Treadmill
A new pair of headphones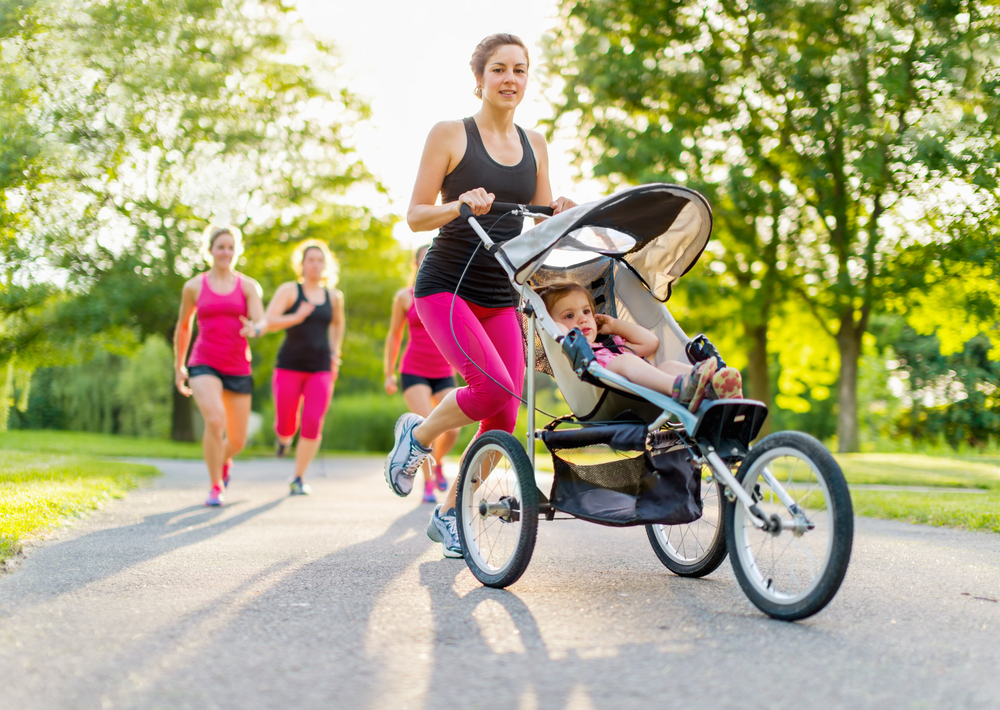 5. Buy a baby carrier

Although you wouldn't necessarily deem it "workout equipment," having a nice front carrier for walking around the house, neighborhood, and out on errands is HUGE to your workout success.  
Exercising with your baby in a carrier is a great way to get some exercise in without having to find a sitter. Not only is wearing a baby carrier going to free up your hands for exercise but it also increases the time you and your baby have to bond. There will be plenty of funny faces, sounds, and singing while you're burning calories with your new little buddy!
While you're running around with your bundle of joy and fitting in workouts, remember:
Don't push yourself
Listen to your body
Gradually increase your intensity
6. Fire up your core

During pregnancy, it's completely normal and natural for your abdominals to lengthen and stretch out to make room for your growing fetus. This can lead to diastasis recti, the separation of your "6-pack" muscles. There are ways to restore muscle and tone to this region of your body, but make sure that you find exercises that properly address diastasis recti. Yes, you read that right. There are actually core exercises that can make your diastasis recti worse. 
Read our blog about safe diastasis recti exercises that you can start incorporating into your daily routine.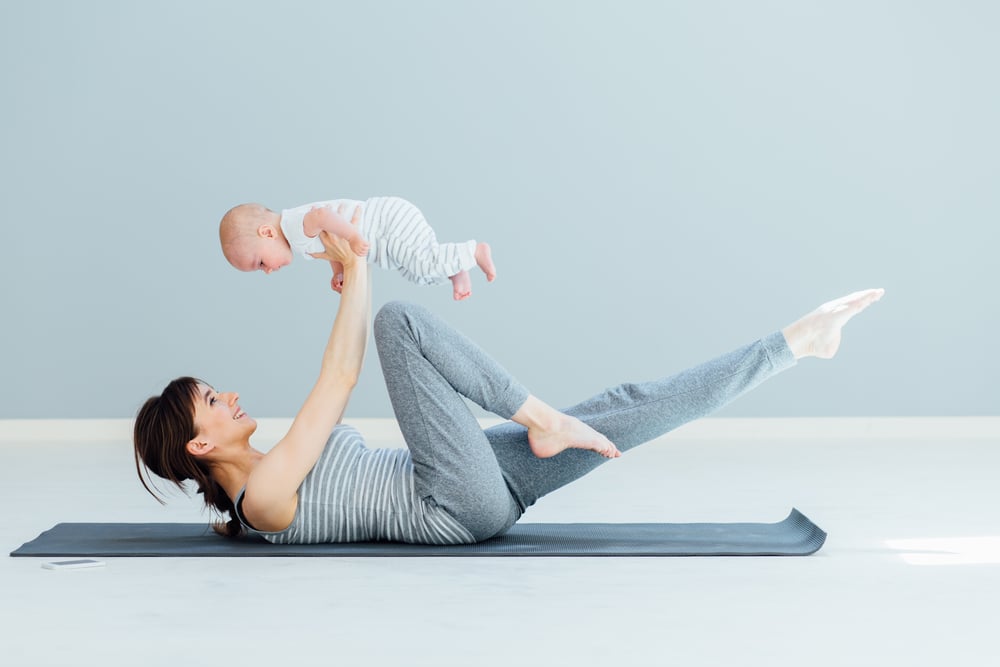 7. Start following inspirational motherhood accounts

Sometimes all you need to do is find an account that you can relate to and that inspires you. The cool thing about the internet is that it's FULL of moms sharing their best tips and tricks for health and wellness. The trend of sharing honest moments is becoming more common too. There are videos, blogs, and how-tos about getting in shape while doing a stroller workout or push-ups with your baby. Seeing a woman who looks just like you, with the same demanding schedule, and still manages to find time to workout can be, well… inspiring. Now it's your turn!
8. Track your steps

Use a watch or app to track your steps during the day. You can set a daily or weekly goal to track your activity. You may be surprised by how supportive your family, friends, and even coworkers will be of your goal! Some may even join you for walks during breaks. All of those steps will add up and support the simple fact that when you move your body more, you will feel and look better.
9. Get enough sleep

Losing baby weight is dependant on sleep. It's far too easy to believe that feeling tired during the day is a sign that you need to eat more when in reality you're just tired. If you're able to fit in an extra 30 minutes of sleep a day, it can help you keep off weight. With more rest, you'll look and feel better and prevent eating more during the day. For inspiration on how to let go of the day and prepare for restful sleep, check out our latest blog on 10 simple yoga poses to promote better quality sleep.  
10. Make snacks that are easy to eat on the go

Stock up on smart, healthy snacks so that you have something to keep you happy and energized throughout the day. Try selecting snacks that are low in calories and will help keep your hunger at bay. If you can't shake a chocolate craving, there's no need to deny it. You can find healthy, nourishing versions of your favorite foods so you don't wind up overindulging later on in the day.
For example, try mixing a scoop of SkinnyFit Super Youth Peach Mango Collagen in with water, milk, smoothies, or your favorite recipe for a yummy way to boost your health! Collagen is a great supplement to take after having a baby but always check with a doctor before using any health supplement while you're pregnant. As the most abundant protein in the body, collagen is the glue that keeps everything together. Taking Super Youth can help your body speed up wound healing, tighten skin, strengthen muscles, form strong bones, and help hair grow. When you make a protein-rich, healthy snack adding a scoop of collagen can amplify the health benefits.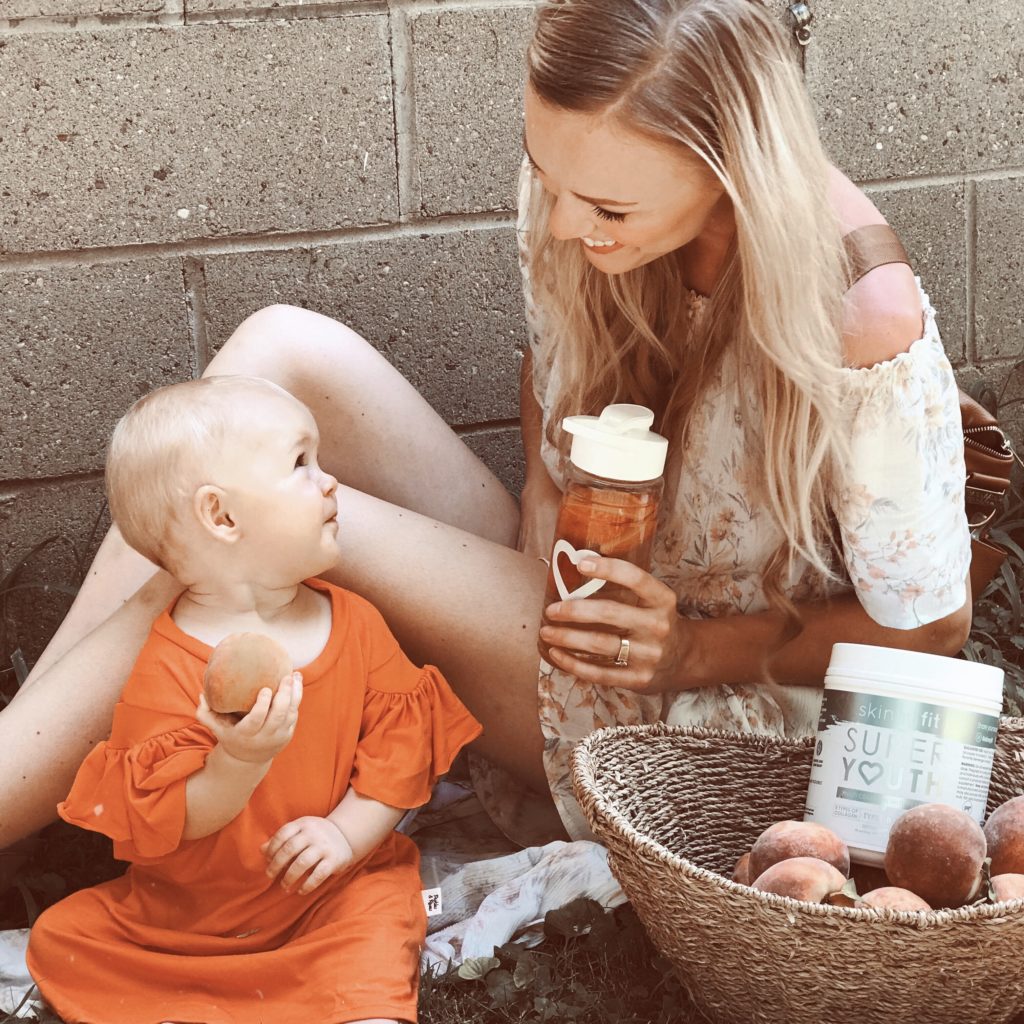 11. Eat like a child

Kids know when they're hungry and they eat accordingly. When your baby is hungry they eat. When they're tired, they sleep. Of course, when you're a new mom, it's totally normal to be overly concerned with making sure your baby's needs are met, but paying attention to everything your child eats can make you too busy to worry about nourishing your own body. Maybe you've gone six or seven hours without a meal and end up raiding the fridge on a late-night binge. You can do better. I know you can. Prevent binges and overeating by practicing the mindfulness technique of listening to your own hunger cues so you don't wind up in a frenzy, eating unhealthy foods… or throwing a temper tantrum. 
The Bottom Line

Remember, your body literally rearranged the organization of its organs so that you could give birth to a new life. Losing baby weight begins with the acknowledgment and appreciation your body deserves because no matter what your body looks right now, it's pretty much a work of art. And don't forget that there are moms everywhere who are in your same shoes and feeling the same way you are. Reach out to your network, in-person and online for support, for workout inspiration, and advice on how to get through the day-to-day and fully embrace the beauty of motherhood
READ NEXT: The Ultimate Bust Mom Workout Plan: How To Sneak In 20 Minute Workouts!