Jump To top
Losing weight, putting on muscle, and making a healthier lifestyle change– what do these three things have in common?
The most obvious answer would be that in order to achieve any of these you have to be committed, you have to work hard, and you have to be consistent in order to see some sort of progress. Looking beyond the obvious, however, there's another thing they have in common and that's "meal prep".
Meal prep is when you prepare all, or some, of your meals in advance to simplify the process of reaching your goal. Now, I'm not saying that you can't achieve any of those goals without meal prepping… it will just be a lot harder if you're more accustomed to eating junk and fast food compared to more nutrient-dense foods. Meal prep for weight loss is the most common form of meal prepping because it can help eliminate a lot of unhealthy temptations that can potentially entice you to eat foods that will prevent progress.
Healthy meal prep can be a real challenge if you aren't accustomed to eating nutritious foods– which is why we asked these 12 pros for their most effective meal prep tips for weight loss!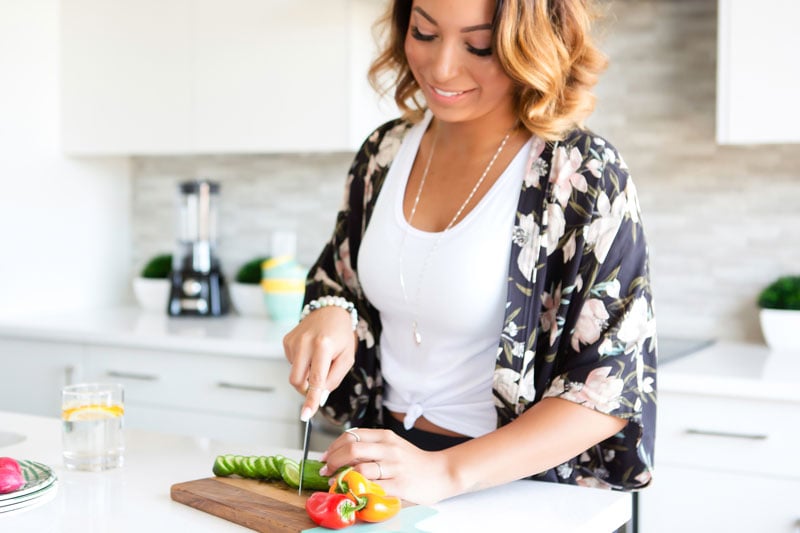 Healthy Tips for Meal Prepping
When it comes to healthy prepping tips we went straight to the pros for meal prep advice to gather the best practical prepping tips we could find! Our first batch of tips comes fitness and nutrition experts that have an outstanding reputation in their respective fields– from professional athletes and celebrity fitness trainers to registered dietitians and sports nutritionists. Our second batch of tips comes from the women who've put it all to the test– busy moms on a mission to live healthier lives and make healthy eating the "norm" for their children and families.
Whether you're looking to make food for the week, seeking inspiration for fitness meals to go, or you're tired of eating the same thing for dinner, this lineup of expert advice has you covered.
1. Connor Huff: Sports Nutritionist & Athlete
Connor is a Certified Sports Nutritionist, Sweet Sweat & Muscle Pharm Athlete, NPC Bikini Competitor, and Health and Fitness Influencer.
"I tell a lot of my clients to make sure to meal prep no later than Sunday or Monday. Doing this allows sufficient time to get ahead of your busy week and stay on top of your meals. I even tell my clients to go as far as pepping their snacks (ie; carrots and hummus, fruit, counted out nuts etc.) it's important to even do the snacks because what people don't realize is they are more likely to cheat on their plan when they are hungry and don't plan ahead. If you're hungry and you're passing by a Mcdonalds, someone is more likely to say " a small fry won't hurt.
Clients should have about 4-6 meals including snacks prepped and ready for each day. Make sure not to meal prep too far in advance (about 3 days ahead of time) that way your food stays fresh.

My favorite other quick meal prep tips:
1. Stay away from heavy sauces, dressings, and seasonings when meal prepping (less is more)
2. Throw all of your ingredients for salads or bowls into mason jars, it's an easy time saver and also pretty to look at.
3. Buy frozen fruit for smoothies. It saves you time in cutting and washing fruit to throw into your smoothies as well as the fruit last longer.
4. When you walk into the grocery store make a list an stick to it.
5. Buy glass containers for your meals instead of plastic (unless you get the BPA-free plastic)
6. Roast all your veggies at once in the oven or on the grill to save time"
2. Lauren Fisher: Professional CrossFit Athlete
Lauren is a 6x CrossFit Games Athlete, and 5x Olympic Weightlifting Athlete with athletic sponsors such as Nike, Rogue Fitness, Compex, Performa Sleep, and Lesser Evil Snacks. She is also the Founder and CEO of Grown Strong.
"I love making my own shredded chicken in the crockpot. It's super easy and takes no time at all to prepare. I put two or three chicken breasts in the crockpot (you can use as many as you want), cover in chicken broth, salt, pepper, and cook on low for 8-10 hours. And there you have it shredded chicken for the next few days! And all you have to do is add your own sides. 🙂"
3. Jessie Golden: Mind-Body Nutrition Coach
Jessie is a graduate of the Institute for the Psychology of Eating, and holds her Nutrition certification from Precision Nutrition. Her mission is to help women obtain freedom from obsession around food, exercise, and their bodies and create a life of empowerment, presence, and purpose.
"My best tip is to use appliances that don't require you to be hands-on, like an instant pot, crockpot, or the oven. That way, you can multitask around the house and don't have to spend hours solely focused on food. I love cooking, but I don't love it enough to spend hours standing over the stovetop every week."
4. Julieanna Hever: MS, RD, CPT.
Known as The Plant-Based Dietitian, Julieanna is a Registered Dietitian and holds a masters degree in Nutrition. She has appeared on numerous television shows sharing her knowledge and passion for food and healthy living such as Dr. Oz, E! News, The Marie Osmond Show, The Steve Harvey Show, The Chef, and many more. Julieanna has also authored four nutrition books, given TEDx Talks, and is a nutrition columnist for VegNews Magazine.
"Batch cooking is everything! Because produce is the most crucial component of a health-promoting diet and produce takes some time to prep, I prefer to dedicate one session to wash and chop everything and to whip up a few staple dishes for the week all at once. Basically, I do my shopping and collect all of the goods I need for the week. Then, I come home, wash and dry my vegetables and separate them into individual storage bags. At the same time, I prepare a large salad, cook up a huge pot of soup, stew, or chili, bake a bunch of potatoes, blend up some hummus, and pressure cook a batch of whole grains (usually wild rice or quinoa). This lasts me all week, allowing me to easily and readily make nutritious, delicious meals in just minutes."
5. Katie Bressack: Holistic Nutrition & Wellness Counselor
Katie is a women's Holistic Nutrition Coach, Integrative Nutrition Holistic Health Coach and Board Certified by The American Association of Drugless Practitioners. She works with clients on numerous topics such as weight loss, hormonal balance, menopause, pregnancy nutrition, and more. She also teaches corporate fitness and is a Certified Yoga Instructor.
"Prep breakfast ahead of time, make overnight oats on Sunday for the week. Make smoothies, put all of the ingredients in individual mason jars, just not the liquid or avocados and then blend in the morning. This will give you more time in the morning so you have time to nourish your body."
6. Stephanie Mansour: Health & Weight Loss Expert for Women
Stephanie is a nationally recognized Health & Fitness Expert and holds professional certifications in Personal Training, Yoga, Pilates, and Professional Life Coaching. She's appeared on numerous television shows and publications such as the Today Show, Dr. Oz, CNN, FOX New York, ABC Chicago, Fox LA, WGN, Fox Chicago, CBS Chicago, NBC Chicago, PBS, Yahoo, Sirius XM, Chicago Tribune and Crain's Business.

"One meal prep tip that I personally use and recommend to my clients is to sit down and look at the calendar on Sundays. What's coming up this week? How many dinners will I be eating at home vs out? How many lunches? Am I traveling? This way, I can plan my meals accordingly. One morning I may need to grab some hard boiled eggs, and another morning I may have a few minutes to blend a smoothie."
7. Garret Fisher: Professional CrossFit Athlete & Celebrity Trainer
Garret is a 3x CrossFit Games Athlete making him the 5th Fittest Man on Earth in 2013. He is also a 7x CrossFit Regional Athlete with athletic sponsorships with Nike, Compex, Bear Complex, and Maui Jim. Garret is also a Celebrity Trainer who is most notably recognized for helping well known American Rapper, Rick Ross, lose 75lbs in just one year!   
"Try your best to cook all your food at once. And what I mean by that is imagine roasting your vegetables, sweet potatoes, and even your chicken breast all at once and having the majority of your meals cooked and ready to go in about 30-45 minutes. This will save you a lot of time and energy. However, if you decide to do something like this, seasoning is a must on your vegetables and meat. Don't forget about this!"
8. Nichola Ludlam-Raine: UK Registered Dietitian
Nichola graduated at the top of her class with a bachelor's degree in Sport and Exercise Science and achieved her post-graduate diploma in Dietetics. She is a Registered Dietitian, Certified Diabetes Educator, and holds an MSc in Health Science. She has been named Blogger of the Year and her blog, Nics Nutrition, has received numerous awards and recognition
"I would say my best tip is to always cook extra at your evening meal so you can take it to work with you the next day for a speedy lunch. For a high protein snack, you can keep boiled eggs and cherry tomatoes in the fridge along with cutting up carrot sticks and hummus."
9. Shaun Standridge, Personal Trainer, & IFBB Pro Bodybuilder
Shaun is a Personal Trainer, Fitness Coach, and IFBB Pro Bodybuilder. Shaun has been a fitness competitor since 2012 and has since participated in 15 competitions in the NPC (National Physique Committee), won 2 overall titles, and has earned his IFBB Pro Card (International Federation of BodyBuilding & Fitness) in Men's Physique.
"I won't lie to you all… I actually have my food prepped for me by a Meal Prep Company, because I found it incredibly helpful with my lifestyle to make sure that I stay on track. If you have the capability, I would highly recommend this because it's one less thing that you don't have to do so you can focus on what you need to.
But in case this is not an option for you, my tip would be to get creative and ENJOY THE PROCESS. No one likes meal prepping—but if you allow yourself to get creative, it can make the process so much better. I am always preaching that this needs to be a lifestyle! If you are not enjoying your food, you are probably not going to stick to your plan. You do not have to eat chicken, rice, and broccoli for every meal to reach your goals. If anything this is NOT ideal because your body thrives off of diversity and you want to be introducing as many micronutrients as you can to make sure your body is healthy.
Eating healthy doesn't have to be boring. I actually have a Monthly Recipe Ebook that is filled with foods you traditionally feel guilty about (like pancakes, donuts, pizza), but they are made in a way that is actually nourishing for your body AND mind! So my advice would be to try new foods, expand your horizons, and get rid of that restrictive mentality that will only make your cravings worse. Create this as a lifestyle rather than a "diet". Enjoy the process."
10. Rachel: Award-Winning Blogger
Rachel is a mother of two boys and owner of the award-winning blog, Ordinary Lovely.
"Meal plan. It's a seriously boring thing to do but meal planning is the key to having healthy, tasty meals on the table with minimum fuss. There's no time wasted looking in the fridge each evening or checking with each member of the family what they'd like to eat. Planning and shopping in advance means that you have everything to hand and can start to cook the moment you walk through the door."
11. Susan Carraretto: Co-Founder of 5 Minutes for Mom Blog
Susan is a mother of two girls (age 12 and 10) and is the co-founder of the blog 5 Minutes for Mom she authors with her identical twin sister, Janice. Her blog's mission is to provide an essential, go-to place for moms that entertains and informs while promoting the online mom community.
"My favorite meal prep tip is to use rotisserie chickens as the base of all sorts of dinners. From adding chicken to salads, making wraps, or eating it simply sliced with avocados, rotisserie chickens make dinners easy."
12. Sommer Poquette: Founder of Green & Clean Mom
Sommer is a professional blogger, social media consultant, full-time marketing manager, and author. She is the writer of the award-winning blog, Green and Clean Mom, and has been awarded one of the Top 50 Mom Bloggers as well as the Top 50 Most Healthy Inspirational Tweeps. She has been mentioned on numerous publications such as the New York Times Online, ABC News Online, The Wall Street Journal Online, New York Post, and in several books and online articles.

"Make meal prepping easy by peeling, washing, dicing and slicing in advance. I meal plan which means I know I'll need diced veggies throughout the week for a soup, casserole or salad. During a busy weeknight, you'll be very thankful you took the time to do some meal prep on the weekends."
Meal Prep Tips From The SkinnyFit Expert!
Now, as you probably know by now, I, myself am a pro when it comes to health, fitness, nutrition, and all things SkinnyFit! I hold professional certifications in Personal Training and Fitness Nutrition with the National Academy of Sports Medicine and am also a Professional Life Coach Practitioner with the Certified Coaches Alliance and The Coach Training Academy. In addition to my professional certifications, I am a former NPC Bikini Competitor, overall winner of the Bodybuilding.com's Fit USA competition, and former sponsored fitness athlete. 
I have personally worked with and helped hundreds of clients identify and reach their personal health and fitness goals and have since dedicated my expertise as a health and wellness writer… and I don't plan on stopping any time soon!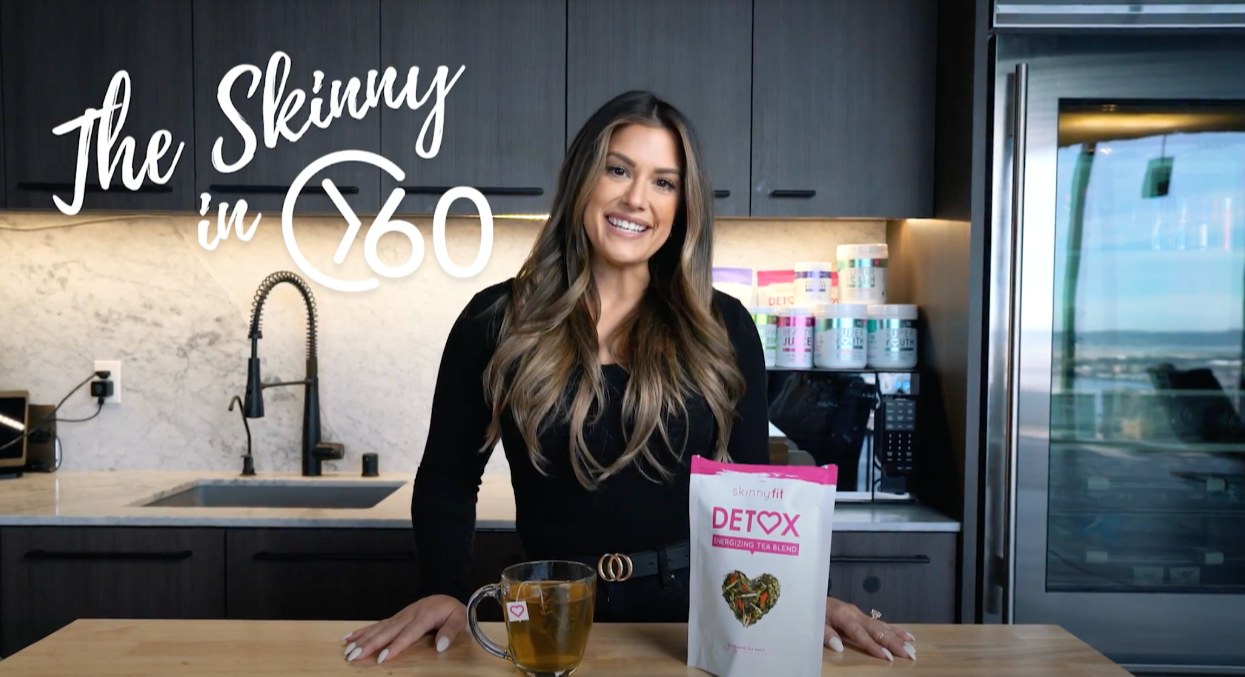 When it comes to meal prep for weight loss, my go-to tip is to be prepared for the unexpected. And by that, I mean supplement. Most people don't realize the true purpose of a supplement, and this can sometimes cause some confusion. Supplements in your diet are used to, quite literally, fill in the gaps of essential nutrients that you aren't getting from food.
Not everyone can be 💯with their diet, day in and day out. So, supplementing is a great way to ensure that you are providing your body with the essential nutrients it needs to perform optimally.
I always keep SkinnyFit Products on-hand for all of my supplement needs. SkinnyFit Snack Attack is perfect for fighting off food cravings, accelerate fat loss, and suppress your appetite during weight loss.
Additionally, SkinnyFit Detox and ZzzTox are essentials to help reduce bloating, boost metabolism, and help fight stress-induced weight gain. Super Youth, an absolute must-have, is a multi-collagen peptide supplement that reduces the signs of aging from your hair, skin, and nails, to your bones, joints, gut, and muscles!