Jump To Recipe
SkinnyFit Detox Tea is your perfect on-the-go weight loss sidekick. And if you love it as much as us, you drink it every day! We know you're busy, and sometimes you just want to grab and go! So we've made your SkinnyFit health journey even easier with this bulk Detox recipe that will allow you to make enough Detox to last an entire week.
You'll save loads of time by making one big batch, so all you have to do is pour it into your SkinnyFit Detox Bottle each morning and BOOM you're out the door.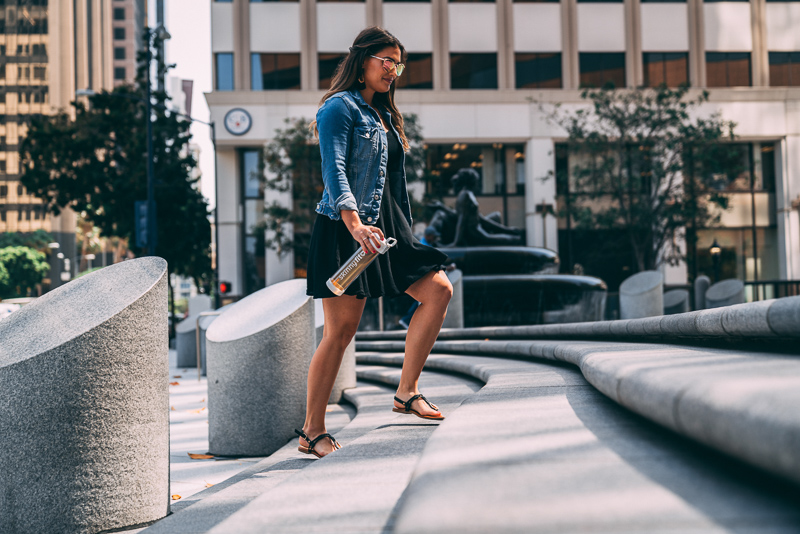 Detox Prep To Save You Time In Your Morning Routine
With this delicious pitcher of Detox tea, you'll have a full week's worth of detoxifying and superfood benefits. Just be sure to drink it daily! After 7 days the tea will start to lose its properties, so you'll want to get your fix in each day.
The longer you let the tea bags brew for, the more powerful the benefits will be. So if you're serious about losing weight, let those tea bags steep! And because you're making your Detox in bulk, you'll only have to do this one time the entire week!
We recommend using hot water when preparing in bulk, but if you'd like to use cold water instead, brew it overnight for maximum benefits. Once you're finished preparing your large-batch Detox, store it in the refrigerator for up to 7 days. If you prefer your Detox to be hot when you drink it, simply heat up in your microwave or stovetop!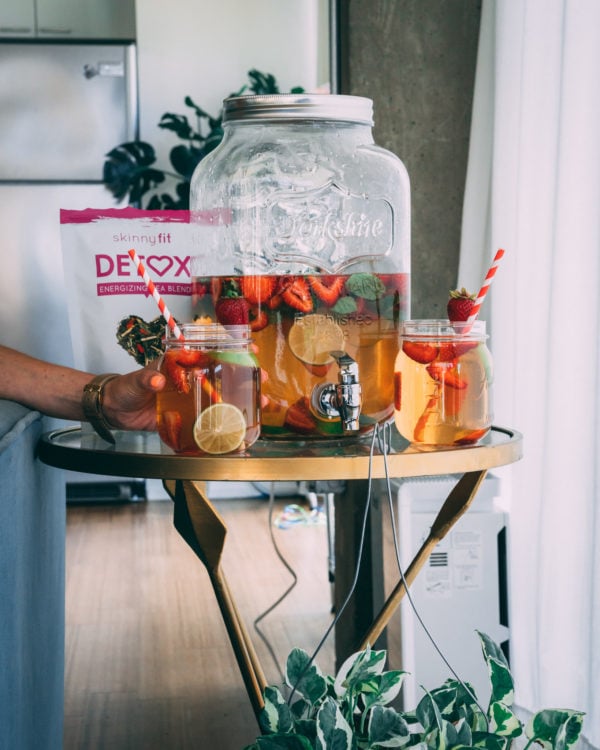 A Convenient Bulk Detox Tea Recipe
If you prefer more of a floral flavor, steep your tea for longer! By leaving the Detox tea bags in the large batch pitcher throughout the week, you'll increase the "bouquet" flavoring of the tea.
Floral isn't your jam? No problem! Simply brew your tea for the suggested 5-7 minutes in hot water and remove the tea bags before storing in your large pitcher. Similarly, you can throw in your favorite fruits or herbs for a sweeter, fruitier taste. We love adding fresh strawberries, lime, and mint to our large batch detox tea!
So, if you're ready to kick your week into high gear with a daily dose of Detox tea, you've come to the right place! This bulk recipe will allow you to prep your favorite morning beverage so it's ready and waiting for you each day!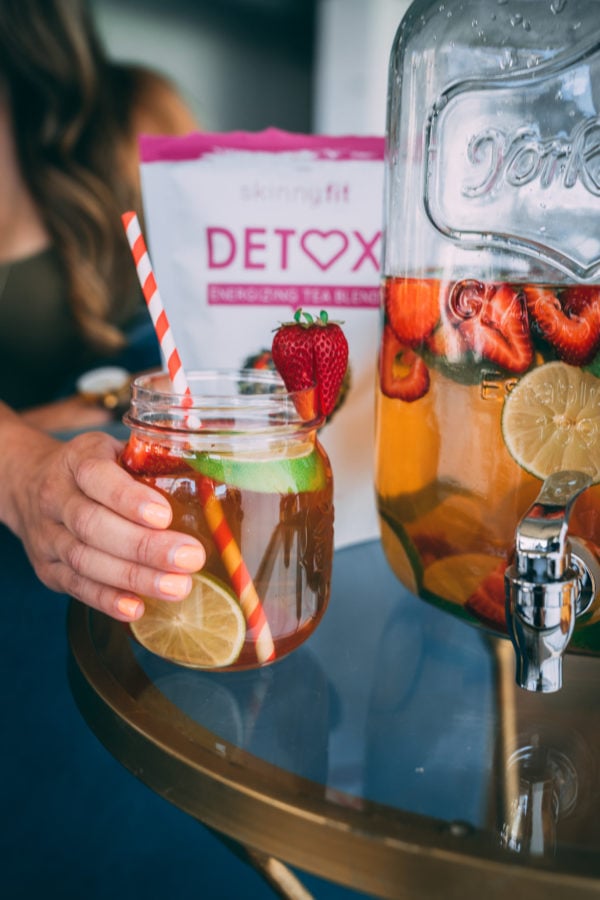 Large Batch Recipe For Detox Tea
Did you know you can make a pitcher of detox tea last a full week? This large batch detox recipe is a one-and-done recipe making Detoxing even easier than ever.
Prep Time: 5 minutes
Cook Time: 10 minutes
Total Time: 15 minutes
Serving Size: 7 Detox's
Ingredients
7 cups of water
7 bags of Detox Tea
1 lb Strawberries, hulled
5-7 limes, sliced
Mint leaves
Steps
Fill a large pot with 7 cups of water and bring to a boil. Add 7 tea bags of SkinnyFit Detox and let brew for 5-7 minutes
While the water is boiling and the tea is steeping, cut your fruit
Transfer your large batch Detox tea into a pitcher or large container and add your fruits and herbs
*For a stronger floral bouquet taste in your Detox, leave the tea bags in the large container. If you prefer a fruitier flavor, add more fruits or remove the tea bags before storing. For a cold brew method, simply add all of your ingredients into the large pitcher using cold water and steep for a minimum of 8-12 hours. Reheat your Detox if you prefer it hot.