Jump To Recipe
Ah, the sweet, comforting aroma of freshly baked cookies, especially when they're as delightful as these 6-Ingredient Gluten-Free Pumpkin Oat Cookies (one of my personal favorites). The fall season is upon us, and it's the perfect time to embrace the cozy delights of homemade treats. But wait, we've got a delicious twist for you. Not only are these cookies scrumptious, but they also come with a guilt-free stamp of approval. I went gluten free for almost two years not too long ago, and this recipe was an absolute gamechanger. Packed with wholesome ingredients and boasting the warm flavors of pumpkin and spice, these cookies are perfect for satisfying your sweet tooth while keeping your gluten intake in check. Let's savor the essence of autumn, one scrumptious bite at a time!
Guilt-Free Holiday Bliss in Just 6 Ingredients
The holidays are right around the corner and I'm personally very excited. It's a time of joy, family gatherings, and of course, the wonderful world of desserts! Gluten-conscious and gluten-free readers, this is just the treat for you: Gluten-Free Pumpkin Oat Cookies that are as mouth-watering as they are wholesome. My favorite perks? They're packed with health benefits (love) and require just six simple ingredients (easy? yes please!).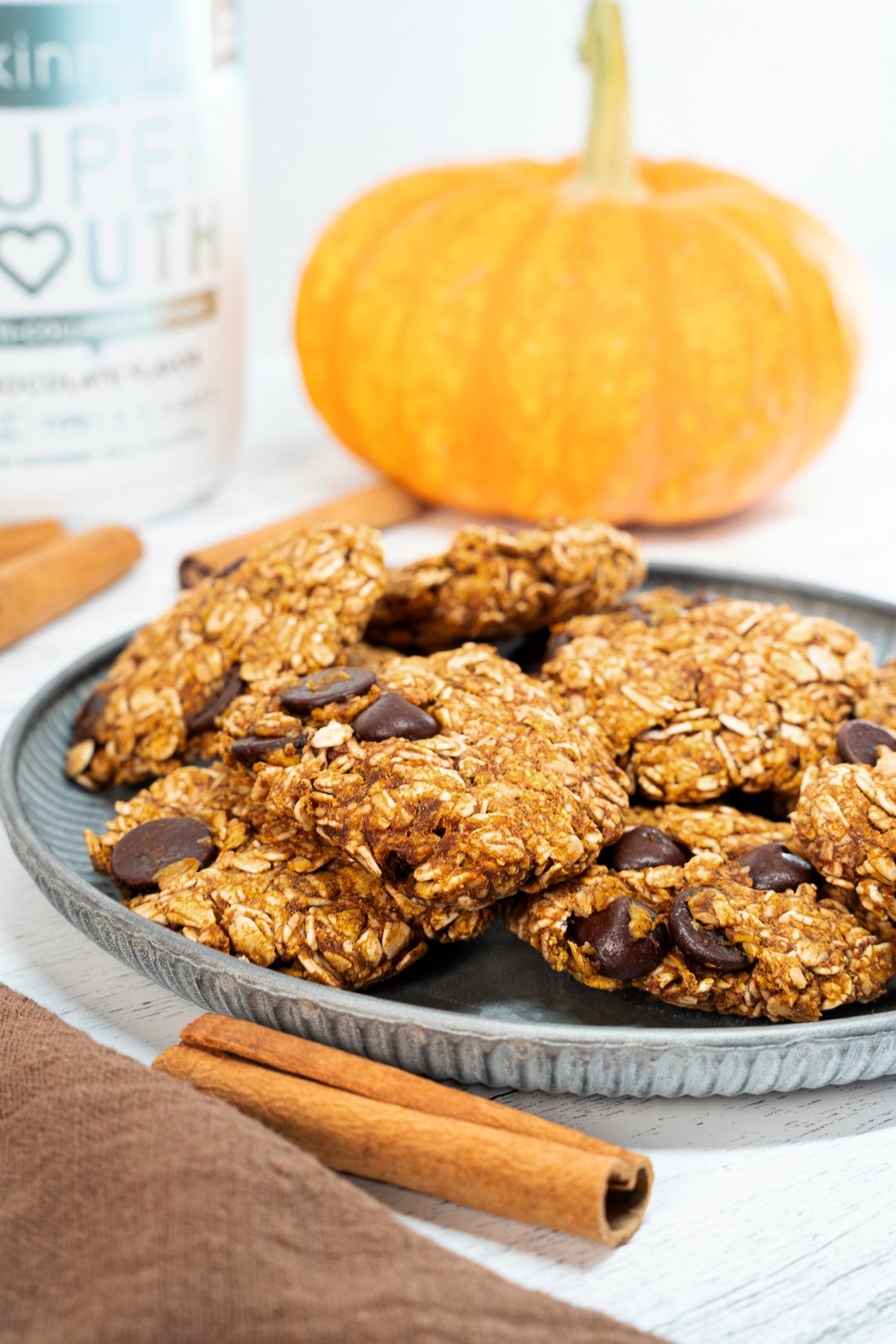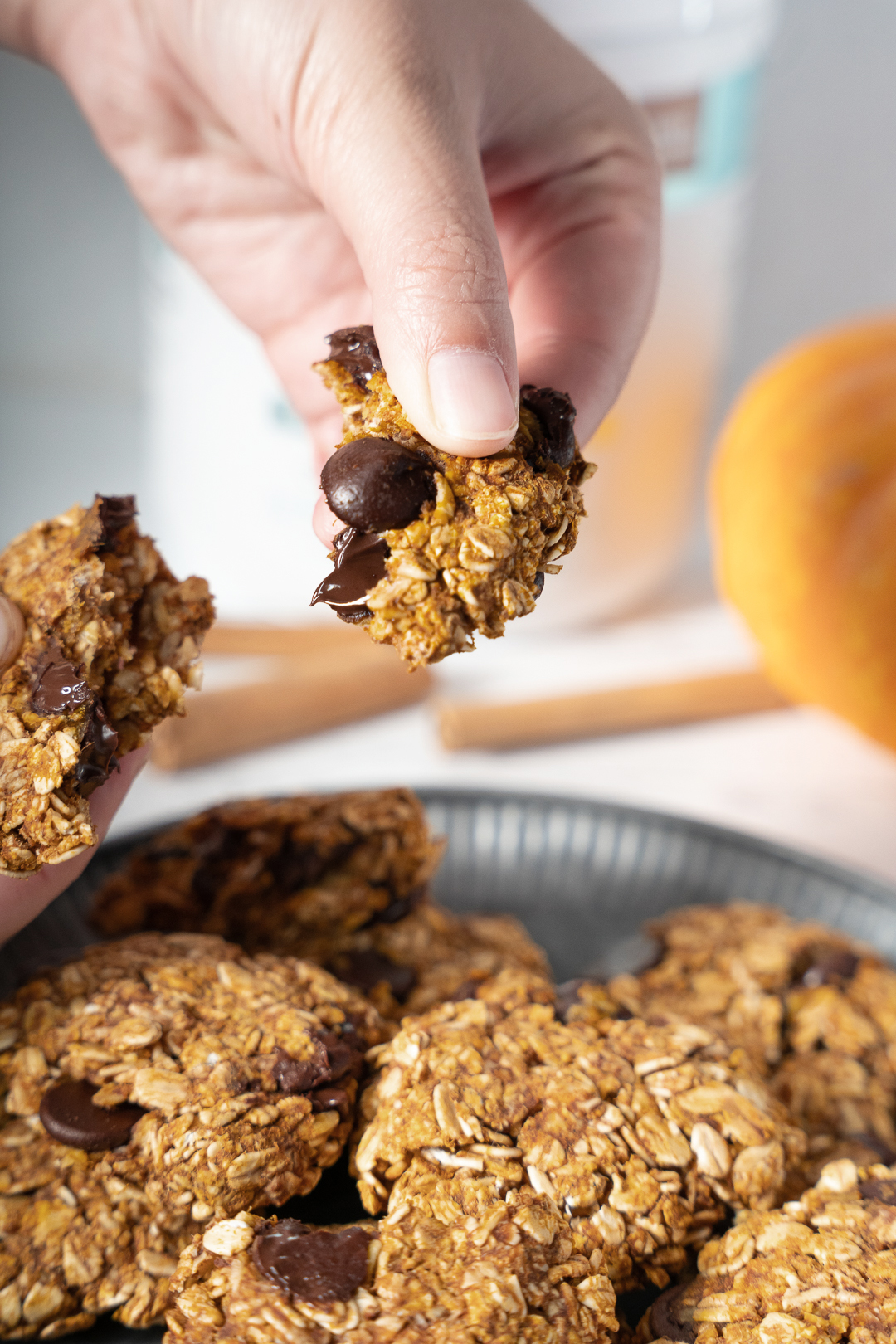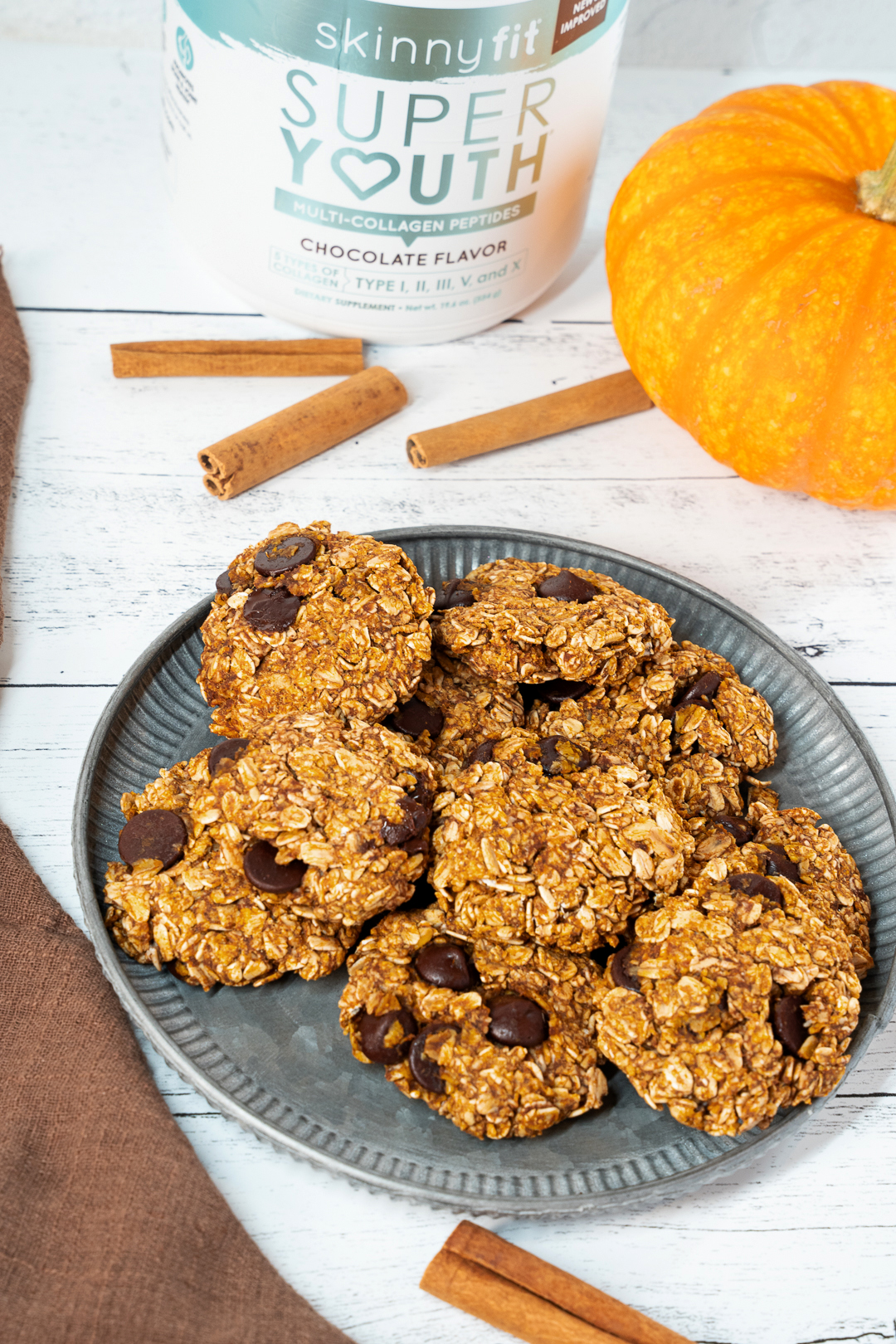 A Dive Into 6-Ingredient Magic
Rolled Oats: Gluten-free, heart-healthy, and rich in fiber, keeping you full and satisfied.
Pure Pumpkin Puree: A powerhouse of vitamins and fiber that not only adds that lovely orange hue but also does wonders for your digestive system.
Sweetening Syrup: Whether you prefer maple syrup's earthy sweetness, agave syrup's light touch, or the natural hint of coconut sugar, these sweeteners are a great nutritious alternative to refined sugars.
Pumpkin Pie Spice or Cinnamon: Spices are packed with antioxidants and can boost metabolism – plus, they give your cookies that unmistakable holiday aroma!
Dark Chocolate Chips: Calling all chocolate lovers! Dark chocolate is loaded with antioxidants and may even improve heart health. Plus, it's chocolate. Need I say more?
Chocolate Super Youth Collagen: The star of the show! Collagen is the ultimate beauty secret. Chocolate Super Youth not only supports your skin, hair, and nails but also adds to that irresistible chocolate flavor to your cookies. Plus, it's gluten-free – perfect for those with dietary restrictions.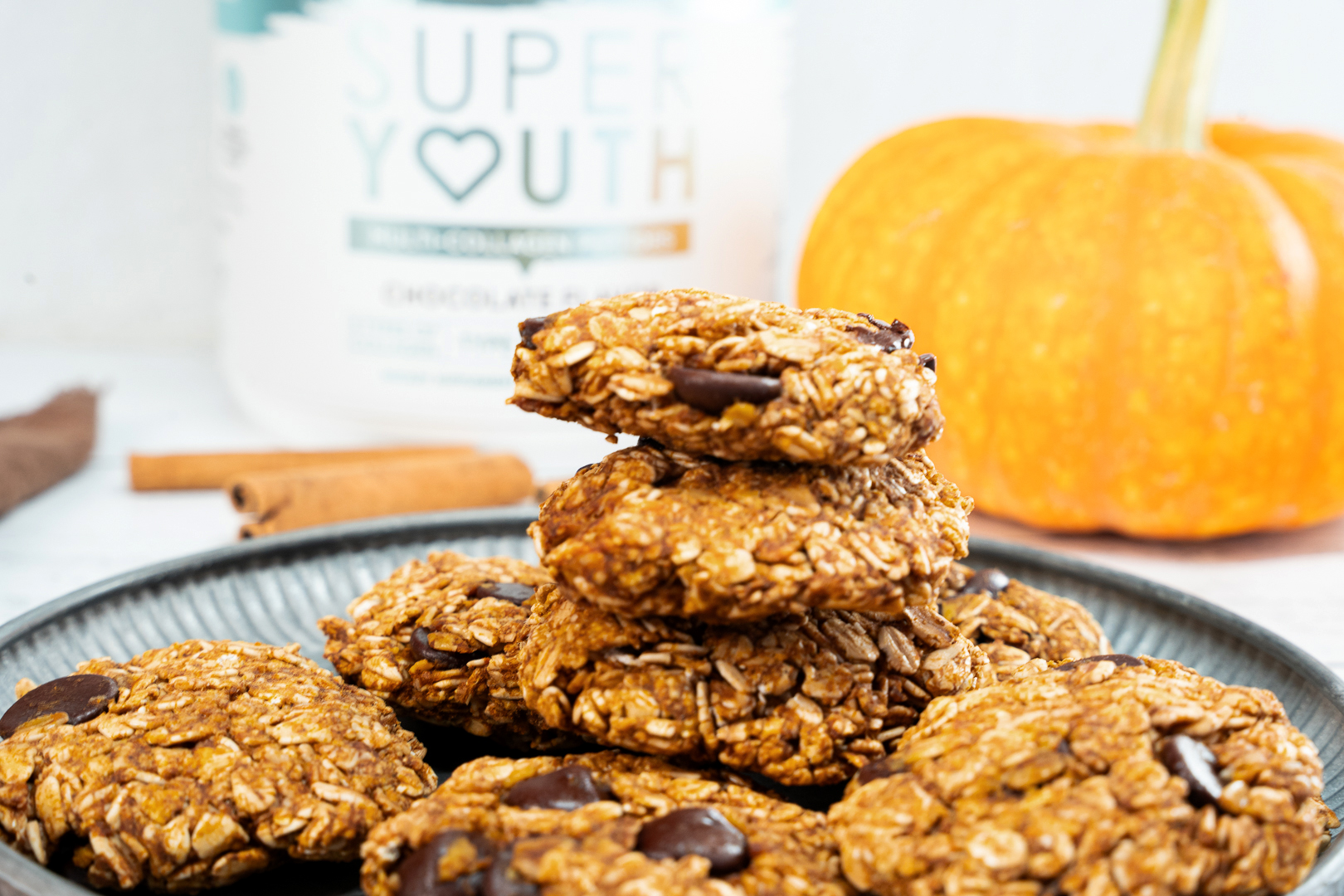 No Guilt, Just Delight:
One of the best things about this recipe is that you can have your cookie and eat it too – without the guilt. With wholesome oats, antioxidant-rich pumpkin, and the beauty boost from Chocolate Super Youth Collagen, these treats offer a delicious way to satisfy your sweet tooth while nourishing your body.
Perfect for the Holidays:
Whether you're hosting a holiday gathering or just pampering yourself during a cozy evening in, these cookies are your new go-to. They'll fill your home with all the delightful scents of fall, and your guests will be begging for the recipe.
Busy Schedule Approved:
Always on the move with a hectic schedule? No worries! This recipe is the epitome of simplicity. With just six ingredients, you'll whip up a batch of these cookies in no time. Even when life gets busy, you can enjoy a little moment of indulgence!
Mentioned In This Post
SkinnyFit Chocolate Collagen
Look and feel younger with Super Youth Chocolate collagen! This scrumptious collagen powder includes 5 collagen types from 4 natural sources to restore youthfulness from the inside out.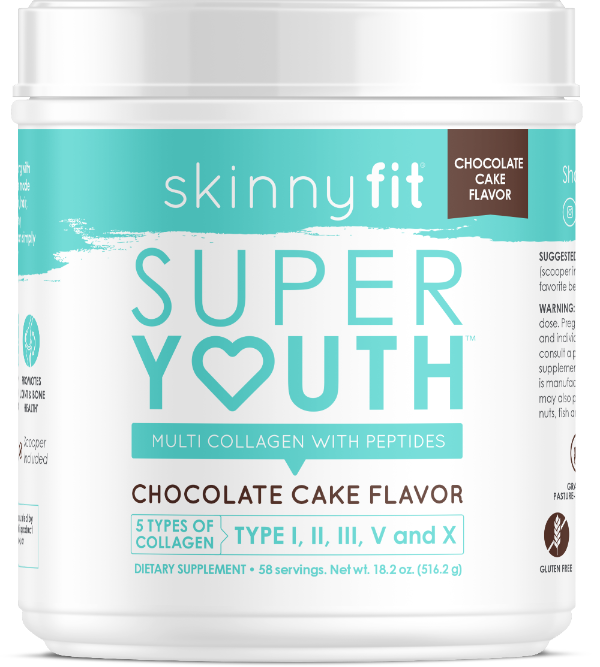 6-Ingredient Gluten-Free Pumpkin Oat Cookies
Prep Time: 10 mins
Cook Time: 10 mins
Total Time: 20 mins
Serving Size: 12 cookies
Ingredients
2.5 cups (250 g) rolled or quick oats
1 cup (240 g) pure pumpkin puree
2 tbsp maple syrup, agave syrup or coconut sugar
2 tsp pumpkin pie spice or cinnamon
1/2 cup dark chocolate chips
1 scoop Chocolate Super Youth
Steps
Pre-heat oven to 350 degrees.
Mix all ingredients in a bowl to form a thick dough. 
Use your hands to create 12 cookie shapes. The cookies will not spread or change shape during baking so be sure to create the shape you want before baking.
Prepare a baking pan with parchment paper or place cookies directly on the pan. Bake for 10 minutes.
Remove from oven and enjoy warm after a few minutes. Let cool completely before storing. Tip: Store at in a sealed container at room temperature for 3 days, in the fridge for up to 1 week or freeze up to 3 months.