Jump To Recipe
These avocado deviled eggs are way healthier than the traditional recipe! It's rich in healthy fats, protein, and is the perfect snack to keep your diet goals on track!
Deviled eggs are one of those holiday appetizers I always look forward to. But for whatever reason, we tend to skip over them as an everyday snack. I, on the other hand, refuse to conform to these seasonal app trends because my taste buds are so into avocado deviled eggs that I started making them outside of holidays, too. 
Deviled eggs are a great pop-in-your-mouth-and-go snack, but they can also be loaded with fat-filled mayo. Lucky for you, this recipe is for deviled eggs without mayo. Instead, I've replaced it with something just as delicious, but much healthier for you. You'll love learning how to make deviled eggs sans mayo, because you'll be creating a guilt-free snack that's low-fat, carb-free, and protein-packed!
And while this blog is conveniently being written around the time of Easter, please feel free to whip up these healthy deviled eggs anytime you're in need of a tasty, healthy treat.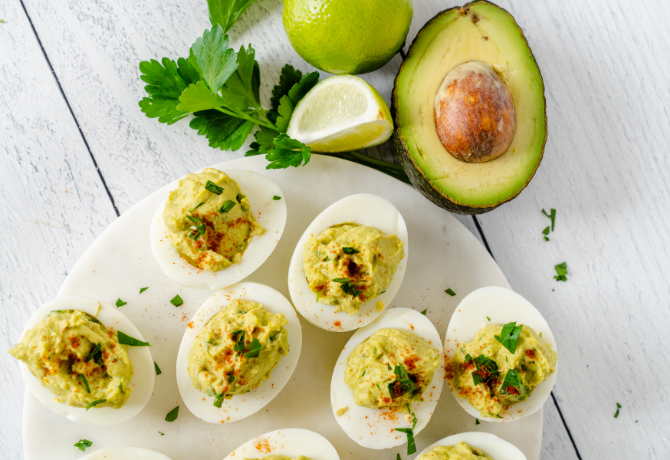 Are Avocado Deviled Eggs Healthy?
Yes! These avocado deviled eggs are just that—healthy deviled eggs! They're not only made without mayo, but these avocado deviled eggs also have a limited number of ingredients—the majority of them being spices. Here are just a few of the benefits you can expect when learning how to make deviled eggs, specifically, delivered eggs without mayo. 
Protein-packed—A single egg contains 6 grams of protein, with all of the essential amino acids. Eggs are also nutritious containing vitamin A, vitamin B5, vitamin B12, folate, and more! [1] There's also the added protein boost from my secret ingredient I'll reveal in just a moment.
Healthy fat—Avocados contain mostly monounsaturated fat, with little amounts of saturated fat and polyunsaturated fat as well. Monounsaturated fat is considered to be a healthy fat and has even been linked to some health benefits like decreased inflammation. [2] A diet rich in monounsaturated fats has been shown to increase high-density lipoproteins in your body (the good type of cholesterol), and decrease low-density lipoproteins (the bad type of cholesterol). 
Smooth skin—The big reveal of my secret ingredient: collagen peptides. This healthy deviled eggs recipe contains just a few scoops of a Super Youth collagen peptide powder, which helps replenish the body's supply of collagen to help smooth out skin, reduce wrinkles, and help create an overall youthful appearance. Super Youth is also unflavored and completely undetectable, so you can easily add it to any of your favorite recipes for a boost of skin, and body-loving ingredients!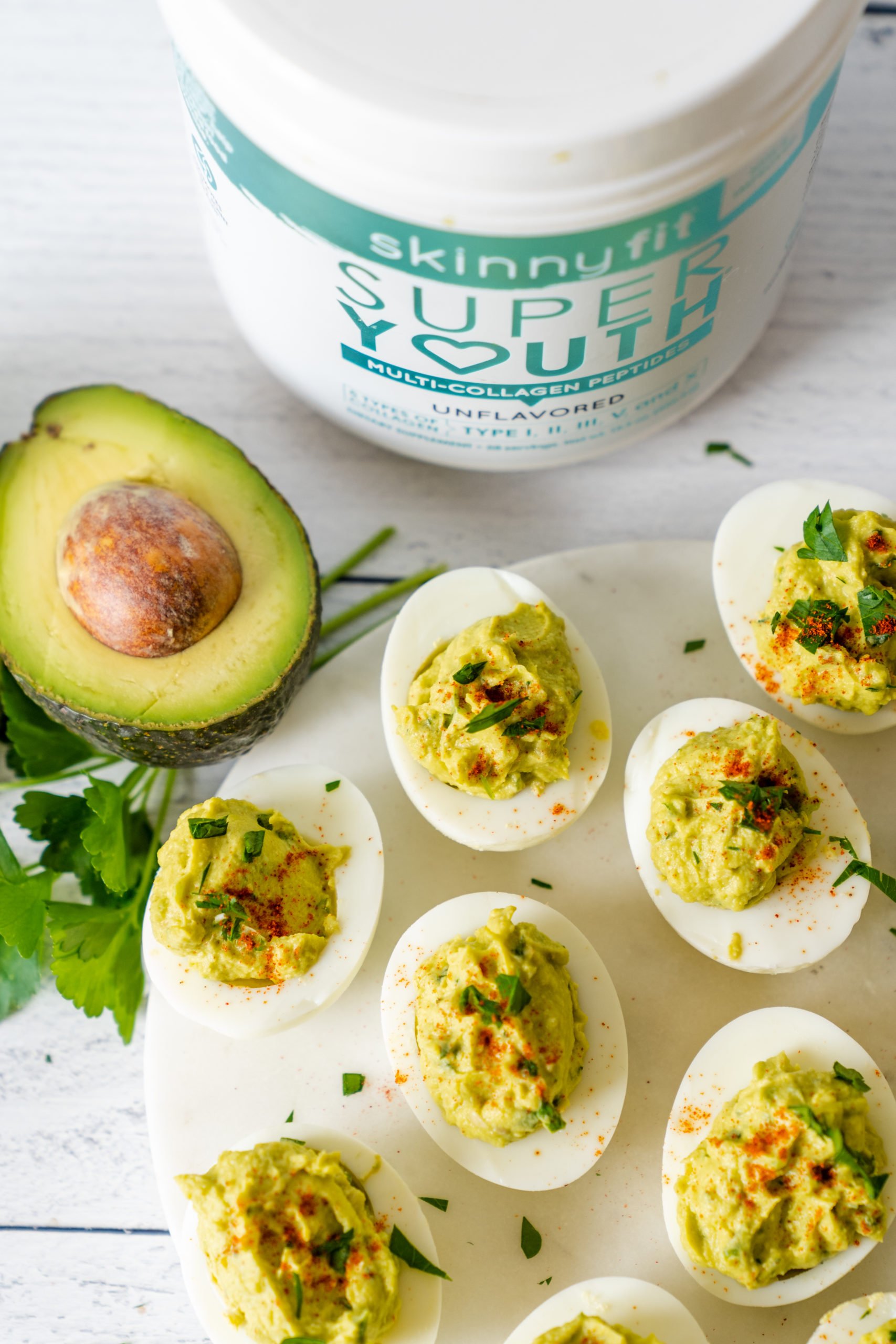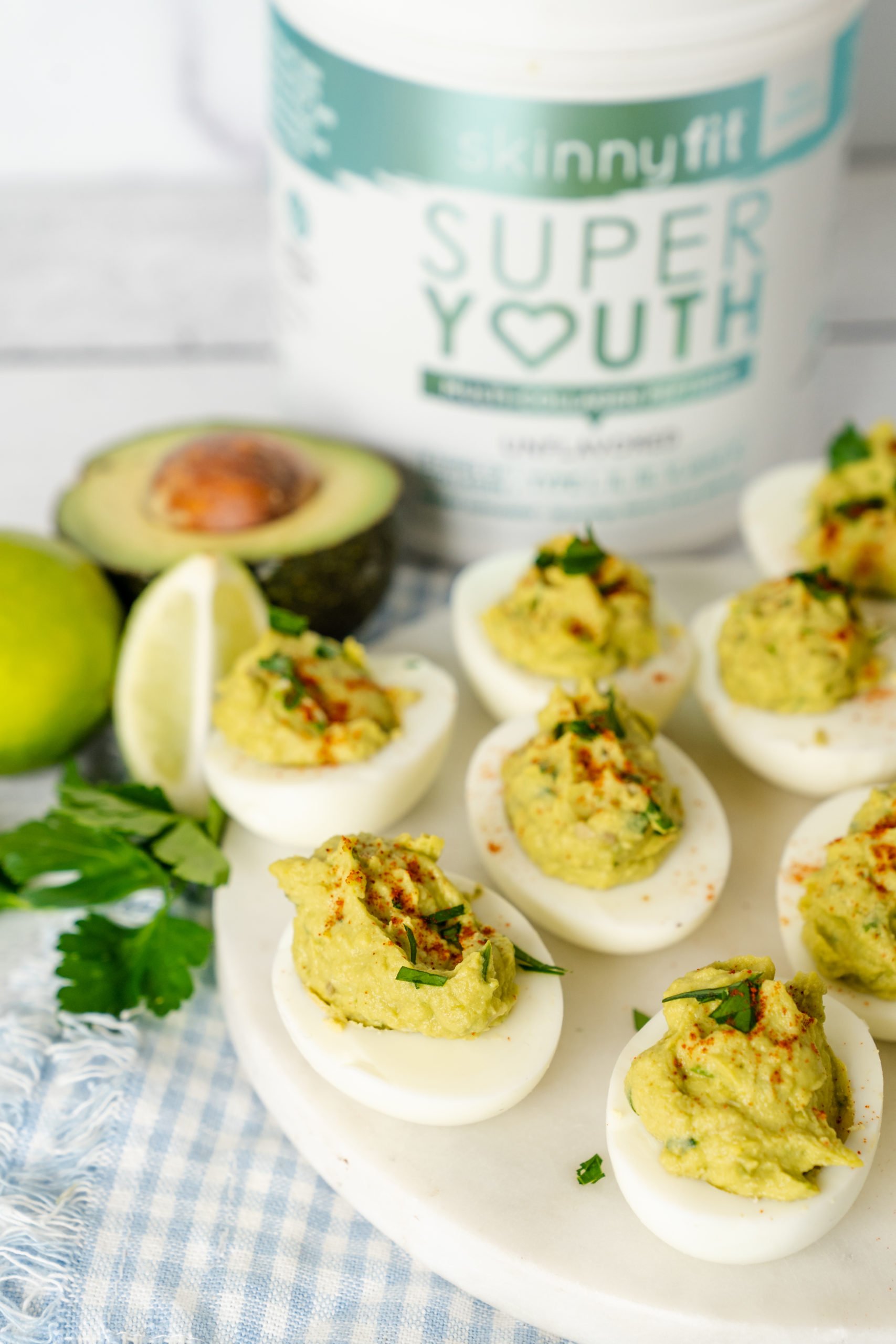 How To Make Deviled Eggs 
If you know how to make deviled eggs the traditional way, then you're an automatic pro when it comes to making deviled eggs without mayo. The only difference in this recipe is the filling. Instead of mayo, this delicious center is mixed with avocados, for a healthier fat your diet will appreciate. 
After preparing your eggs, you can get started on the filling. Combine the cooked egg yolks, avocados, collagen powder and spices into a food processor and you've got a creamy mixture you'll want to eat by the spoonful! Taste test your mixture before putting it into your sliced eggs to make sure the spice content is to your liking. You can always add in more jalapeno for a little more spice, some more lime for a little more zest, or a little more of anything depending on your preferences! This recipe started off as mine, and now I want you to make it yours! 
(full directions below)
How long should I boil eggs?
The short answer: boil your eggs for 18 minutes. 
The longer answer: Cover the eggs with 1 ½" of water in a large saucepan. Bring water to a boil, then remove your pan from the heat and cover with a lid. Now set this aside and allow the eggs to cook like this for 18 minutes. 
(full directions below)
Mentioned In This Post
SkinnyFit Unflavored Collagen
Look and feel younger with Super Youth Multi-Collagen Peptides! This versatile collagen powder includes 5 collagen types from 4 natural sources to restore youthfulness from the inside out.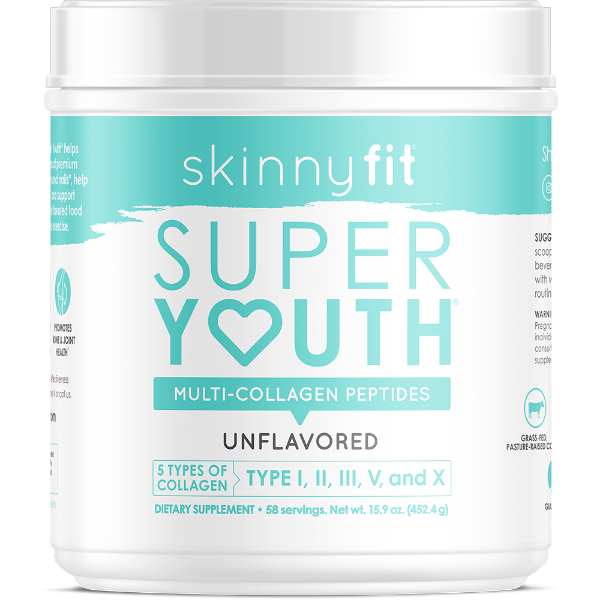 Avocado Deviled Eggs
The perfect snack made healthy by swapping mayo for avocado, plus a secret skin-smoothing ingredient!
Prep Time: 15 min
Cook Time: 24 min
Total Time: 40 min
Serving Size: 24 egg halves
Ingredients
12 large eggs
2 avocados, pitted
3 tbsp lime juice
2 cloves garlic
½ jalapeno
½ tsp cayenne pepper
1 tsp salt
¼ cup cilantro
1 scoop Super Youth Unflavored collagen
Steps
Hard boil the eggs. Cover eggs (12) with 1 ½" of water in a large saucepan. Bring water to a boil, then remove pan from heat and cover it with a lid. Set aside, and allow the eggs to cook like this for 18 minutes. While cooking, prepare a large bowl with ice and cold water. Remove eggs from the saucepan into the bowl of ice water with a slotted spoon. Once cool enough to handle (a few minutes) peel the eggs.
Make the filling. Cut each egg in half lengthwise. Carefully remove the yolks and place them inside a food processor. 
Add avocados, Super Youth collagen, lime juice, minced garlic, minced jalapeno, cayenne pepper, and salt and process until creamy smooth. Be sure to pause the processor occasionally to clean off the sides to ensure everything incorporates. Add cilantro and pulse a few times. Taste the filling and adjust to your liking.
Fill the eggs. Use a spoon, bag, or a piping bag to add filling to the center of each egg white. Sprinkle the top of your eggs with additional cilantro and cayenne pepper. Serve immediately and enjoy!