Jump To Recipe
Delicious, refreshing, cold, exhilarating! Those are just a few words to describe this Lemon Berry Spritzer recipe (can you tell I'm excited?). It's the perfect drink to enjoy on a summer day, over a brunch with friends, or to just chill out in the evening. Plus, it's mild enough that you don't have to worry about getting drunk even after two or three. Win-win! 
I can honestly say that this white wine spritzer recipeIt has become a favorite in my household—due to more than it's incredible taste—but more on that in a sec! 

What Is A Spritzer
So what makes a spritzer a spritzer? A wine spritzer is a light cocktail in which wine is mixed with club soda and served over ice. The soda water lightens up the wine and adds carbonation. The most basic wine spritzer ingredients are wine, club soda, and ice. To put it in more simple terms —it's a cold, sweet, yet tangy carbonated "adult" drink. I love them, and you will too! Best part about 'em, they're extremely easy to make. Ready to learn? 
How To Make A Berry White Wine Spritzer
Once you've tried this berry spritzer recipe, it just may become a go-to—even beyond the summer season. It's so simple, tastes so amazing, and is packed with so many health benefits—here's how you make it. 
First separate your berries (blackberries, blueberries, strawberries) into two tall glasses and muddle them. Muddling is a technique used in drinks to gently mash herbs or fruit to release their juices. This helps the flavors to bind with the alcohol better than simply using them whole.
Next, fill your glasses with ice and add your white wine. This is also when we add our special health boosting ingredient—Super Youth Lemon Berry Passion Detox! 
Finally, you'll fill the remainder of the glass with lemon-lime soda water and garnish with a fresh lemon slice and berries! Is your mouth watering yet? 
Berry Spritzer Ingredients
Just a few simple ingredients is all it takes to whip up a refreshing Lemon Berry White Wine Spritzer, and the good news is, you may already have most of this stuff at home. What you may not know is how this white wine spritzer recipe can actually be good for your health! From the fresh fruit to the lemon berry detox tea, this spritzer recipe is packed with a multitude of health benefits that make it more than just a spritzer. The ingredients include:
White wine—White wine is the traditional choice for a wine spritzer. Sauvignon Blanc and Riesling are ideal to use due to their sweet taste and aromatic nose.
Fresh berries—Strawberries, blueberries or blackberries are ideal to use in your spritzer for their subtle sweet tastes and the health benefits associated with the fruit. Blueberries are high in vitamin K, antioxidants and may even lower your LDL cholesterol [1]. Strawberries are high in vitamin C, are good for the heart and for lowering stress [2]. And blackberries are high in fiber, may boost brain health and help support oral health [3].
Soda water—The most valuable mixer award goes to….Club Soda! Club soda is a neutral sparkling soda water. Its plain bubbly taste makes it an ideal complement for most wines.
Detox tea—If you're familiar with SkinnyFit Detox, then you'll love it's sister brand, Super Youth Detox. It comes in a delicious Lemon Berry Passion flavor that's perfect for this recipe, and it provides an array of health benefits just like it's sister brand. For starters, it tastes absolutely amazing. Light, fruity and most importantly refreshing! But the health benefits it provides makes it the REAL MVP!  Super Youth Detox helps you lose weight (imagine that, sip wine spritzer, lose weight!). It also reduces bloating, increases your energy, boosts immunity and helps you burn fat [4]. It does everything but your taxes! This stuff is a no brainer. You can use it in so many different ways; drink it straight or add it to a recipe, like this one!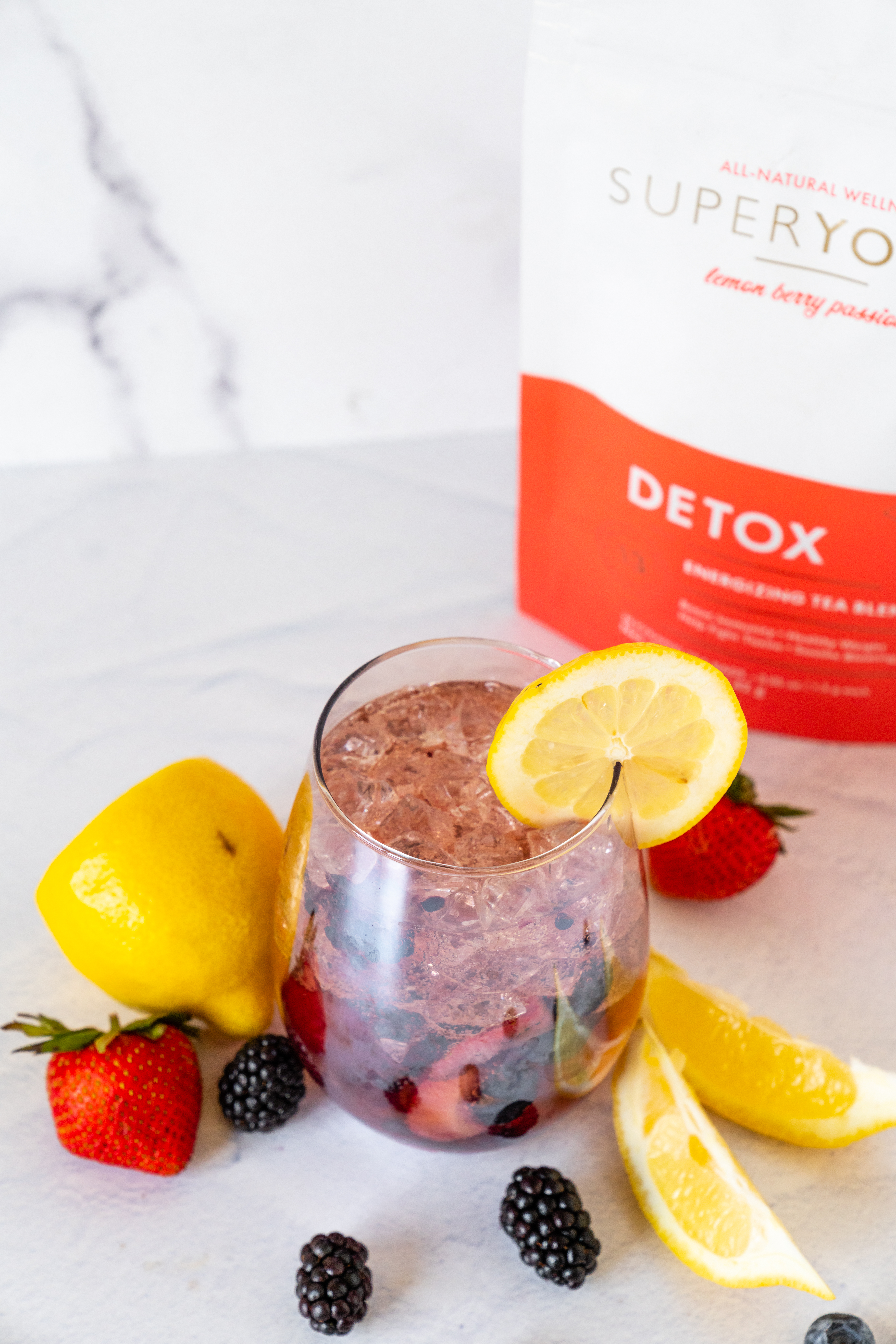 Lemon Berry White Wine Spritzer
Hit the refresh button on a hot summer day with this lemon berry white wine spritzer! Now you can cool down and relax without the belly bloat!
Prep Time: 5 min
Cook Time: 0 min
Total Time: 5 min
Serving Size: 2 cocktails
Ingredients
½ cup mixed berries (blackberries, blueberries, strawberries)
4 oz white wine
8 oz Super Youth Lemon Berry Passion Detox, brewed and chilled
8 oz lemon-lime soda water
Lemons for garnish
Ice
Steps
Separate the berries into two tall glasses and muddle them. 
Fill with ice and add your white wine and chilled Super Youth Detox. Shake well.
Fill the remainder of the glass with lemon-lime soda water and garnish with a fresh
lemon slice and berries