Jump To Recipe
These delicious, low-carb baked carrot fries are a healthy, clean eating snack you (and the kids) will love! Bursting with flavor & a secret, skin-loving ingredient!
I enjoy a good carrot every once in a while, but I'll admit that I'm not the best about getting them into my diet as much as I should. Why? Because until now, I never found a recipe that made them as delicious as they could be. Key words there: Until now. 
These carrot fries put a scrumptious, unique spin on the classic orange veggie, made with ingredients that make it a healthy, low-carb, and protein-packed snack that even Bugs Bunny would be proud of!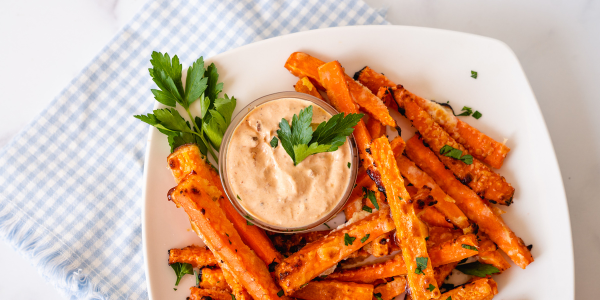 Carrot Fries vs Regular Fries 
French fries are without a doubt one of the best guilty pleasures, and my go-to for cheat day. But they are, of course, not that good for you. Loaded with oil, grease, and fried to perfection, regular fries contain loads of calories, fat, and sodium. 
Like pretty much all unhealthy foods, french fries are easy to get addicted to. Back in our hunter-gatherer days, fatty foods loaded with grease were hard to come by. So when they came into our existence, it was a love/hate relationship. We absolutely love the taste, and our brains began to release chemicals like dopamine that made us feel good when we ate them. The hate part of the relationship? It created an addiction that made us wanting, even needing, more and more. 
Society today is now filled with all kinds of these addicting foods, and you can easily pick up some tasty french fries at pretty much any time of the day. Enter obesity. It's no surprise that obesity rates have skyrocketed, and while we can't blame french fries solely for this problem, they certainly don't help it. 
So, if you're looking for a healthy alternative, but still want that satisfying crunch, baked carrot fries are here for you! Carrot fries are baked instead of fried (made obvious by the recipe name 😂), immediately eliminating the unhealthy grease and fat that live in regular fries. Carrot fries are highly nutritious, and are a great source of vitamins and minerals like vitamin A, vitamin K1, vitamin B6, biotin, and potassium.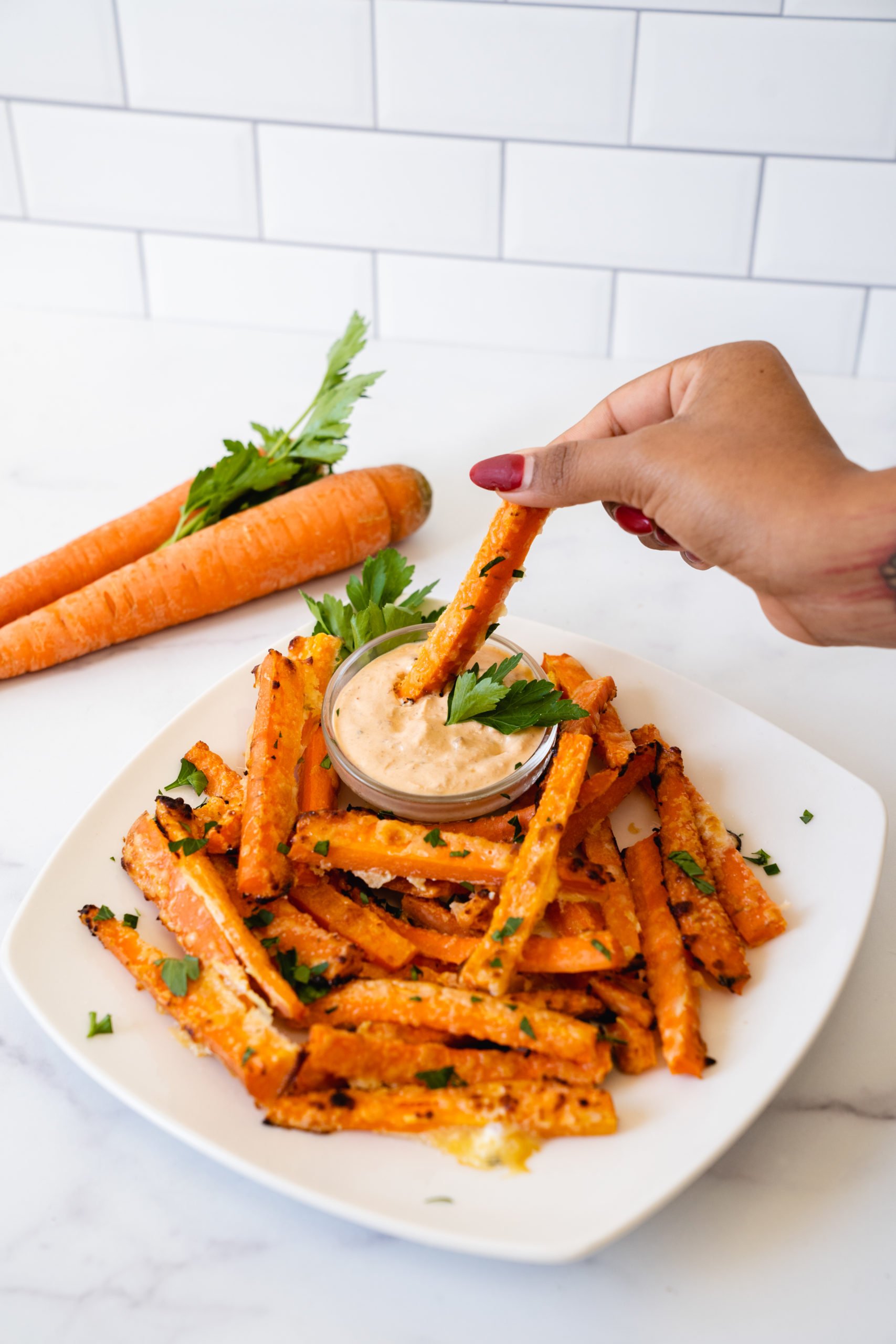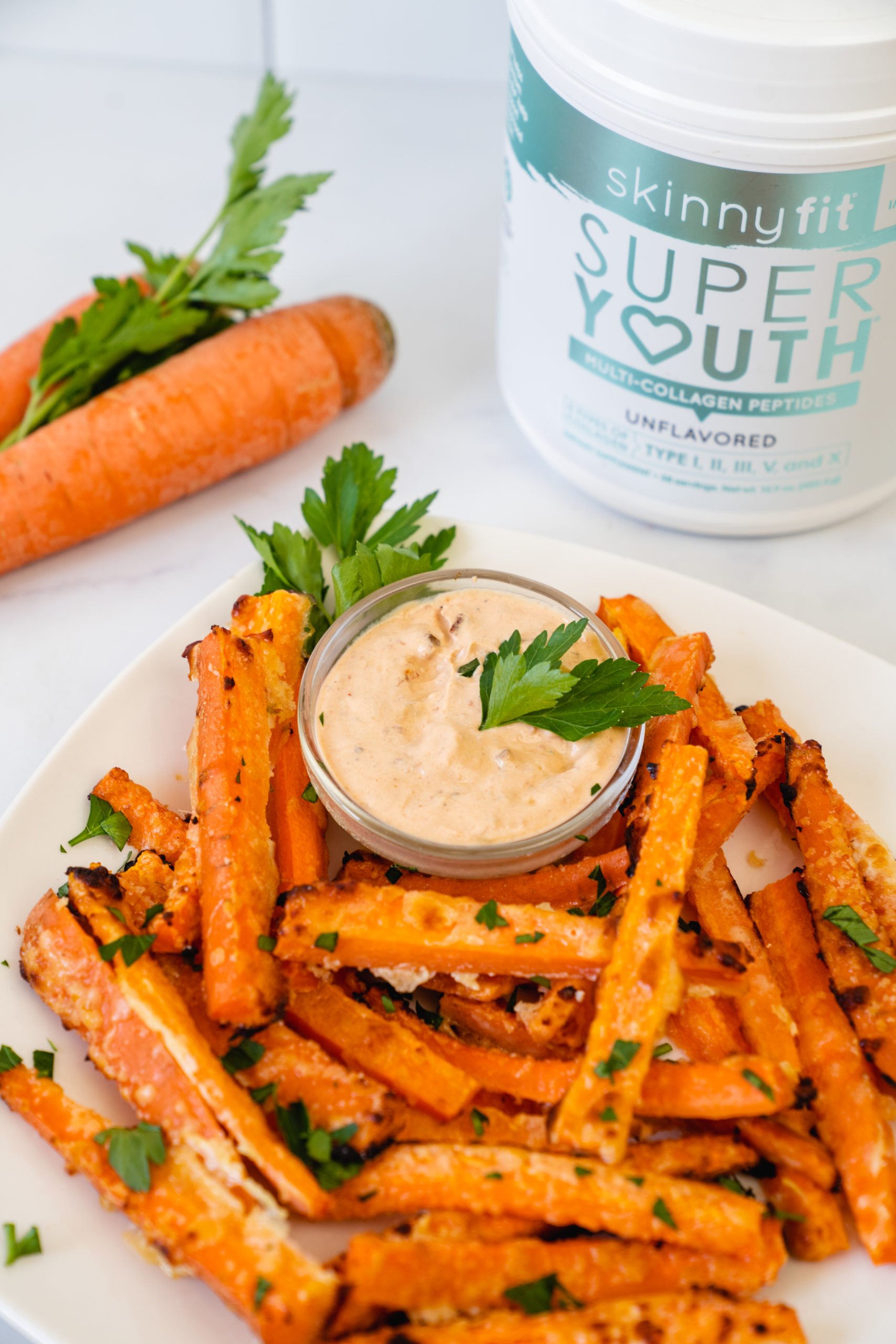 Benefits Of Carrot Fries 
Parmesan carrot fries not only help you get in your daily dose of veggies in for the day, but baked carrot fries are also approved for most diets. 
Low-carb—The extra light parmesan coat on baked carrot fries supports a low-carb diet. Not only are you cutting a ton of calories by eating carrot fries instead of regular fries, but the crust on parmesan carrot fries is made simply from cheese, which contains virtually no carbs! 
Keto-friendly—Parmesan carrot fries are keto-friendly, and as a low-calorie food, carrots can increase fullness, to help you eat less calories throughout the day. 
Child-friendly—Can't get the kids to eat their carrots? Been there, done that. Baked carrot fries are the perfect solution for even the pickiest of eaters. They taste amazing and the kids won't even know they're healthy!
High in protein—Containing eggs and collagen, carrots fries add protein into your diet. Collagen contains a more filling protein than most regular protein-filled foods, so you'll feel fuller for longer with this baked carrot fry recipe.
How To Make Baked Carrot Fries
Is your mouth watering yet? Mine too! Carrot fries take just 30 minutes to make, and while your new favorite snack is baking in the oven, you can easily whip up a healthy and delicious chipotle dip (recipe below) for the ultimate snacking hour, enjoy!
Mentioned In This Post
SkinnyFit Unflavored Collagen
Look and feel younger with Super Youth Multi-Collagen Peptides! This versatile collagen powder includes 5 collagen types from 4 natural sources to restore youthfulness from the inside out.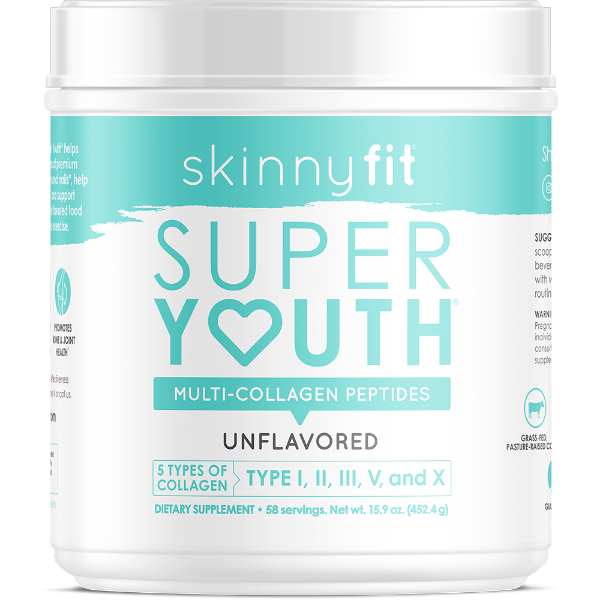 Baked Parmesan Carrot Fries w/ Spice Dip
Healthy low-carb carrot fries with skin-smoothing benefits
Prep Time: 10 min
Cook Time: 20 min
Total Time: 30 min
Serving Size: 2 servings
Ingredients
2 large carrots
1 egg
2 tbsp water
6 tbsp grated parmesan cheese
¼ tsp salt
¼ tsp pepper
4 tbsp plain greek yogurt
2 tsp diced chipotle peppers (or chili sauce)
parsley
1 scoop Super Youth unflavored collagen
Steps
Preheat the oven to 400 and line a baking tray with parchment paper.
Slice the carrots into long thin pieces, about the size of a French fry (no need to peel).
Mix the egg and water and place in a shallow dish. Place the parmesan into another shallow dish.
Dip the carrot sticks first in the egg wash, allow any excess to drip off, then roll in the parmesan and place on the baking tray. Repeat until you've used all the carrots.
Sprinkle with salt and pepper and place in the oven for 15-20 minutes, turning once until dark golden brown.
While the carrots are cooking, mix together the greek yogurt, Super Youth collagen, and chipotle peppers in a small bowl.
Take the fries out of the oven, place on a plate and sprinkle with parsley. Serve with the chipotle dip.
Total Calories: 135
Carbs: 8g
Fats: 6g
Protein: 14g
Sugar: 4g
Fiber: 2g