Jump To Recipe
My sister has been a vegan for about ten years now, and while I'm a meat eater through and through, she's made me some pretty awesome meatless meals over the years. Not a huge cauliflower fan, she said she would make me something that would convert me. I wasn't thrilled about the experiment, but I trust her enough to have agreed. She made me a variation of cauliflower steak, and I was…pleasantly surprised! It truly was the only cauliflower dish I've enjoyed. I asked her for the recipe, gave it some Shelby flare, and voila! A cauliflower steak recipe approved by a meat eater.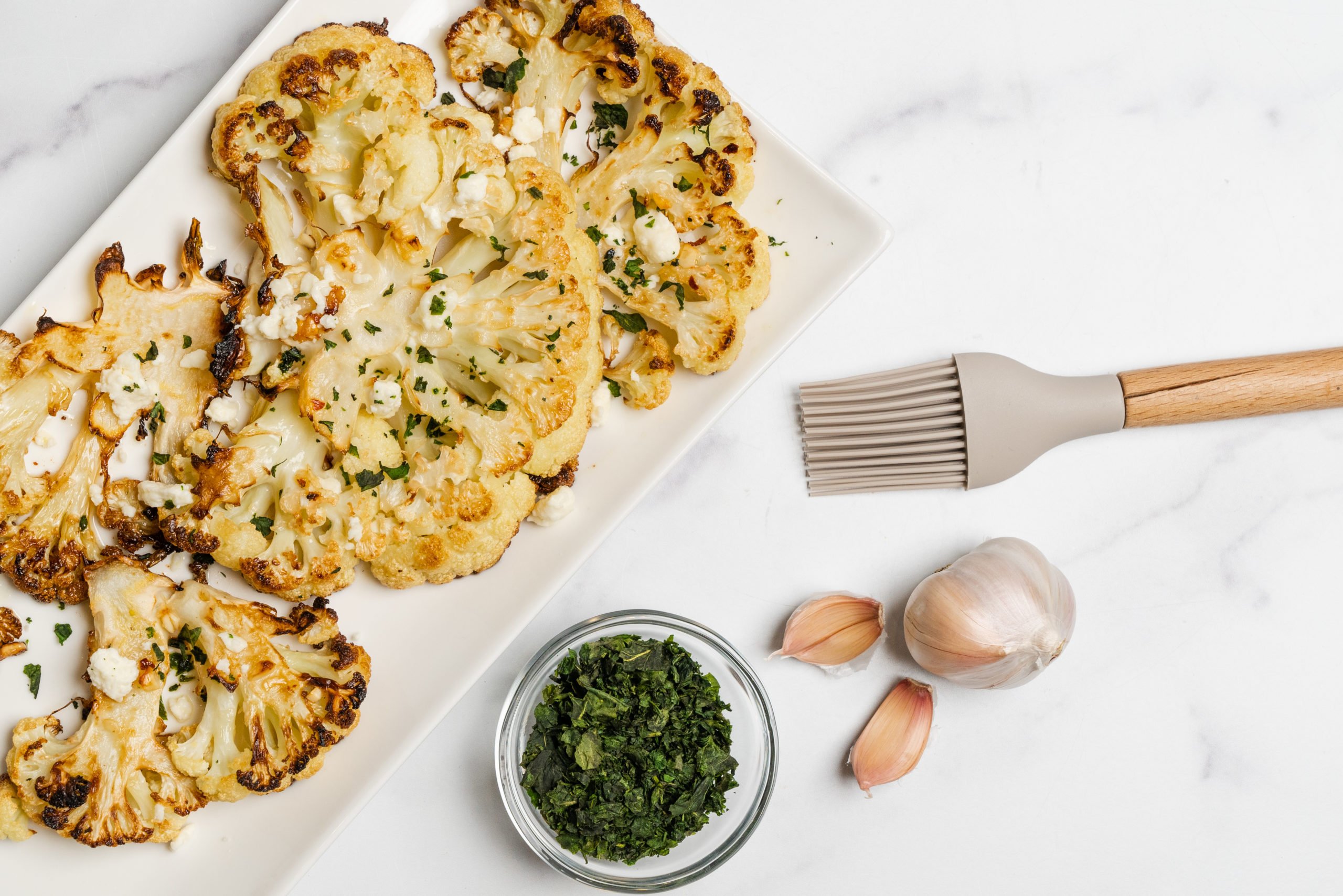 What Is Cauliflower Steak?
Roasted cauliflower steak is a head of cauliflower that is cut into large wedges to mimic a steak. In this cauliflower steak recipe I dressed it up with olive oil, lemon juice, garlic, red pepper flakes, and a secret healthy ingredient. The best thing about cauliflower steaks is that you can style them however you'd like. You can add steak seasoning to give it a more charred flavor, you can make it into more of a toast situation and make the toppings the highlight of the dish–the possibilities are endless! I love this cauliflower steak recipe because it's simple enough to make every day, but delicious and benefit-packed enough to keep it in your weekly rotation of go-to dishes.
Is Cauliflower Steak Healthy?
YES! Roasted cauliflower steaks are super healthy. The main ingredient is cauliflower, for crying out loud! Plus, it doesn't take too many other ingredients to dress it up, which means less calories and ingredients to digest. In this cauliflower steak recipe for example, there are only 6 ingredients aside from the cauliflower. One of them being collagen! Which is the superstar of this recipe. Collagen is an essential protein to help slow aging, as well as reverse the signs of aging such as fine lines, wrinkles, and even cellulite. [1] Plus, it's totally undetectable, you don't taste it at all.
How To Cut Cauliflower Steaks
I'm not going to lie, I've also goggled "how to cut cauliflower steaks" before. I get it, it's a task that needs to get done correctly the first time, because who buys more than one head of cauliflower at a time? It has to be done right in one go. Here's how I like to cut roasted cauliflower steaks: First, peel away the green leaves from the cauliflower and cut the stem, if any. You want the head to lay flat on a cutting board as stable as possible. Then, cut the cauliflower into four slices vertically. You want them to be thick enough so that the florets stay intact. If a few fall out, though, don't stress! It will still come out great.
Mentioned In This Post
SkinnyFit Unflavored Collagen
Look and feel younger with Super Youth Multi-Collagen Peptides! This versatile collagen powder includes 5 collagen types from 4 natural sources to restore youthfulness from the inside out.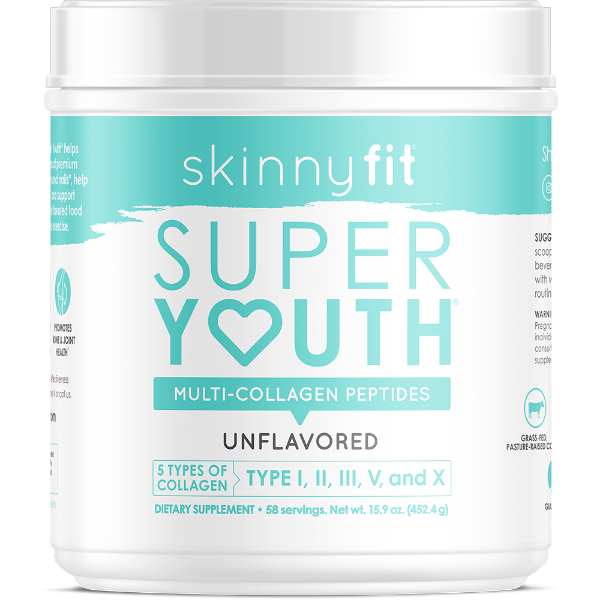 Cauliflower Steaks
Making cauliflower steak has never been easier, or more delicious. Follow this simple, step-by-step recipe to try it for yourself!
Prep Time: 10 min
Cook Time: 30 min
Total Time: 40 min
Serving Size: 4 Cauliflower Steaks
Ingredients
1 large head of cauliflower, sliced lengthwise through the core into 4 'steaks'
¼ cup olive oil
1 tablespoon fresh lemon juice
2 cloves garlic, minced
1 pinch red pepper flakes
Salt and pepper to taste
1 scoop Super Youth Unflavored
Optional ways to spruce up your "steaks" - pesto, tomatoes, feta cheese, olives, dipping sauce
Steps
Preheat oven to 400 degrees F. Line a baking sheet with parchment paper
Place cauliflower steaks on baking sheet 
Whisk olive oil, lemon juice, garlic, red pepper flakes, sale, pepper, and Super Youth collagen in a bowl 
Brush ½ of the olive oil mixture over the tops of the cauliflower steaks
Roast cauliflower steaks in oven for 15 minutes. Gently turn over each steak and brush with remaining olive oil mixture. Continue roasting for another 15 minutes.