Jump To Recipe
Take you collagen on-the-go with these cute & delicious peach mango collagen gummies for smooth skin and strong hair and nails!
More and more of my girlfriends have been making their very own homemade gummy bears. Everytime I go over there's a jar, yes a full JAR, of them in their living room or kitchen. They infuse them with fruit juice, vitamin C, sprinkles, anything you could think of!
After finishing about three handfuls in one gossip-filled sitting, I finally asked my friend to share her recipe. When she handed a copy of her recipe to me, I was skeptical. Was my very best friend holding out on a secret ingredient? I couldn't believe these delicious little bears were made with only five ingredients. There had to be a catch.
Determined to give it a go myself, I went straight to the store for some ingredients and decided I was going to make my own twist on her recipe with collagen. Lo and behold, collagen gummies were born. They were so unbelievably delicious that I went through a batch all by myself before telling my friends I created the very best collagen gummies.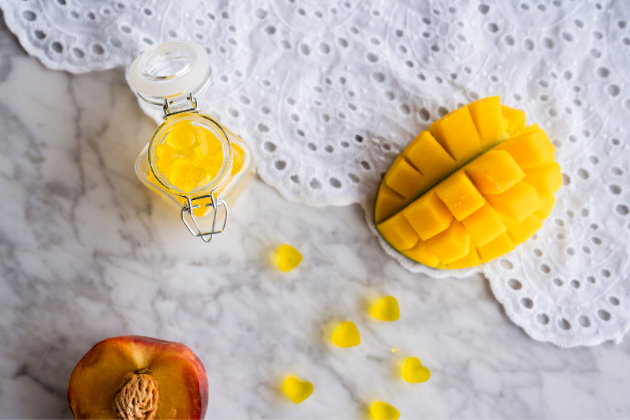 What Are Collagen Gummies?
Collagen gummies are simply gummy bears made with collagen! You don't taste it at all, and they pack a ton of beary great benefits. 
Collagen is one of the most abundant proteins found in the human body, and is necessary for joint mobility and helps prevent the signs of aging. When we lack collagen, or when our bodies start to decrease collagen production, we start to notice wrinkles and fine lines, more cellulite, and we may even start to experience digestive issues. A healthy collagen supply also helps keep our skin hydrated! [2]
One reason I love these collagen gummies is because I can enjoy them while also getting in my daily collagen supplement. After sifting through many recipes, I can assure you that this collagen gummies recipe is the very best. It's both low in sugar and packed with anti-aging collagen benefits! 
Some benefits of collagen are:
Youthful skin
Healthy weight
Strong joints & bones
Reduced cellulite
Are Collagen Gummies Healthy?
It depends! Store-bought gummies can contain 200+ grams of sugar per box. NO, THANK YOU! Our collagen gummies recipe, on the other hand, only calls for ¼ tsp of stevia. Yup, that's it! These homemade collagen gummies are so delicious and healthy, which is why they're the best collagen gummies. My favorite thing about this collagen gummies recipe is that it gets its flavor from Super Youth Peach Mango collagen, which is completely sugar-free. To ensure your collagen-packed gummies are healthy, you'll have to make your own. That way you know exactly what is in them, and aren't loading up on unnecessary additives and sugar.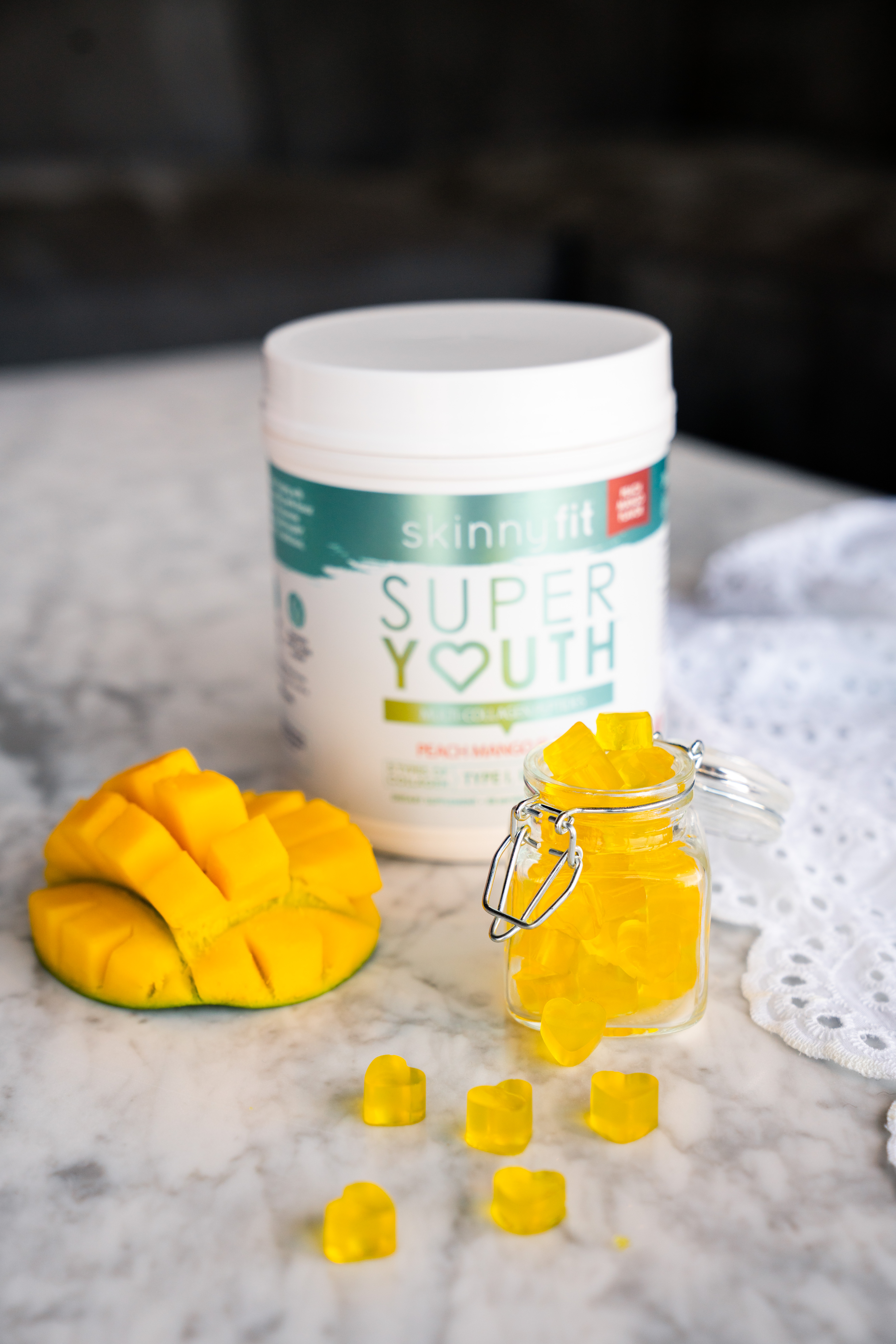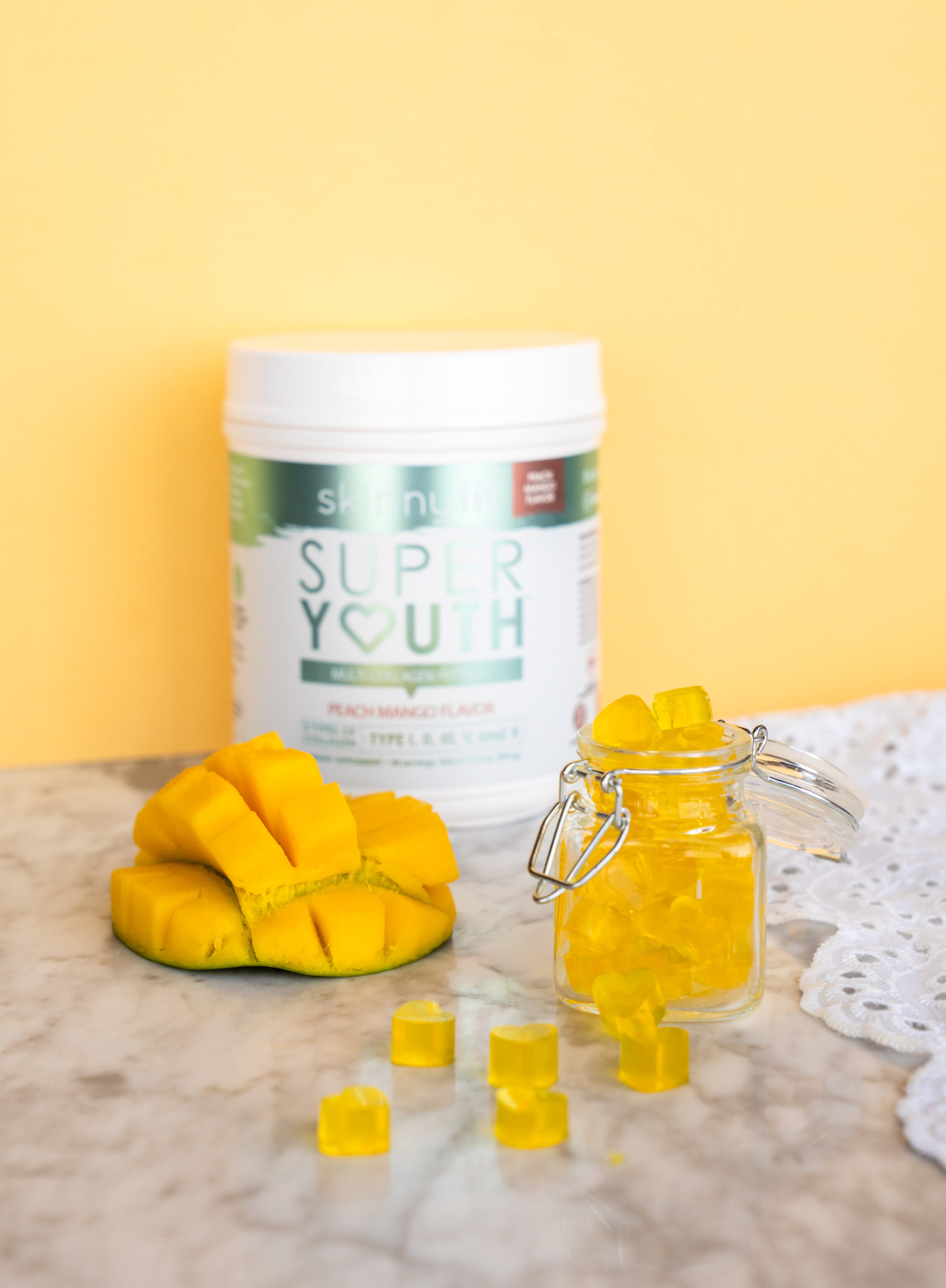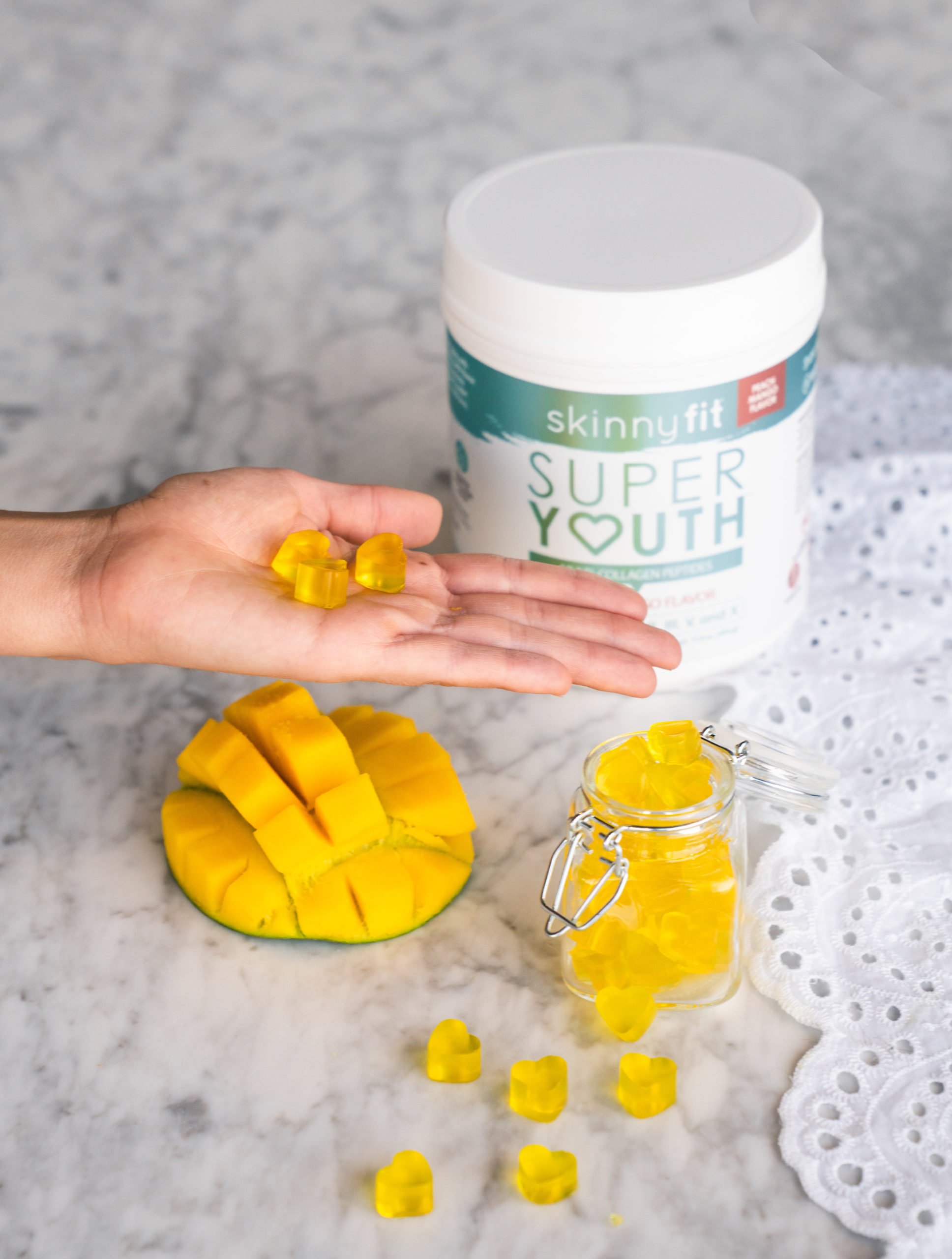 How To Make Homemade Collagen Gummies
Do not be intimidated by this collagen gummies recipe. If I knew how easy it was to make gummies, I'd have started a long time ago! If you've ever made Jell-O, this is like one level up, but just as simple! Now, prepare for the absolute best collagen gummies EVER!
What you'll need:
Gummy bear molds—Just like you can buy different shapes and sizes of ice molds, gummy molds can come in bear shapes, circles, footballs, you name it!
Super Youth Peach Mango Collagen—I personally love the Peach Mango flavored Super Youth collagen, but there are two other amazing flavors to choose from. The reason I use Super Youth in this collagen gummies recipe over other collagen brands is because it contains all of the amazing benefits of collagen, is completely sugar-free, and is high in protein. A lot of other collagens are so high in sugar that it practically cancels out the health benefits!
Gelatin—Gelatin is what makes these collagen gummies gummy-like! But more than that, gelatin actually offers a whole load of benefits, too! Like collagen, gelatin helps to strengthen joints and helps calm digestive discomfort. [1]
Mentioned In This Post
SkinnyFit Peach Mango Collagen
Look and feel younger with Super Youth Peach Mango! This fruity collagen powder includes 5 collagen types from 4 natural sources to restore youthfulness from the inside out.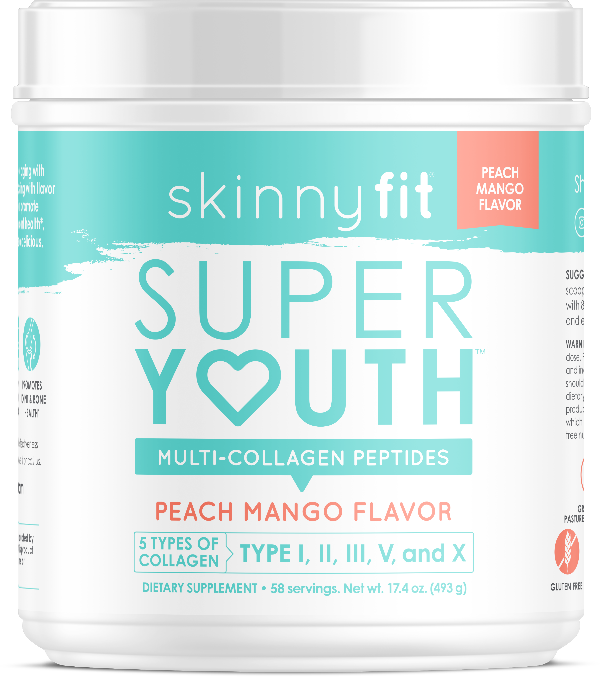 Peach Mango Collagen Gummies Recipe
So cute and so delicious, you'll love this easy collagen gummy recipe!
Prep Time: 10 min
Cook Time: 10 min
Total Time: 20 min
Serving Size: 110 small gummies
Ingredients
1 cup of water
1 scoop Super Youth Peach Mango
1 tbsp lemon juice
¼ tsp liquid stevia
3 packets of unflavored gelatin
Steps
Prep your molds. Place your gummy bear molds onto a cookie sheet or tray so they can easily be transferred to the fridge later.
Mix one scoop of Super Youth Peach Mango collagen with 1 cup of water in a small saucepan on medium-high heat and bring to a boil.
Remove from heat and stir in the stevia and lemon juice. Gradually whisk in gelatin. Sprinkle the gelatin over the juice quickly but gradually, while constantly whisking. (DO NOT dump an entire packet in at once otherwise it will clump!)
Allow the mixture to cool for 2-3 minutes before pouring into the gummy bear molds.
Refrigerate for two hours, and pop your collagen gummies out of the mold. Enjoy!