Jump To Recipe
As flowers are starting to bloom, it's fun to also watch the produce at my local farmers' market pop in unison. The yellow zucchini blossoms, bright red tomatoes, and multi-colored plum variants add such a nice, bright dimension to meals. While they each standout beautifully on their own, I love a good dish that brings them all together. In the bruschetta recipe I'm going to share today, you get to pair vibrant strawberries, blueberries, and kiwis together for an absolutely gorgeous spread. It's perfect for serving alongside your favorite brunch ideas, or even as a standalone snack.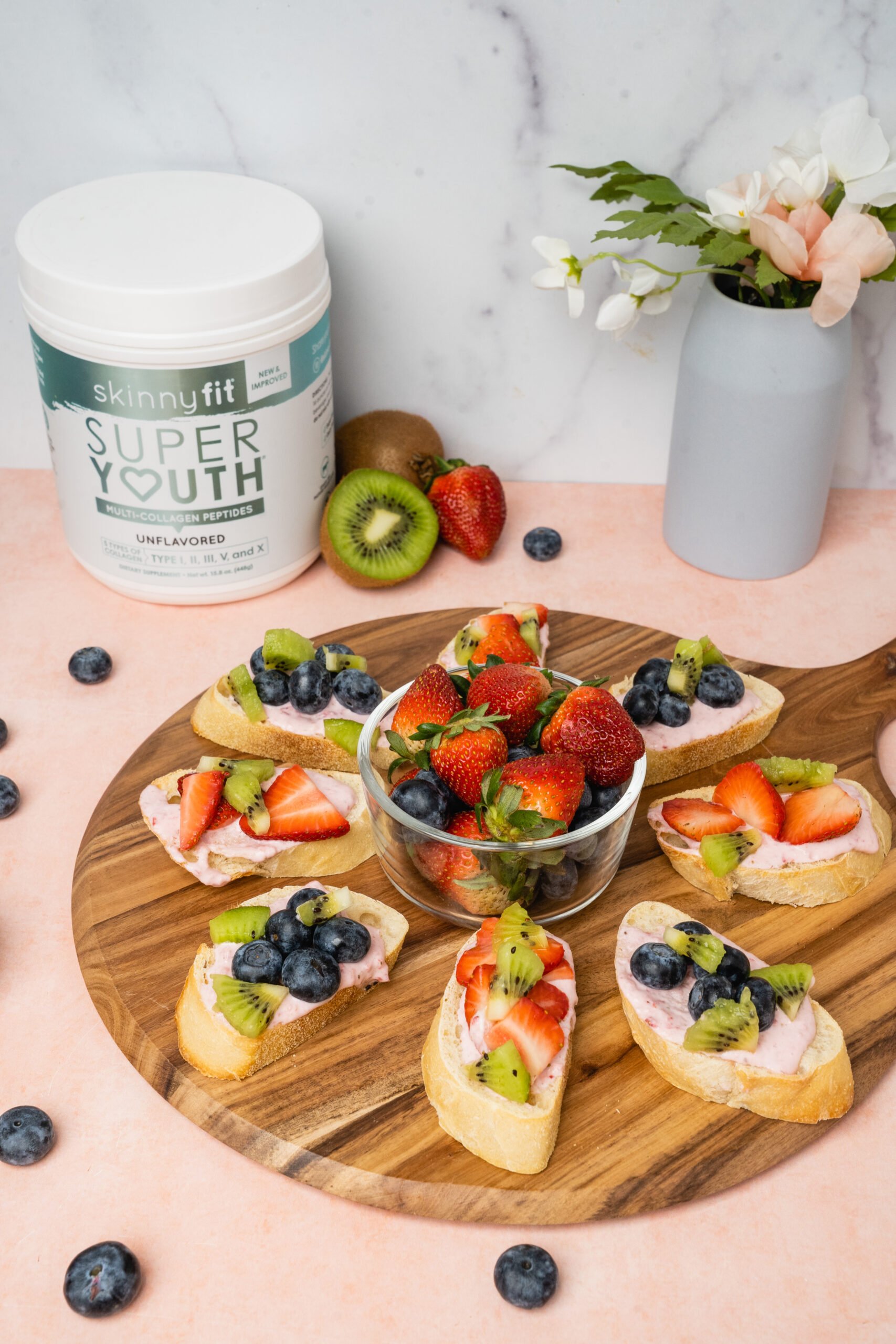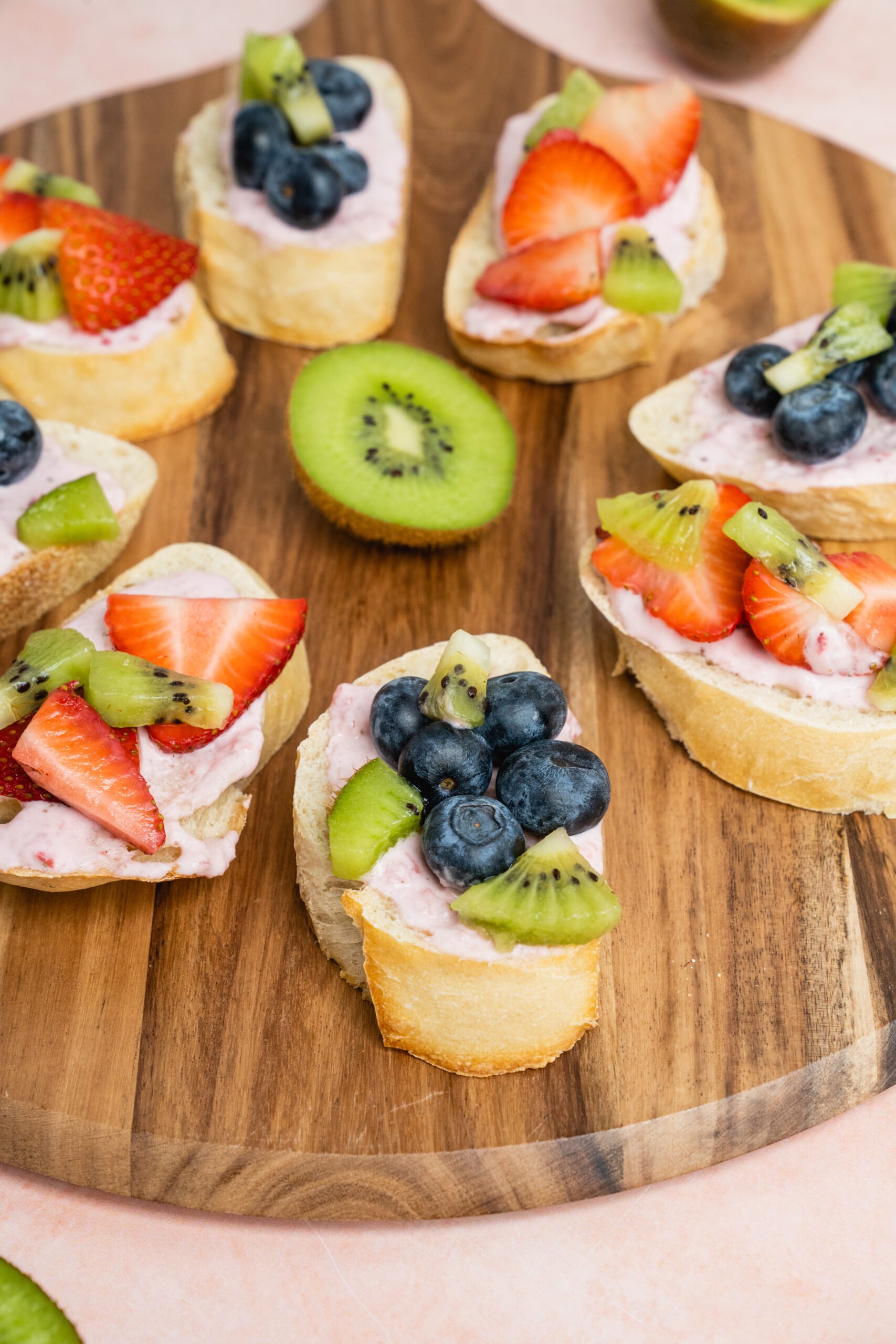 Bruschetta: Colorful, Healthy & Delicious
Don't get me wrong, I love breakfast food, but when I'm brainstorming brunch ideas, a lot of dull-colored options come to mind—potatoes, eggs, bacon, even pancakes. They're delicious items, but not always the most colorful. What I love about this bruschetta recipe is that it adds a medley of hues without just being a bowl of fruit on the table. For a big Sunday breakfast or special occasion, it adds such a pretty (and delicious!) touch. In fact, it would make a great appetizer or lite bite for pairing with opening Mother's Day gifts. 
All you need for this recipe is french bread, strawberries, blueberries, kiwis, honey, light cream cheese, sugar, and Unflavored Super Youth collagen. Protein, fat, carbs—the health-trifecta! On days I want something sweet, but don't want to fall off track, a treat like this is my go-to. The berries are bursting with immune-boosting antioxidants, the collagen adds 14 grams of skin and joint-supporting protein, and the cream cheese adds the perfect dose of healthy fat. It will leave you feeling satisfied, but not stuffed, and happy knowing you indulged while sticking to well-rounded macros. When I tell you you're going to have this bright bruschetta recipe on repeat all summer, believe me.
Mentioned In This Post
SkinnyFit Unflavored Collagen
Look and feel younger with Super Youth Multi-Collagen Peptides! This versatile collagen powder includes 5 collagen types from 4 natural sources to restore youthfulness from the inside out.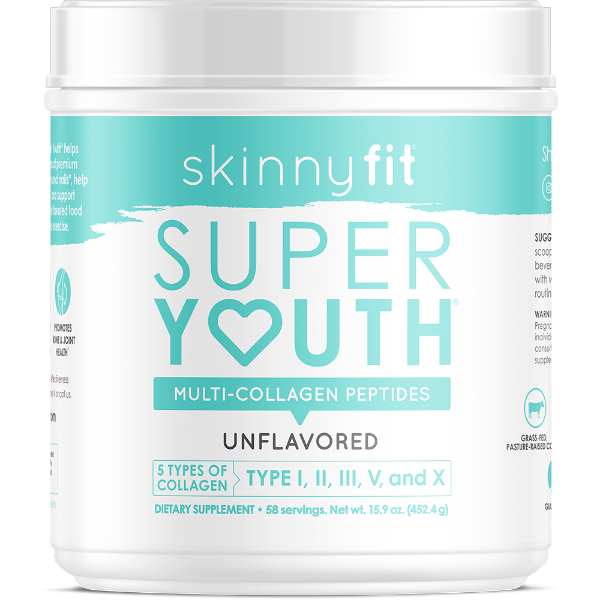 Colorful Spring Fruit Bruschetta
Prep Time: 5 minutes
Cook Time: 10 minutes
Total Time: 15 minutes
Serving Size: 16 slices
Ingredients
1 loaf french bread cut into 16 slices
1 lb strawberries
6 oz blueberries
4 kiwis
Honey to drizzle
For Strawberry Schmear: 1 8oz package light cream cheese, 1 cup strawberries, 3 Tbsp sugar, 2 scoops Unflavored Super Youth
Steps
Instructions:
Place strawberries in a food processor and blend until diced into tiny pieces. Combine with cream cheese and sugar; cover and place in the fridge at least one hour before spreading on bread slices.
Preheat the oven to 350F. Place bread slices on a baking sheet and bake for 10 minutes, or until golden brown and crispy. Allow to cool completely.
Spread prepared strawberry schmear over each slice of bread. Top evenly with each fruit and serve immediately.